On Fri­day, I decided to spend some time at the Dis­ney Magic King­dom. I've been work­ing on web sites con­stantly, includ­ing this one, and I decided that I needed a day that was rel­a­tively free of tech­nol­ogy. Free, except for my iPhone.
You see, I've been very impressed with the pho­tos that Kale­bra Kelby shoots with her "trusty iPhone." She's devel­oped a great fol­low­ing on Google+ and folks are quite taken with the beau­ti­ful images that she coaxes from that tiny cam­era in a smart phone. I men­tioned to her last week that she has these won­der­ful pho­tos that take peo­ple by their imag­i­na­tion, and mine just makes snap­shots of the puppy.
Tech­nol­ogy vs. Creativity
After I thought about it for a while, I decided that spend­ing some time tak­ing pho­tos with my iPhone at the Dis­ney Magic King­dom would be a good com­po­si­tional exer­cise. You're essen­tially deal­ing with a fixed 35mm lens and you're forced to see the world through that per­spec­tive. Besides, it's a lot lighter than walk­ing around with a DSLR try­ing to do the same thing.
No muck­ing about with expo­sure set­tings, cre­ative aper­tures or any­thing except the com­po­si­tion. It seemed like a great way to stop think­ing of tech­ni­cal tricks to use in my pho­tos. iPhone pho­tog­ra­phy is truly point and click.
So I went to Dis­ney. I pointed. I clicked. Then I was dis­ap­pointed. Not because of the com­po­si­tions. I didn't come away with any mas­ter­pieces, but look­ing at that view screen before I clicked the shut­ter forced me to eval­u­ate sub­jects because there wasn't any­thing else to con­sider. I found myself mov­ing up & down, left & right, and gen­er­ally chang­ing angles of view between the cam­era and the sub­ject. For that part of the exer­cise, it was pretty useful.
The pho­tos them­selves still looked like the snap­shots of my puppy, though. Clearly, I was miss­ing some­thing — a lit­tle post processing.
It didn't take much effort. In fact, I only really hit two things in Cam­era+ to change the shots. The first was to add some Clar­ity and the sec­ond was to add a Vignette. I would have liked a lit­tle more con­trol over both, but I sup­pose it's best not to over think your iPhone post pro­cess­ing. Oth­er­wise, it wouldn't be as sim­ple as hit­ting two buttons.
Here's a Before and After sam­ple to show the difference.
Straight out of the cam­era, iPhone pic­tures are a bit flat. Adding a bit of Clar­ity cre­ates more tex­ture in the image and the Vignette directs your eye toward the cen­ter and keeps you from wan­der­ing off the images. Both are a bit heavy-​handed, but they work bet­ter than the flat image.
An iPhone at Dis­ney Magic Kingdom
As it turned out, I arrived on one of the days of film­ing for the Dis­ney Christ­mas Parade. I missed the parade, but there were hun­dreds of cheer­lead­ers walk­ing around — each and every one of them tex­ting on an iPhone as they walked. I'm sure there's a social mes­sage in there. If you have a high school aged boy who wants to date a cheer­leader, tell him to learn every­thing pos­si­ble about iPhones. They didn't seem to be inter­ested in any­thing else around them.
I digress.
Being the tech­nol­ogy geek that I am, I found myself more inter­ested in the gear used to record the parade and con­cert than the enter­tain­ment itself. Hence, I came up with this com­po­si­tion of a pho­tog­ra­pher work­ing his jib behind the crowd lis­ten­ing to Col­bie Cail­lat sing her "Christ­mas in the Sand" song. For what it's worth, it looked like she was singing live and not lip-​syncing to a sound track. They went through a few takes.
I know, you can't really see her. Look for her directly above the photographer's head in a white dress and red hat. Remem­ber, this photo wasn't about her, though.
After tak­ing my turn on the Pirates of the Caribbean ride and enjoy­ing a cup­cake, I made my way over to the Grand Florid­ian resort to check out the enor­mous Christ­mas tree and Gin­ger­bread House.
Nei­ther looked good if I tried to get the entire thing in the frame. Some­times a detail makes a bet­ter scene than the entire sub­ject, though.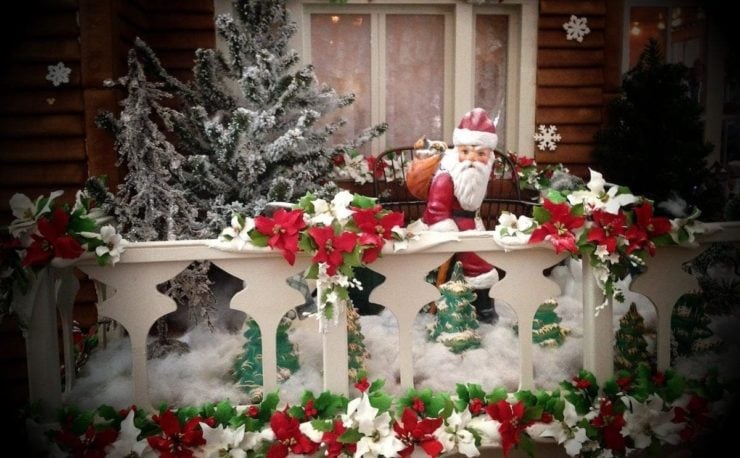 Over­all, I thought it was a good exer­cise to change how I approach pho­tog­ra­phy. It doesn't mean that I'm going to give up my DSLR and light­ing gear, but I think I'll do this more often. Some­times you just need to con­cen­trate on one of the essen­tials instead of jug­gling every­thing at once — sort of like iso­lat­ing a mus­cle in a weightlift­ing work­out. Give it a shot and let me know how it works for you.
Embed This Image On Your Site (copy code below):