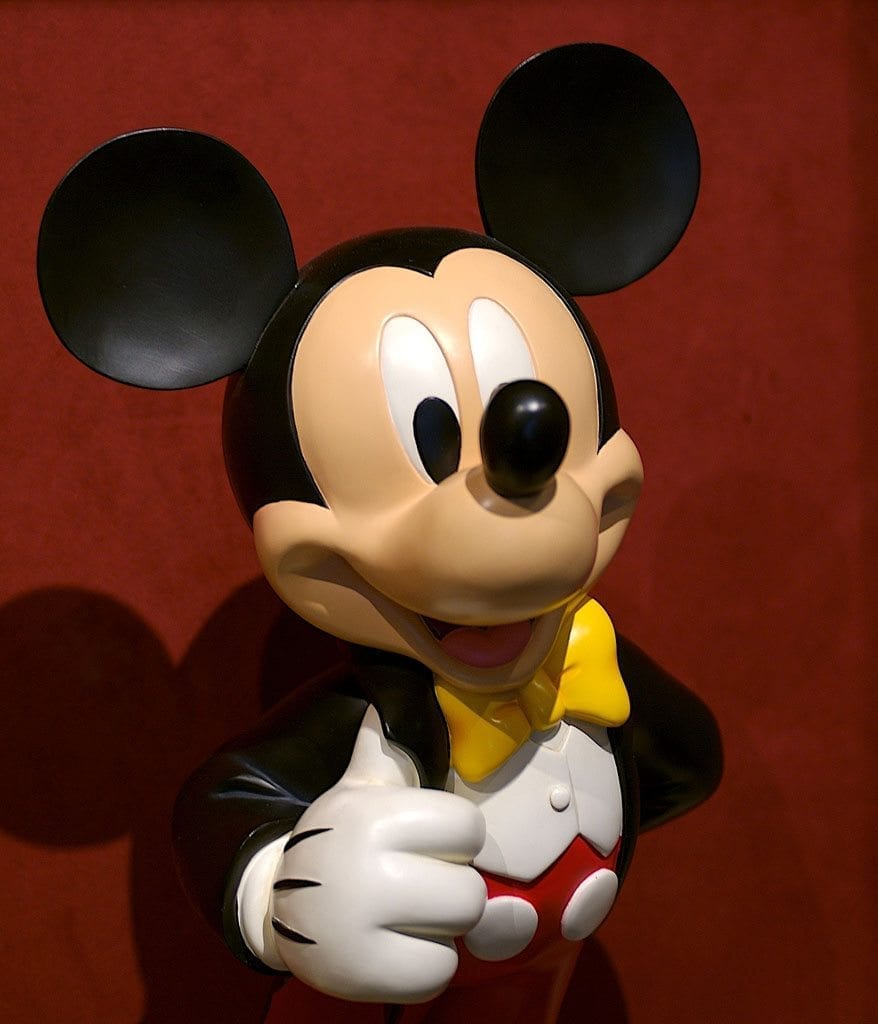 One of the things I've always admired about Walt Dis­ney World is that it always seemed to be very friendly to pho­tog­ra­phers. Dis­ney has plenty of inter­est­ing photo spots marked in its parks to help vis­i­tors know where to get a good per­spec­tive for their pho­tos. There are plenty of staff pho­tog­ra­phers around to cap­ture moments at some of those photo spots, so nobody has to get left out because they're tak­ing the photo. If you go on some of Disney's thrill rides, they have cam­eras that cap­ture you on the ride, often dur­ing the peak of action.
Pho­tog­ra­phy is a hobby of mine. The var­i­ous theme parks and tourist attrac­tions offer some rich visual treats that make for great photo sub­jects. I was inspired to go shoot high dynamic range (HDR) pho­tos at Down­town Dis­ney tonight by look­ing at the work of Trey Rat­cliff. He taught a photo work­shop in Tampa a cou­ple of months ago and I went to learn his tech­niques. Trey has some excel­lent images of Walt Dis­ney World and I wanted to see if I could cap­ture some of that magic. Seri­ously, click that link and check out his excel­lent work.
HDR pho­tog­ra­phy is essen­tially a prod­uct of mix­ing together mul­ti­ple pho­tographs of a sub­ject taken at dif­fer­ent expo­sures, from dark to light. As a result, you end up with a pho­to­graph that has the right level of expo­sure through-​out the scene, much like your human eye would detect. Cam­eras, unfor­tu­nately, don't see light the same way we do. In order to make sure those pho­tographs match-​up with each other, you take the pho­tos on a tri­pod in a burst of exposures.
Unfor­tu­nately, I found myself on the unset­tling end of Dis­ney Secu­rity this evening while tak­ing pho­tographs of the House of Blues at Down­town Dis­ney. While tak­ing pho­tos, I was approached FOUR times by Dis­ney Secu­rity. Every time, they wanted to know why I was tak­ing the pho­tographs and expressed con­cern that I was with "the media." I assured them that this was my hobby and I was tak­ing the pho­tos for per­sonal use and they would go away. The fourth time was a bit dif­fer­ent, though.
Pre­vi­ously, only one secu­rity guard would approach me and we'd have the same dis­cus­sion. On the fourth and final encounter, I was approached by sev­eral guards and their man­ager, Don. I don't know Don's last name, since Dis­ney only puts first names on their name tags.
I explained to Don that I'd been approached three times pre­vi­ously. He said that he knew. All of those guards worked for him and they had apprised him of their dis­cus­sions with me. I asked Don why he approached me and he said that there were com­plaints about me. He never said what com­plaints he'd received, though, and never brought up com­plaints again. I strug­gled to think what I could've done to cause com­plaints. My pho­tos were of build­ings, not peo­ple. I didn't ask any­one to move or change a thing. In sit­u­a­tions like that, you just sit and wait for the best moment to take your pho­tos. After all, every­one else has just as much right to be where they want. One mid-​Eastern fam­ily asked me to take their pic­ture and I obliged. I kept my tri­pod near walls or other struc­tures that weren't in the path of pedes­trian traf­fic. Basi­cally, I can't fathom what com­plaint he may have received.
Don is a bit of a fast talker, but it takes him a long time to get to his point. He dances around the issue and tells me of his respon­si­bil­ity for secu­rity. He wants infor­ma­tion, such as my name, where I work, why I'm tak­ing pho­tos and seems to want assur­ances that I won't be using the pho­tos for com­mer­cial purposes.
By this time, I'm get­ting fed up with the inter­rup­tions, but I remained calm and polite. So did Don. Hop­ing to show him that I'm not there to cause any prob­lems, I offer up some infor­ma­tion in hopes of appease­ment. I shared my first and last name. I let him know the name of my employer. I told him the city where I lived. Bear in mind that I was under absolutely no oblig­a­tion to pro­vide him with any of this infor­ma­tion, but I wanted to be cour­te­ous and thought, as with the pre­vi­ous encoun­ters, he'd be sat­is­fied and go away.
In fact, Don told me that he was sat­is­fied that I wasn't there for com­mer­cial pur­poses. I explained HDR pho­tog­ra­phy and he said that he had a pass­ing under­stand­ing of it. I showed him exam­ples of my pho­tos, hop­ing to set his mind at ease that I was just a harm­less guy tak­ing pic­tures of the House of Blues.
That seems to be the turn­ing point. Don started prod­ding me for iden­ti­fi­ca­tion while con­grat­u­lat­ing me on being so coöper­a­tive and putting his mind at ease. At this point, I asked him why he would need my ID. He expressed con­cern about my archi­tec­tural pho­tog­ra­phy pos­si­bly being used by ter­ror­ists. He never used the word ter­ror­ist, but his impli­ca­tions were unmistakable.
I couldn't believe it. I kept my calm demeanor, but I told him that his con­cerns were non­sense. Dis­ney is one of the most pho­tographed places on Earth. You can view the place in great detail from satel­lite on Google Earth. There are thou­sands, if not mil­lions, of pic­tures of Walt Dis­ney World on the Inter­net and pub­lished in books — many by Dis­ney itself. It is absolutely ludi­crous to think that my pho­tos are going to be the ones that sup­ports terrorism.
Don said he under­stood all of that, but should the worst hap­pen, they wanted to know who was tak­ing photos.
Sud­denly, I'm not a vis­i­tor or a guest at Walt Dis­ney World any­more. I'm sus­pected of ter­ror­ism. He wants to know who to accuse of a hor­ri­ble crime because of some pho­tographs. That's not the Dis­ney expe­ri­ence you see in the commercials.
At this point, I let Don know that I'm not com­fort­able pro­vid­ing him with more detailed infor­ma­tion about me. He's never told me where that infor­ma­tion will be recorded. He's all but directly accused me of being a ter­ror­ist and, quite frankly, I don't see how hand­ing him my driver's license is going to thwart the ter­ror­ist attack he's gen­er­ated in his mind. I told Don, twice dur­ing our con­ver­sa­tion, that I'll be happy to leave the prop­erty if he feels I'm some sort of threat. Don tells me that if I don't pro­vide him with more iden­ti­fi­ca­tion that he's going to call the Orange County Sheriff's Office.
It's frus­trat­ing to deal with this kind of men­tal­ity. Pho­tog­ra­phy is not a crime, even on pri­vate prop­erty. At best, all a secu­rity guard can do is ask you to leave the prop­erty. They have no right to tell you that you can't take pho­tographs, con­fis­cate your cam­era or other prop­erty, or even lay a hand on you. For­tu­nately, Don didn't try any­thing phys­i­cal at all. How­ever, his demeanor def­i­nitely changed once I declined to give him my license. His approach changed from the friendly, but con­cerned secu­rity man­ager into one of threats and intim­i­da­tion. While he repeat­edly told me that he was going to call for a deputy if I didn't pro­vide my ID, I couldn't help but won­der exactly what crime he was going to report to the deputies.
My plan for the evening was to shoot my pho­tos and have din­ner at House of Blues, but Don had def­i­nitely turned me away from want­ing to give any busi­ness to Dis­ney that night. I had also planned to renew my Annual Pass to take more HDR shots in the parks, but I can only imag­ine more intim­i­da­tion and humil­i­a­tion from Dis­ney Secu­rity as a result. After roughly twenty min­utes of deal­ing with Don, I told him that I was just going to leave. He was wel­come to walk with me if he was concerned.
Don fol­lowed me, as did another uni­formed guard, Eugene. Dur­ing the walk out to my car, Don was on the phone call­ing in more guards and, I pre­sume, the Sheriff's office. By the time I arrived at my car, at least two more guards swiftly arrived on bicy­cles, a cou­ple more had walked up, and there was a Dis­ney Secu­rity car.
I took my time walk­ing out. I took my time putting my gear away in the back of my car so he had plenty of time to let the deputy arrive, but I never saw one. While I packed up my gear, I asked Eugene if this hap­pened often. He didn't respond and seemed some­what uncom­fort­able. I men­tioned that he prob­a­bly wasn't allowed to say any­thing and he told me that he just pre­ferred not to speak. That's under­stand­able, since his boss was right there. Eugene moved from Mary­land to Orlando and started work­ing at Dis­ney eleven years ago. We talked a lit­tle about the weather and he men­tioned that he liked the cold, but Dis­ney was here. I can appre­cate that Eugene wanted to work there. Maybe it's still "mag­i­cal" for him.
While I was pack­ing up, I over­heard Eugene on the phone. Although I don't know who was on the other end of the call, I pre­sume he was speak­ing to some­one at the Sheriff's office. Don said that he asked for my name and I was unre­spon­sive. Well, that was a bla­tant lie and I told him it was untrue. I reminded him that I'd given him my full name, where I lived and even where I worked. Don seemed annoyed. It was bad enough that he lied about that (I under­stand that lying to the police is a crime), but then a few min­utes later he told the same lie again. Clearly, this guy was work­ing the phone to make me look like as bad as he pos­si­bly could. A few lies here or there were prob­a­bly OK if it helps catch a ter­ror­ist; per­haps that's how he ratio­nal­ized it.
Once I closed the car I told them I was ready to leave, unless they planned to detain me against my will. Don said they wouldn't do that and I was free to go. He then instructed the sev­eral secu­rity guards around me to take plenty of pic­tures and get every­thing. I found this some­what ironic. I'm sure that I was cap­tured on secu­rity video while on-​site. Don's guards likely took pho­tos of me, my vehi­cle, my license plate and prop­erty. Then I drove off slowly and a Dis­ney Secu­rity car fol­lowed me until I left the property.
There were plenty of peo­ple at Down­town Dis­ney with cam­eras, rang­ing from cam­era phones to point & click to dig­i­tal SLRs. I can only pre­sume I was sin­gled out because I had a DSLR (Nikon D700) on a tri­pod and took my time tak­ing pho­tographs. This hap­pened around sun­set and I took mul­ti­ple shots from dif­fer­ent angles, watch­ing the light and wait­ing for crowds to pass. To the aver­age secu­rity guard, I can only pre­sume this makes me "sus­pi­cious." I find it inter­est­ing that Don was con­cerned about my archi­tec­tural pho­tog­ra­phy (which really wasn't the point of my images, but so be it). If I had been tak­ing pic­tures of other guests, would he have instead accused me of a sex crime? I don't know.
My Dis­ney expe­ri­ence was one of false accu­sa­tions, threats, intim­i­da­tion and humil­i­a­tion. When a cadre of secu­rity guards care­fully walks some­one out of the park, peo­ple look. They assume the worst about you. I've heard that all Dis­ney cast mem­bers are empow­ered to make sure a guest has a "mag­i­cal" expe­ri­ence. That pol­icy must not extend to some­one with a cam­era and a tripod.
Here's what I've learned from the encounter:
Appease­ment doesn't work. You don't know what is going to set them off, so it's best to just stay quiet.
Remain calm

&

polite. I could've become as indig­nant as I felt, but I think that would've just taken me down a more annoy­ing path and I didn't want to con­tinue ruin­ing what started out as a lovely evening.
Follow-​up. I'll be writ­ing to Dis­ney man­age­ment to learn and under­stand why I was singled-​out for harass­ment and if I should expect such behav­ior in the future.
Lis­ten. Bet­ter to let them reveal infor­ma­tion and intent than for me to share infor­ma­tion. See #1.
Share. Ulti­mately, we need to keep this mes­sage alive. Harass­ment of pho­tog­ra­phers is not pro­vid­ing any secu­rity. If there's some­one out there with ill intent toward Dis­ney, they aren't going to go out with an expen­sive cam­era and a tri­pod to draw atten­tion to them­selves. They'll show up with some bud­dies or a fam­ily to look things over. There's no indi­ca­tion at all pho­tog­ra­phy was used in any other high pro­file attack, so they prob­a­bly won't even have a cam­era. If we're going to stop this asi­nine behav­ior from the secu­rity indus­try, we need to con­tinue com­mu­ni­cat­ing about the stu­pid­ity of their actions.
On the bright side, I was treated very well at Portofino Bay. Din­ner at Mama Della's was outstanding.