WebUr­ban­ist Takes My Photo With­out My Consent
I've said it before. If you put your pho­tos on the web, some­one will come along and take them. It hap­pened to me again this week­end. While look­ing over my traf­fic stats for the blog, I noticed some vis­i­tors com­ing from a URL I didn't rec­og­nize or antic­i­pate as a refer­rer. I checked the link and found this arti­cle on a site called WebUra­ban­ist. The arti­cle showed a com­par­i­son of mon­u­ments to the space race between the USA and USSR. Sure enough, they pulled my photo (above) of the Space Mir­ror from this blog. The image wasn't just refer­ring to my site, but was extracted and included in a mon­tage of other pho­tos of this mon­u­ment. There was a small link at the bot­tom of the photo mon­tage back to my blog, and I even­tu­ally received a Ping­back from them.
How Did It Make You Feel?
I'm glad you asked. Quite hon­estly, it pissed me off! The arti­cle is full of pho­tographs they found on the web and felt like using. In some cases, that's OK. For exam­ple, pho­tographs from NASA belong to the peo­ple. How­ever, pho­tographs from indi­vid­u­als or busi­nesses are prop­erty and shouldn't be used by a rep­utable busi­ness with­out con­sent or license. They never asked to use my photo in their arti­cle, so I regard it as copy­right infringe­ment, or more sim­ply state — theft. I see no rea­son why I should spend time and money just to pro­vide a busi­ness with free con­tent so they can make a profit.
I've been watch­ing this hap­pen to other pho­tog­ra­phers as they com­ment about it on Twit­ter. David Hobby (Stro­bist) men­tioned a few cases of infringe­ment recently on Twit­ter. Alan Hess has also worked to rec­tify a prob­lem with Kazaa​.com using his images from Flickr.
What Did You Do About It?
The first thing I did was take a screen cap­ture of the infringe­ment to show that my photo was being used on their website.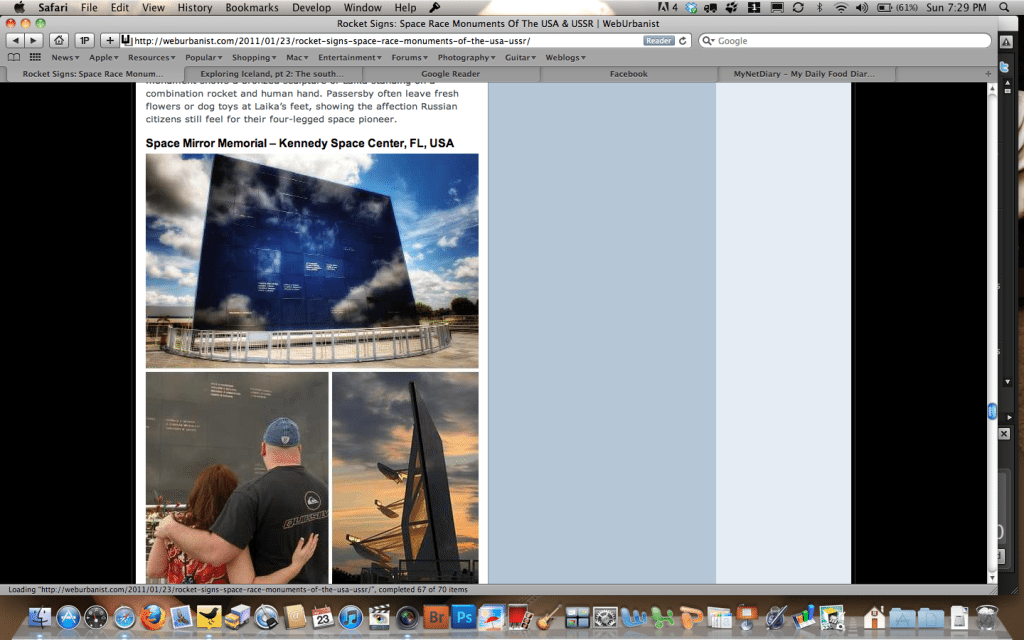 I had some options. This photo, like all of my pho­tos, are reg­is­tered with the U.S. Copy­right Office. As I've fre­quently read, you must reg­is­ter your pho­tos with the copy­right office if you want to receive statu­tory dam­ages — up to $150,000. Oth­er­wise, all you can get are actual dam­ages and you may not even get that much. One of the courses on Kelby Train­ing I found very help­ful was from Jack Reznicki and attor­ney Ed Green­berg (The Copy­right Zone). Ed stated that reg­is­tra­tion is imper­a­tive. Copy­right infringe­ment is a fed­eral case and the first thing you're going to be asked is if you filed your reg­is­tra­tion with the fed­eral gov­ern­ment. If not, as I under­stood Ed, you don't have a leg to stand on in your claim. If I decided to sue, at least I had laid the ground­work by fil­ing my reg­is­tra­tion when I took the photos.
I recall some­thing that Scott Kelby said dur­ing a panel on blog­ging at the las Pho­to­shop World. In fact, I've posted it here before.
As Scott Kelby shared dur­ing a ses­sion about Blog­ging for Pho­tog­ra­phers at Pho­to­shop World, he's not wor­ried that some big cor­po­ra­tion is going to steal his images. He's pray­ing they will so he can cash in on it because he reg­is­ters all of his work.
It's tempt­ing. Very tempting.
How­ever, I didn't want to start off on that option. My con­cern was sim­ply that I didn't want a busi­ness using my images, so I had another option — The Dig­i­tal Mil­len­nium Copy­right Act (DMCA) Take­down Notice. That's a long name for a rel­a­tively stan­dard form to sub­mit to order some­one to take down copy­righted mate­r­ial, con­sist­ing of the fol­low­ing elements:
(i) A phys­i­cal or elec­tronic sig­na­ture of a per­son autho­rized to act on behalf of the owner of an exclu­sive right that is allegedly infringed.

(ii) Iden­ti­fi­ca­tion of the copy­righted work claimed to have been infringed, or, if mul­ti­ple copy­righted works at a sin­gle online site are cov­ered by a sin­gle noti­fi­ca­tion, a rep­re­sen­ta­tive list of such works at that site.

(iii) Iden­ti­fi­ca­tion of the mate­r­ial that is claimed to be infring­ing or to be the sub­ject of infring­ing activ­ity and that is to be removed or access to which is to be
dis­abled, and infor­ma­tion rea­son­ably suf­fi­cient to per­mit the ser­vice provider to locate the material.

(iv) Infor­ma­tion rea­son­ably suf­fi­cient to per­mit the ser­vice provider to con­tact the com­plain­ing party, such as an address, tele­phone num­ber, and, if avail­able, an elec­tronic mail address at which the com­plain­ing party may be contacted.

(v) A state­ment that the com­plain­ing party has a good faith belief that use of the mate­r­ial in the man­ner com­plained of is not autho­rized by the copy­right owner, its agent, or the law.

(vi) A state­ment that the infor­ma­tion in the noti­fi­ca­tion is accu­rate, and under penalty of penalty of per­jury, that the com­plain­ing party is autho­rized to act on behalf of the owner of an exclu­sive right that is allegedly infringed.
You can find a DMCA tuto­r­ial by Jason Wilder here: http://​www​.musicpho​tog​ra​phers​.net/​g​u​i​d​e​s​-​a​n​d​-​t​u​t​o​r​i​a​l​s​/​d​m​c​a​-​l​e​t​ter
Once I pre­pared my DMCA Take­down Notice, I had to know where to send it. The web­site had a con­tact form and I sub­mit­ted my notice there. I also sent a notice to their web host­ing com­pany, or so I thought. The host­ing com­pany replied and told me that the con­tent was not on their server, but they did point me to the cor­rect host­ing company.
How Did They React?
The next morn­ing, I had a response from the Exec­u­tive Edi­tor of WebUr​ban​ist​.com:
Greet­ings William–

As per our pol­icy, we will remove the image you have iden­ti­fied as a cour­tesy. While WebUr­ban­ist oper­ates under fair use pro­vi­sions, we pre­fer to sim­ply fol­low the express wishes of copy­right hold­ers when they request removal in cases like this.

Best wishes,

-= Kurt

Kurt Kohlst­edt, Exec­u­tive Edi­tor
Webist Pub­lish­ing & Mis­named Media
Was This Fair Use?
Not from my point of view. They needed some­thing. They weren't will­ing to pay for it. They took it with­out noti­fy­ing me. From their per­spec­tive, as evi­denced in their response, they believe they oper­ate under fair use pro­vi­sions. I turned to Car­olyn E. Wright's Photo Attor­ney blog to read up a bit more on Fair Use. Based upon what I read, I don't believe it's Fair Use.
By includ­ing my entire image in a com­pos­ite with other pho­tos, they could claim it was a deriv­a­tive work. A reader wouldn't know that the pho­tos were included together in one

JPEG

by look­ing at it, though. It wasn't trans­for­ma­tive, though, even if it was deriv­a­tive. The image looks the same.
They used it for a com­mer­cial busi­ness, as evi­denced by the advertisements.
They took the entire image, not part of it.
Does it directly com­pete with my busi­ness? I'm not in busi­ness, per se. How­ever, we're both run­ning web sites (or blogs) and that is my usage of the mate­r­ial. My argu­ment would be that they were in direct competition.
Lawyers dis­agree and fight over the mean­ing and def­i­n­i­tion of fair use, so I can only present my opin­ion on the mat­ter. I just don't see it as fair use at all, though.
One Good Thing
There is one good thing about this expe­ri­ence. When I sub­mit­ted my DMCA Take­down Notice, they com­plied imme­di­ately. The photo was no longer on their site as of the morn­ing I received the e-​mail from Kurt. There was no need for me to call up lawyers, start fil­ing law­suits and going through all the mis­ery that entails. The DMCA Take­down Notice worked effec­tively for me.