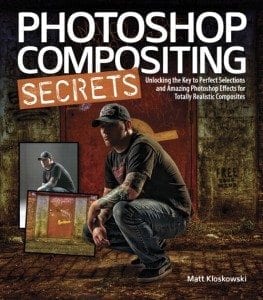 If you read my post on Monday, you may recall that I got a brief moment to flip through the first copy of Matt Kloskowski's new book on Photoshop compositing while at Scott Kelby's workshop. This book has been on my radar for a while and I figured I'd want to get it, but I was extremely impressed with some of the compositing examples Matt shows in the book.
Part of the reason is because I seem to be getting more exposure to other photographers who are doing some interesting work with HDR backgrounds and compositing. Joel Grimes was a guest on The Grid about a month ago and I saw his work in this area for the first time. Outstanding stuff. I see work like that and I think, "I want to do that!"
At the workshop last week, I got a little more exposure when Scott Kelby provided us with a couple of background images and we shot Nelly in two different outfits. As I started going through my selections and working with Photoshop CS5′s Refine Edge tool, I thought, "I suck at this!"
Most of it works very well, but there were some parts that weren't quite as refined as necessary, and it shows on the image I posted Monday. That's OK, I didn't expect to be excellent at my first time.  Things take practice.  However, it doesn't hurt to have a bit more information.  Once I saw Matt's book in my hands and flipped through it, I was convinced that I could learn from it and I wanted to slip that right in my ThinkTank and roll on out of there.  He probably would've noticed, though.
I'm interested in this style for a couple of reasons. First, it combines two aspect of photography that really interest me: HDR/Scenic & Portraits. Second, I can't always get a model in the right place.  Unlike folks like Matt or Joel who work in this field, I'm a hobbyist. People like to tell me "No" quite frequently. That means I have to take advantage of access or circumstances when I can, as scheduling things to get in a place with a model often blows up in my face.
Of course, there's another trick of the trade that I learned – get your backgrounds somewhere else. Scott showed us a background from Fotolia, as well as one he shot. Dave Cross shared a site he found with some very cool & edgy backgrounds – www.photoarttextures.com. There are other sites that provide backgrounds, but I kind of want to get out and shoot some of my own.
As much as I'm really happy to have Matt's new book, the point I wanted to make in this post really isn't about compositing.  It's about how to read your books. As I understand it, the print version of the book won't be available until August 7th, or at least that's the target date.  However, it's available right now on iBooks or Kindle as an eBook. I bought it on iBooks, though that was the most expensive way to get it. Photoshop Compositing Secrets is $39.99 on the iBooks store, or $31.99 on Amazon's Kindle store.
Both iBooks and the Kindle app for iPad allow me to carry a lot of books on my iPad, so right now Matt's book is sitting between Steven Tyler's autobiography and Charles Jean Jacques Joseph Ardant Du Picq's Battle Studies: Ancient and Modern Battle.  What can I say? I have diverse interests. When it comes to the experience of reading, I find lately that I really appreciate my iPad much more than a printed book.  That's particularly true for something like a tutorial, because I don't have to worry about a page flipping shut on me because the binding is tight or there's an imbalance of weight. iBooks or Kindle eBooks stay on the page you want and are easy to read.  I can change the size or style of the font. It's backlit, which makes it easier to read even in dark rooms.
Another advantage of digital over print is the ability to embed other kinds of media.  For example, Sammy Hagar's book on iBooks had a series of video interviews embedded in many of the chapters, so it's possible you can get some extra content. Yes, publishers can and do put a URL out for downloads that go with a book.  However, it's a lot easier to just push the Play button on a video when you're reading a book at a lunch stop then trying to remember to download it when you get back home.
Have you ever looked at an image in a print book and wished you could get a closer view?  Either you bring the book closer to your face or you get a magnifying glass. In iBooks, I can just tap on the image or use my finger to enlarge it.  Take a look at this example from Matt's book:
[Note to Matt: I'm pimping your book, so please don't sue me for copyright infringement.]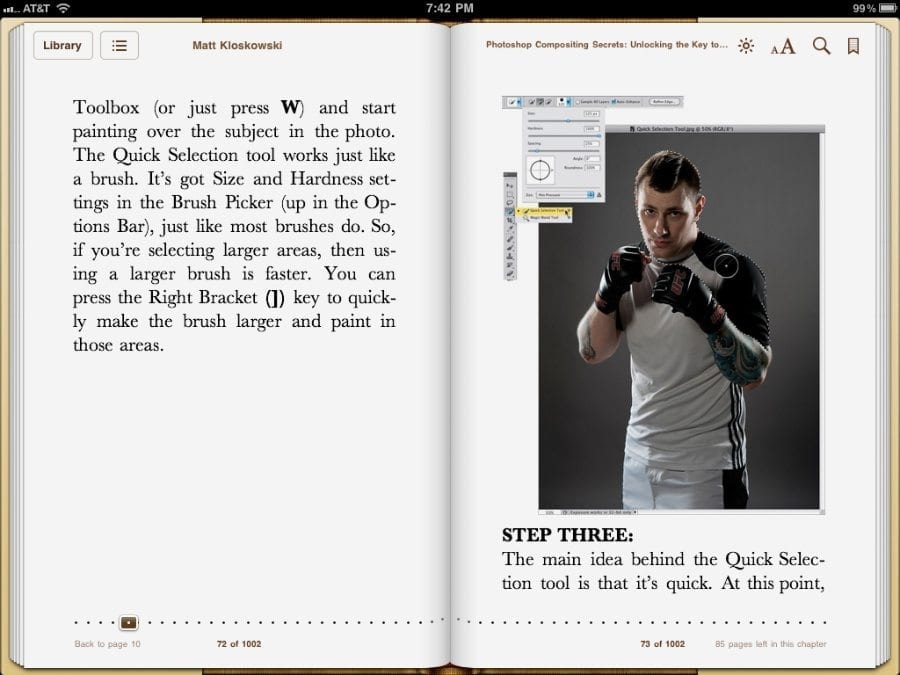 This is the standard view. You can see the image, but what if you want to see it without the clutter of the rest of the page?  Double-tap it.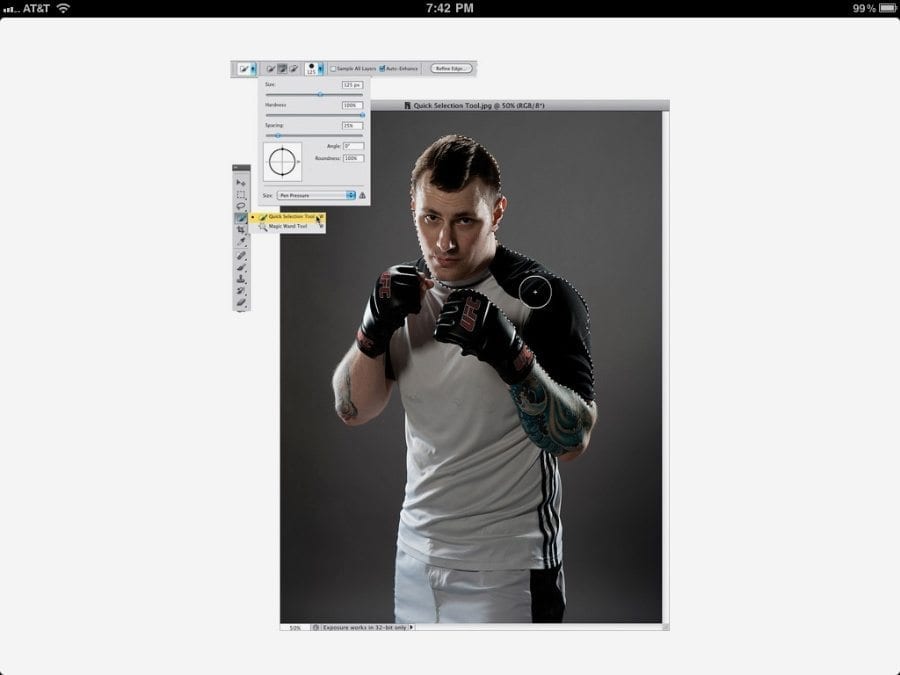 Ok, that's better, but what if we want to examine the selection in this photo more closely? You can use the regular iPad pinch gestures to make the photo larger or smaller.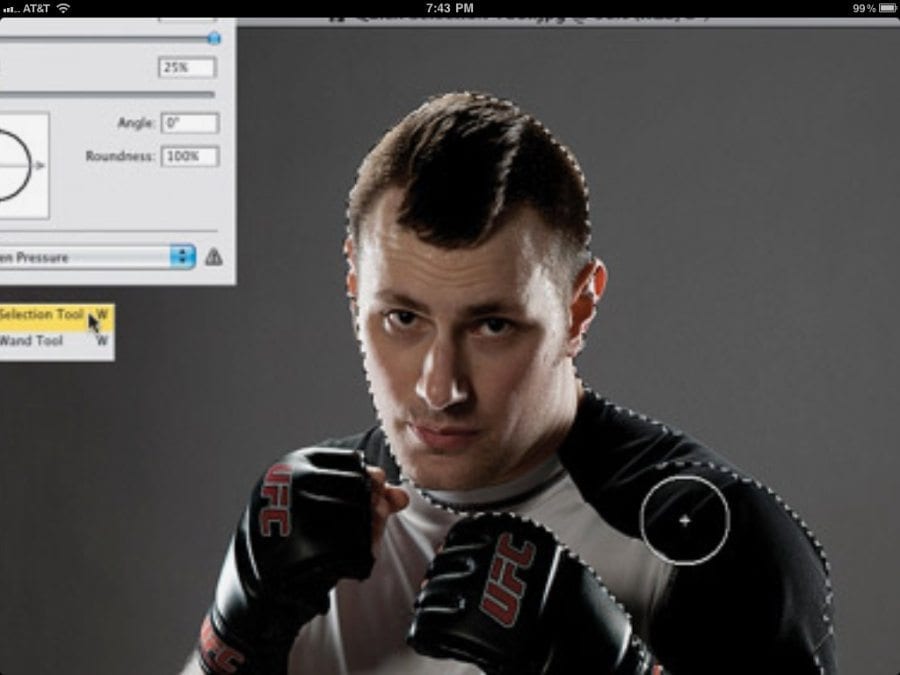 Bear in mind that the image resolution is what it is. Things may get fuzzy if you enlarge it more than its resolution, but you can get a much larger view than you would squinting at a printed book against your face.
When I consider the advantages of having an entire library of books on my iPad with light weight and a better reading experience, I'm hard pressed to buy a print edition even if it's less expensive. So why did I spend $8 more on the iBooks version than the Kindle version? Quite simply, I like using iBooks better than using the Kindle app. The interface is nicer, and that's really all a book reader program has to offer. I could pinch pennies and then gripe a bit about the Kindle interface, or I could just get the one that makes me comfortable and happy.
Of course, there are aspects of a print book that aren't yet available for an eBook.  I can't ask Matt to sign it when I see him at Photoshop World.