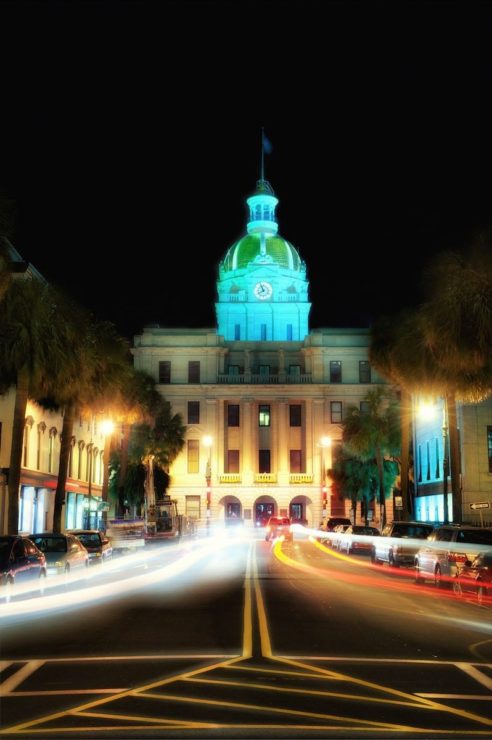 Savan­nah City Hall
I didn't know this at the time, but I've since learned that the very top dome of the Savan­nah City Hall was cov­ered with gold in 1987. Now that's quite an ambi­tious state­ment. Here in Cen­tral Florida, I hear news reports all the time about peo­ple get­ting busted for steal­ing cop­per. Just imag­ine how many peo­ple want to get their hands on a dome full of gold. I hope they have some secu­rity cam­eras up there.
When I travel, I gen­er­ally plan ahead and look for spe­cific photo oppor­tu­ni­ties that I want to shoot. Even a city where I've been many times before, like Las Vegas, still has inter­est­ing details that could work in a photo. I mostly just want to be pre­pared so I don't wan­der around in a daze and miss out on a nice travel image.
Savan­nah was no dif­fer­ent for me. I stopped there on my way back from a road trip to Wash­ing­ton, D.C. with the plan of vis­it­ing the Worm­sloe Plantation's Oak Avenue in the morn­ing before I got back on the road home. That was the extent of my plan­ning for Savan­nah, though. After all, the trip was about Washington.
In a way, that worked out rather well for me. As much time as I spend plan­ning, I also like to explore. I like to uncover the inter­est­ing places in a town quite by acci­dent, stum­bling my way down the streets as I look for a decent place to eat (even though I ended up at Five Guys). Savan­nah didn't dis­ap­point. I only wish I'd been able to get there before sundown.
Savan­nah City Hall was a com­plete sur­prise for me. I knew the city had his­tory, but this was a grand state­ment. The fact that they topped it with gold tells you how much they value that state­ment. Over 100 years old and still val­ued. That's some­thing I truly admire. Around Orlando, they implode bas­ket­ball are­nas after 20 years because they're out of date. It's a sad state of comparison.
Savan­nah is about a four hour drive away from Cen­tral Florida. That could make for an inter­est­ing trip to go shoot the sun­set, have a nice din­ner, and then ride back home in the thick of night.
Who wants to go?
Embed This Image On Your Site (copy code below):