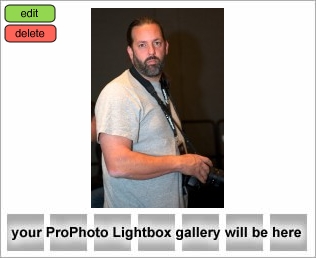 I just fin­ished my sec­ond Pho­to­shop World con­fer­ence. Right now, my mind is spin­ning with ideas. There are things I want to try and things that I want to write so I can share the expe­ri­ence. Well, that and also to remem­ber the expe­ri­ence. I may need to come back to this and refresh my mem­ory after daily life turns my mem­o­ries into a casserole.
You meet a lot of peo­ple at Pho­to­shop World and I'm going to share a small sam­ple of those per­son­al­i­ties here. I wish I had thought of this idea before the last hour or so. I would've worked on get­ting bet­ter por­traits and includ­ing some other folks. Maybe I can work on that if I attend the next Pho­to­shop World in Las Vegas this fall.
Alan Hess:: I first "met" Alan online and I don't remem­ber exactly how it came about. Prior to this week, we had mostly con­versed on Twit­ter. Those con­ver­sa­tions con­vinced me to try the Real World Con­cert Pho­tog­ra­phy pre-​conference ses­sion that Alan and Scott Diussa were teach­ing. Alan pho­tographs live bands for a liv­ing and he (& Scott) brought a wealth of infor­ma­tion to the class. It wasn't all fluff. He told us what works, what doesn't work, and what sucks about pho­tograph­ing musi­cians in per­for­mance. We kept bump­ing into each other dur­ing the show and I just decided he's a really great guy. If you want to shoot live shows, take his class next time you go to Pho­to­shop World. You'll get the hon­est story.
Brad Moore:: I met Brad for the first time at Pho­to­shop World in Las Vegas last fall, but I knew of him before that hap­pened. He was Joe McNally's assis­tant and then started work­ing for Scott Kelby. Of all the peo­ple in the photo indus­try, Brad was the only one that I wanted to make an effort to meet. There are a lot of peo­ple who go to Pho­to­shop World that are sim­ply in awe of the instruc­tors who teach there, and that's fine. I was never one to really get "star struck" by a per­son­al­ity or celebrity, though. The rea­son I wanted to meet Brad is because, quite sim­ply, this guy is my hero. He's a young man work­ing his way through the photo indus­try and I admire him for that. I know he's not the only one, but he's vis­i­ble and I like to cheer him on and hope he succeeds.
Why? When I was a kid in high school car­ry­ing around an Olym­pus OM-​10, all I wanted to do was be a pho­tog­ra­pher. I checked photo schools and was ready to go until I started get­ting into per­sonal com­put­ers. I had an apti­tude for under­stand­ing them, pro­gram­ming them, and being cre­ative with com­put­ers. It was a new pas­sion and my pho­tog­ra­phy faded away. While the IT busi­ness has been good to me, I've been pro­moted to the point where I'm no longer doing the things I was so pas­sion­ate about. It's become a bureau­cratic endeavor. When I see Brad and oth­ers like him, it makes me think about the path not taken. Then I just want to see those who take that path suc­ceed. That's why I went out of my way to shake Brad's hand. We didn't really get to talk much then or this time (he's work­ing), but he remem­bered me and had a friendly smile when­ever we crossed paths. All the more rea­son to wish him the best in his career. He's a nice guy.
Jack Reznicki:: I've heard this guy's name a few times, but never met him before this week. My expo­sure to him was watch­ing the Kelby Train­ing courses he & Ed Green­berg taught on copy­right, model releases, and other things pho­tog­ra­phers need to know. I lis­tened to a cou­ple of his ses­sions where he dis­cussed light and how to use it. He gave a live demon­stra­tion at one event that really has my head full of some cool ideas to try out and, I hope, some mis­takes to avoid. At the end of one of his pre­sen­ta­tions, I briefly spoke with him about copy­right reg­is­tra­tion (I've become a fanatic about it now). Not only does Jack have a won­der­ful pre­sen­ta­tion style, but the man was gen­uinely friendly. A nice guy who knows his stuff and shares it with you. There's not much bet­ter than that.
Jason "The Scriv" Scrivner:: My first expo­sure to Scriv was on Twit­ter. I'd just posted some­thing about meet­ing Vanelli at the air­port and he warned about the inter­est­ing adven­ture that was about to befall me. While I won't tell you that I met the guy in per­son, I saw the guy EVERYWHERE. He's all over the place. When I was try­ing to shoot the band at the Real World Con­cert pre-​con, Scriv was on the stage with a tiny video cam­era on a stick (screw­ing up my shots). He was on the Expo floor in a back-​brace sup­port­ing a steady­cam. He was in my ses­sions record­ing video and seemed to be work­ing all the time. How­ever, he also seemed to be lov­ing it.
Jay "Fuck­ing" Maisel:: Peo­ple going to Pho­to­shop World look up to their instruc­tors and it shows. A lot of those instruc­tors look up to Jay Maisel. That was enough to make me want to attend his talk. That, and the fact that I was already com­fort­ably seated in the front row of the room where he was going to speak. Within the first cou­ple of min­utes, he dropped the F-​Bomb and I knew that I was going to like this guy. He speaks slowly, but thought­fully. He shared infor­ma­tion and exam­ples of the impact of the ele­ments named in his course — light, color, and ges­ture. I won't try to recre­ate it here. I'll just say that it was a fuck­ing great course.
Joe McNally:: Joe doesn't know me, but he prob­a­bly thought I was stalk­ing him in Las Vegas last fall. I was on the Photo Safari and in every ses­sion he taught, and I was always right up front. When he was giv­ing a ses­sion on the Expo floor, I was there, too. Dur­ing his last ses­sion, he saw me again and just gave me that look for a moment — "Jesus, haven't you had enough yet?" Not that he said any­thing, but I thought it was amus­ing. This time, I only attended one of his ses­sions about life as a work­ing pho­tog­ra­pher. Once again, I had a good seat already. I saw Joe work with lights in Las Vegas and also his courses on Kelby Train­ing. This time it was just about learn­ing about the hard knocks and why he does what he does. He man­ages to teach you, tell you the truth, and be lik­able all at the same time. You'll have plenty of chances to see and hear him at Pho­to­shop World. Just don't stalk him.
Larry Becker:: Larry is a busi­ness­man, and I mean that in a good way. He's smooth, he's pol­ished, and you just don't see him lose that impres­sion or a good sense of humor at Pho­to­shop World. That's more than I could do. He makes it all look smooth while things inevitably take a bit longer than they hoped, or while Scott Kelby shows good-​natured mock­ing of Larry on large screens. Larry takes it all in stride and makes it look easy. It's prob­a­bly not, though. My guess is Larry is like that image of a duck that's smooth on the sur­face and pad­dling like hell under­neath to keep it all going.
Moose Peter­son:: This is a man who has a lot of infor­ma­tion and he shares it. Peo­ple know it and they are big fans of Moose. How­ever, some of those fans are going to come away a bit dis­ap­pointed. That's because Moose is a pretty hon­est guy and some­times he tells you some­thing you don't want to hear. Deal with it. Dur­ing the Photo Safari last fall out­side of Las Vegas, I was stand­ing nearby when one of the par­tic­i­pants approached Moose with a pho­to­graphic prob­lem and he wanted some help. The moon was vis­i­ble in the day­time sky and he wanted to include it as an ele­ment in his pho­to­graph, but it just wasn't work­ing. Moose told him right off he didn't have the equip­ment to shoot the moon, so for­get it. He elab­o­rated about the 1600mm (or some­thing absurdly large) that he used to shoot the moon and you're just not going to get it with that lit­tle thing. Pick another sub­ject and move along.
The man walked away deflated. Moose was quite likely right and saved the guy a lot of wasted time. The prob­lem is that peo­ple approach Moose (and other instruc­tors) mostly because they want to ask a ques­tion of their idol, rather than because they need to ask a ques­tion. Of course, Moose def­i­nitely invited us to ask. He wanted every­one in the group to ask at least one ques­tion. We're there to learn. That guy learned some­thing, but not what he expected. I think Moose is a hell of a guy and I appre­ci­ate his abil­ity to give a forth­right answer. You just need to be aware of that before you approach. He's not insult­ing or dis­miss­ing you. He's just giv­ing a direct answer.
Munny:: You're going to see this lit­tle white, vaguely human-​shaped toys on the Expo floor. iStock­Photo brings them, along with a plethora of paint and acces­sories to dec­o­rate them. I've never seen two that looked alike. Peo­ple get cre­ative with these things and it seems to be one of the pop­u­lar parts of the show.
RC Con­cep­cion:: RC fig­ures stuff out and shows you how easy it is to do it. The thing is, it's prob­a­bly not easy to fig­ure out unless you spend a lot of time dig­ging into prob­lems. That's what RC does. He does the dig­ging so you won't have to do it, and then he shares the easy path with a good atti­tude and a smile. Before I ever saw him in per­son, I thought the dude was mean. Seri­ously, some of the photo I'd seen of him looked like he just wasn't hav­ing a good day — ever. Noth­ing in my expe­ri­ence could be fur­ther from that mis­con­cep­tion I had of the guy. Out­side of Pho­to­shop World, I also ran into him at a work­shop in Tampa. Even though he wasn't putting on the work­shop, peo­ple were going up to him with their ques­tions & prob­lems. RC was just knock­ing them out of the park with answers. One after another, it seemed like he had all the answers and he deliv­ered them with a soft voice, a smile and a sense of humor. In addi­tion to all of that tech­ni­cal knowl­edge, he had some killer pho­tos on dis­play at the APC booth.
Scott Kelby:: You're going to see Scott Kelby at Pho­to­shop World. You can't help it. He's all over the place. His band was play­ing at the Real World Con­cert pre-​con. He's in the keynote open­ing. He's giv­ing port­fo­lio reviews. He teaches classes. He attends the par­ties. He's in the clos­ing ses­sion. Per the photo I posted here, he's also meet­ing peo­ple and shak­ing hands. The guy appears to be the same in per­son as you see in his videos or his blog. What I like most, though, is that he doesn't over­whelm the event. He gives the stage away to peo­ple who have great stuff to share and lets them shine.
Vanelli:: Scott Kelby made a blog post last fall before Pho­to­shop World about Vanelli. There was a sim­ple warn­ing — do not give this man your phone num­ber. Fast for­ward a bit — I'm in the line to get on my plane and this guy behind me asks to bor­row my phone. I'm look­ing closely and I real­ize he's the guy Scott warned us about.
The truth is that Vanelli is the friend­liest per­son you're ever going to meet, and he's very aggres­sive about it. He WILL be your friend (just ask Dave Cross in that photo I posted). As much as any­one else, and per­haps even more, he is all over Pho­to­shop World. He's nice, he's friendly, he knows every­one or soon will. I'm gad I met the guy. I've never seen him with­out a hand­shake and a smile. He takes a joke well and gives them out, too. Don't fear Vanelli when you go to Pho­to­shop World. Just know that you will meet him and he could kill you if he wasn't your friend.
Zack Arias:: I think this was his first Pho­to­shop World as a speaker, but I could be wrong. Like Jay Maisel, his was another name that I kept hear­ing about. As a guest on Scott Kelby's blog, he posted a video that, I think, is one of the most pop­u­lar posts there. At the time I saw the video, it seemed very eso­teric. He's pop­u­lar, but I never really got into fol­low­ing the guy because I had enough peo­ple to follow:
I'm glad he showed up. Before I ever sat in one of his ses­sions, I saw him roam­ing around in other ses­sions. He walked by and gave me a nice "how you doing" kind of thing. That was the begin­ning of Zack win­ning me over. With­out know­ing much about him at all, I'd been under the per­cep­tion that he was some kind of alter­na­tive prima donna. Instead, the guy was nice and down to Earth. I liked that. Then I started see­ing him around the con­fer­ence, talk­ing to peo­ple, walk­ing the floor, etc. I sat through a cou­ple of his pre­sen­ta­tions, saw his work, and now I'm dig­ging Zack, too. If you get a chance, go lis­ten to Zack and watch his pre­sen­ta­tion. It's pretty cool.
Lau­rie Excell:: Lau­rie is one of the peo­ple I didn't think to get in a photo, but she was pretty nice on both of my trips to this con­fer­ence. She was at the Real World Con­cert pre-​con and I also saw her briefly in the port­fo­lio room as I was exit­ing my ses­sion. We spent a lit­tle bit of time chat­ting and she just seemed very easy to approach. She prob­a­bly doesn't have a clue who I am because I just started talk­ing with­out the fore­thought to intro­duce myself. It didn't put her off, though. She was just as warm & friendly in a con­ver­sa­tion with a stranger as any­one I've ever known.
That's my list. It's not com­plete, but these are the peo­ple who just seemed to be there when­ever I looked up. Your list of peo­ple will prob­a­bly be dif­fer­ent, but I'm will­ing to bet some of these peo­ple will be on it. With­out a doubt, Pho­to­shop World is one of the friend­liest col­lec­tions of peo­ple I've been around. I don't know how they do it, but I just don't run into bad vibes or atti­tudes at this show. It's prob­a­bly a credit to the peo­ple who run the show. This seems to be an event that is as pop­u­lar for its social aspect as it is for the infor­ma­tion and oppor­tu­ni­ties it pro­vides. That's pretty rare.