If you're won­der­ing why any­one wants to make their HDR pho­tos really suck, stick with me. There's a method to my madness.
One of the pho­tog­ra­phy blogs I read — A Photo Edi­tor — has a post that con­tains some seri­ous wis­dom. Stated nicely, pho­tog­ra­phers should show their bad pho­tos. We all have them. Lots of them. We just should't show them. I'm going to break that rule for a cou­ple of reasons:
I've already shown these ugly photos.
I hope you can learn some­thing from my mistakes.
Why
HDR

Pho­tos Suck

All HDR pho­tos are remark­able. Some are remark­ably good and the rest are remark­ably bad. I strive for the for­mer, but I've landed in the lat­ter descrip­tion more than once. As painful as it is to show these pho­tos again, I can hon­estly say that I ben­e­fited from the expe­ri­ence. If I hadn't tried and failed, I wouldn't learn what to do on the next HDR photo, and the next, and the next, etc.

I took this photo at Down­town Dis­ney when I was just begin­ning. Some of you may remem­ber my other bad expe­ri­ence there with Dis­ney Secu­rity, but that's not really the topic for this post. That's when I cap­tured one of the world's uglier HDR Pho­tos. Here it is.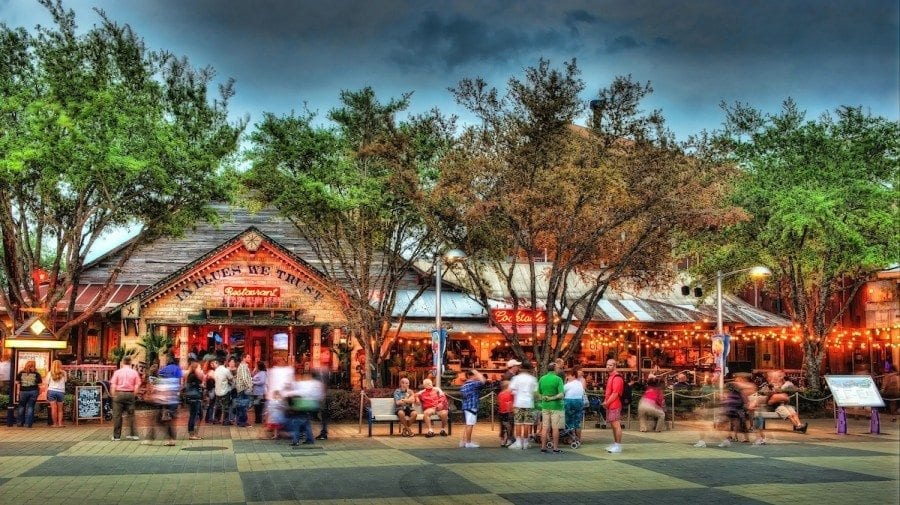 Your eye quickly tells you this HDR photo sucks, but let's enu­mer­ate some of the rea­sons so your mind can under­stand just why it sucks.
Halos — You never see such a glow around the tops of trees or build­ings like you see in so many

HDR

photos
Black Clouds — It may be a dark and stormy sky, but that dingy sky is just unnatural
Elec­tric Col­ors — I love green leaves on trees, but I don't expect them to shock me like these bright colors
If we want to throw in a bonus prob­lem, it's all the ghost­ing from peo­ple mov­ing around in the fore­ground. Some­times we can fix that later in post pro­cess­ing, but it's much smarter to avoid the prob­lem when you're tak­ing your photos.
Deal­ing with
HDR

Prob­lems in Photoshop

One of the eas­i­est ways to deal with HDR prob­lems is to use Pho­to­shop Lay­ers. No mat­ter which HDR tool I use, I always end up tak­ing the result­ing image, along with the orig­i­nal pho­tos that cre­ated it, and load­ing them in in Pho­to­shop via Bridge — like the screen­shot below.

You don't have to load every orig­i­nal photo, just the ones that you think you may use to mask into the HDR photo. I tend to load them all out of habit, but may only use a cou­ple to fix prob­lems. Once all of the files are loaded in Pho­to­shop as Lay­ers, then you can start blend­ing them together.
Drag your

HDR

photo to the top layer.
Add a layer mask.
Look at the top (

HDR

) layer and decide what's wrong with it.
Turn off the top layer by click­ing the Layer Vis­i­bil­ity icon (looks like an eye).
Exam­ine the file in the next layer. Decide if parts of it would look bet­ter in the

HDR

 image.
If noth­ing in that layer works (too dark, too bright, etc), delete it.
When you find a layer with a sec­tion that looks bet­ter than the top (

HDR

) layer, then turn on the top layer's visibility.
Change your brush color to Black and select the Layer Mask
Paint over the area of the image that you want to replace from the layer beneath it.
When you've blended every­thing from the next layer that you need, Merge Down
Repeat the process until you're satisfied.
Delete any remain­ing lay­ers that you don't need to use in the Layer Mask
To fix the halo in the sky, I use a large, soft-​edged brush to grad­u­ally blend the dif­fer­ence between the trees and the sky. As for those dark, dingy clouds — just replace the whole sky from one of the lay­ers that you think works best. There's no law that says your HDR photo has to be 100% tonemapped.
In many cases, layer mask­ing will also elim­i­nate the elec­tric col­ors like those bright green leaves in the photo above. If that doesn't work, then the Hue/​Saturation Adjust­ment is your friend. Here's what I do:
Grab the Lasso tool and make a loose selec­tion around the color you want to adjust.
Add a Hue/​Saturation Adjust­ment Layer. You'll see that your selec­tion is auto­mat­i­cally part of the layer mask.
Change the color from Mas­ter to the color that is clos­est to the area you want to adjust — in this case, Green.
Start by reduc­ing the Light­ness to bring the bright­ness out of the color until the sec­tion you selected looks right to your taste.
Now switch to your Brush tool and paint over other area of the color you're adjusting.
If you're sat­is­fied, stop here. If not, slightly lower the Sat­u­ra­tion to elim­i­nate any hot spots that remain.
Repeat for other col­ors that need to come down a notch or two.

From the image above, you can look at the layer mask to see my selec­tion was a loose cir­cle in the trees on the left side of the photo. After I pulled the Light­ness almost all the way down, the tree leaves in the selec­tion looked a bit more nat­ural. After that, I grabbed my Brush and painted over the other bright green spots in the photo.
After doing some layer mask­ing and adjust­ing col­ors, we end up with some­thing like this photo.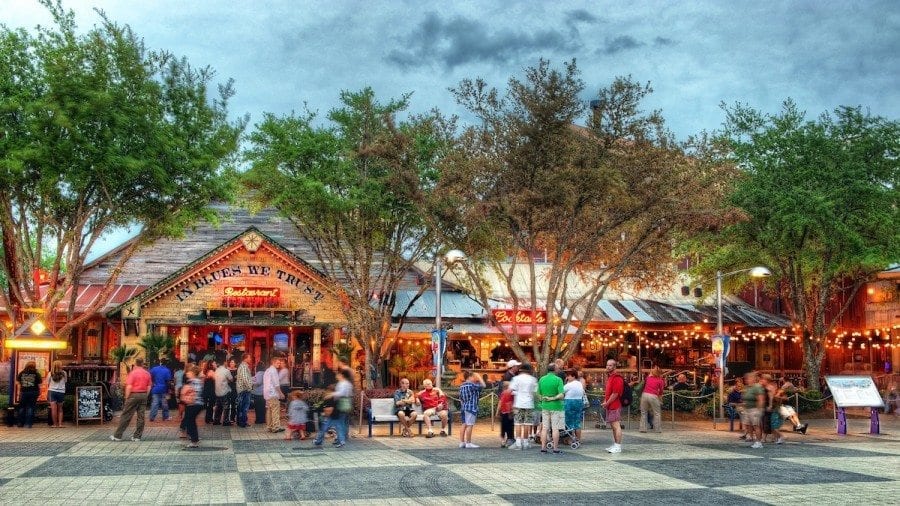 What did we get for our post-​processing?
The Halo is gone
The sky no longer works in a Ghost­busters movie
The leaves aren't elec­tric enough to power a small city
Even some of the peo­ple in front of the build­ing aren't as "ghosted" as in the first photo.
Did all of this turn a bad photo into a good one? No, of course not. It's still an unin­ter­est­ing photo with too much activ­ity and no real sub­ject to define it. HDR won't make up for a poor composition.
Remem­ber, I took this photo to prac­tice HDR. Although I've never been happy with the result (after all, it's just not an inter­est­ing photo), I've been amazed by how much it has to teach. While I can't do any­thing to really save this photo, it's helped me when work­ing on other images to avoid the mis­takes I made here.
Embrace your mis­takes. It's one of the best ways to learn. [
Click to Tweet
]