Which Skin Softening Plugin is Right for You?
Like many other people, I succumbed to Black Friday a few days ago.  I bought a skin softening plugin for photoshop, despite the fact that I already owned a couple of them. Naturally, I wondered which one is the best.
Skin Softening Plugin Comparison Test
Here are the three skin softening plugins on my test list:
Imagenomic's Portrature
Nik Software's Dynamic Skin Softener (inside Color Efex Pro)
onOne Software's Perfect Portrait
Here's the good news.  Each of these products does a very good job. Some do more than the others, so that ought to weigh into your own purchase decision. The price points aren't terribly far apart, which means you may decide to opt for the tool that gives you the most bang for your buck or for the one that does one thing particularly well. The choice is yours, but just make sure you've considered which has more value to you.
My criteria for this test is pretty simple.  All of these plugins have variables to tweak for fine tuning your results. There's no way I could go into each of them and provide a comprehensive comparison for this post, so  I decided to use their default or preset options that seemed most suitable for the test photo. I wanted to evaluate the results based upon two criteria:
Was it fast?
Was it good?
You buy plugins to save time and to yield results that you may not be able to achieve, depending upon your skill level.
The Unedited Photo For the Skin Softening Plugin Test
This is Scarlett, a local model and all around lovely person. I'm going to use a half-body shot for the test, but let's first take a look at a headshot to get a closer look at her complexion.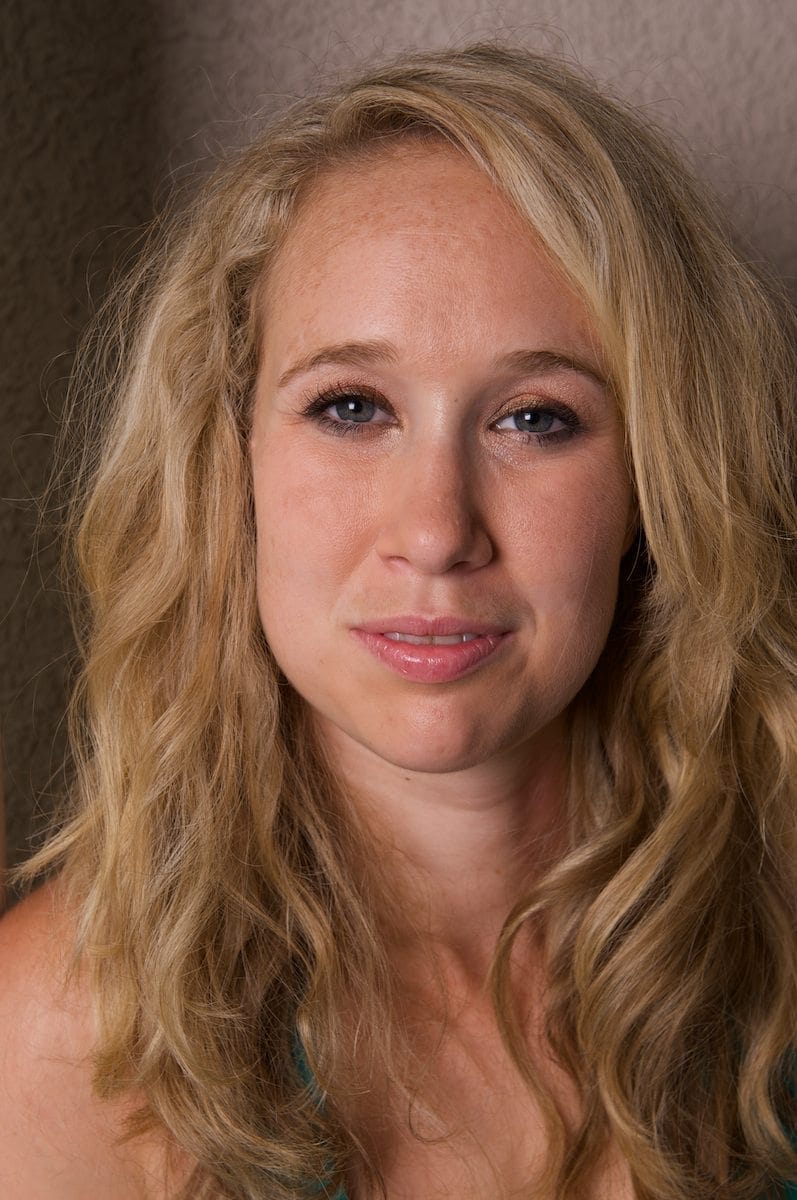 As you can see, Scarlett doesn't have a bad complexion, but there's some splotchiness on her forehead. Now let's take a look at the test image.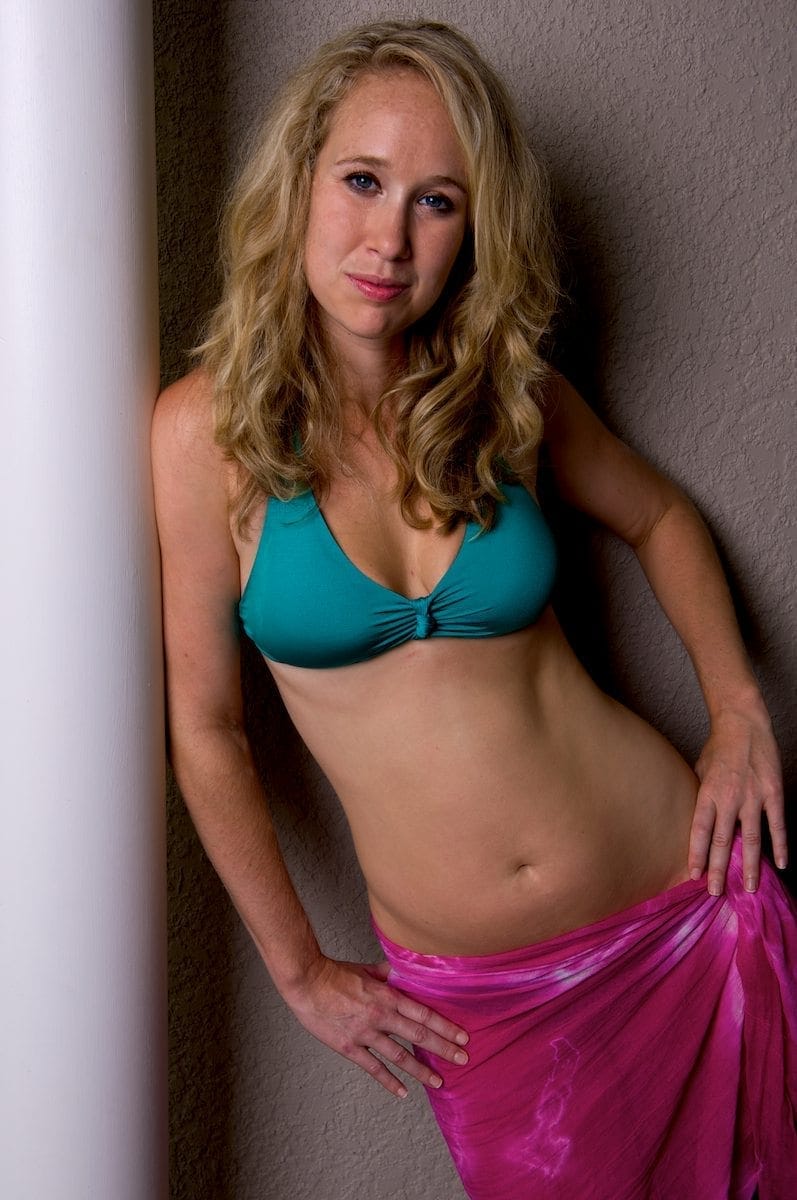 The reason I chose this shot is because it gives us a look at how the skin softening plugins work on different areas of the body – face, hands, arms, midriff, etc. She also has a slight abrasion right under the center of her bikini top, which is another type of skin issue that you need to address in post processing.
Imagenomic Portrature
This is the skin softening plugin I bought on Black Friday. It's not an inexpensive program, and it really serves a single purpose. Typically $199, I saved about $60 using their Black Friday code – THANKU2013.
Many vendors will give you several versions of their plugin with the same purchase to work with Photoshop, Lightroom and Aperture. Not so with Imagenomic.  I bought the Photoshop plugin, but the Aperture and Lightroom version were an extra cost that I decided to avoid.
Keep that in mind for your value proposition.
It does one thing
It costs extra to use in different programs
With that in mind, let's see how well it does it's sole purpose effect.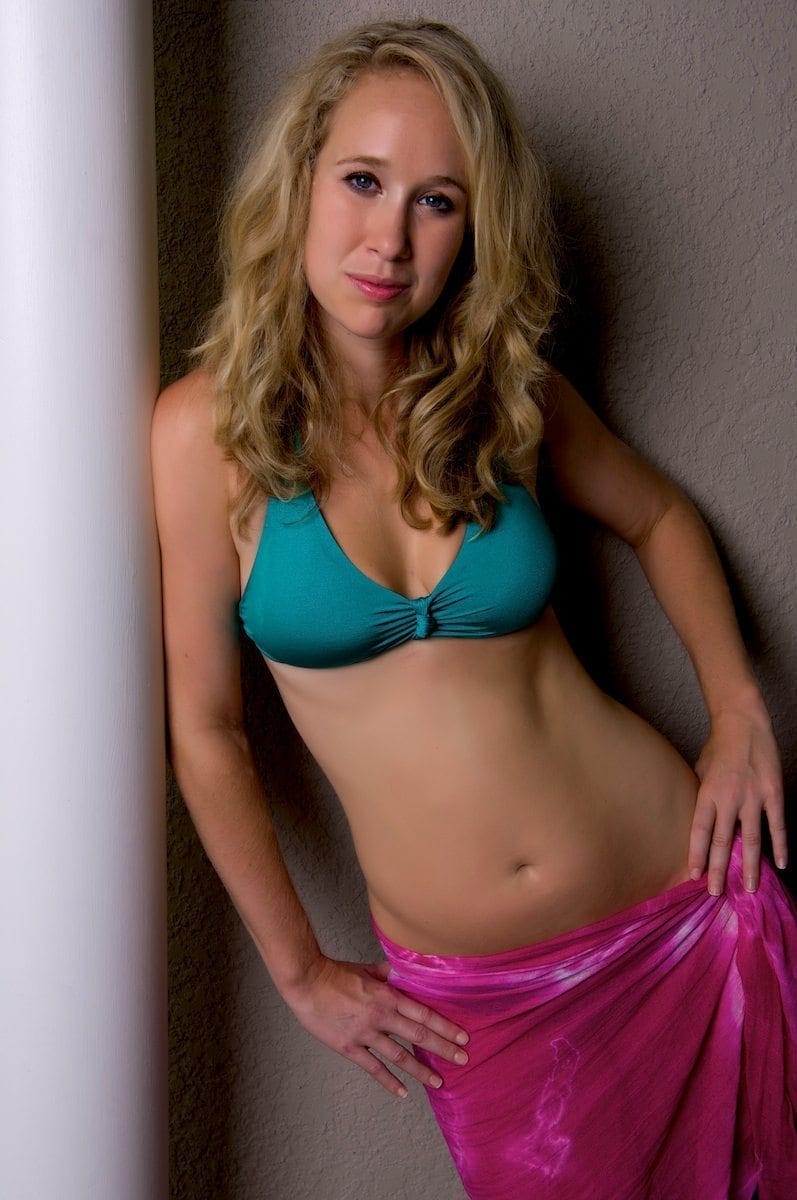 Perhaps Portraiture only does one thing, but it does it very well. This is from one of the default settings for skin softening without any additional tweaks. You can spend time achieving more fine control, but Imagenomic Portraiture does a great job right out of the box at smoothing skin, eliminating splotchy skin and reducing abrasions.
One of the things that I particularly liked is how it changed the look of her hands, since that's often overlooked when some people do skin softening.
Nik Software's Dynamic Skin Softener
Dynamic Skin Softener is one of many tools in Nik's Color Efex Pro. The entire Nik Collection is only $150 now, so you get an incredible bang for your buck when you consider the sheer volume of tools available with this plugin. Yet, the questions that remain are the same.  Is it fast, and is it any good?  Here's the photo after the default application of Dynamic Skin Softener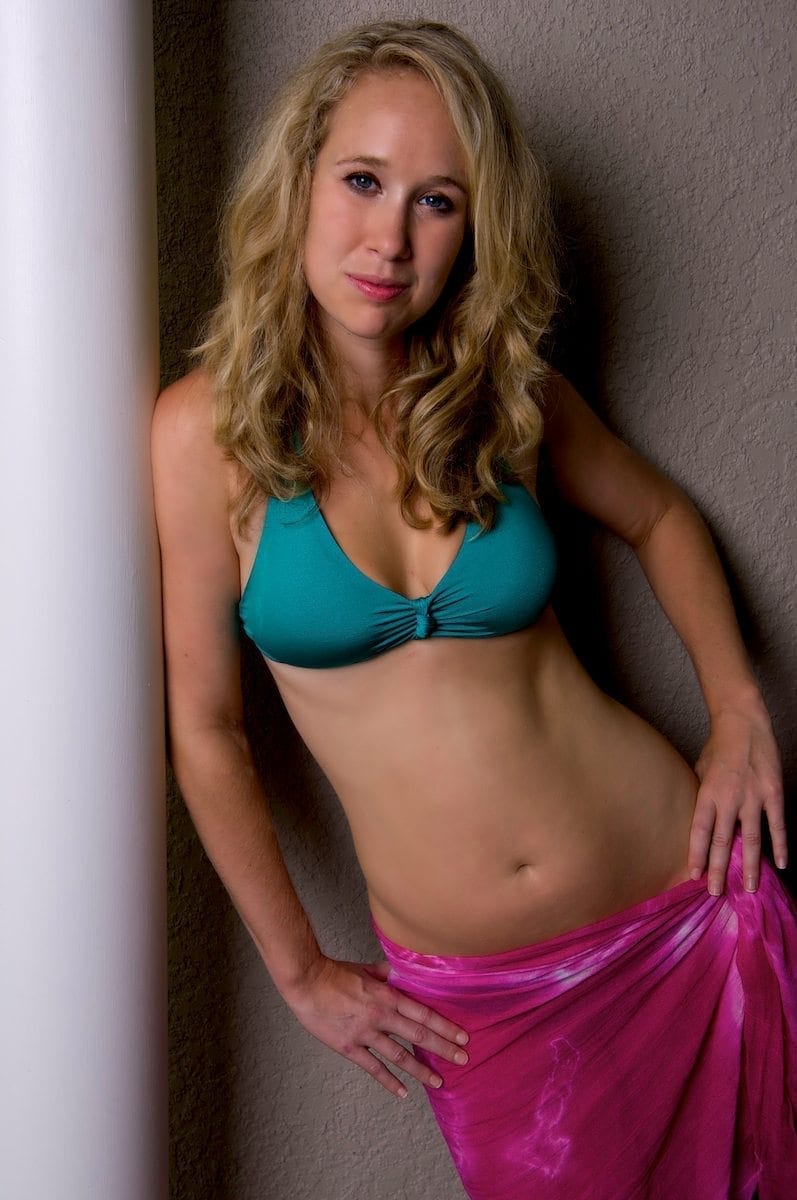 First, it's quick. Upon opening the Color Efex Pro plugin and selecting Dynamic Skin Softener, I only had two more steps.  I chose the Default preset option, and then I used the eyedropper to select a skin tone from Scarlett's cheek.
The results were better than I expected. The skin softening seemed just about as good as Imagenomic Portraiture's results, but there were exceptions. Nik's plugin didn't deal with the splotchy skin on her forehead or the abrasion to blend them in with the overall skin texture. That means you still have to go back and do more touch-up work.
Nik's entry is fast, covers about 80% of the job, and includes a bevy of other tools that you can use in your photography. Nik Software Complete Collection is $150 and works with Photoshop, Aperture and Lightroom.
onOne Perfect Portrait
Skin softening is only one part of onOne Software's Perfect Portrait tool. It has options to cover all of the portrait retouching issues you face, including attention to eyes, teeth, lips and skin.
For this test, I used the Full Body default setting and here's what I got.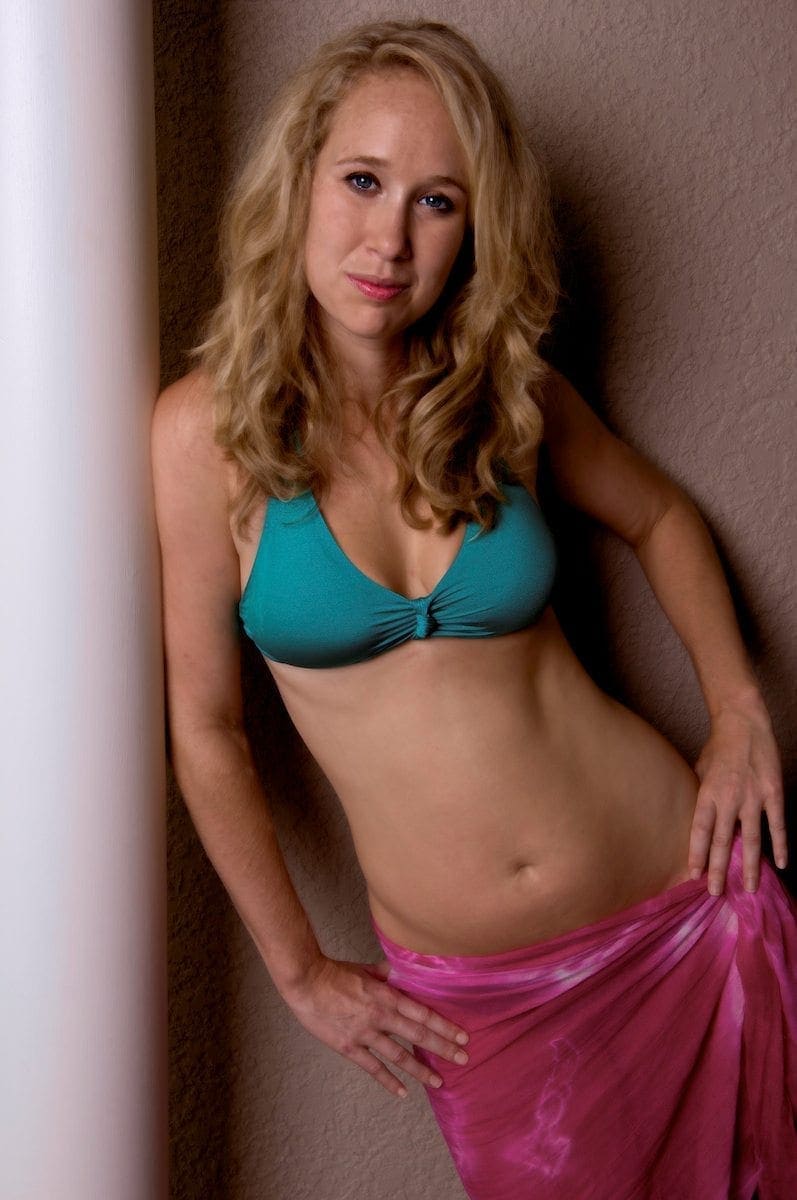 The first thing I notice is an obvious color cast. I've had this issue with Perfect Portrait on other photos. It's easy to correct inside the plugin, but I'm irked that it happens in the first place.
Of the three plugins, Perfect Portrait does the least to compensate for skin in its default preset. You have plenty of options to increase the skin smoothing, deal with blemishes and control other aspects beyond skin softening.
Perfect Portrait is part of the onOne Software Perfect Photo Suite. The Premium Edition includes support for Photoshop, Aperture and Lightroom.  You can get a less expensive version that omits Photoshop support. It also works as a stand-alone software package.
Which Skin Softening Plugin is Right for You?
Before I get into that question, let me say that I can honestly recommend each of these products. I bought every one of them, I use every one of them and I'm happy with them for different reasons.  That said, how do you decide?
Best of Breed
You have money and you want the best product for skin softening. Imagenomic Portraiture is right for you. It's the best of breed product here. You pay for it, but it delivers excellent results and saves you time.
Best Portait Software
Skin softening is only part of your portrait retouching needs. onOne Software's Perfect Portrait can deliver excellent results, but it takes a it more tweaking to use properly.
Portraits Are Only Part of Your Needs
Get Nik Software's Complete Collection.  You'll love most of the other tools. The Dynamic Skin Softening gets you most of the way there for those times when you do portraits, but you may still need to do some touch-up work for blemishes.
If you liked this post, get more. It's free!
Make sure you get every post and more content that doesn't appear on the blog.