Why You Should Stop Wor­ry­ing About Peo­ple Steal­ing Your Photos
A cou­ple of weeks ago, I found myself in another online dis­cus­sion about peo­ple steal­ing your pho­tos. That means it must be time to share yet another post about why you should stop wor­ry­ing about peo­ple steal­ing your photos.
The rea­son it came up took me by sur­prise. I ques­tioned some­one as to why she never posted her pho­tos online in a sec­tion of a mes­sage board about pho­tog­ra­phy, yet she seems to like pre­sent­ing her­self as a pho­tog­ra­phy expert. To me, that just screamed "foul." If you're going to offer advice (solicited or not) about any topic, I think you ought to show folks how you do in the field. Oth­er­wise, it just seems like yet another per­son with a big hat and no cattle.
The response she gave was fear of hav­ing her images stolen. I think she said it had hap­pened before, so her answer was to just shut down and never show a photo online again.
Wel­come to the Inter­net — All
UR

Pho­tos Belong 2 Us

Folks, it's long past time to get over this silly notion about hav­ing your pho­tos stolen. I say that as some­one who also used to get his shorts in a twist about the very same thing, and has even sued some­one for copy­right infringe­ment. I actu­ally believe more pho­tog­ra­phers should sue for legit­i­mate copy­right infringe­ment, as it's a very edu­ca­tional process. You come out of the other side with a new appre­ci­a­tion for the dif­fer­ence about what you thought ver­sus how things actu­ally work.

Let's take a look at some rea­sons peo­ple may steal your photos.
They like them! — Oh, the hor­ror! Some­one likes your photo enough to want to show it to other peo­ple online. Punch that sucker in the mouth for such audacity.
They like the sub­ject — Believe it or not, it's most likely not about you or your photo. It's about the sub­ject of the photo. Nobody knows who took the pic­ture of the blonde in the bikini. They just like the blonde in the bikini.
The want to use it com­mer­cially — Of all the folks who steal your pho­tos, these are the peo­ple you should absolutely adore. Why? Because you can sue their ass.
Ask your­self a ques­tion and be hon­est with the answer. Have you ever found a photo online and saved a copy for your­self? If you said "yes", con­grat­u­late your­self on being a photo thief. If you said "no", you're prob­a­bly a liar who steals more pho­tos than any­one else, but doesn't have the cojones to admit it. It's easy to drag and drop a photo from a web site. It's easy to share a funny pic­ture online. Tum­blr is full of LOLCATS and other images that were taken and trans­formed with some text.
There have been some cir­cum­stances of fraud, such as when one pho­tog­ra­pher shows a photo as his own work, when it was really taken by a dif­fer­ent pho­tog­ra­pher. I've seen this hap­pen on wed­ding sites and even among some rather famous names in the busi­ness. Not only are those issues in poor taste, but they can serve other pur­poses. Believe it or not, that can be a pro­mo­tional opportunity.
Hey, my photo was so good that famous XYZ stole it to rep­re­sent as his own work.
If you put your photo online, some­one will like it and re-​use it. That's what Pin­ter­est does. That hap­pens all the time on Face­book and Google+. It even hap­pens on plenty of blogs. So what is your alternative?
You could do like the per­son I men­tioned at the start of this arti­cle. Never share your pho­tos online for fear of theft. Just hide under a rock. That will keep folks from tak­ing your pho­tos, but it will also pre­vent you from using your images in any sort of mar­ket­ing or pro­mo­tion. If a bride is search­ing online for a wed­ding pho­tog­ra­pher, do you think she'll choose the one who doesn't show any pho­tos at all? Not likely. The way to pro­mote your­self as a pho­tog­ra­pher is to show your photos.
The next alter­na­tive peo­ple con­sider is the use of a water­mark. I was guilty of this, too. Water­marks have prob­lems, too. If they are small, then they're easy to remove by crop­ping them out of the image or using cloning tools in Pho­to­shop or other image pro­cess­ing tools. Make the water­mark too big and it oblit­er­ates your pho­to­graph. Instead of show­ing some­thing that peo­ple can admire, they just look at your ugly water­mark and move on to another pho­tog­ra­pher. Using a water­mark is no guar­an­tee that the photo won't be stolen and used as-​is, either. The case where I filed a copy­right infringe­ment law­suit came about because I heard from other pho­tog­ra­phers com­plain­ing that the site stole their pho­tos — includ­ing many with large water­marks. The infring­ing com­pany didn't even select the pho­tos by sight. They wrote a script that down­loaded them whole­sale from Flickr based upon sub­ject. Com­puter automa­tion doesn't know about water­marks. It just knows that it took a photo from one source because it had meta­data to describe its subject.
Whin­ing Doesn't Work
I hear quite a bit of whin­ing when some­one finds their photo stolen and used on another site. It's under­stand­able. There's a feel­ing of vio­la­tion. Some­one took some­thing of yours with­out any cour­tesy to you and used it as if it were freely avail­able for any­one to use. We know that isn't the case, but what did you do to pro­tect yourself?
As I men­tioned above, a water­mark doesn't stop peo­ple from steal­ing your pho­tos. Here are some things you can do to pre­pare for the inevitable moment when your pho­to­graph shows up with­out your authorization.
Reg­is­ter your pho­tos with the

US

Copy­right Office. Even folks from other coun­tries take this step because it is the only thing that grants you the right to sue for copy­right infringe­ment in

US

Fed­eral Court. Yes, you own your copy­right the moment you cre­ate a work. Big deal. You can't sue with­out a valid and timely reg­is­tra­tion, so how are you going to enforce that unreg­is­tered copy­right? For $35, you can reg­is­ter a plethora of pho­tos in bulk. That's cheap insur­ance against copy­right infringement.
Load your pho­tos with meta­data. There are many peo­ple who may find your photo and try to con­tact you for a license to use it. They're will­ing to pay you, so make it easy for them to find you. Put your name and con­tact infor­ma­tion in the meta­data. Get a 

PO

Box and a Google Voice num­ber if you don't want to give out other infor­ma­tion. Put your email and web address in there. Put in plenty of descrip­tive key­words so peo­ple can find your pho­tographs. Make it easy for some­one to find your photo and to find you. What­ever you do, don't let your photo fall into the cat­e­gory of an orphaned work. Hav­ing that meta­data can be the dif­fer­ence between mak­ing a profit or a stolen image. There's another twist. If some­one steals your photo and delib­er­ately removes that infor­ma­tion, then you have cir­cum­stances that can help prove your copy­right infringe­ment case against them because of a will­ful vio­la­tion. That can lead to greater dam­ages. It also makes it eas­ier to search for your pho­tos and find them used elsewhere.
Use a dig­i­tal water­mark­ing ser­vice — Pho­to­shop has a plu­gin called Digi­marc. It puts an invis­i­ble water­mark in your images that can't be removed. Folks have tested this by tak­ing a photo of an image on the screen, print­ing it out and run­ning it through a scan­ner. The Digi­marc water­mark still showed up to iden­tify the copy­right owner. You have to pay for an annual sub­scrip­tion, but I believe it's worth it. For exam­ple, you may take a photo at an event and find it used else­where. I did, but the guy who pub­lished the mag­a­zine with my photo claimed it wasn't true — he was stand­ing in the audi­ence and took the same shot. We must have been right next to each other, right? Digi­marc proved him wrong. There was no way my dig­i­tal water­mark would show up in a photo that he took with his own cam­era. Even if some­one strips out your meta­data, they can­not remove that dig­i­tal watermark.
Give your pho­tos away for free — They can't steal it if you give it away for free. You can use a Cre­ative Com­mons license to allow peo­ple to use your images for non-​commercial usage. After all, do you really care if some­one takes your photo of Las Vegas and uses it for their desk­top wall­pa­per? You can find my licens­ing terms at http://​williambeem​.com/​l​i​c​e​n​s​i​ng/.
Using Photo Theft to Your Advantage
I men­tioned ear­lier in this post that most cases of copy­right infringe­ment aren't about com­mer­cial usage. A legit­i­mate busi­ness doesn't want to get sued. That doesn't mean infringe­ment can't hap­pen. My own sus­pi­cion is that it hap­pens from an indi­vid­ual in the busi­ness who makes a wrong choice rather than a pol­icy of a busi­ness to steal for its own usage. The busi­ness is still liable, but many know bet­ter than to take some­thing with­out a valid license.
The first way to put photo theft to your advan­tage is to reg­is­ter all of your work with the US Copy­right Office. That way, you're pre­pared to take action in case of com­mer­cial copy­right infringe­ment. A lawyer will likely take this case on a con­tin­gency basis, which means your up-​front costs are vey low com­pared to other types of law­suits. There is no con­tin­gency defense, though. That puts the infring­ing party on notice that this could be very expen­sive for them to pay their attor­ney fees, and there­fore makes set­tle­ment very likely. This only hap­pens with a valid reg­is­tra­tion, though. Angry let­ters and whin­ing on the Inter­net aren't very mean­ing­ful with­out any force to back up those words.
The next way to put photo theft to your advan­tage is to elim­i­nate the theft. I men­tioned Cre­ative Com­mons as an avenue to grant a usage license for your pho­tos. Why would you do this? Because it's a type of mar­ket­ing strat­egy. You can choose a license that requires attri­bu­tion, so your name is asso­ci­ated with the image and you reach a broader audi­ence than you could on your own. Another usage require­ment would be to have a link back to your own web site. That's good for search engine opti­miza­tion and to pro­vide a path for new view­ers to check out your other work. It shows the search engines that other sites trust you, or refer to you as an author­ity. In turn, that helps your page rank and affects how high you show up in search engine result pages. More impor­tantly, it does so nat­u­rally. There are SEOs out there right now whin­ing about being pun­ished by Google's lat­est algo­rithms because of the way they earned their back links. Some of them are being de-​listed, while many oth­ers are plung­ing in rank. It's killing their busi­ness because they used tech­niques like buy­ing links, using arti­cle spin­ning direc­to­ries, or spam­ming com­ments on mes­sage boards. When some­one chooses to give you a back link in their own web page, it's nat­ural and more author­i­ta­tive than the SEO tricks used by some Inter­net Mar­keters. Giv­ing away your pho­tos for non-​commercial usage is a great way to gain thou­sands of high qual­ity back links to your site.
Infringe­ment Hap­pens — Deal With It
Despite your good karma and copy­right reg­is­tra­tion, there may be some cir­cum­stances where you just can't do a damn thing. Take a look at this image and my photo at the top of the arti­cle. Some­one stole my photo and rep­re­sented it as a com­pletely dif­fer­ent build­ing on the other side of the planet! I found it using Google Image Search. Those tech­niques I told you about load­ing your photo with meta­data and Digi­marc can help your search. In this case, I know that there is no way these folks were ever going to pay me for my photo. Can I sue them in a for­eign court with my
US
Copy­right reg­is­tra­tion? Per­haps, as other coun­tries do rec­og­nize Inter­na­tional Copy­right via the Berne Con­ven­tion. Will it cost me money to pur­sue it? You bet your ass it will, and I'm less cer­tain of the out­come for a case out­side of the
USA
. This is one where I just had to suck it up and let this slide.
Sav­ings
&

Retire­ment Forum Uses My Capi­tol Reflec­tion Photo

Then there are times when I have to decide whether it's in my inter­est to sue or not. Take this recent issue for exam­ple. Sav­ings & Retire­ment Forum took my Capi­tol Reflec­tion photo from Flickr to use on its site. They give me attri­bu­tion and a link back (to Flickr, not my web site). Is this a com­mer­cial or non-​commercial usage? I sent a request that they change the attri­bu­tion link from Flickr to my site, but they haven't hon­ored that request.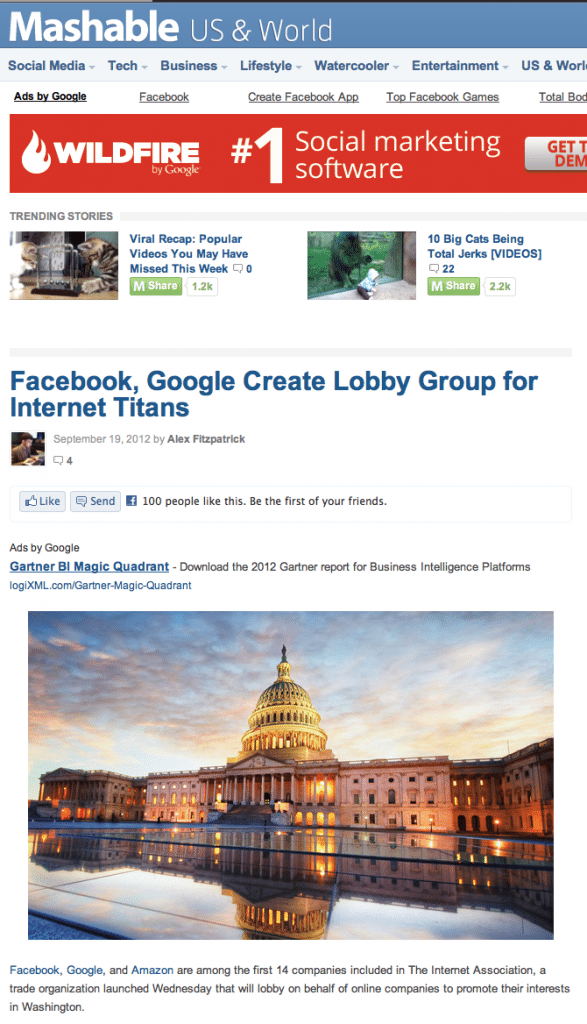 Mash­able Loves to Use My Capi­tol Reflec­tion Photo
Here's another exam­ple (right) from Mash­able. They make quite a lot of usage of my photo. They also pro­vide attri­bu­tion and a link to Flickr. How­ever, the link to Flickr goes to Flickr's main page, and the link of attri­bu­tion doesn't go to my Flickr Page or to my site. In fact, it just gen­er­ates an error mes­sage on their site. More than that, Mash­able vio­lates Flickr's terms of ser­vice because it doesn't link back to the photo on Flickr. They took the photo and hosted it on their own servers. I'm basi­cally get­ting noth­ing from Mash­able, which makes me won­der if I should write them a nice let­ter or just try to sue their ass for copy­right infringement.
This isn't the first time that Mash­able has taken a short­cut with giv­ing proper attri­bu­tion to pho­tog­ra­phers. Trey Rat­cliff called out Mash­able ear­lier this year for using pho­tos on his Stuck in Cus­toms blog while using con­fus­ing and use­less attribution.
As you can prob­a­bly tell, Mash­able is the exam­ple that most annoys me. Of the six pages of results that I found on a Google Image Search for my photo, most of the entries were used by Mash​able​.com. Yet, I'm get­ting absolutely no ben­e­fit at all from them. My usage terms are included in the Copy­right meta­data for each of my images. The infor­ma­tion that Mash­able needs to give me proper attri­bu­tion and a link back to my site is right there, but they chose to ignore it. I expect that attri­bu­tion and link for every usage page and I'd gen­uinely like to have that link from Mash­able. It's a respected resource. Unfor­tu­nately, it's not a resource that shares that respect to the pho­tog­ra­phers whose images they use.
Demo­c­ra­tic Can­di­date for Con­gress Howard Swint Uses My Capi­tol Reflec­tion Photo With­out Attribution
My favorite is from a West Vir­gin­ian run­ning for Con­gress. Howard Swint is a Demo­c­rat (note: I'm a Repub­li­can) who took my photo for use on his cam­paign. You can't even trust a per­son who wants to be a mem­ber of Con­gress to give you the cour­tesy of request­ing use of your pho­tos some­times. Howard Swint doesn't even give me any attri­bu­tion for the photo or a link back to my site, Flickr or any­where. He just took the damn thing because he liked it.
While that may annoy me, I'm not going to sue his ass. Run­ning for polit­i­cal office is a non-​commercial usage (try not to laugh too hard) and it falls within the Cre­ative Com­mons license, except for the nig­gling fact that Howard Swint doesn't honor the require­ment for attri­bu­tion or a link back to me. Shame on you, Howard Swint.

Bel­gians in Space Use My Capi­tol Reflec­tion Photo
OK, here's one more exam­ple from 2Space.nét using the same image. They also fail to give me any attri­bu­tion or a link back to my own site.
On the other hand, they're in Antwerp. This is another exam­ple of a for­eign usage that may be dif­fi­cult to pros­e­cute. Should I lose any sleep over the infringe­ment, or should I con­tact them and request attri­bu­tion and a link back to my site? To be hon­est, I think I would have much more suc­cess with the lat­ter approach.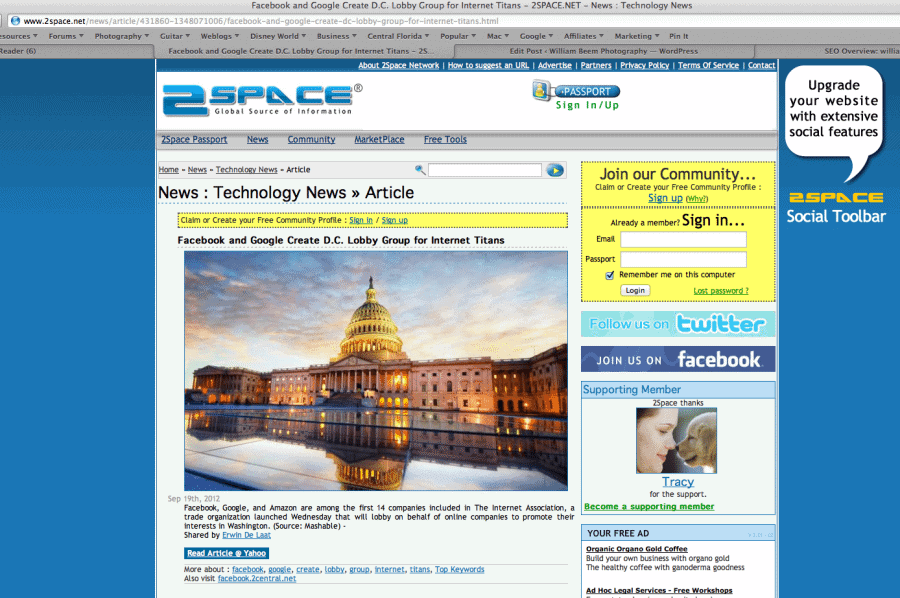 I found six pages of usage of my photo in one quick Google search. In most cases, I don't care that they're using my image. I would rather have a proper attri­bu­tion and link back to my site, though. With that in mind, I'm going to use the friend­lier approach of mak­ing such a request of them, which will likely require some follow-​up.
As you can tell, it's easy for any­one to take your images when you post them online. The ques­tion you need to face is how much energy are you going to spend wor­ry­ing about some­thing that's out of your con­trol? Pro­tect your images with a dig­i­tal water­mark and copy­right reg­is­tra­tion if you want to take the aggres­sive posi­tion of fil­ing law­suit. Use Cre­ative Com­mons if you want to use the sys­tem to ben­e­fit your web site with some Google juice. Or you can just hide under a rock telling peo­ple you're a pho­tog­ra­pher, but never show­ing them.