Introducing the Peak Design Travel Line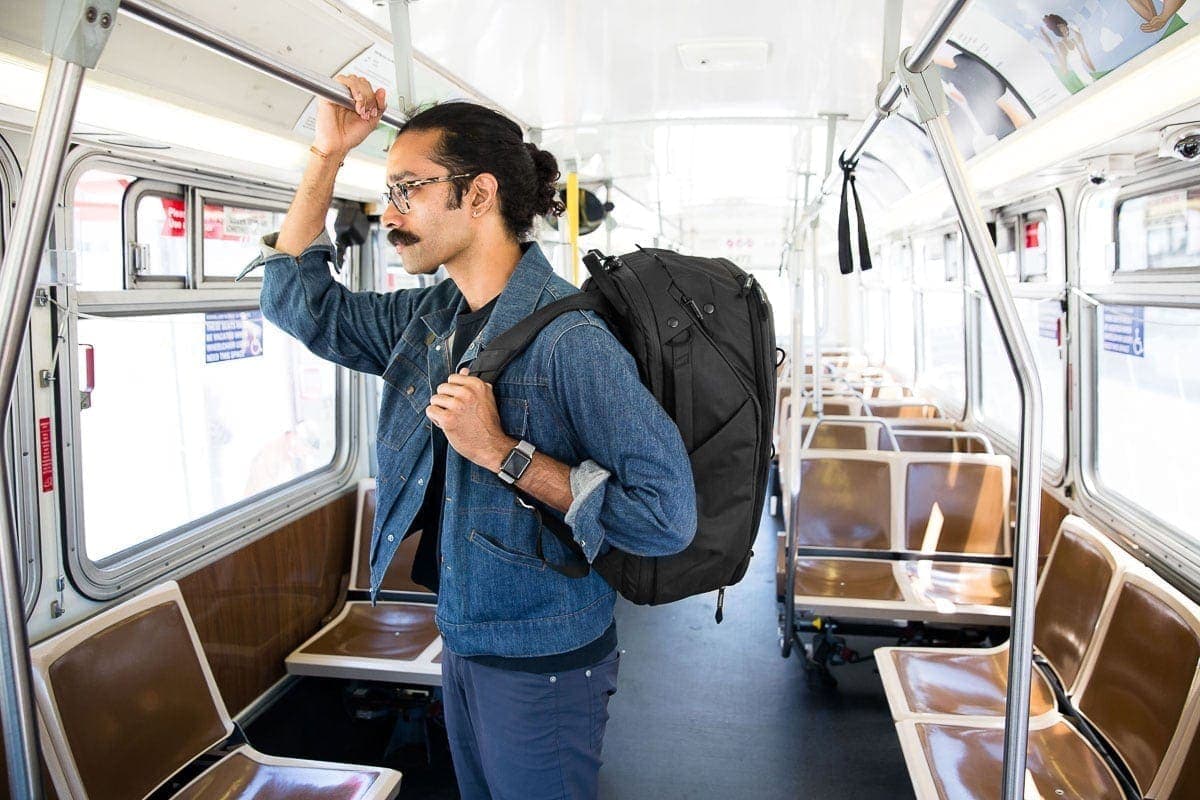 I have an early look at a new series of travel packs and accessories from Peak Design – the same folks who brought us the Everyday Messenger Bag, Everyday Backpack and a host of other well designed accessories for photographers.
Now the folks at Peak Design have a new Travel Line coming out on Kickstarter and I wanted to give you a look at it. If you decide to back the project, you'll get a discounted price on the travel line before it goes on retail sale.
Check Out the Kickstarter Campaign
I want to let you know that I'm an affiliate for Peak Design. You can save money on these products if you fund the campaign before the products go to retail, and I'll receive a small commission if you buy based upon my recommendation.
I'm a Peak Design Customer
I currently own two Peak Design products, and I'm ogling a few more. The first product I bought was the Everyday Backpack in the 20L size. It's perfect for me. I can carry just the gear that I want, yet organize it for access on the left or right side, as well as from the top.
You can fit a 15″ laptop and iPad in the zipper compartment on the top. I put a full sized DSLR inside, a 70-200mm lens and a 24-70, with room for a flash and other accessories inside (like my MackBook Pro power supply and some tasty snacks). Yet I still have room to spare.
It's water resistant, organized and has straps that allow me to secure it around my waist, add on a drone to the back or a tripod on the bottom, and even has a chest strap to make the load balance a little better. You even get some tabs on the zipper pulls that connect to part of the backpack so someone can't easily come up, unzip it and steal your stuff.
That means I have a convenient way to carry a lot of stuff comfortably and yet it's easy for me to access, but not so much for people who shouldn't be peeking at my stuff.
The folks at Peak Design think through details that I didn't even know I needed, which is why I'm really excited to see this new series come out.
The Travel Backpack 45L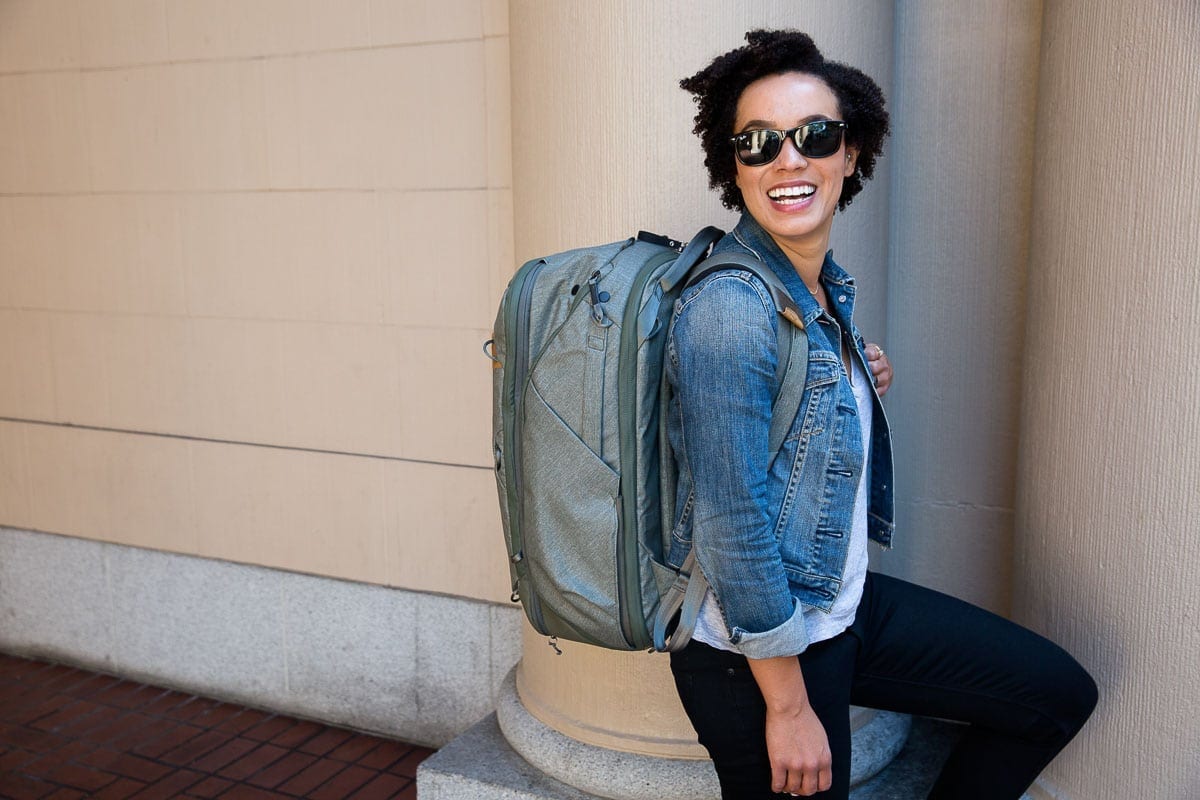 One of the things I like is that it doesn't scream out PHOTOGRAPHY GEAR INSIDE to anyone who sees it. For most people who cross your path, it just looks like another backpack.
It's just an amazing backpack, though.
Here are the features.
45L Travel Backpack
MSRP: $299.95
Available on Kickstarter for a Limited Time: $235
Access
  Full back panel-load access for packing
  Dual zippered side hatches for instant camera access
  Quick tablet & laptop access
  Dedicated front organization panel
  Soft-lined sunglasses pocket
  Hidden passport/document pockets
  Bag sits upright on floor when packed or empty
Expansion & Compression
  Maximum international carry on size in normal 35L state
  Expansion zip gives additional 10L of storage (45L max)
  Compressible down to 30L day bag size
  Expandable side pockets for water bottles, tripods
  Tuck-away external carry compression straps
Organization
  Rigidly supported sidewalls for easy packing
  Zippered dividing panel separates bag into 2 compartments, or stows away for 1 large volume
  Front organization panel contains 4 zippered mesh pockets for smaller items
  Mount Camera Cubes (sold separately) internally for back or side access to photo, drone, or video gear
  Protected luggage tag holder
Comfort & Portability
  Magnetic strap storage system
  360-degree grab handles
  Full-size padded hip belt with additional pockets and attachment points for Capture & Range Pouch (sold separately)
  Axial strap attachments for shoulder & hip straps give constant comfort for all body types and carry loads
  Proprietary sternum strap
  Luggage pass-through and duffel grab handle
  Back panel folds under for increased ventilation & comfort
Security
  400D weatherproof 100% recycled nylon canvas shell
  DWR impregnated, PU-coated interior for water resistance
  Oversized #8 (front, side) and #10 (back) main zips are weatherproof and lockable
  Rugged 900D weatherproof bottom liner
  Ultralight padded foam provides security, structure, and aesthetic cleanliness around entire bag
Sometimes photos tell the story better than words, though.
The Packing Tools
A great backpack is nice, but there are other great backpacks. What makes this work are the packing cubes and pouches that go with it. That's because this isn't just another camera backpack. It's a travel backpack, so it works for a variety of types of trips.
So it has a camera cube for photographers, and a tech pouch for your gear. However, there are other compressible cubes for your other stuff.
And that's really the point.
When you travel, wouldn't you love to skip the baggage carousel because you have everything with you as a carry-on? Just sling it on your shoulders and go. Camera, clothes, all that stuff.
The Camera Cube
Camera Cubes (MSRP: Sm – $49.95, Md – $69.95, Lg – $89.95) – Camera Cubes provide protection, organization, and instant access to camera, video, and drone gear. Securely mount Camera Cubes inside the Travel Backpack and access your gear via the rear or side zips. Tuck-away lids let you access camera gear from outside of the bag via a single zip, while a system of intelligently designed dividers allows for endless organization and customization.
The Tech Pouch
Tech Pouch (MSRP: $59.95) – Designed to store small items like cables, cards, batteries, and travel essentials, Tech Pouch's unique origami-style pockets create enormous spatial efficiency. Pack more into a smaller space, yet keep all items organized and easy to find.
The Packing Cubes
Packing Cubes (MSRP: Sm – $29.95, Md – $39.95) – Compressible, easy to access, and dividable, Peak Design Packing Cubes are available in 2 sizes. A tear-away main zip lets you access contents instantly, and an internal divider allows separation of clean and dirty clothes. An expansion/compression zip doubles available space or compresses clothes so you can fit more in your bag.
The Wash Pouch
Wash Pouch (MSRP: $59.95) – Dedicated, easy-to-clean pockets for toothbrush and razor. Hangs or sits upright on sink for easy access in tight spaces. Unique folding pocket layout keeps toiletries neatly organized and easy to find.
The Shoe Pouch
Shoe Pouch (MSRP: $24.95) – An ultralight, durable, weatherproof pouch for shoes or additional clothing storage.
The Rain Fly
Rain Fly (MSRP: $29.95) – Provides complete waterproof protection to an already weatherproof bag. Rain Fly is made of durable, ultralight 200D rip-stop nylon, adjusts via cinch cord for snug form-fit, and stuffs into a convenient storage pocket.
Each Piece Works Together or By Itself
From the outset, the design intended for each piece in the travel line to work as a stand-alone product. You can use the cubes and pouches with other luggage or combine them together with the Travel Backpack 45L. It's a system that works with many different configurations, depending upon which items and sizes you choose.
Yet each piece does its job independently of the others in the line.
Click Here to Check Out the Peak Design Kickstarter for the New Travel Line
Click Here to Check Out the Kickstarter Campaign