How much would you expect to save on a discount coupon for a Nikon D800? Maybe $100 or even $200? Those are the amounts I've heard rumored that Nikon will drop the price of the D800 at the end of this week. Hey, any amount of savings is a good thing. Now let's take your imagination a step further. It doesn't have to be a Nikon D800 on discount. It could be any camera. That's what happened this weekend when Staples released this coupon into the wild.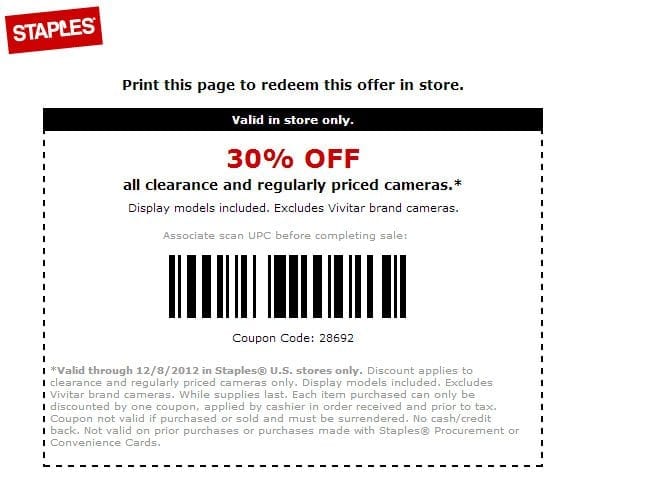 I saw a person post an article from FSTOPPERS about this special deal. 30% off any camera. It definitely got my attention. It made me think to myself (which is my favorite way),  

That's $900 off the price of a Nikon D800. Not too shabby. If you look at the article, there are photos of receipts from folks who took advantage of this discount on a Nikon D800 at Staples. While I already have a D800 refurb on order from Adorama, this was a bigger savings with the regular Nikon warranty, plus the additional year that AMEX provides when I buy on that card.
The Nikon D800 Discount That Wasn't
If it seems too good to be true, that was the case for me. I started calling my local Staples and none of them had this camera in stock. Apparently, Staples stores in the Southeast Region (Florida, Georgia, Alabama, etc.) are in "high risk" areas, so they don't carry DSLR cameras. All they have on hand are point & shoot cameras. The coupon was good for those cameras, but that's not what I wanted. Then I finally spoke to someone at a store who said she could apply the coupon as a "sale saver" if I came in to pay for it at the store. She's order the Nikon D800 and have it by Tuesday. Sounded good to me. That was about 7:30pm and the coupon expired when the store closed at 9:00pm. Once I got there, the story changed a bit. They could not order the camera for me and apply it with the discount. It wasn't for a lack of effort on their part, either. It turns out the store manager is also a photographer, so we had a good chat about gear while I was sobbing over my lost opportunity of a 30% discount. According to the FSTOPPERS article and comments, some people were able to go into their local store and order the D800 on a kiosk. Others, like me, had no such luck. As a matter of consolation, the manager also had a 20% discount coupon that he could apply to an order for the Nikon D800. That worked out to be $100 less than the refurb unit I have on order from Adorama. While $100 is a nice amount of money to have in your pocket, I declined. I didn't think that $100 was worth the hassle to the folks at Staples, Adorama, and myself to basically get the same thing in my hands. If I didn't have the refurb camera on order, I would have jumped all over that discount. This discount didn't work out for me, but it worked for a few other folks who found that coupon. Just remember that this is one of the best times of year to score some big savings on big ticket items. I end up buying most of my expensive gear in December of each year. Shopping is a game of opportunity and strategy.