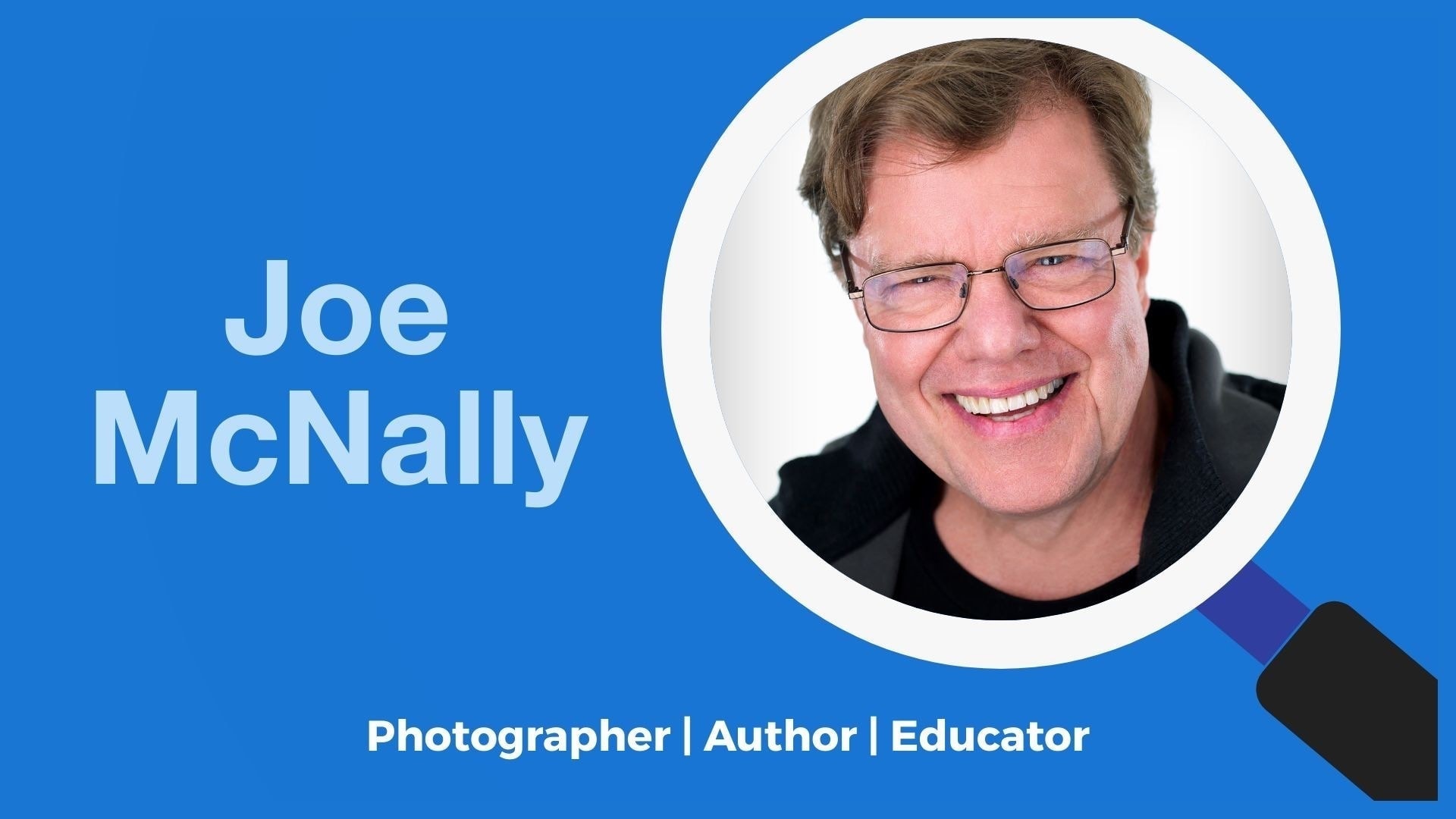 Joe McNally is a photographer, author and instructor. Chances are you already know of him, even if you haven't attended one of this workshops or conference presentations.
Scott Kelby refers to him as the "Magical Unicorn of Flash." Probably because Joe seems to make things work that cause the rest of us to scratch our heads and wonder just how the hell he made it work.
In my experience, Joe will tell you how he does what he does. It's just that most of us don't always grasp what he's saying, or we fail to remember it when the time comes for us to execute the same thing.
Having spent a few years admiring his work, I'm just now beginning to grasp some of the things he taught. Yes, I'm a slow learner.
The lessons were there all along. I just had to progress bit by bit until I was ready to accept what was put before me.
My Experiences with Joe McNally
The first time I met Joe McNally was during Photoshop World at one of the pre-conference sessions he co-hosted with Moose Peterson.
The event was at a ghost town just outside of Las Vegas. Joe made his way around to everyone in the group just to check on us and answer any questions we had.
I was fiddling around with my Nikon SB-800 flash after his demonstration trying to get it to do something he just taught – zoom it out to 200 mm. For the life of me, I didn't know what I was doing different than what he taught.
He politely explained one of the peculiar features of that flash. I had the dome diffuser on and it doesn't zoom when you have that piece of plastic over the flash. Makes sense, right? The point of the dome diffuser is to spread light around, so why would you want to zoom the light into a tighter beam while it's on the flash?
Outside of watching Joe on-stage a number of times at Photoshop World, I followed him to two Caribbean islands.
Joe McNally's Advanced Flash Workshop in St. Lucia
Joe teaches an advanced flash workshop at one of the most luxurious resorts in the world – Jade Mountain and Anse Chastanet in St. Lucia. I spent a shitload of money to attend this workshop, but I never regretted it.
Every day, we had a different lesson at hand to learn and understand these small flashes that most of us carry and never use.
We learned more than the technical aspects of lighting with small flash, though. Joe shares his experiences with crafting photos to tell a story, and how to use our gear as tools to communicate the story inside of our head.
The class wasn't just about lighting.
Every day, we presented our photos for Joe's critique. Those critiques were some of the best lessons in photography I've ever had. He explained what he liked about the way you captured a photo, or perhaps what you could've done that would make it work better.
Not only did he explain the "What", but he also explained "Why."
That's incredibly important to me. Anyone can repeat what they were taught. Always use a long lens for this situation, for example. Then you see him break the rule and still get a great result.
Why?
I tried doing that with one portrait by using a 35mm lens. It didn't work and Joe said he would've gone long on that shot. Then he explained why sometimes you can get away with a wide angle lens, but generally you want a longer focal length for the type of shot I tried to pull off.
Honestly, that's why I went to this workshop. I wanted to know what to do, how to do it, and why I should choose one method over another in a given situation.
Joe has a reputation for using a lot of lights on a photo. To be fair, most of the scenarios we learned during this week only required one or two flashes to get some excellent results.
However, there was an impromptu demonstration to photograph a tiki bar scene by the beach. He ended up using 10 flashes for that shot, and I learned why each of them mattered and added to the final result.
It was a group effort, as the shot required more flashes than he brought. We had a flash for each of the models sitting by the bar. Other flashes were just under the rim of the bar because bars often have light coming up from them. There were three more flashes at the back of the tiki hut to give some backlight to a glass art fixture. Another flash skipped along the floor to keep it from going totally black.
Building the scene one light at a time really showed me how you can create mood and control your exposure. He hung lights where you couldn't see them in the photo, yet they made sense. You expect light to come from certain directions.
Every flash had a purpose and contributed to the overall scene. Best of all, it made sense and was very educational to see both how and why the photo needed those ten lights.
Cuba with Santa Fe Workshops
Visiting Cuba wasn't exactly a workshop, since we visited under the person to person educational allowance. After learning how to use advanced flash techniques in St. Lucia, this trip was the complete opposite.
We made the most of the light available to us.
Indoors or out, joe taught us how to either tame the harsh light or find opportunities to scout beautiful soft light. Here are a couple of examples.
Out in the midday sun. Joe found a white bedsheet from a little girl's room on a farm. While he and another person held the sheet between the sun and the cowboy, we could see the change in quality of light as they brought it closer to the man's face.
Next, we photographed the same man sitting on the edge of the girl's bed, with only one open window as a light source.
The week continued with more opportunities to make the most of available light. We visited a dance troupe rehearsing indoors. Another day we visited a boxing training camp bathed in harsh sunlight.
In each situation, there was something Joe could teach us about using the light, but it didn't stop there.
The emphasis on story continued. For example, the head coach was a wonderful subject. An older man with a weathered face, plus a whistle. As Joe pointed out, those things tell you something about the man when you see him.
We visited a family who allowed us to photograph inside their home, including this sweet woman.
This is one of the opportunities where Joe taught us how to capture the portrait with a wide angle lens. Yes, he said, there's a little distortion. But he didn't care about that because the scene told a story.
Her home is simple, but everything is in place. This little kitchen shows who she is and how she lives.
Once again, I learned more than I expected after spending a week with Joe. He's adept at sizing up a situation and deciding how to approach it. What's the story to tell? Where is my light? What can I use to make this happen?
Joe's Books and Video Training
I've learned a lot from Joe McNally, even when he isn't around. He shares his knowledge through books and video training. The links below are some of his offerings that I bought and can recommend.
Some of these are affiliate links. That means there is no extra cost to you, but I'll earn a small commission if you decide to buy based upon my recommendation. In fact, the KelbyOne link actually provides you with a discount. As of March 2018, Joe has 24 different courses on KelbyOne to help you learn more about photography and lighting.
Joe has his own video product called "The Language of Light." He shows you how light speaks to us with color, quality and direction. You can use this language to tell your stories. Once you understand how you can use light to tweak your story, you know which tools to use to tell the right story of your subject.
The Moment it Clicks – Book Review
The Moment it Clicks by Joe McNally isn't a tutorial, though it has plenty of hard-won lessons and information to help. It isn't a picture book, though it's filled with outstanding images from front to back.
There are tons of photography books about technical issues. Then there are those that are simply picture books where you flip the pages and look at some lovely art.
This book is different, though.
At it's core, The Moment it Clicks is about being a photographer.
We get to take a look inside the mind of a working photographer. Scary as that may sound, it's interesting and revealing to see what works and, occasionally, what doesn't. Joe doesn't brag about his successes, and he doesn't shy away from revealing some things that he wished went a bit better.
The Hot Shoe Diaries – Book Review
The Hot Shoe Diaries by Joe McNally introduced you to the possibility and potential of those small flashes in your camera bag.
This isn't necessarily a tutorial, but rather a guided tour of the potential you have using small flashes to tell engaging stories about your subject.
If The Moment it Clicks was a book about being a photographer, then The Hot Shoe Diaries grabs you by the hair and says "This is how you do it." It's not a recipe book or a reference manual. Instead, The Hot Shoe Diaries starts off by giving you some practical advice about how a working photographer uses his tools and goes about the business of creating beautiful environmental portraits.
Sketching Light: An Illustrated Tour of the Possibilities of Flash – Book Review
In Sketching Light: An Illustrated Tour of the Possibilities of Flash, Joe McNally continues what he started with The Hot Shoe Diaries. The emphasis here is showing what you can accomplish with light, if you understand how it speaks to the viewer.
This time, we're not limited to small flash. Joe shares his experiences with a variety of sources, which include available light, small flash and some larger strobes. We're on a tour of the possibilities of light.
The Language of Light (video training)
Joe McNally courses on KelbyOne
Joe McNally courses on Creative Live