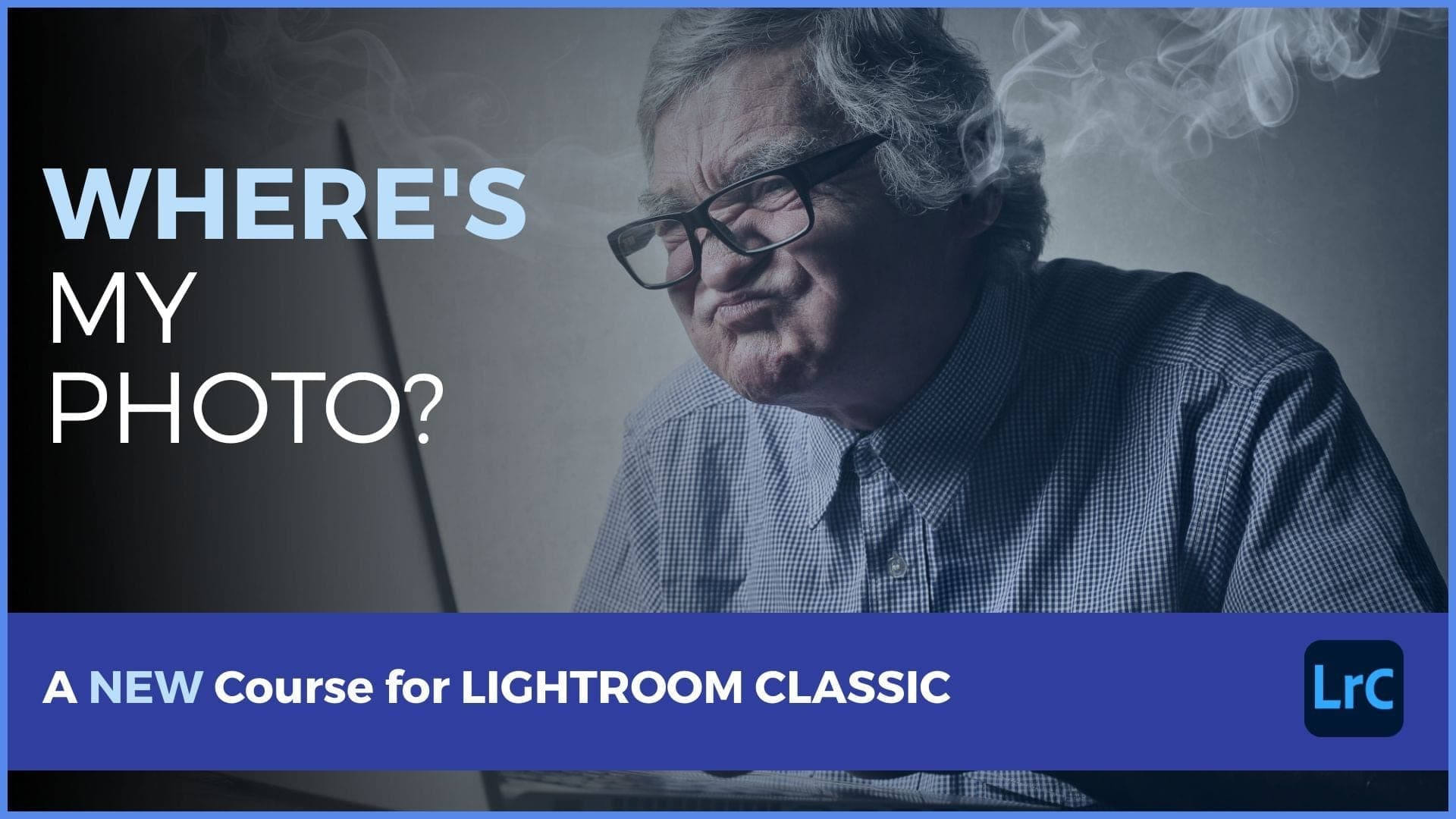 Ready to MASTER YOUR LIGHTROOM CLASSIC LIBRARY?
Looking to master Lightroom Classic's Library, but not sure where to start?
We've all been there, feeling the frustration of scrolling through photos in Lightroom trying to find the one that you just know is in there – somewhere.
It's time to take control of your Lightroom Library. In this course, you'll learn how to:
We also have a group and forum dedicated to Where's My Photo, so you can ask questions, network with other students, and learn about new ways to organize, find and share your photos in Lightroom Classic.
If you don't have Lightroom yet, you can get this course for FREE if you purchase one of the Creative Cloud plans using my affiliate link.
Email your receipt to me. Once I verify the purchase, I'll give you access to Where's My Photo at no cost.
Details about this below.
Watch the video below to learn more
Getting started is easy
Take control of your Lightroom Classic library and get rid of the frustration of a disorganized mess.
Who is Where's My Photo For?
Anyone who feels the frustration of a disorganized Lightroom Classic Library, or anyone starting out with Lightroom Classic who wants to get off on the right foot.
Where's My Photo teaches you which tools you need inside of Lightroom Classic and how to use them.
People Tired of Searching the Internet for Answers
There are a lot of articles and videos on the Internet about organizing your Lightroom Library. There's also a lot of conflicting information and some downright bad advice out there.
This course helps you understand the tools in Lightroom Classic and provides a strategy to use them. You can easily modify the strategy to use in the way that's easiest for you to understand, too.
Lightroom Classic Beginners
Not sure how to get started importing and organizing your photos in Lightroom Classic? This course shows you the right way to do it so you stay organized and in control of your Library.
Existing Lightroom Users Frustrated with their Library
Don't feel bad. I used to be just as disorganized and frustrated as any other Lightroom Classic user. Getting organized is within your grasp and I can show you how to do it in this course. You'll learn everything you need to master your Library and avoid the frustration that comes with clutter and too many photos. You'll learn a strategy of organization that works with Lightroom Classic.
People Who Want More than Basics
A lot of those free articles and videos on the Internet give basic information about what tools exist, but they rarely teach you how to use the little-known features that can be an enormous benefit.
Who should not get Where's My Photo?
I designed this course to help people who are frustrated with Lightroom and don't know how to use it to its fullest benefit to manage their photos.
If that's not what you want, then you should stick with your messt library.
People who don't own Lightroom Classic
If you don't want to use Adobe products in the Creative Cloud, this isn't the course for you. I'll cover how to get organized in Lightroom Classic and also some benefits you get from Lightroom in the Cloud.
People who already know it all
If you're already perfectly organized, I'm happy for you. You're one of the rare people, in my experience, with an optimized Library. Therefore, you don't need me to tell you how to make sure your photos are always easy to find and how to keep your Library from turning into a rotten mess of images and metadata that threatens your sanity every time you want to find a photo.
People who don't want to pay for a course
I've learned that there are always people who don't want to pay for an organized course because they can get the same information for free elsewhere. Maybe so, but they'll spend a lot of time and this is only $27.
You'd rather scrub through YouTube videos for free
Sure, you can find a lot of great information on YouTube. I share a lot about Lightroom Classic there, too. HOWEVER, you probably won't find a curated set of lessons like this one that you can easily reference or get feedback to your questions in a discussion group like the one that goes with this course.
Want this course for free?
If you purchase a Creative Cloud subscription containing Lightroom Classic using my affiliate link, I'll give you this course for free.
Details below.
Here's How to get the course for free
Click the button above to visit Adobe
Either click the button above or visit https://williambeem.com/cc to get to the Creative Cloud sales page.
Subscribe to Adobe Creative Cloud
Select the package that you want. For most people, I recommend the Photography Plan. You must use my affiliate link to subscribe in order to get this course for free. Don't worry, there's no additional cost.
Send me a copy of your receipt to verify the purchase.
Send a copy of your receipt to [email protected]. Once I verify your purchase, I'll grant you access to Where's My Photo for free.