Luminar AI
$79/single license (before PROMO code)
Ease of Use -

100%

Performance -

85%

Documentation -

100%

Support -

100%

30 day money-back guarantee -

100%
Pros
Easy to use
Get great results fast
Plenty of post processing features
Promo Code: BEEM
Cons
Can be slow on older computers
File management is rudimentary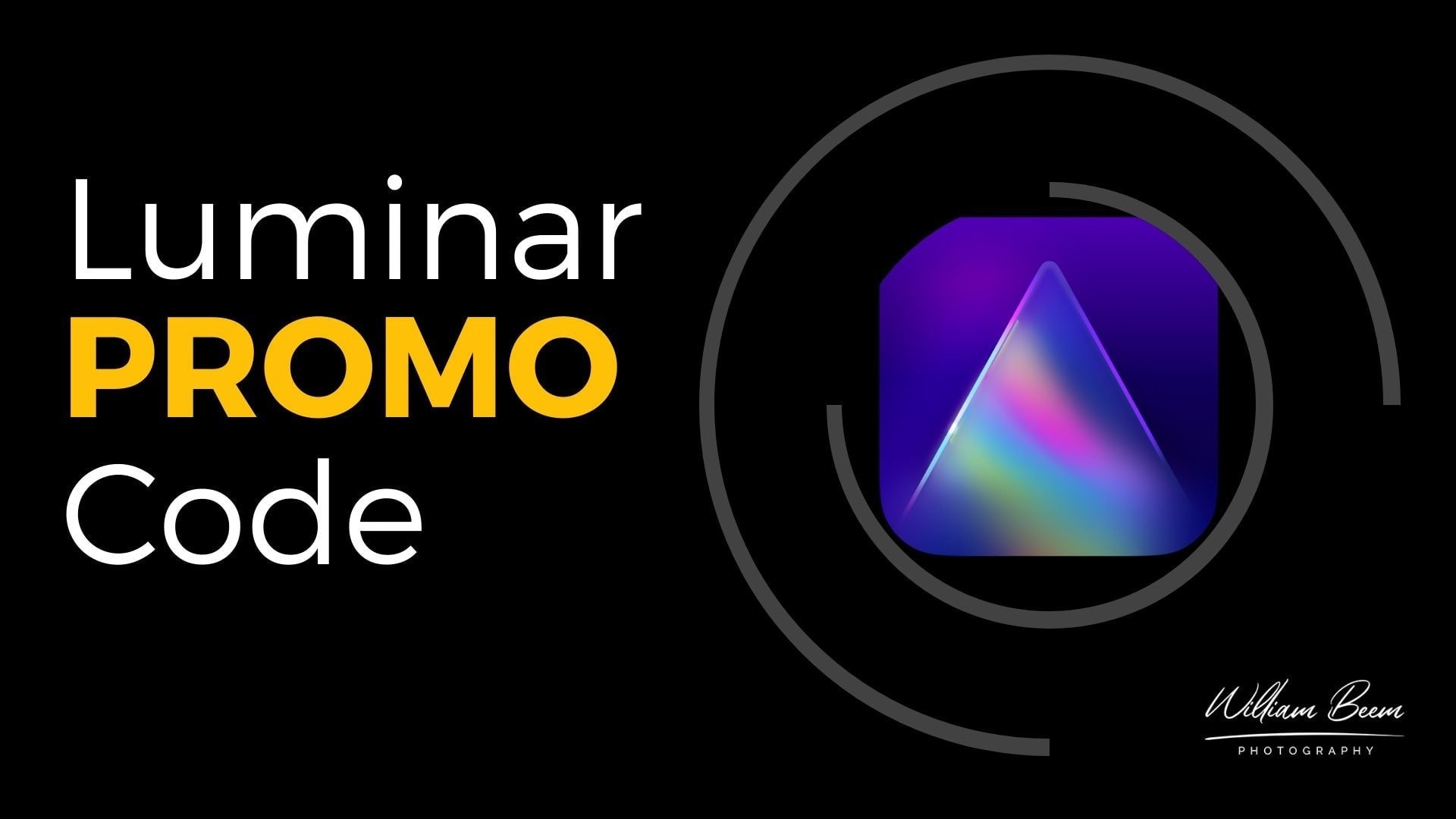 Luminar Promo Code to Save Money
If you're interested in the promo code for Luminar AI or Luminar Neo, this code will save you $10, €10 or £10 on your purchase.
BEEM
If you buy using my Luminar promo code, you qualify to get my Luminar AI Elements course for free! Details to claim your free course are below. When Luminar Neo comes out, you'll get my upcoming course for it if you use my affiliate link.

https://williambeem.com/luminarneo
Get the Luminar AI Elements Course for FREE!
Luminar AI is pretty easy to use and understand. However, there are a lot of tools and filters inside of Luminar AI. That's why I thought it would be a good idea to create a course that goes over every single item inside of Luminar AI.
This course is both a tutorial at first, and then a reference tool later when you need to remember how to use something inside of Luminar AI that you haven't used in a while.
Here's an introductory video that shows you a bit more about Luminar AI Elements.
Luminar AI Elements normally sells for $47, but I offer it for FREE to anyone who purchases using my Luminar promo code – BEEM.
To claim your access to the course, send a copy of your receipt to [email protected] I'll verify the purchase (it should have the promo code BEEM in the lower right side) and then grant your access to the course.
I'm not aware of anyone else who provides a comprehensive course of every tool inside of Luminar AI when you buy using a promo code, so this is rather unique.
Post Processing Photos Doesn't Have to be Hard
I've taken tens of thousands of photos over the years, and haven't processed most of them. Part of the reason is that not every photo is a keeper, but also because photography software was typically arcane and difficult to use.
People spend a lot of time and money learning how to use tools like Photoshop. They develop complicated workflows, spend a lot of money on various plugins, and still wonder why their photos don't look like some of the fabulous work they see online or in magazines.
Let's be fair. There's a lot of different pieces that go into creating a great photograph.
You have to get a lot of things right before you ever get to post-processing. Yet that's where another creative adventure begins.
What if you could just create smooth skin on a subject without needing to know about frequency separation?
What if you could enhance everything in the photo – color, contrast, and saturation – with just one slider?
What if you could decide to relight a scene in seconds?
Those issues, and many more, are what Luminar AI can do for you.
What is Luminar AI?
Luminar AI is a stand-alone photography post-processing application that eliminates the need for long, complicated processing techniques and allows you to get great results in a short time.
It does that by using Artificial Intelligence (AI) to scan your photograph, compare it to similar photos, and recommend templates that fit your photography.
Skylum trained Luminar AI with over 50,000 different photographs. That's how the software knows how to scan your photograph and recommend relevant and creative templates to quickly and easily apply to your photograph.
Of course, you don't have to use the templates if you prefer to do things yourself. Luminar AI has a plethora of AI tools that perform various tasks to enhance your photos.
Luminar AI has many more tools, but these AI tools were trained to craft your photos to have great results based upon that catalog of 50,000 photos to use for reference.
Composition AI takes the guesswork out of cropping your photo, even when you change to different aspect ratios. It knows how to examine your subject and align everything for the best composition result.
Face AI allows you to enhance eyes, eye whites, lips, teeth, and more. It's an amazing tool that helps you get the best results in seconds by merely moving a few sliders.
Advanced Composition and Perspective Correction
The Composition AI tool is more than just a crop tool. Not only does it use AI to help guide you to the best composition for the aspect ratio that you choose, it's also an outstanding tool for correcting architectural photos.
Composition AI has perspective correction software built-in, which allows you to correct for the kind of distortion that causes buildings or columns to lean inward when you use a wide-angle lens.
Think of all the travel or real estate photos that you can quickly and easily correct. If you don't have or need a perspective correction lens, you can use Luminar AI to properly share photos where distortion makes things seem unnatural.
Luminar AI is the Best Color Grading Tool I've Ever Seen
Skylum put a lot of effort into ensuring you have options to control and enhance the colors in your photographs. Professional photographers know that color is a key element in drawing attention.
People like colors that work harmoniously. Is it any wonder that Luminar AI has a Color Harmony selection of tools under the Professional Tools category?
With Color Harmony, you get access to:
That's not even a complete listing of the tools Luminar AI offers to help enhance and blend colors in your photographs. Take a look at the Before and After photos below to see how much difference color enhancement makes in a photo.
Save Time with Templates
Luminar AI ships with a lot of templates. There are different collections and categories to help you enhance portraits, landscapes, cityscapes, and much more.
Every photo gets a recommendation called For This Photo, which includes templates recommended based upon the AI evaluation of your photograph.
You can also go directly to a category of template collections or mark some as your Favorites for easy access.
Whatever type of photography you enjoy, there's a good change that Lumina AI has a template collection to quickly enhance your photos.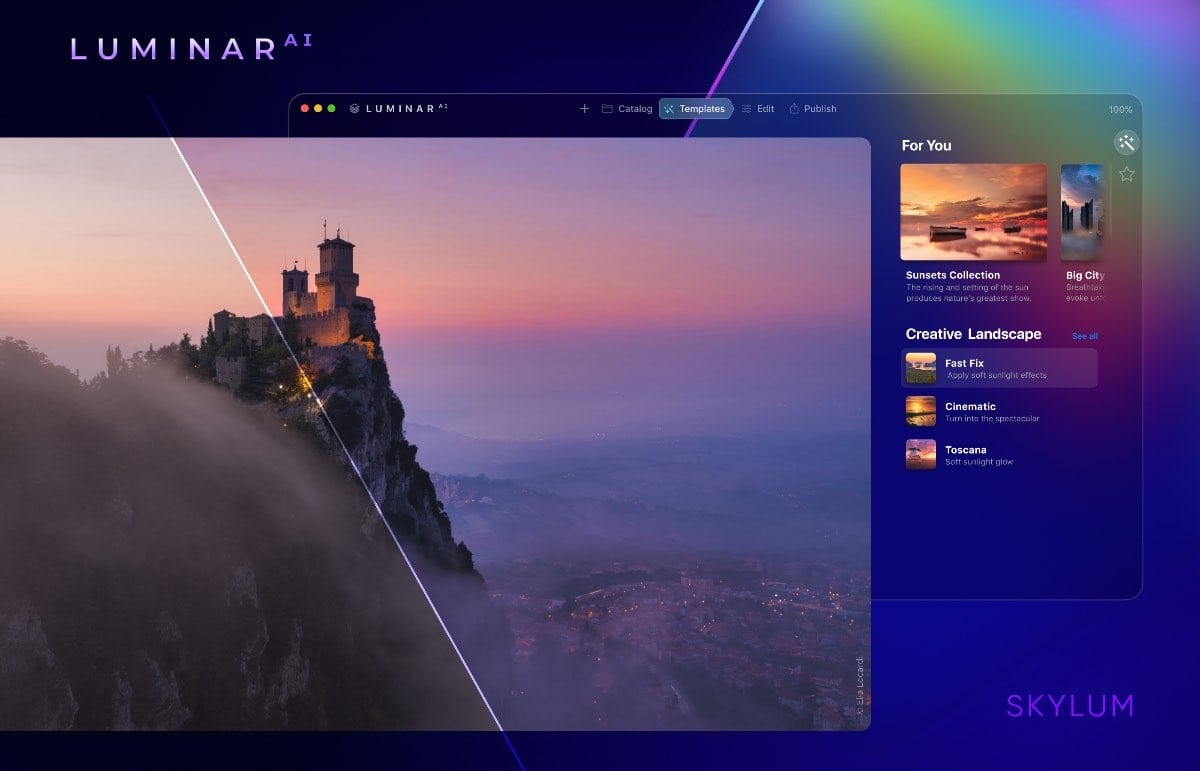 The Easiest Way to Replace a Sky
One of the premier features of Luminar AI is the ability to replace a sky. It even comes with a collection of different skies for you to use, though I'd recommend getting some different skies so you don't use what everyone else uses.
How much difference can a sky replacement make in your photo? Take a look at this example.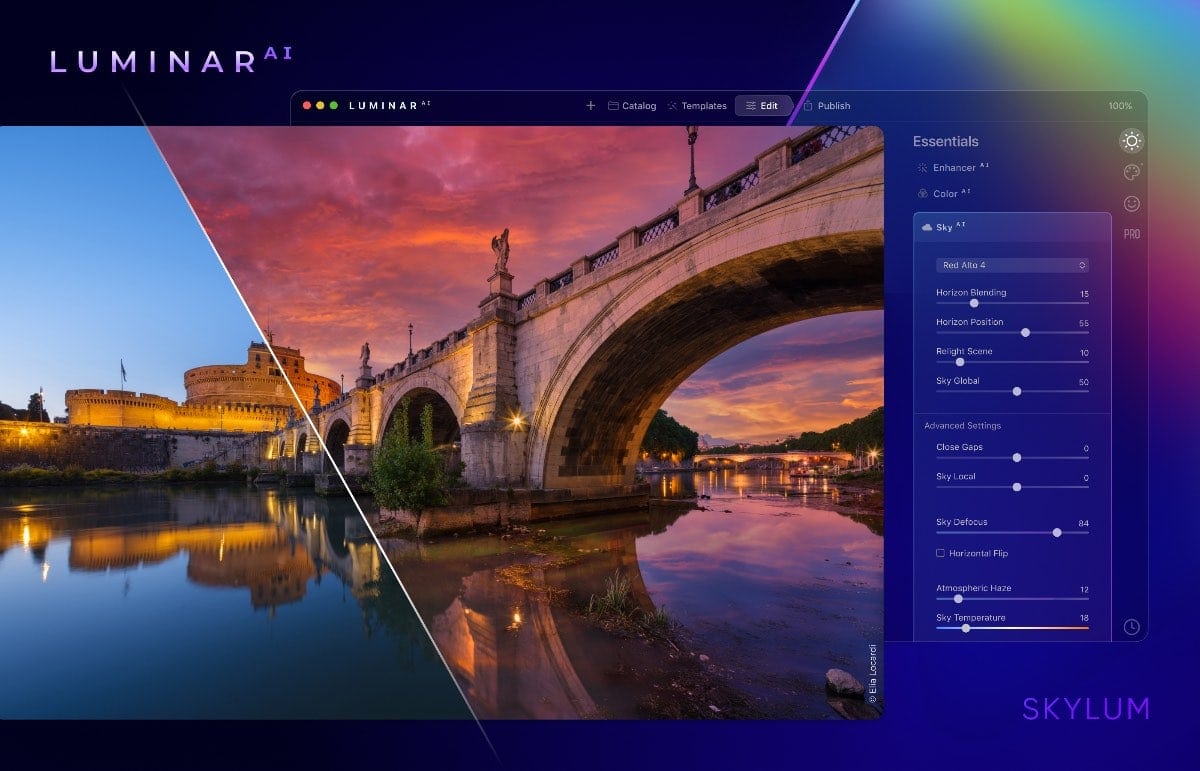 Sometimes the weather doesn't cooperate with our desires. The photo above shows a boring sky without clouds or warm colors.
Look at what a difference it makes with a new sky full of color and texture with those clouds. Also, note the reflection in the water below. That would take a lot of skill and time using a tool like Photoshop, but Luminar AI does it for you automatically.
As you can see, there are plenty of tools to help you adjust the sky to your needs. Maybe you need to change the horizon line or adjust blending with the existing terrain. You can even defocus the sky to get a great bokeh effect if that's what you need for your subject.
Luminar AI is a Portrait Powerhouse


I mentioned a few of the tools in a previous part of this review, but let's go over some of them in more detail.
You can see that the Face AI tools break up into three sections. The first section covers Face Light and Slim Face.
The first adds a bit of brightness to the subject's face and the latter slims the face a bit.
The Eyes section is very detailed. The Iris dropdown menu that shows first allows you to change the color of the iris. So you can easily switch someone's eyes to Blue, Green or other colors.
There are also a few gimmick options, such as Cat or Owl eyes.
The remaining sliders really let you draw attention to the eyes, both with clarity, sharpness, and size.
I used to have a complaint that the Improve Eyebrows tool only added black to darken them while thickening the eyebrows, but an update fixes that problem so it works well with other eyebrow colors.
In the Mouth section, most of the tools enhance lips and do a very good job with it. These tools simplify so you don't need any special techniques or tools to get great results.
Whitening teeth is as simple as moving a slider.
Of course, you can take some of these sliders too far and it's up to you to make the right adjustment. In many cases, a little is enough. Every photo has its own needs, so it's good that Luminar AI has more than enough power when you need it.
Create Beautiful Landscapes with Luminar AI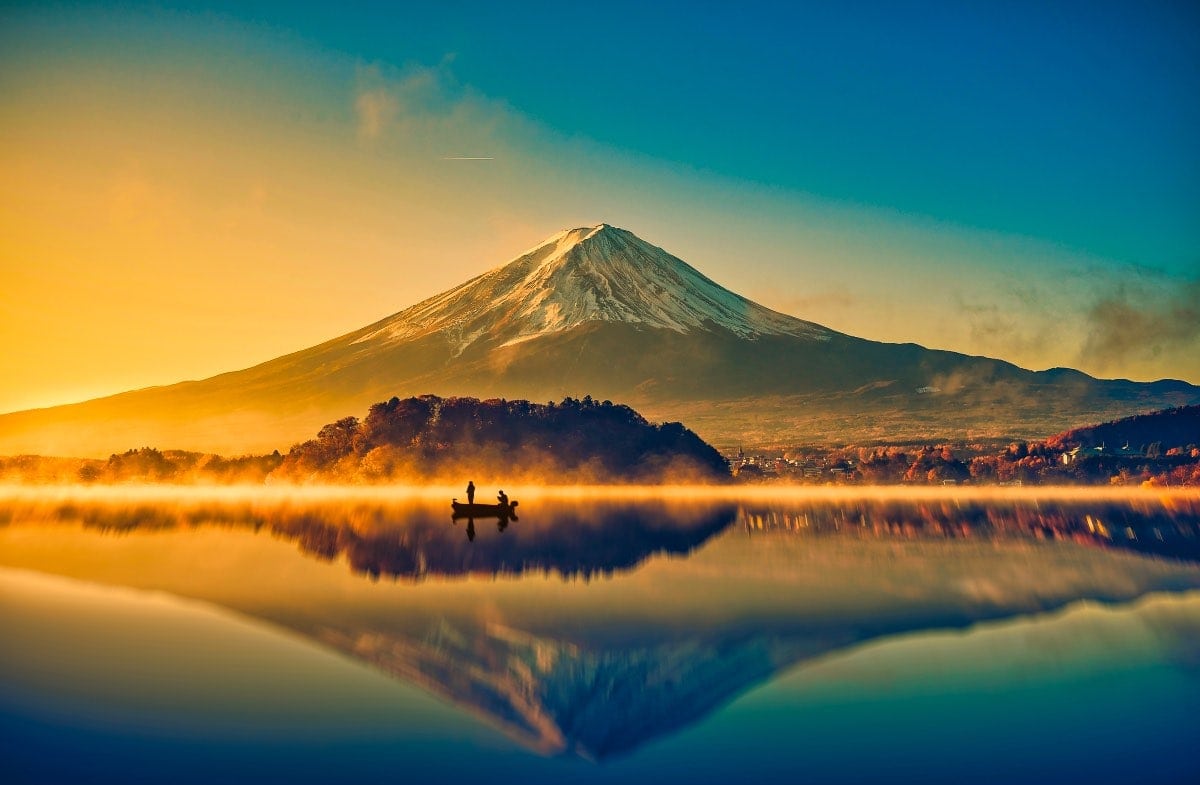 I spent less than 30 seconds enhancing the photo of Mount Fuji above. All I had to do was bring up the Accent AI and Sky Enhancer AI sliders to a setting of 50, for each one. Then I went to the Landscape section and brought Dehaze to 36 and Golden Hour to 35.
That's it.
The landscape tools inside of Luminar AI have great tools to enhance foliage, golden hour, and skies. In fact, the Augmented Sky tool allows you to easily add compositing to your photos by placing objects in the sky.
Do you want a balloon in the sky?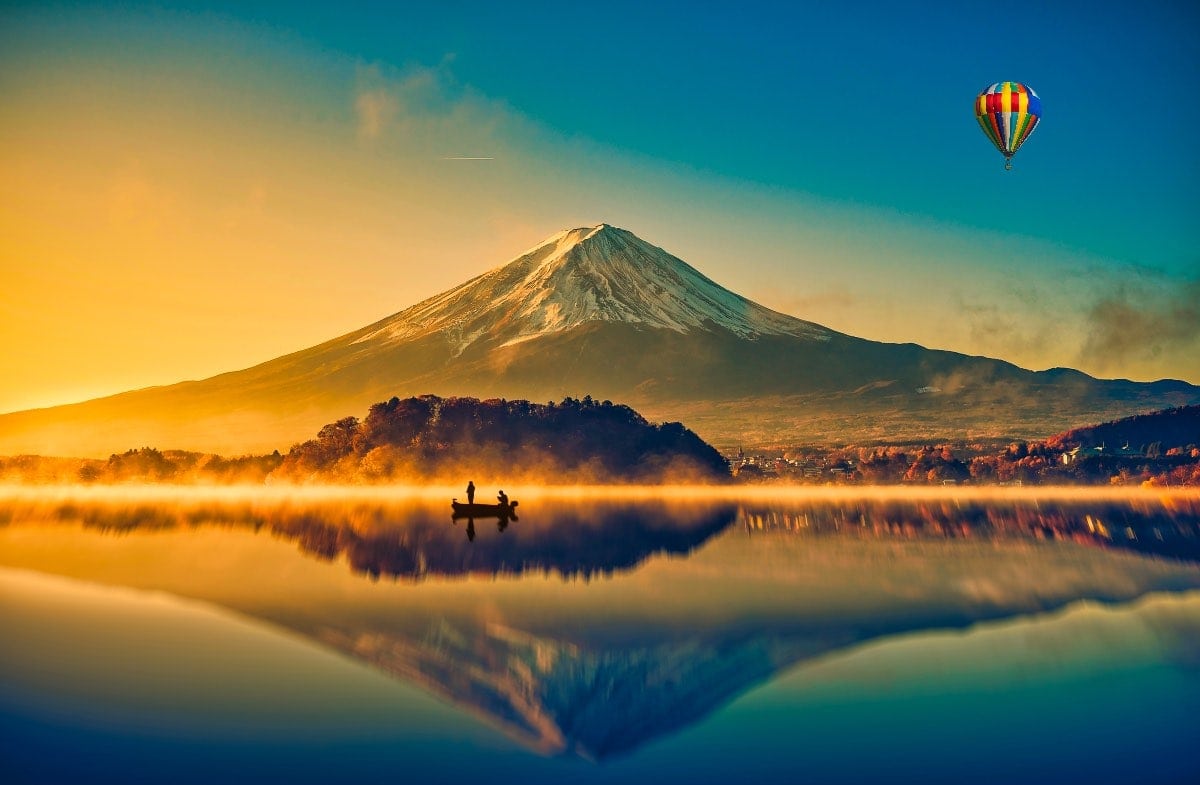 There you go. It's built-in the Creative section. You can add birds, a balloon, clouds, mountains, fireworks, and even a Space Shuttle. Of course, you can also add your own PNG photos to add into the sky, too.
You can add your own custom image with jet fighters or giraffes to the skyline.
Although there is a very useful Landscape tool, you can get a lot of benefit from the Creative section to add sun rays or atmospheric elements like mist or fog.
Two of my favorite tools for landscape photos are the Mystical and Glow tools. Both offer a type of soft focus or glow to your photos, including an Orton effect. I think they do a great job when you want that ethereal type of appeal to your photos.
Sky replacement does a great job to enhance landscape and travel photos, too. As we've seen, they also add reflections in water and other reflective surfaces with ease.
Frequently Asked Questions About Luminar AI
How Do I Use Your Luminar Promo Code?
1: Click the button below to visit Skylum.
2: Select which Luminar AI product or bundle you want by clicking the BUY NOW button for your choice.
3: You'll be taken to this screen to confirm your choice and select your payment option.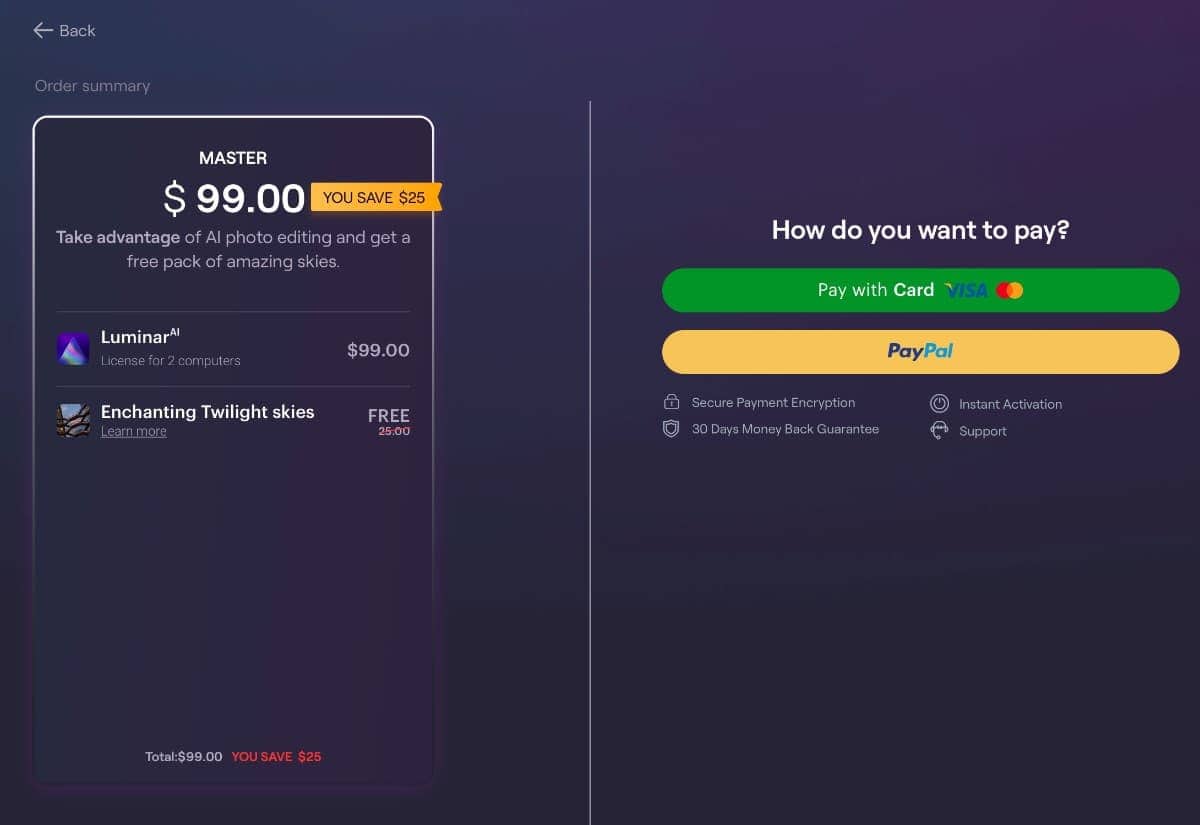 4: After selecting an option, click the link shown in blue to Enter Promotional Code.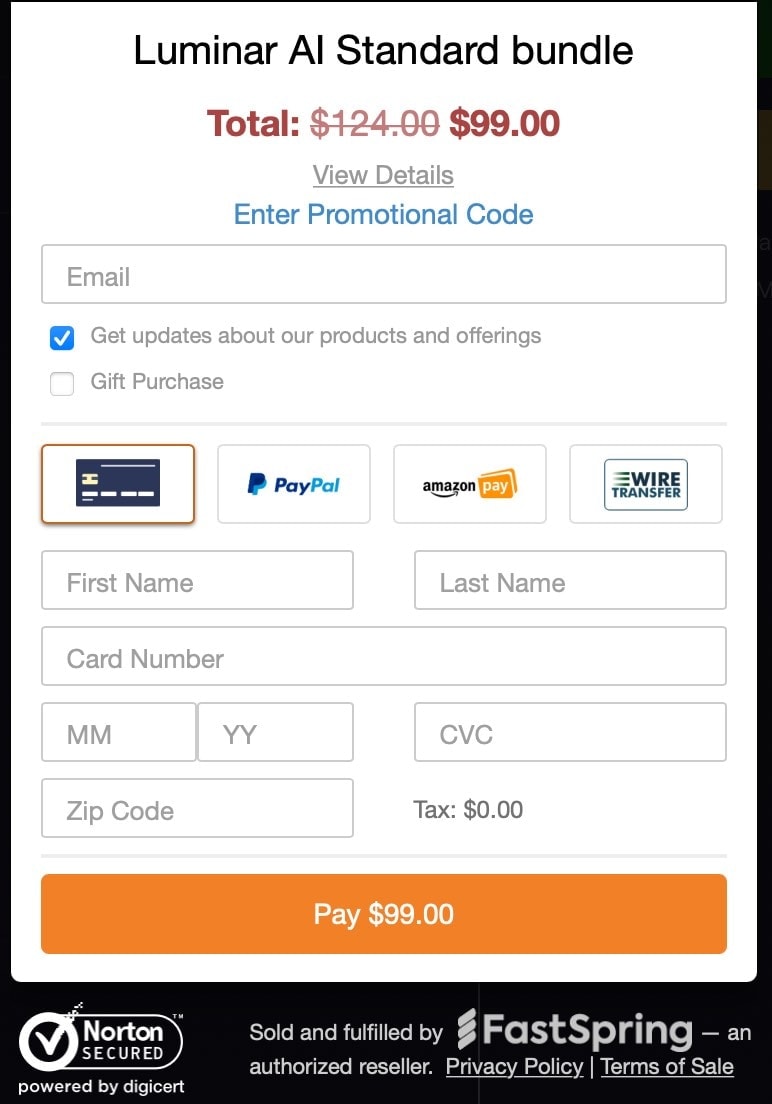 5: Enter the code BEEM and confirm your price reduction before proceeding.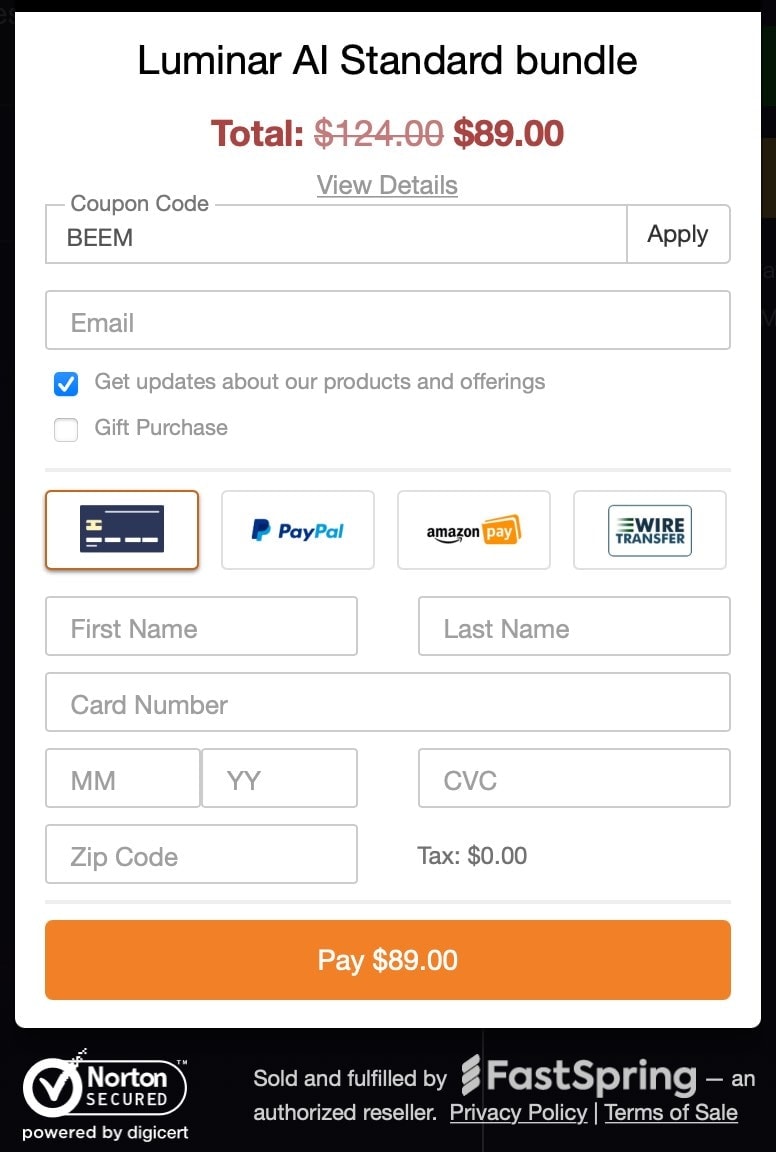 You can see that the payment price dropped from $99 to $89 after entering my promo code.
6: Enter your information and press the Pay button.
Here's What You Get if You Use my Luminar Promo Code
Beware of the coupon code sites you find on the internet. Many promise greater discounts than Skylum will authorize.
If you decide to use my Luminar promo code, you get:
I appreciate everyone who helps me support my family, and this is one of the ways I do it. Thanks for considering my Luminar promo code and making your purchase based on my recommendation.
I'm an affiliate for Skylum and I earn a small commission if you buy using my link and coupon code. Just click the button below to check out the offer and DO NOT FORGET to use the promo code BEEM when you check out to get your discount.