Affiliate Disclosure: We earn a commission if you purchase through one of our links at no additional cost to you.
If you want to know how to use Pinterest the wrong way, I'll show you some of the mistakes I made and what I learned after making them. If you're willing to put in some time planning, Pinterest can be a great way to share your message.
Pinterest Shares Don't Equal Success
As social media platforms go, Pinterest is one of the most unique systems available to you. I've dabbled with it off and on, scratching my head as to how to get benefits from it. I thought I had a lot of success when a post skyrocketed with Pinterest shares (or pins), only to find out that it had absolutely no benefit for my business or enhancing my brand.
What was I doing wrong?
First, let's take a look at some of the most shared blog posts on this site.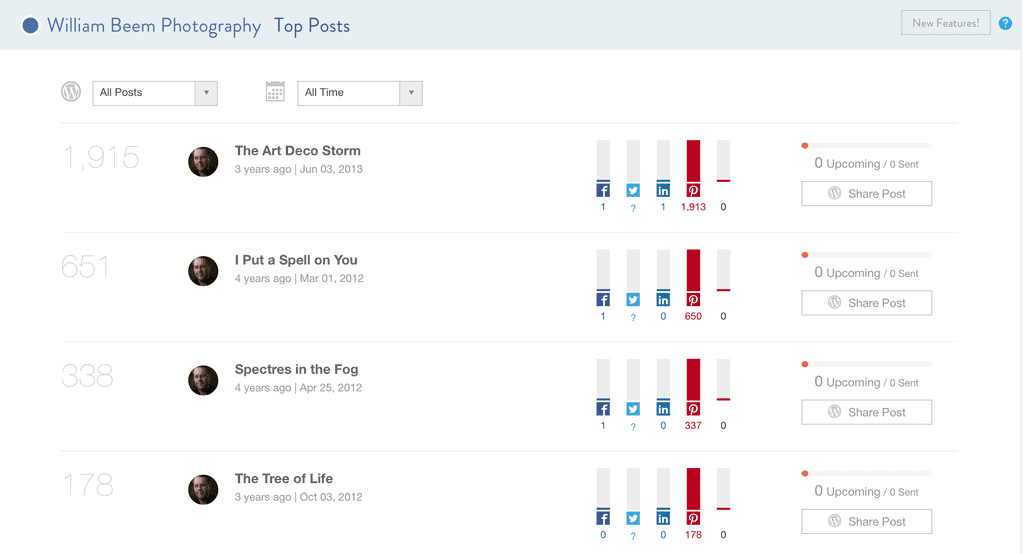 This view is a report that I get from my editorial calendar service, CoSchedule (check out my review of CoSchedule here).
The report shows my rankings by a number of social media shares across all platforms. As you can see, these posts did rather well on Pinterest but didn't really rank well at all on other social media platforms.
Why did they work on Pinterest?
Let's look at what they have in common.
Each one features a photo from Walt Disney World
I shared each of these in a Walt Disney World group on Pinterest
It seems simple, right? I shared a photo with people who are in a group that wants to see photos of the subject. It seems like a no-brainer. If you want a lot of views, put your photos in front of people who want to see them.
How does that translate to a marketing sense?
Not at all. I got absolutely zero benefits for sharing these photos on Pinterest. Why? Because of some classic mistakes.
1: I Shared For the Wrong Reasons
I put something out there for a selfish reason, and honestly, I didn't think it through. Had I done so, I would've had more success.
My objective was to boost traffic to this site with the objective of converting those visitors to subscribers or customers. It seemed logical. The group has fans of Walt Disney World photos. I have Walt Disney World photos. Maybe I can convert them into fans of my photos.
To some extent, I did. That doesn't mean they care about my photography blog or anything that I'm selling here.
The problem is that I wasn't sharing to help anyone. I shared because I wanted something. If there's anything I've learned since then, it's that you get your greatest success when you are of service to others.
People don't support you out of charity. They support you when you have something they want and because they trust you.
2: The Message Has to Match the Audience
It was a rookie mistake.  I targeted the wrong audience with a message they didn't want. Sure, they liked the photos that I shared but had absolutely no interest in my articles on photography.
While this was a Walt Disney Group on a social media platform that shares photos, that doesn't mean they're interested in photography as a topic. Some are, but most are just Disney fans.
They didn't want photography tips, tutorials, discounts or anything else that this site has to offer – except for the photos. All they want is to feed their desire for more Walt Disney World goodness.
Let's put this in fishing terms.
I used good bait, but I failed to put it on the right hook.
3: I Didn't Understand Who Uses Pinterest or Why They Use It
If you want to know how to use Pinterest, here's the most important thing to keep in mind.
It's a search engine.
People go to Pinterest with their needs and desires. They're looking for something. They want to be entertained. They want to solve problems. They want to buy something.
That means you can't just slap out some photos on Pinterest and hope that it will magically translate into benefits for you. You have to do more work and planning to get benefits from Pinterest than any other type of social media.
How to Use Pinterest the Right Way
I've heard plenty of people tell me that I need to use Pinterest. I will love using Pinterest, yada yada yada. What they don't tell you is how to use Pinterest.
The simple truth is that not everyone gets it. Pinterest isn't for everyone. The first thing you need to determine is whether your audience is looking on Pinterest for something you can provide.
Out of 176 Million registered users, there are 100 Million active users on Pinterest in 2016. That's a target-rich environment, but let's keep digging.
Source: 270 Amazing Pinterest Facts
Out of those 100 million users, 85% are women and 15% are men. 42% of all U.S. women and 13% of U.S. men use Pinterest.
The Pinterest user base outside of the U.S. is growing at a rate of 135%, which means there is a rich International audience to reach on Pinterest.
67% of Pinterest users are under 40 years of age.
Some of the things that Pinterest users do on the service:
Learn how to do things
Discover things related to health and fitness
Help them find things they want to buy
Once you get an idea of who is using Pinterest and what they want, you can start planning on how you can help them.
How you help them depends upon what you have to offer that the Pinterest users want, but there's a bit more to it than that.
The Ideal Pinterest Pin
Pinterest is different than almost every other site on the web. Instead of working best with landscape orientation photos, it's a vertical image site. All of the photos show on Pinterest have a maximum width of 735 pixels, after you click on the image. While showing in the main view, your images are only 238 pixels wide.
If you're uploading a landscape photo that is only 238 pixels wide, it's probably going to be 158 pixels tall, give or take a pixel.
Imagine your photo, lost in a sea of tall pins on Pinterest. Most blog posts have a featured image using a wide, landscape photo. That image won't play well on Pinterest.
As part of your planning, you need to add another image in portrait orientation to use on Pinterest. Make it 735 pixels wide and roughly 1100 pixels tall, but you can vary the height according to your needs. That's an image that will keep pace on Pinterest.
If you want to get ahead, there are some other factors to consider.
Include a face. Pinterest users are more likely to click on an image with a person on it.
Add a solid description. Pinterest allows you to use 500 words in the description, so use them. Remember, Pinterest is a search engine. Your photos have to be visually striking, but the search engine won't return results based upon photos. It returns results based on the text you enter.
Determine the keywords you need for someone to find your pin and write an interesting title and description. Longer descriptions with the right keywords mean a better chance of your pin getting found by searchers.
Finally, organize your boards by useful categories to help visitors find related pins that may be interesting to them. Leverage the power of being found in a search by offering more items that may appeal to the same viewer. You know your target. Now share the things they want to find.
It's good for you when your visitor thinks she's found a gold mine of useful stuff. So do your research and plan the pins you're going to share.
Learn How to Use Pinterest to Help Others and Help Yourself
Remember, the reason behind sharing on social media is to help someone else. If you have a great photo, product, or service, then you need to help others find it so it can solve their issue. Maybe they need art. Maybe they need a tutorial. Learn what drives them and share it with related items.
That's how to use Pinterest the right way.