Affiliate Disclosure: We earn a commission if you purchase through one of our links at no additional cost to you.
I know of two versions of this Jack Swigert statue. This one is in the United States Capitol Visitor Center and the other is in Denver International Airport.
U.S. Capitol Statues
Like many other people, I really love the statues and memorials in Washington, D.C. They convey so many things – history, art, talent and even deep emotions. Sometimes our photographs just don't do justice to being in their presence. For example, I remember seeing photos of the Dr. Martin Luther King, Jr.  memorial. Even so, nothing prepared me for the immense size and impact of its presence. Something that looked so basic in the photo I viewed just didn't prepare me for the real thing.
As a result, I started making an effort to show these statues and memorials in a way that reflected the impression they made upon me. Sometimes that meant getting close. Other times I tried to represent the scale by showing them in context. For example, I chose an angle for the King memorial with a treeline behind it to try and show its size. Understanding the size of the Lincoln Memorial is a bit clearer when there's just one person sitting outside.
I had none of those elements going for me when I came across this Jack Swigert statue in the U.S. Capitol Visitor Center. It's not making a grand statement by sheer size, yet I think it makes a hell of a good statement as you see it. Despite what you may have seen on I Dream of Jeanie, Jack Swigert was the first bachelor in space. I think it shows in this statue, too.  Hey, babe.  I'm an astronaut.  Now that's hot.
The Jack Swigert Statue In The United States Capitol Visitor Center
Jack was the Apollo 13 astronaut who made the call saying, "Houston, we've had a problem here:, not Tom Hanks. After retiring from NASA, he won election to the House of Repsentatives and sadly died eight days before taking his oath. There's an identical statue in the Denver International Airport.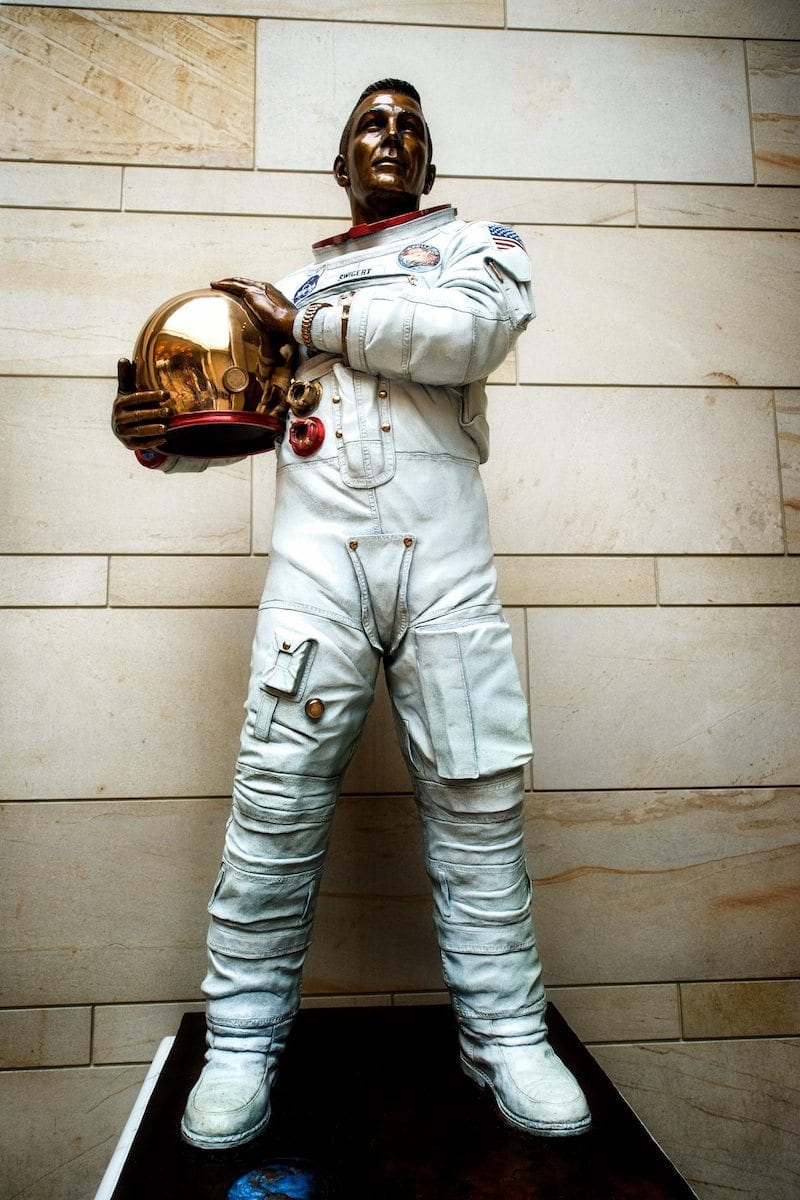 Want to learn more about Travel Photography? Click below to check out more Travel Photography articles.
Travel Photography Articles