Affiliate Disclosure: We earn a commission if you purchase through one of our links at no additional cost to you.
This was my view from my bed during my stay at Anse Chastanet in Saint Lucia. Since there was no wall in the way, it was also my view from the shower.
The Piton View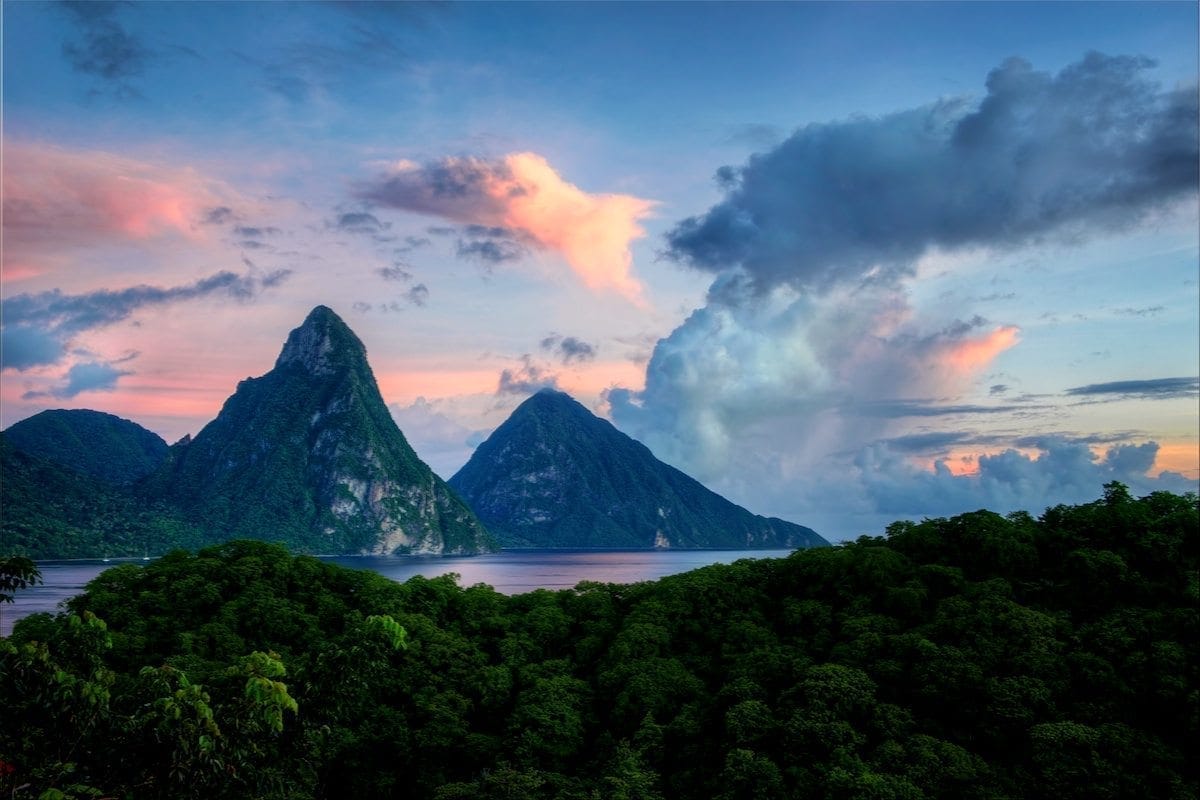 Honestly, I'm not a fan of mountains. The unnerve me. It's worse than that. I just find them creepy. It's like having some big guy that constantly looms over you. Despite that innate distrust of mountains, I have to say that I loved waking up to this view every morning.
Well, most mornings. I woke up to a pretty strong downpour one morning and the mountains weren't even in view at all. It was just a sheet of white rain and haze that blocked them from view.
Mornings were cool with a slight breeze. The sun slowly rose and would have been a nice way to wake up, but nature provided another alarm clock for me.
Every morning – and I do mean every morning – a blackbird flew into my bathroom. No walls, remember? He landed on the counter, looked into the mirror, and sang at the top of his (or her) lungs. Not some caw from a crow, but a four note song that went up and down with each note. It was quite lyrical, except that the little bastard was waking me up before I wanted to get out of bed.
Nature?  Phooey. Nature is annoying.
Then again, nature is mysterious. My first view from this room was a double-rainbow over the cove. Here's an iPhone shot.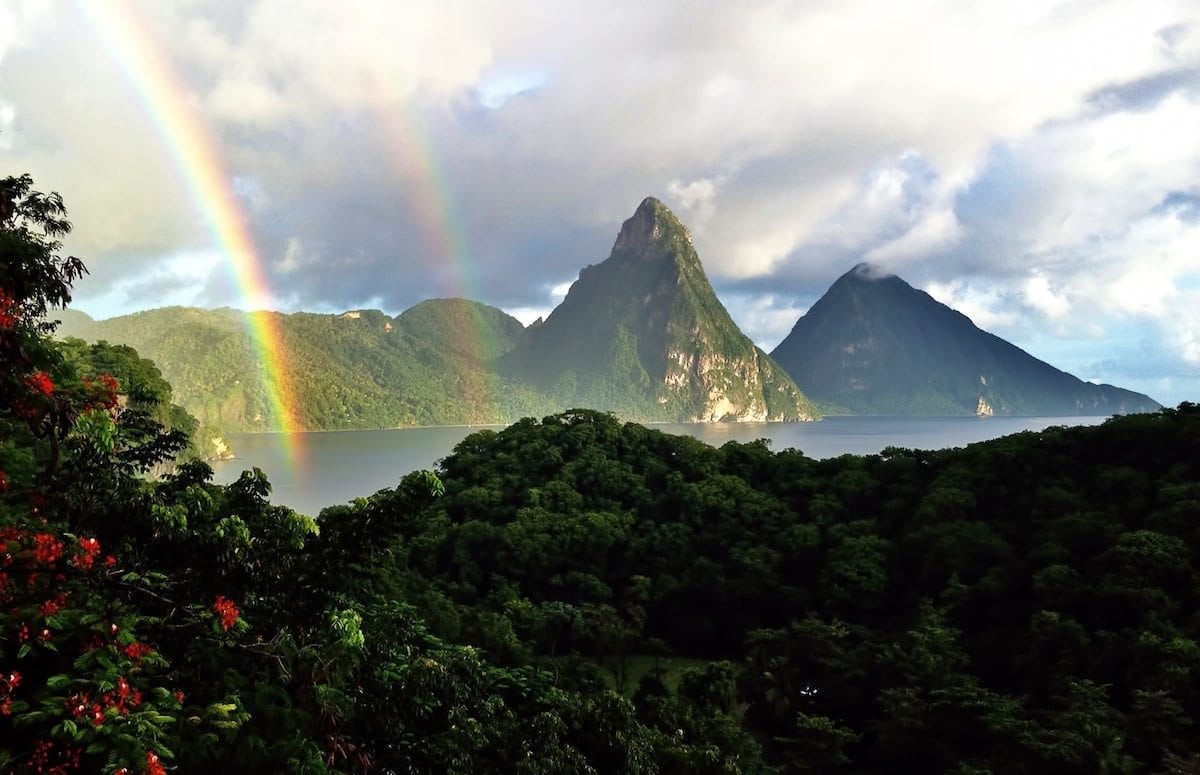 Staying at Anse Chastanet in Saint Lucia
This is a beautiful resort on a lovely island. Four of us showed up for Joe McNally's workshop. Two stayed on the beach in rooms with air conditioning. They didn't have this view, but they had A/C and were closer to most of the places we needed to be. Not a bad decision.
I was taken with the notion of this view, though, so I ordered a Premium Hillside room. No air conditioning. The advertisement says that you don't need A/C due to the cooling tradewinds. That was true in the morning. It was true in the evening. It's probably true in other months of the year. It wasn't true during the midday muggy heat, though. I cranked up the fans in the room and drank several bottles of water to get through those afternoons. Even so, I had this view and it was worth it.
Do you know what a Premium Hillside room means? Other than the size an the view, it means that you're going to be walking up and down the hill. That meant stairs. Lots and lots of stairs. Again, not so bad in the morning, nor was it really bad going downhill. Except at night, since the steps were uneven and you couldn't see exactly where your foot would land.  I stumbled more than once, but at least I never fell.
Here's an iPhone shot of those stairs. Multiply this times three or four to get the full length. I trudged up and down these stairs several times each day and they kicked my ass. Not so much on the way down, but definitely on the way up. I'm old and out of shape now. Add on a ThinkTank backpack loaded with camera gear and it made for an interesting hike up the hill. Once I got to the top of the stairs, there was yet another hill to get to my room.
Once I got to my front door, there was more stairs inside to get to my bed. Anse Chastanet is alive with stairs. That's the true meaning of Premium Hillside.
I'm a Florida flatlander unaccustomed to going uphill. Now I know why my mother's family left West Virginia and moved to Florida. They probably didn't like this stuff, either.
If you think I'm trying to get sympathy for going up these stairs, you're right. It isn't working, though. I posted this same thing on social media and the reply was something like "Oh, you're in Saint Lucia. You poor thing! #sarcasm."
Overall, I really loved my stay at Anse Chastanet. The room was great, the view was spectacular, I had good food and outstanding service. On the bright side of those nits about the muggy weather and the stairs, I went down two notches on my belt from the start of the week until the end. The next week in Las Vegas put one of them back on, though.
Room 7F
This is the biggest hotel room I've ever had in my life! The bathroom is behind the far wall and the shower opens up in the area behind the desk on the left side. At first, it's a little disconcerting to step into a shower big enough to mate elephants that are exposed to anyone on the hillside, but you get used to it. The other rooms can't see into one another and nobody on the hill is peeking up with a telescope. If they are…well, enjoy the show.
The four poster bed was quite comfortable and the mosquito netting contributed to a nice sense of being away from home. As luck would have it, I never saw a mosquito in my room.  Just that damn blackbird and one lizard who crawled into the shower one day.
The sound of frogs and crickets at nice was practically deafening. It kept me up quite a bit the first night, but not after that. Perhaps because I was growing accustomed to the sound, but more likely due to being whipped from the workshop and trudging up those stairs.
Speaking of frogs, they are enormous in Saint Lucia. One of them hopped across my foot as I was walking up yet another set of stairs to Jade Mountain one night. This goober was bigger than my fist. He could probably feed a family of four. Based upon the sound at night, he was part of a biblical plague of frogs that inhabit the hills of Saint Lucia. I never saw any snakes, so perhaps that's why he grew so large. At least he never came into my room,
Let's face it, this place is ridiculously expensive. I'm glad that I went, but I never would have done so as a solo traveler had it not been for the workshop. I went to Anse Chastanet in Saint Lucia to learn, and had a terrific experience. This resort was a great backdrop for my real purpose, and Joe did not disappoint. Rather than trying to stuff everything into one post, I'll delve into each day of the workshop in following posts and try to share what I learned.
Perhaps one of the most important things about this kind of workshop is that it's a safe place to make mistakes. I didn't come here expecting to come home with a boatload of great images. Instead, I wanted to get some insight to improve my portrait photography. It was well worth the trip and I think it's truly going to change the way I approach my portrait photography in the future.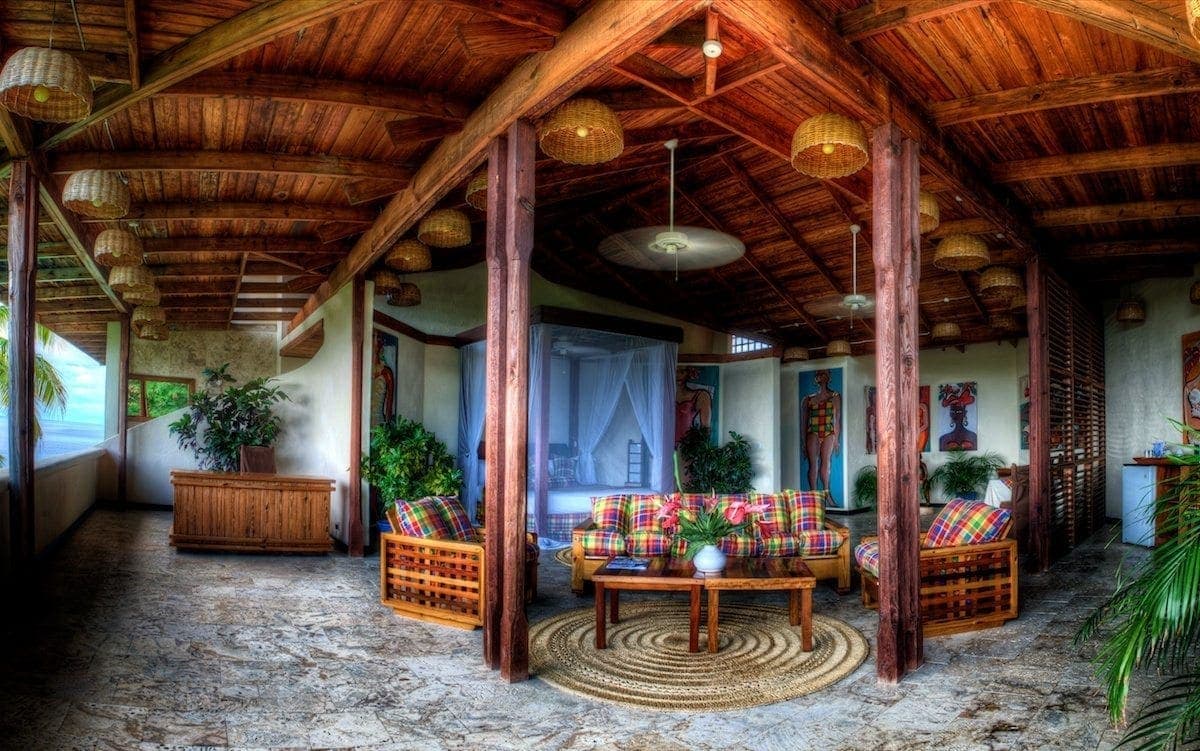 Want to learn more about Travel Photography? Click below to check out more Travel Photography articles.
Travel Photography Articles