Affiliate Disclosure: We earn a commission if you purchase through one of our links at no additional cost to you.
The MagMod system is a group of light modifiers for small flash. The company is starting to make strides in support for the strobe market. Many photographers love MagMod products because of their durability, ease of use, and ability to create beautiful light.
MagMod isn't an inexpensive set of products, but they have value for photographers who need to quickly move from one shot to another using a lightweight kit. We'll describe the products in the MagMod system so you can determine if it's right for you and your photography.
What is the MagMod System?
MagMod creates a series of small light modifiers connecting with powerful magnets. The products are very durable and small. You can easily crumple them up, toss them in a bag, and pull them out when needed.
Compare this to using other small flash light modifiers. Some use velcro, rubber bands, and even one that uses a ratcheting plastic band to attach their products to your flash. You may even use gaffer tape to connect some gels, yet another bulky item to store in your bag.
The magnets used in the MagMod system are potent. There's no fiddling around to get everything lined up just right to attach a modifier to your flash. You can toss a Magmod light modifier toward your flash, and the magnets will attract to each other when using this system.
Why Choose the MagMod System?
MagMod products offer a lot of flexibility for various lighting situations. You can easily switch or combine their products, including grids, gels, snoots, diffusion, and masks that allow you to create patterns with your flash.
Unlike a lot of competing products, the items in the MagMod system are built to last. No flimsy gels that you must worry about protecting and take time to tape to your flash. MagGels are hard polycarbonate that easily fit into a gel holder that attaches to your flash.
Need a grid? Slap it on the front of your flash, and you're done. Want a grid and a gel? They stack on top of each other.
The MagMod products were designed with the intent of quick, ease of use, and the ability to combine light modifiers to create a unique light.
Who Benefits From the MagMod System?
Although any photographer using flash can benefit, the MagMod system is very popular with wedding and event photographers. They're light, quick to use, and allow photographers to run & gun with different lighting options they can quickly deploy.
They're also great for home studio work. Lee and I had some fun creating silhouette portraits and used the MagBeam and MagGels for some interesting backgrounds.
Some of the products even benefit wildlife and outdoor photographers by allowing them to extend and direct their flash to highlight animals or objects in their scene.
I even use the MagMod products in product and food photography. They're perfect to create just the right light spot or turn a bland background into something exotic.
What's in the MagMod System?
There are several light modifiers in the MagMod system. Most of them are hard light modifiers. If that concerns you, give it some thought. Hard light can still be beautiful and exciting light. It's not something to avoid in every case.
Remember that we're still dealing with small light sources, so the shadows won't have the same kind of fall-off as if you used a 53″ octabox on your subject. On the other hand, a 53″ octabox is a lot more unwieldy to use on the go. It won't do many things you can accomplish with the MagMod system.
Let's take a look at what you can use.
1: MagGrip 2
The MagGrip 2 is the first piece you need. It's how you attach the light modifiers to your small flash.
Essentially, it's a piece of heavy-duty rubber that stretches around your flash. There are a pair of magnets, one on the left and right of your flash. Not little, flimsy magnets. These suckers have some power and work very well when connecting modifiers to your flash.
You may struggle a bit when you first attach the MagGrip to your flash. Although flexible, they have a very tight grip on your flash and don't slip around. Many photographers light to leave them in place once attached.
Once you have a MagGrip on your flash, you just slap the light modifier you need on top of your flash. The magnets do all the work to attach the modifier. It's quick, secure, and accurate.
The magnets help to align the modifier, as the field won't allow you to put on a modifier incorrectly.
2: MagSphere 2
The MagSphere 2 is a diffusion modifier designed to turn the harsh light from your small flash into softer, omnidirectional light. There's a gel slot integrated with the MagSphere, so you can easily use color correction.
The thing looks like the top of a chef's hat. With the MagGrip 2 attached to your flash, this thing is easy to mount. You just plop it on top, ready to start taking photos with softer light.
The MagSphere 2 is still a small light source. While it's much better light than a bare flash, it won't have the same wrapping light as a large softbox. Yet the transition from light to shadow isn't as hard as a bare flash. Given its small size, getting this light closer to your subject is much easier than a softbox, which helps provide softer light overall.
Remember, soft light isn't about the size of the light source. You get soft light by the relative size of the light to you subject. The sun is a large light source, but it's relatively tiny to us due to the distance between the light source and the subject. The advantage of a small flash is that you can mount it on a monopod or paint pole and fly it in very close to your subject to get beautiful, soft light.
One of the things I like to do is use the MagSphere 2 for a round spotlight effect behind a portrait subject. Just combine it with a MagGrid 2, and you get a perfect circle of light against a wall or backdrop.
3: MagBounce 2
The MagBounce 2 is my favorite light modifier when working events. It's a white silicone bounce modifier that makes the source of your light three times larger than bare flash. The result is a lovely light bounce when you need wide scene coverage.
Sometimes you just can't find a white wall or walk around with a white reflector to bounce your light. The MagBounce 2 works with your flash aimed straight up and reflect light forward to fill in your subject. I've used this with an on-camera flash to good effect, but I prefer using it off-camera just to change the axis of light relative to the camera lens and get some directional light.
I probably look awkward. Typically I'll use this with my Godox AD200 in one hand and my camera in the other. Except I hold things cross-body. My camera rests on my left shoulder while my left arm reaches across my body to hold the flash on the camera's right side.
So I look funny using the MagBounce 2, but I like the results.
It's similar to a setup I used with white foam paper attached to my flash with a rubber band. Only now, it's much more durable and works for more than one use. Now I don't have to keep returning to an office supply store when I work.
4: MagGrid 2
The MagGrid 2 helps create directional light and eliminate light spill to the side. It narrows the spread of light from your flash. What I love about it is how easily and effectively it combines with other MagMod light modifiers to change up your lighting options.
With one MagGrid 2, you get a 40-degree grid to narrow your light. Stack another MagGrid 2 on top, and now you have a 20-degree grid. The more you add, the tighter your light pattern.
In the MagSphere 2 section, I mentioned that you could use both light modifiers to get a beautiful round spotlight effect. Most flashes have a rectangular shape, which may not be the most pleasing light if you use this for a background spot.
You don't have to spend much money to buy a new flash with a round head. Just combine the MagSphere 2 and MagGrid 2 to get a beautiful round shape for your background spot. It's a lot less expensive than a Profoto A1X.
5: MagSnoot 2
Another way to create a directed beam of light is with a snoot. The MagSnoot 2 is collapsible, giving you four different stages of light control. You can extend (or collapse) the MagSnoot 2 one section at a time to tighten or expand the light beam on your subject.
It's a great way to make something stand out. Use it for a hair light or wedding rings to give an extra kicker light on any part of the frame that you need.
Compared to other snoots, the MagSnoot 2 is a breeze to use. Pull it out, slap it on the MagGrid 2, and adjust the collapsible portion with one hand (because the magnets are strong) to suit your need.
In the past, I've worked with foil, metal snoots, and even gaffer tape to create the beam of light I wanted. Nothing was as fast, easily configurable, or usable as the MagSnoot 2.
Have you ever tried to collapse or expand a metal snoot? Imagine how the gaffer tape sticks when you want to change the opening. Don't mess with that stuff.
As with some of the other MagMod system light modifiers mentioned here, there's a slot on the flash-facing side of the MagSnoot 2 that allows you to include a MagGel 2 – either for color correction or creative expression.
6: MagGel 2
The MagGel 2 is one of the excellent parts of the MagMod system. I have alluded to this a few times, so here's why I think this is a significant light modifier in your kit.
Flashes create a burst of white light. Different intensity, but always white light.
What happens when you don't need white light in your photo? Perhaps it doesn't match the color temperature of your ambient light. Will it blend?
No.
It's going to look awful and fake. Photos with obviously mismatched lighting and color temperature are pathetic and useless. That's why we use gels. Sometimes to correct, sometimes to express creativity.
Most gels are flimsy and easily ruined with scratches, bends, and folding lines. You may get a gel sheet, and then you must cut them to size for your flash. I have a pack of Selens gels in different colors, already cut to the correct size. They have little cut-outs that run along the side of your flash, and you're supposed to attach them with a rubber band.
It's garbage!
Why waste time with a flimsy set of gels that don't do a good job of preventing light leaks when you can use a MagGel 2 and just be done with it in a second? Rigid gels are better.
The MagGels are hard polycarbonate. They won't bend, fold, or even scratch with regular use. You slip them in the holder (or one of the previously mentioned light modifiers) and then slap them on your flash using magnets.
Most people start with the MagMod Pro Correction Gels, shown here.
Life comes in many more colors, though. MagMod has more gels as accessory kits, including Creative gels and Artistic gels. There's even an advanced gel kit for more color correction options.
Think about it. No more crumpled gels. No tape or rubber bands. You get rigid gels that you can use over and over again. No scissors necessary to cut them to size. Just a fast and efficient system to create color for the light bursting out of your flash.
7: MagBeam
Your flash probably comes with a fresnel head, but only one. Imagine if you could change the fresnel for different uses – a wide angle or a telephoto lens to cast your beam of light even farther.
Well, that's part of what MagBeam does for you. It changes the distribution of light coming from your flash. However, you can do something else with it, which I often use.
The MagBeam allows you to combine a MagGel 2 and a MagMask to create colorful and exciting patterns on a wall or other surface. Is your background boring? Change it quickly with something colorful and creative.
Here are some examples of the MagBeam with a MagMask and MagGel against seamless paper.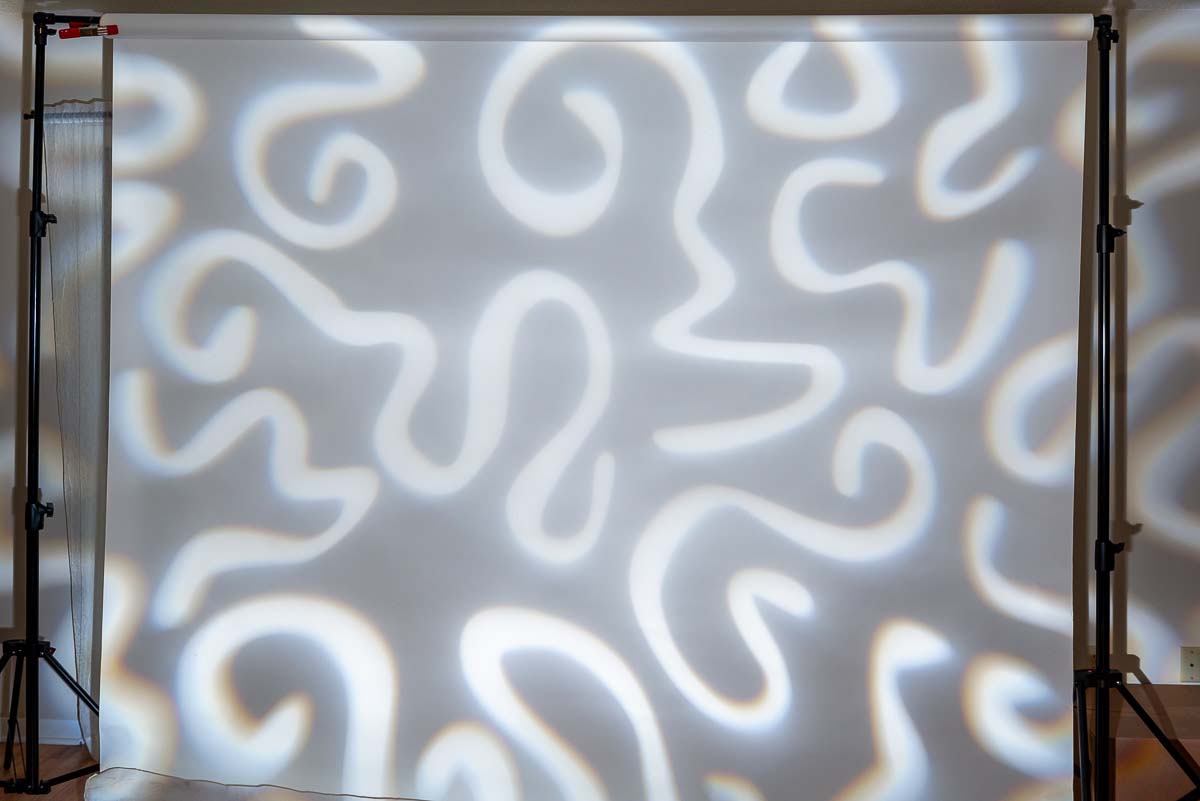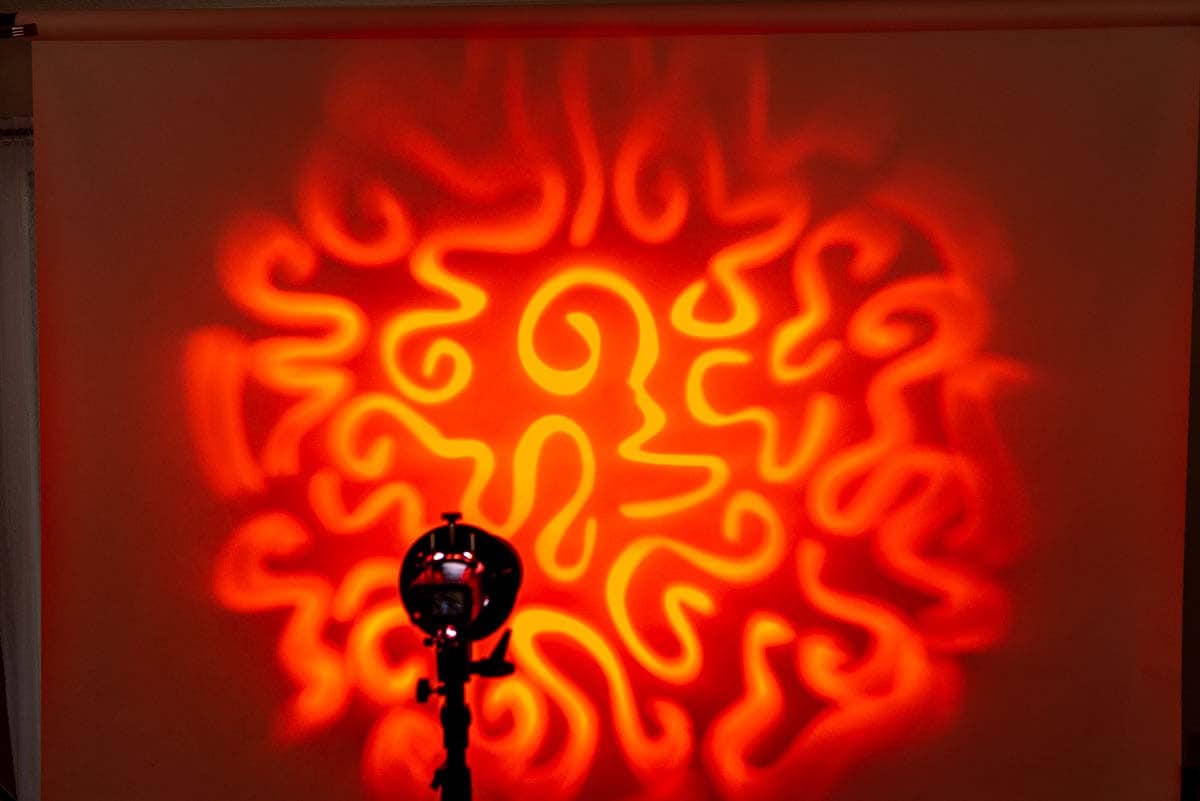 You can see the basic MagMask patterns that come with the MagBeam. There are two more accessory kits with different patterns. If you're creative, you could make your masks that fit inside the MagBeam.
The MagBeam is similar to the MagSnoot 2 in that it is extensible and collapsible to change the light pattern. Extend it to get a tighter pattern with a hard edge. Collapse it in stages to create a broader pattern with softer edges.
You sometimes need to extend your beam of light in a wide-angle shot. You can't have the flash in the frame, so what do you do?
Some people will take the shot and try editing the flash in Photoshop. Other people will put on a MagBeam and light their subject without getting too close.
That benefit is helpful for some wildlife photographers who can't get too close to their subjects – either because they may frighten off the subject or the animal may decide to eat their face. MagBeam saves the day!
The Worst Way to Buy the MagMod System
Before I bought anything, I knew about the MagMod light modifiers for a while. Lots of photographers raved about them, but I hesitated. I did that because I thought they were overpriced.
That's because I've purchased a lot of other light modifiers for small flash, and many of them disappointed me. I didn't want to sink a lot of money into something that I hadn't tested.
So I started small with the MagMod 2 Starter Flash Kit. With that, you get a few components we've discussed, including:
The problem with buying this little kit is that I liked it. I liked the MagMod system a lot. Then I wanted more. Finally, I bought more. One piece at a time.
The most expensive way you can buy anything – piece by piece.
Of course, it's hard to know if you want a collection of MagMod light modifiers without having tried them. All I can say is that they work well for me. Despite the initial sticker shock, I find a lot of value in using these light modifiers.
Is the MagMod System Right for You?
Let's start with people who shouldn't buy the MagMod system.
If you want to get creative with your flash, the MagMod system can help. It gives you tools to control your light and shape it the way you want, to add color and direction.
What if you shoot with strobes?
Well, I have the MagBox system, which is another can of worms in itself. You get brilliantly designed tools like the MagShoe to hold and adjust your strobe. You get the MagRing – several types that work with small flash (requires the MagGrip) or studio mounts from Bowens, Profoto, Elinchrom, and Paul C. Buff.
1: The MagBox Softboxes
There are three different softboxes available now. The original MagBox PRO 24″ Octa Softbox works well for headshots or individual portraits. It's speedy and easy to deploy. You just push an internal frame to lock it in place and then release it to collapse.
The diffuser mounts quickly with magnets. There's also a FocusDiffuser, which concentrates light as if you were using a grid. That item only exists for the 24″ model.
You're going to need two more things to mount these light modifiers. The first is a speedring that fits your flash or strobe. The other is a cold-shoe mount to hold the speedring and your flash or strobe.
2: The MagRing 2 Speedring Adapters
As you would expect, MagMod has clever solutions that make things faster and easier to use. If you're using flash, you can mount one or two flashes in the MagRing 2 adapter. Just put a MagGrip 2 on each flash, which holds onto the MagRing 2.
If you prefer to use a strobe instead of a flash, you'll need to get the correct MagRing for your mount type. Here are the options available.
3: The MagMod MagShoe v2 Cold-shoe
This ergonomic handle is a dream come true for mounting your light modifiers. There's a standard cold shoe on the top. The bottom slides onto a standard nut on a light stand. Just twist the bottom knob to tighten or loosen it.
It's the part in between that makes it remarkable to use. The MagShoe feels like a pistol grip. Pull the yellow trigger to release the tension, and you can angle your light in multiple directions. Release the trigger to lock everything in place.
It's drop-dead simple to use.
4: MagGels for MagBox
Like the MagGels mentioned for small flash, these are also made from polycarbonate material. They're rigid and uncompromising.
You can easily insert or remove a MagGel while the MagBox is in place, thanks to a zipper on the side of the MagBox that allows you to reach in and adjust a MagGel on the frame.
You can use a series of color correction gels to warm, cool, or correct fluorescent lights. There's also a neutral density filter to limit your quantity of light.
5: MagBox Small Case for 24″
The first MagBox on the market was the MagBox PRO 24″ model. This sturdy case makes it easy to store your kit in one convenient carrying bag.
It has room for the MagBox PRO 24″, the MagShoe, a MagRing, MagGels, and your small flash.
Having been pleased with my other MagMod system light modifiers, I didn't even bat an eye when the MagBox first hit the market. I just bought the MagBox Pro Kit and got everything in one shot. That kit doesn't seem to be available anymore.
I haven't regretted it a bit.
I love and recommend MagMod products. They may not be the only light modifiers you buy, but they're valuable to any flash photographer's kit.