Affiliate Disclosure: We earn a commission if you purchase through one of our links at no additional cost to you.
What if you could do one thing with your business that protects your personal assets, earn tax advantages, and gain trust from customers, investors, and partners? Forming an LLC can do that and more, and you'll learn the easiest way.
In this Northwest Registered Agent Review, we'll discuss the services provided to help businesses with the legally required process to incorporate and maintain their business processes so they can concentrate on serving their customers.
BEST Way to Form Your LLC

If you're considering forming an LLC, you may wonder if you should hire a registered agent service. I recommend hiring Northwest Registered Agent for the best price and customer service.
Northwest Registered Agent provides the following core services:
LLC formation service
Registered Agent service
Address privacy (keeps your address off the public record)
Lifetime customer support
Annual Report reminders
Online document dashboard
Northwest is a leader in the industry, providing quality formation and registered agent services at an affordable price. They provide excellent customer service, lifetime support, and annual report reminders to help keep your LLC in good standing. You can easily access your important documents in one place with the online document dashboard.
Pros:
Premium registered agent service

Top Notch Customer Service

Don't make your address public

They keep your customer data private

Offices in every state

No hidden fees

Same-day scanning of received mail

100% error-free guarantee

Free legal forms

Reliable LLC formation service

Business formation experts

Annual report service
Cons:
Some other agencies have cheaper prices
Start Your LLC with Northwest Registered Agent
We earn a commission if you make a purchase, at no additional cost to you.

Are you a small business owner looking for ways to protect your business? If so, you may want to consider Northwest Registered Agent. Northwest Registered Agent is a company that provides registered agent services to businesses in all 50 states.
I researched the possibilities when I started my business a few years ago. I chose Northwest Registered Agent to create my limited liability company (LLC formation) and provide registered agent services.
They are one of the most trusted registered agents in the country. This article discusses Northwest Registered Agent's services and why you should consider them for your home-based business.
What Problem Does Northwest Registered Agent Solve?
When starting a business, there are many things to worry about. One of those things is ensuring you have a registered agent so your home address isn't available to the public.
You might not know this, but having a registered agent is required by law in most states. That's part of the importance of having a registered agent. If you don't have one and someone tries to serve you legal papers, they'll come back or try to catch you somewhere else.
Northwest Registered Agent can take care of all that for you. They are experts in corporate compliance and will ensure your business is set up with a registered agent in every state where it's required.
Starting a business often means forming a limited liability corporation (LLC) or another business entity to separate your assets and possessions from your business.
There are a lot of steps involved in forming a business, and if you make even one mistake, it can delay your launch or cost you money.
Northwest Registered Agent can take the hassle out of forming your business. They're experts in the field and can help you with every step, from choosing the right entity type to filing all the necessary paperwork.
Do you need a trademark for your business? Registering for a trademark can be confusing and overwhelming. I know; I've done it twice.
Without the help of a professional, registering for a trademark can be difficult and time-consuming. Many steps are involved in the process, and your application could be denied if done incorrectly.
Northwest Registered Agent is here to help. With their trademark registration service, you'll have access to attorneys who will review your application before submission and respond to any office actions.
What is a Registered Agent Service?
A registered agent is a person or firm that accepts legal services—lawsuits—for a corporation. Every state and federal government has its own set of rules for registered corporate agents.
If your business is an LLC, corporation, nonprofit, or registered partnership, you are likely required by state law to appoint and maintain a registered agent.
Let's put this in simple terms. If someone sues your business, you get served with legal documents at your business address.
The first thing is to note that your business address must be a real address. It can't be a post office box or a UPS Store mailbox.
That brings us to the second issue. The registered agent must be present to accept legal documents. The Post Office or UPS Store won't do that for you.
Registered agents must:
You don't have to hire a registered agent service. It's perfectly acceptable to be your own registered agent as long as you publish your physical address and are present during business hours.
Many home-based entrepreneurs don't want to have their home addresses known. They also have occasional business or personal issues that prevent them from staying home to accept legal documents.
That's why quality registered agent services are so important to home-based businesses.
What Are the Northwest Registered Agent Services?
Northwest Registered Agent offers you about two dozen services, records, and forms. However, six core services allow you to form your business and register it with a state or the USPTO office for a trademark. You can also form a non-profit using Northwest Registered Agent.
1: Core Services
Most small businesses can benefit from these services and may never need to use anything else.
If you're smart (and I know you are), you realize the pitfalls of operating as a sole proprietor business. There's no separation between your assets and your business.
That means a legal action could take your assets, like your home and possessions, to pay a debt incurred by losing a legal action.
The problem with forming a limited liability company (LLC) or another type of corporation is that it's tedious and time-consuming. As a business owner, you must spend your time wisely doing things only you can do.
Outsourcing LLC formation and other business formation services is a better use of your time to concentrate on building your business and generating revenue.
The first thing you must include in your LLC filing is a registered agent. Without that in your company formation, you'll get denied.
Northwest Registered Agent has a simplified process called Stageline that walks you through selecting and implementing your services step-by-step. We discuss that later in the article.
Registered Agent Service
Business entities in each state (such as an LLC, a corporation, or a nonprofit) must have registered agents appointed on their formation documents. These documents (sometimes called "articles of organization" or "articles of incorporation") containing this information are filed with the state and become public records.
Service of process is delivering a legal notice, such as a summons or subtitle, to an individual or business. These notices require a prompt response and specific action from the recipient – for example: producing documents, stopping an activity, or appearing in court.
When the recipient is a business, the service of process goes to the company's designated registered agent. For example, when a company is sued, a process server will deliver a summons to the company's registered agent.
Northwest Registered Agent offers office locations in each state with staff to act as registered agents for your business. This service means you don't need to maintain an office presence for the possibility that service of process may occur.
Since Northwest's registered agent service provides a business address, I benefited from the security of separating my home address from my business address.
Putting that physical address on my website also helps send trust signals to visitors and search engines. Real businesses have real locations and contact information. Would you trust a business operating behind a post office box?
Since I offer professional services to other small businesses, I must tell them they can reach me.
LLC Formation Services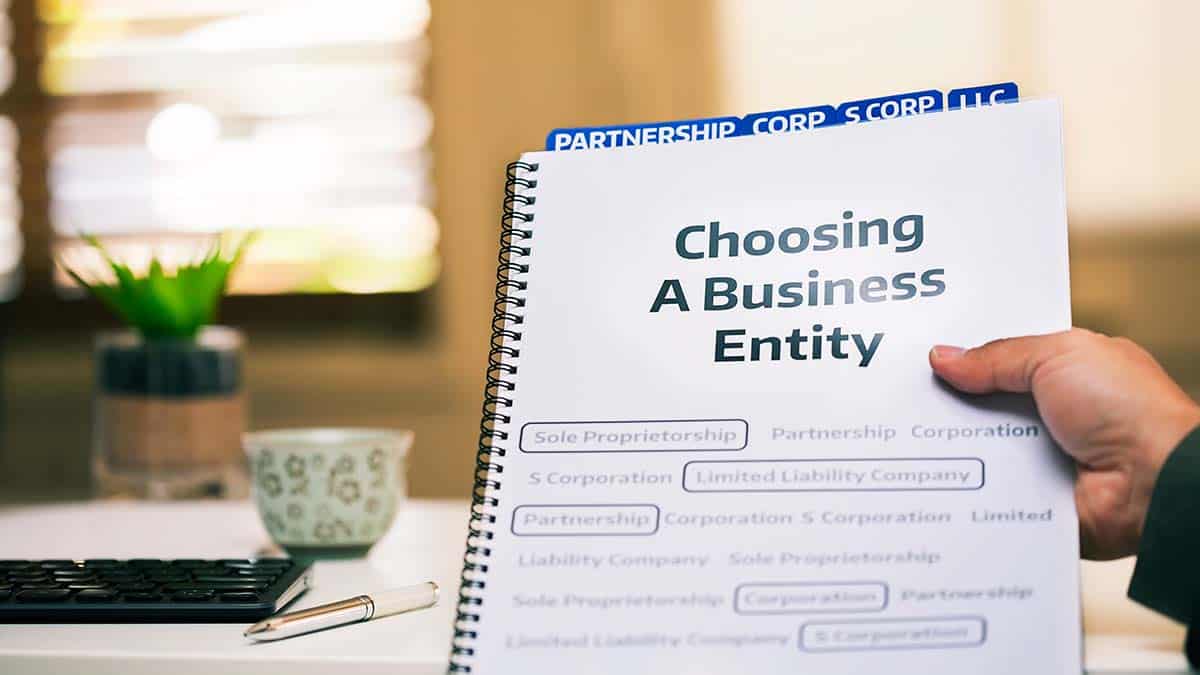 An LLC is a limited liability company. That means it's a legal entity that protects your assets from business debts and liabilities.
If you're doing business as a sole proprietor, you're not legally separate from your business. That means your assets are at risk if someone sues your business.
By forming an LLC, you create a wall between your personal and business life. Someone who sues the business cannot claim assets like your home and possessions.
Northwest Registered Agent can help you form your LLC quickly and easily. They will also act as your registered agent after your LLC is formed.
Here are the steps to form a limited liability corporation.
Designate a Registered Agent
Name your LLC
Submit LLC Articles of Organization
Get an EIN
Write an LLC Operating Agreement
Open a Bank Account
Fund the LLC
File State Reports & Taxes
You can do business formation yourself, but it takes time to understand the process and details. It also takes knowledge of the process.
I knew I wanted an LLC formation service and did my research to find out the best option for my needs. Other services will handle the paperwork for LLC formation but don't provide a registered agent service.
I concluded that Northwest Registered Agent offered the best combination of services I needed at an affordable price for my LLC filing and registered agent service.
I also benefit from their LLC annual report reminders and filing. It's a great LLC service, and I don't have to do anything to fulfill this legal requirement other than pay for the service and the state fees.
Incorporation Service
If you need something other than an LLC filing, Northwest Registered Agent Services can help.
The term "corporation" encompasses a wide range of business structures. In addition to the standard, for-profit stock corporation, here are a few others you might encounter:
There are also corporate types, such as private vs. public firms. The majority of businesses are private. Going public (so that it may be traded on national stock exchanges) is a difficult and costly process, but it has the potential to pay off handsomely.
Although you may have heard the terms "S corp" or "C corp," it's important to realize that the IRS merely uses these designations to classify how a business is taxed.
Nonprofit Formation
A nonprofit is a company that promotes or serves a specific group's interests.
The most frequent business structure for nonprofits is the nonprofit corporation, a legal form that allows you to keep your organization running while fulfilling specific obligations. Nonprofit corporations do not issue shares or pay dividends to their members, so they are known as "nonstock corporations" in some states.
The majority of nonprofits operate in one of three broad categories:
Although they are called "nonprofits," these types of organizations can make a profit. If they don't, then they usually aren't successful. However, nonprofits don't give their members the profits they earn as personal income.
Instead, the surplus revenue from a nonprofit goes towards furthering the organization's goals, such as expanding its reach, paying employees, supporting fundraising efforts, or providing support for other nonprofits with similar goals.
Corporate Guide Service
Northwest Registered Agent offers a Corporate Guide Service and calls it the cheapest way to start a business.
To assist clients in avoiding hefty upfront state filing costs, this service uses a subscription payment method. Northwest Registered Agent pays your state filing fees for you when forming your company, and you pay them back in low monthly installments throughout the year.
I don't recall this service during my LLC formation, but I like the idea. Small business owners have a million details to consider, and the idea of professional service to bundle everything from LLC filing to getting an EIN is an attractive incorporation service.
The corporate guide service is a monthly expense for the formation process and other services. Time is money, so a subscription service that starts with incorporation services has an appeal to some potential customers.
Trademark Service
Having filed a few trademarks alone, I think I'd use a service if I registered another trademark. That's because the requirements aren't entirely clear to me, and some of the language used by the USPTO is jargon that I found difficult to interpret.
One of my trademark applications had an office action because they said my trademark used common words. An office action is an issue with the trademark or application that must be resolved before approval may be granted.
Northwest Registered Agent has attorneys who review your trademark application before submitting it and can pick up potential problems before the USPTO gets to it.
If there is an office action, then they respond to it. That would have saved me a lot of time and frustration. I made my trademark applications to save money. In hindsight, the waste of time was more expensive than the fees.
2: Business Maintenance Services
Northwest Registered Agent offers Some business maintenance services, such as annual report filing, a Federal tax ID service, and foreign registration.
I think the annual report filing is a good idea. Many states require businesses to file an annual report, and it's easy to forget about or put off until the last minute. Northwest Registered Agent can handle that for you, so you don't have to worry about it.
The foreign registration service is also good if you plan to do business in multiple states. It can be a hassle to keep track of all the different requirements for each state, and this service takes care of that for you.
Annual Report Filings
Most businesses registered with the state must file annual reports that update or confirm the company's basic information on record.
Most of these reports are yearly; however, a few states- including Alaska and New York- only require them every two years. Some entities call these sorts of reports different names, such as annual renewals, biennials, and periodic reports.
For $100, plus the state fee, Northwest Registered Agent takes care of this annual requirement based on the information it already has on my business. I don't have to do anything; that's how I like it.
You can file your annual report if that's your preference. I think outsourcing this work to Northwest Registered Agent for $100 is well spent.
Federal Tax ID Service
An EIN, or Federal Employer Identification Number, is used to identify businesses. It's vital for most companies; they can help you get it from the IRS quickly and easily.
If you only need an EIN, they can get that for your business alone. But if you first need to form your LLC, corporation, or nonprofit, they can bundle our EIN service with their incorporation service.
The fee is $50 if you have a social security number. It's a $200 fee for non-US citizens or those without a social security number.
Foreign Registration
The term "foreign qualification" refers to registering your current firm in a new state so that you may legally operate there. You may only do business in the state where your company was formed or incorporated if you don't have foreign qualifications.
The word "foreign" can often carry a negative meaning, but in this case, it simply means "out of state." Foreign qualification may not be a phrase you're familiar with, but it's an easy process that involves taking care of a few details, filing a form, and paying a fee.
3: Business Address & Development
A business address is the physical location of your company. This is where you receive mail and clients or customers visit you. You may use a home address, but using a professional business address comes with many benefits.
It looks more credible to have a business address, and it can help you separate work and home life. You can use a virtual office address, which is a service that provides you with a physical address and mail-forwarding services.
Northwest Registered Agent has an extensive network of business addresses across the United States. You can pick your locations in prime real estate, and they'll forward your mail to you.
They also offer phone and credit card payment services to help you be flexible and reduce costs in your business operations.
Mail Forwarding Service
The mail forwarding service costs $20 per month to have any mail received at the registered agent's address delivered to your private address.
Northwest Registered Agent scans your mail without this service and posts the images on your portal if you don't choose the mail forwarding service.
When I had a post office box, the only mail I received was Dell catalogs and Capital One credit card offers. It wasn't worth the fee for mail forwarding to get junk. However, your business requirements for the same service may vary.
US Virtual Office Service
A virtual office offers on-demand secretarial services without needing a physical space. We provide businesses with a physical address, unique suite number, real office lease, same-day mail scanning, weekly physical mail forwarding, and a fully-functional virtual phone line with the local area code of your choice.
With US Virtual Office Service, you're given a mailing address that is only yours. This suite number looks professional and can be easily remembered by you and your customers.
They do not give out suite numbers to more than one client, so you won't have to share them with anyone who uses the service. Your mail details will also be routed through one of our secure locations.
If your company decides to relocate, you won't have to worry about updating your information with the general public because they'll take care of it for you. Most importantly, the US virtual office service allows you to control who can access your data.
You may add a second US phone number with an area code in any state to your Virtual Office Service for just $9 monthly. However, the Phone Service goes beyond simply having a second number distinct to your company.
You can forward calls to any existing US number you choose, text, make calls, and check voicemails (including via transcription!) from your laptop, phone, or another device. If you require more phone numbers at any time, you may purchase them for only $9 each month.
VoIP Phone Service by Northwest
To make and receive calls, send texts, check your voicemail, save contacts, and more, using VoIP on a non-traditional number will require an excellent internet connection.
A VoIP number helps keep business and personal calls separate, protecting your data and remaining anonymous when needed. The best part? You don't need fancy equipment or software to start – it's quick and easy.
The only monthly cost is a low fee. However, the best perk might be its flexibility: you can select from hundreds of area codes and don't need an actual phone. Instead, you can take calls on your desktop, laptop, or other devices.
Payment Processing

With so many companies wanting a piece of the pie when you accept card payments, it can be hard to save money in this industry. Your payment processor's markups are negotiable, and since your agent will determine how high those markups go, you'll end up being charged more if they're trying to make more money themselves.
Because Northwest Registered Agent is primarily a registered agent service and doesn't rely on payment processing to help the company, they will charge you less. They designed this platform to assist our clients in obtaining the payment alternatives they require at reasonable prices.
Their interchange and pricing are as simple as possible, with no hidden costs or hefty markups.
That's all there is to it.
Responsive Customer Service


Any Northwest Registered Agent review has to discuss their customer support. In my experience, they have top-notch customer service. When you speak to someone on the phone, they don't need to transfer you to someone else to address your issue.
When doing business with a premium registered agent service, you need the best customer support to go with it. After all, your agent is your first line of defense against any legal issues that may arise.
Northwest Registered Agent has a team of highly-trained professionals available to answer your questions and help you resolve any problems. They're available by phone, email, or live chat during business hours.

This footer appears at the bottom of every page on their website. You can always find a phone number to call or click the Contact Us Button to open a message box.
You can find the contact form on the top menu to reach the customer service team. The typical response is within 2 hours.
You Get Privacy by Default
Here are some reasons Northwest Registered Agent has the best customer support in their field. They don't sell your data or information, as some other legal services are known to do.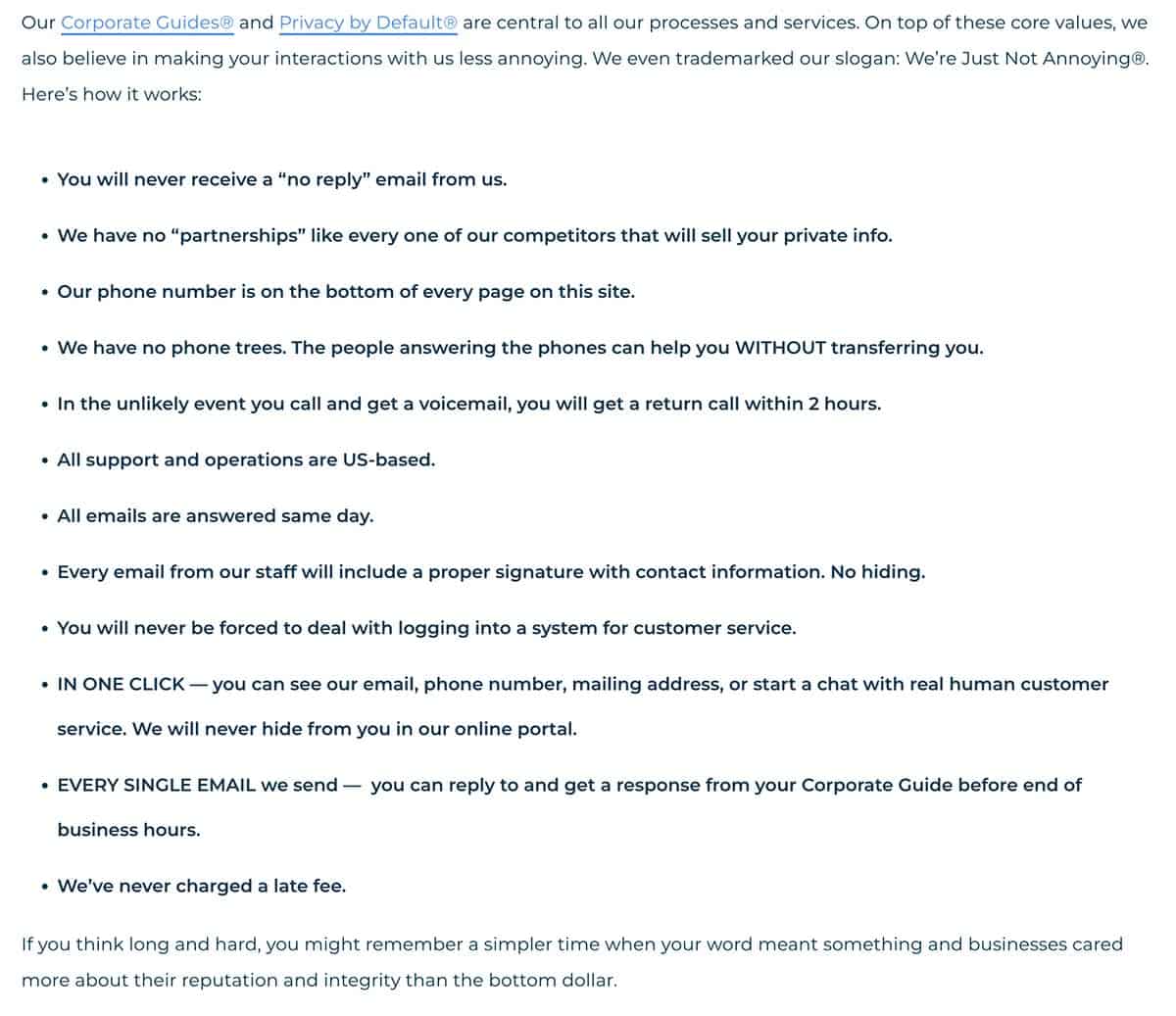 Using the Online Portal
You can manage all the services for your account and review scanned mail messages using the online portal.
To start using Northwest Registered Agent, they have a step-by-step onboarding process called Stageline.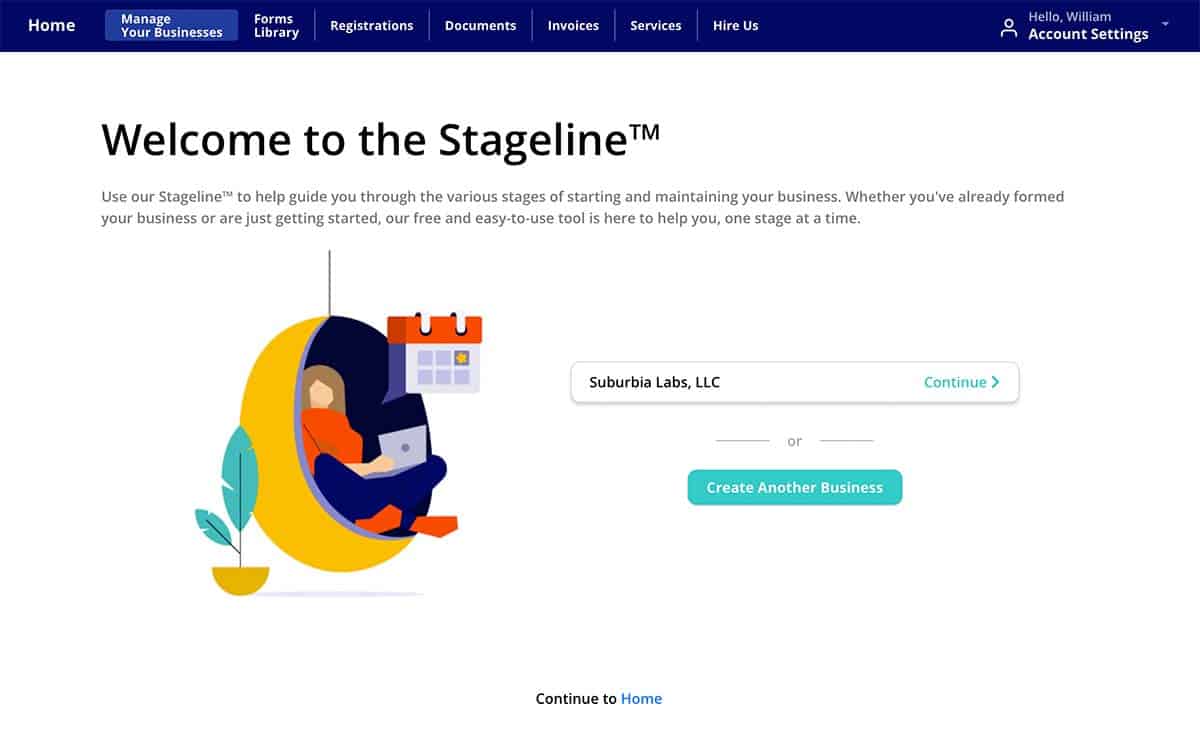 You progress through the steps in Stageline to choose your needed services and enter your information.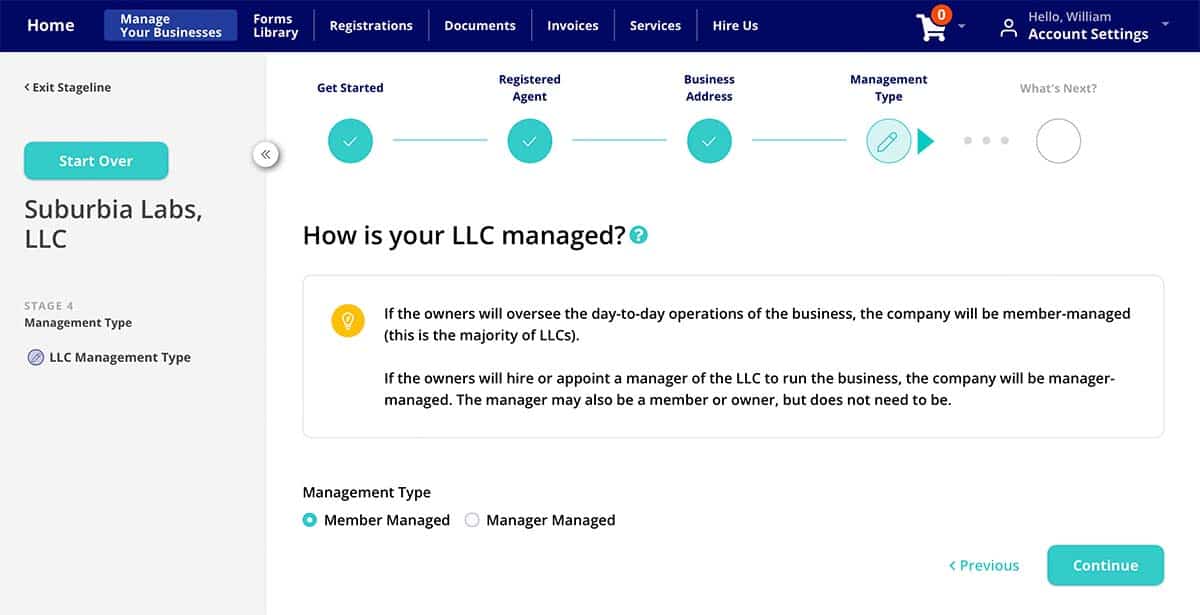 Stageline greatly simplifies the process into bite-sized chunks, so you aren't overwhelmed with too many decisions.
Once you've selected and processed your business, your home page will look like this: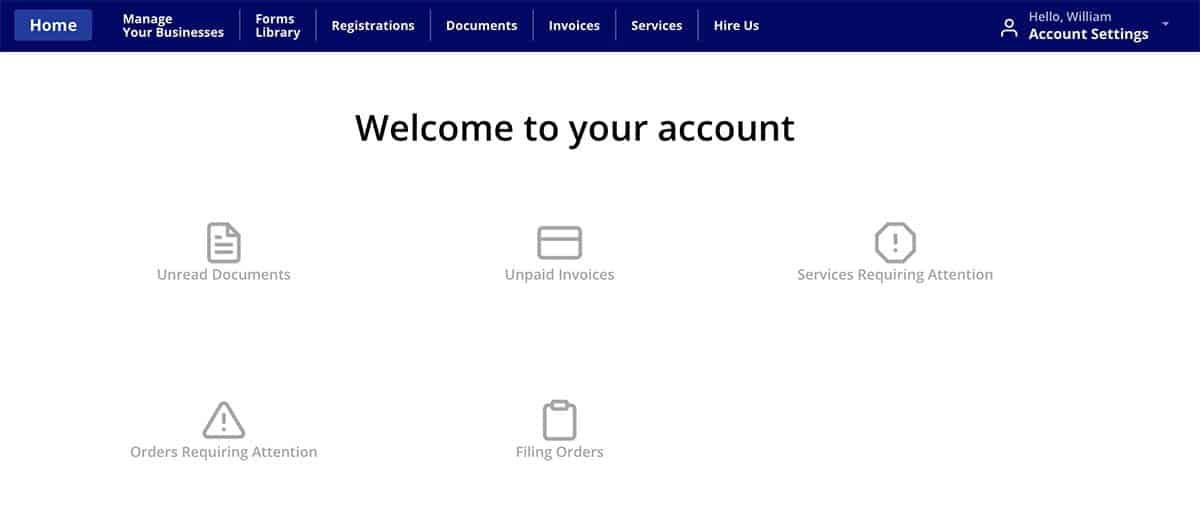 If you have something that needs attention, the icons change from grey to color to alert you to check unread documents, invoices, etc.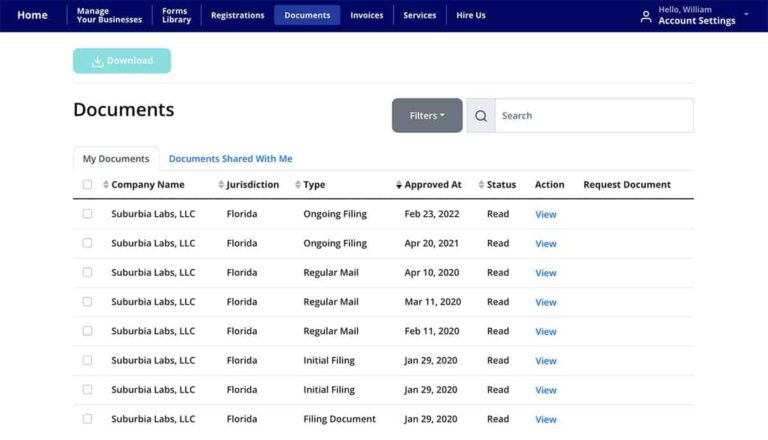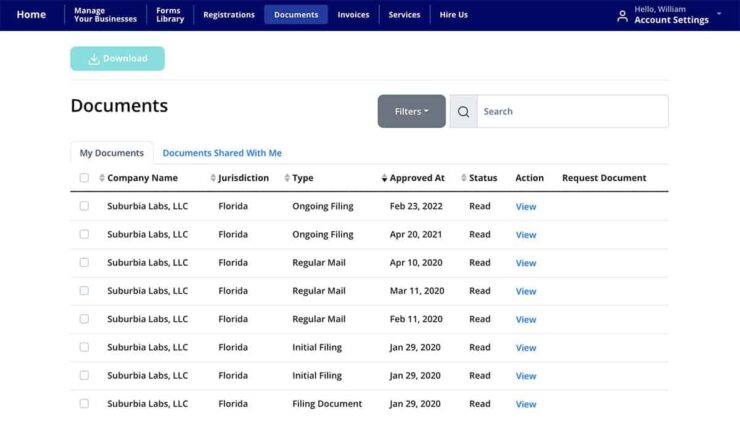 To check documents, select Documents from the top menu and click View under the Action header for any document you need. The portal will let you know if the status is Read or Unread.
Items marked as Regular Mail are scanned deliveries. Even if you opt for the mail forwarding service, you still get scanned mail messages on the portal.
Overall, the user interface is clean, clear, and easy to understand.
Northwest Registered Agent Review Summary
Based on my experience over the past few years, I recommend Northwest Registered Agent service for business formation and as a registered formation service. I'm also a huge fan of their annual report services.
There is a Northwest Registered Agent in all 50 states, so your registered agent address means you have a business presence in the state where you register.
Northwest Registered Agent's services are not the cheapest, but they offer good value and peace of mind that comes with using a well-respected service.
There are no hidden fees. Everything gets disclosed before you pay.
I believe in their excellent customer support team, and I've always had a positive experience interacting with them. Overall, I'm very pleased with Northwest Registered Agent and would recommend their services to business owners who want a reliable and trustworthy registered agent.