Affiliate Disclosure: We earn a commission if you purchase through one of our links at no additional cost to you.
Instagram is a platform for many talented photographers to share their work and reach the world. In this article, I explore some of the most influential photographers on Instagram who have used the platform to showcase their amazing photography skills and creativity.
From professional photographers with well-known industry experience to hobbyists just getting started – there is something everyone can learn from these inspiring Instagrammers.
Who Are The Most Influential Photographers on Instagram?
I spend part of every day looking at the Instagram feed of great photographers because I love beautiful photos.
I researched the best Instagram photographers and ranked them according to their influence. I hope you find some enjoyment from the best photography Instagram accounts below.
Instagram Feed: @helloemilie
Instagram Followers: 1.3 Million
People Influenced: 6552000
Emilie Ristevski is a globetrotting Australian photographer who has captured amazing pictures of our planet, from isolated villages in South America to the untamed expanses of Iceland and Namibia. She cultivates an appreciation for Mother Nature through her work – inspiring others to connect with Earth on a deeper level, getting to know its beauty up close.
She has the highest engagement rate of any other photographer on this list. Despite having a smaller following than some, her ability to engage her audience makes her the most influential photographer on Instagram.
Instagram Feed: @paulnicklen
Instagram Followers: 7.4 Million
People Influenced: 5032000
Paul Nicklen is a Canadian photographer, filmmaker, and marine biologist who has documented the beauty of our planet for over twenty years. He is best known for his work in the polar regions and their wildlife, capturing stunning photos of the Arctic and Antarctic environments. Nicklen's work has been featured in National Geographic, The New York Times, CNN, and other major publications.
Instagram Feed: @petermcckinnon
Instagram Followers: 3.2 Million
People Influenced: 4480000
Peter McKinnon is a Toronto-based photographer, filmmaker, and content creator who has gained immense popularity for his photography tutorials and vlogs. He has over 3 million followers on Instagram, 362K subscribers on YouTube, and 451K followers on Facebook.
His Plaid Chair Series has become iconic in the photography world. Peter's work focuses on abstract and minimal architectural and travel photography. He also provides tips to help photographers. From stunning landscapes to creative portraits, Peter McKinnon captures it all with his keen eye for detail.
Instagram Feed: @annieleibovitz
Instagram Followers: 1 Million
People Influenced: 3600000
Annie Leibovitz is an American portrait photographer whose iconic photographs have appeared in publications like Rolling Stone, Vanity Fair, and Vogue. She has photographed some of the most famous figures in the world, including Queen Elizabeth II, Brad Pitt, and Barack Obama.
Leibovitz also creates fine art photography, often with a surrealist twist. Her most acclaimed work includes her 1970s-era portraits, heavily influenced by Pop Art. Her iconic photos are characterized by their bold use of color and light to capture larger-than-life moments, adding her to the list of famous photography influencers.
Instagram Feed: @jimmychin
Instagram Followers: 3.4 Million
People Influenced: 3366000
Jimmy Chin is an accomplished photographer, filmmaker, professional climber, and skier. He is a Minnesota native featured in National Geographic, and his peers awarded him the "Photographer's Photographer Award" in 2019. He has also authored a photography book documenting his adventure sports career.
Jimmy teaches his techniques for planning, capturing, and editing breathtaking photos through MasterClass. His ability to capture extraordinary imagery has made him one of the most sought-after expedition photographers working today.
Instagram Feed: @stevenmccurryofficial
Instagram Followers: 3.5 Million
People Influenced: 3185000
Steve McCurry is an American photographer, freelancer, and photojournalist known for his iconic image of a girl with piercing green eyes, Afghan Girl. His work spans conflicts, ancient traditions, and culture, yet he always retains the human element.
He has been a correspondent for Magnum Photos since 1986 and has had numerous exhibitions worldwide. He is also active on social media platforms such as Instagram and Facebook, where he shares his work and thoughts on photography.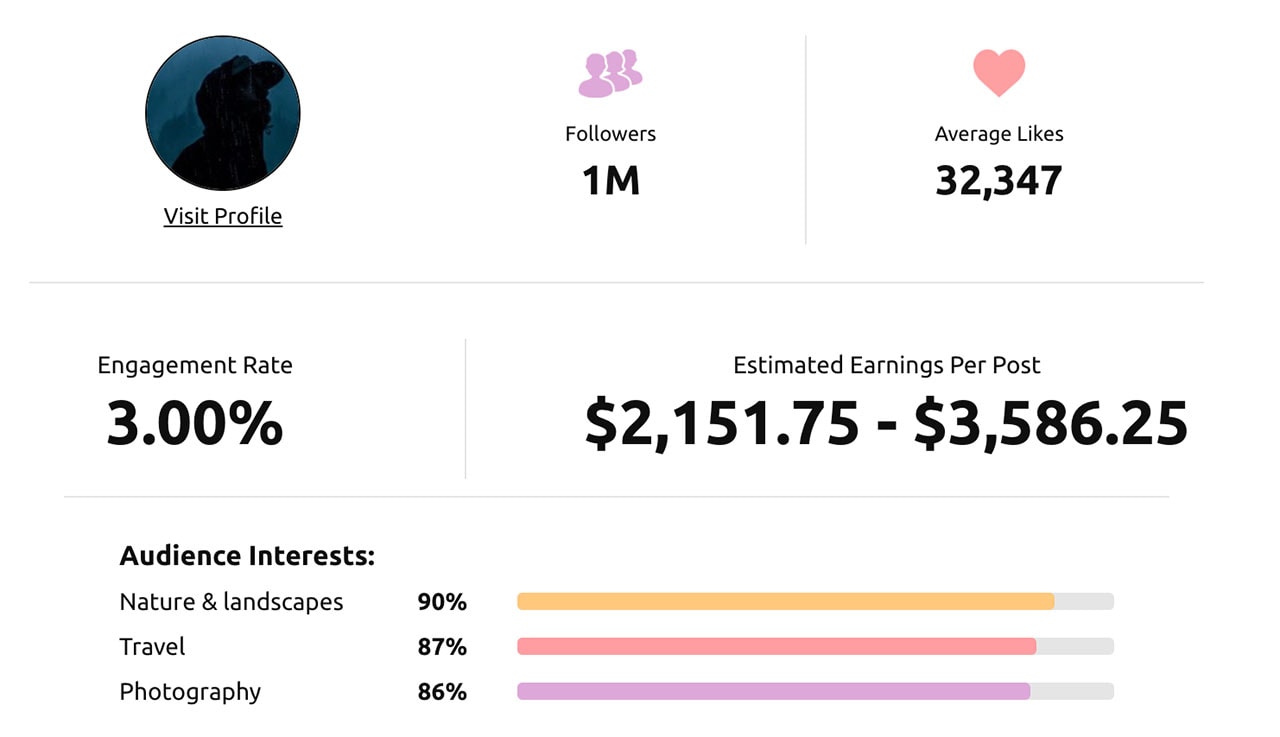 Instagram Feed: @fursty
Instagram Followers: 1 Million
People Influenced: 3000000
Dylan Furst is a multi-talented photographer, filmmaker, adventurer, and Instagram star from Bellingham, Washington State. He's known for his stunning natural landscape and outdoor lifestyle images in rich, muted tones.
His photography journey began six years ago, and he has since gone homeless for his ideas. Dylan's road map is to continue evolving his craft and making art until he dies. He has been featured on 500px, Stocksy, and Treason Gallery for his work. Dylan's passion for photography has taken him worldwide to capture breathtaking moments of nature in a moody and mysterious way.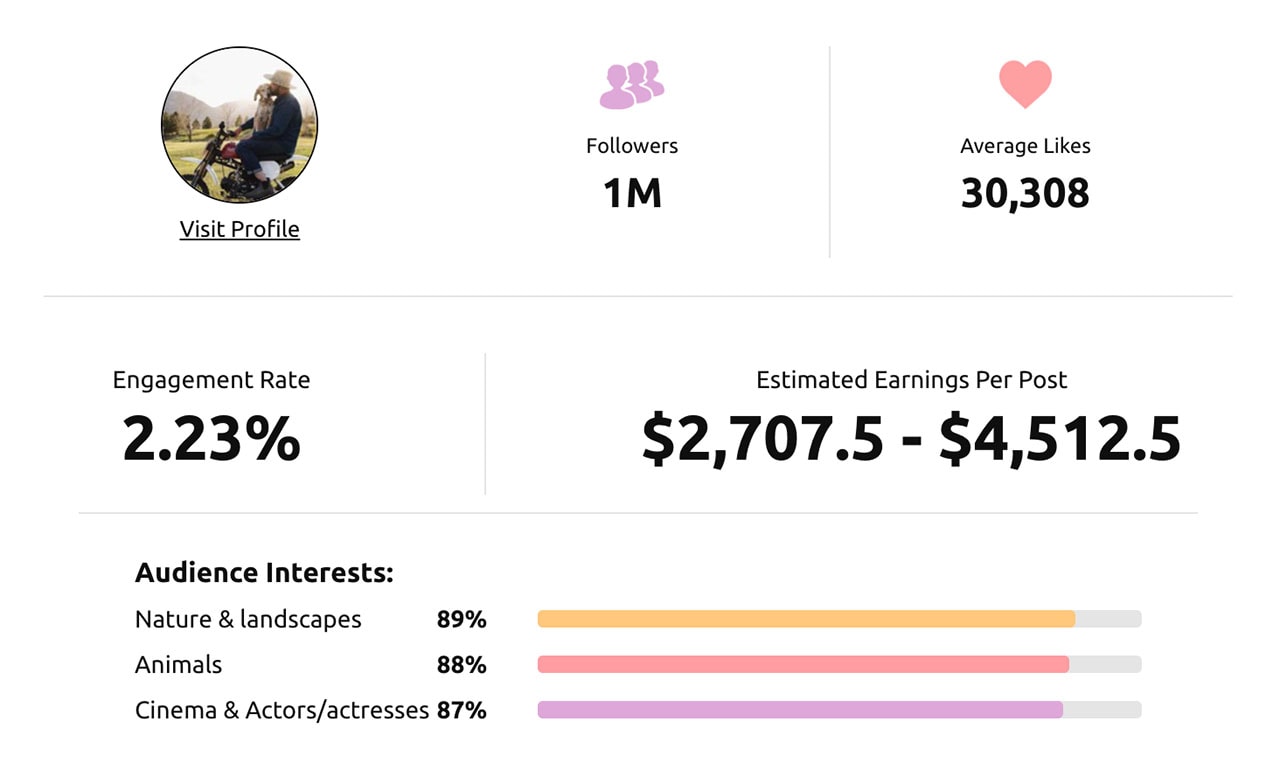 Instagram Feed: @thiswildidea
Instagram Followers: 1.3 Million
People Influenced: 2899000
Theron Humphrey is an American photographer and adventurer who has gained a large following on Instagram. He is best known for his work with his companion, Maddie the Coonhound, as they travel across the United States.
His photographs capture intimate moments of people and places across the country. He also offers prints, commissions, and video services through his website, This Wild Idea. In addition to his photography work, he has been featured in interviews and home tours. Theron Humphrey's work is full of compassion, earnestness, and classic storytelling that has earned him recognition worldwide.
Instagram Feed: @brandonwoelfel
Instagram Followers: 2.4 Million
People Influenced: 1848000
Brandon Woelfel is a freelance portrait photographer based in Long Island, NY. He began his pursuit of photography as a college student and has since grown to become an enormously popular Instagram influencer.
His work has been featured in publications such as Vogue and GQ and he has collaborated with brands like Nike, Apple, and Samsung. Vibrant colors, creative lighting techniques, and unique perspectives characterize Brandon's photography style. He often uses his Instagram account to share behind-the-scenes glimpses of his photoshoots and tips for aspiring photographers.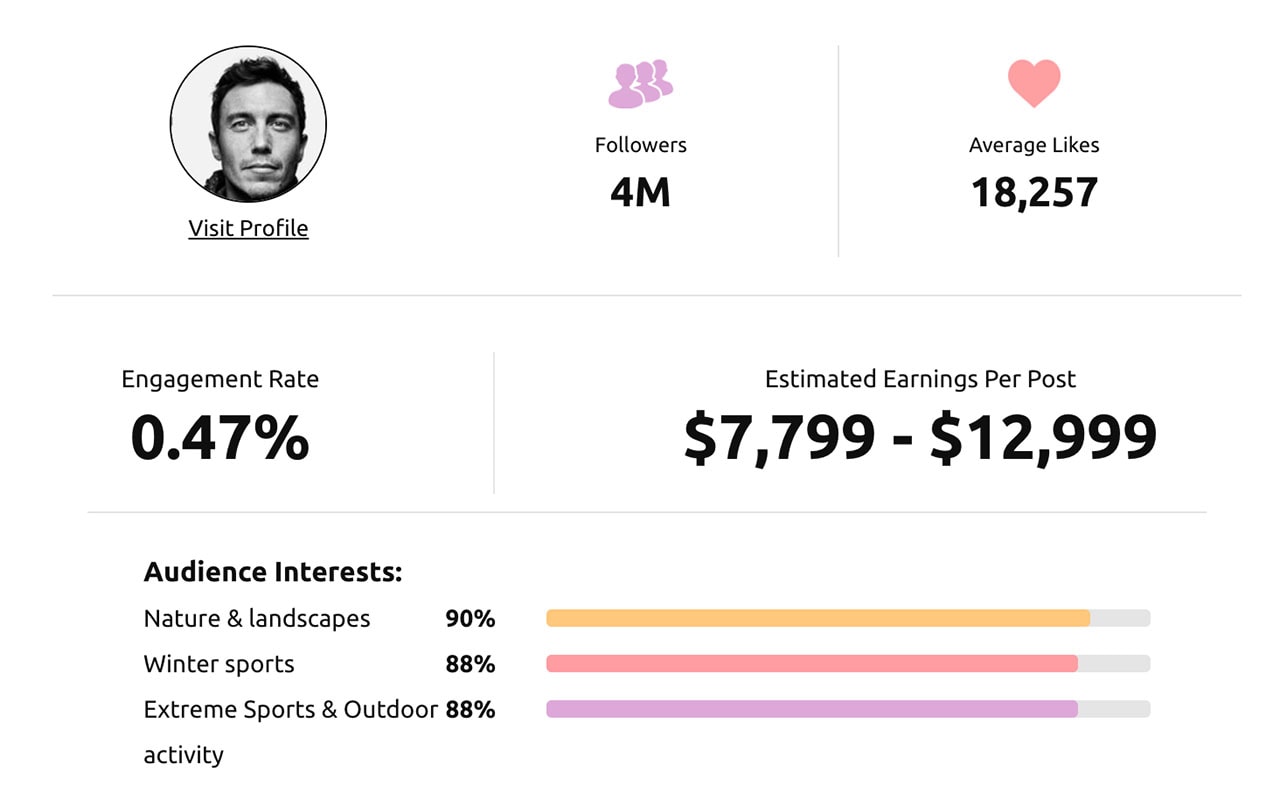 Instagram Feed: @chrisburkard
Instagram Followers: 3.9 Million
People Influenced: 1794000
Chris Burkard is an American photographer and artist in the California Central Coast region. He is best known for his stunning landscape, lifestyle, surf, outdoor, and travel photography. His work has been featured in Surfer Magazine and on Instagram, Facebook, YouTube, and Sony's Alpha Universe.
Chris also speaks at events worldwide about his passion for photography and the outdoors. He has authored several books about his work and sells merchandise through his online store.
Instagram Feed: @muradosmann
Instagram Followers: 3.4 Million
People Influenced: 1632000
Murad Osmann is a Russian photographer based in Moscow, best known for his ongoing "Follow Me" series of works featuring his wife, Nataly Zakharova, leading him around the world. The series went viral in 2012 and has since been featured by major publications such as Forbes, who named them one of the top three travel influencers of the year.
They have also been included on Hopper HQ's 2021 Instagram Rich List. Murad and Nataly are passionate about inspiring people to explore the world and capture its beauty through photography.
Instagram Feed: @mitty
Instagram Followers: 1.6 Million
People Influenced: 1440000
Cristina Goettsch Mittermeier is an internationally renowned photographer, conservationist, speaker, and writer. Born in Mexico City in 1966, she grew up in nearby Cuernavaca and has since dedicated her life to capturing the beauty of nature through her photography.
She has been published in National Geographic, BBC Wildlife Magazine, and other publications. Millions have seen her work daily, and she is a co-founder of SeaLegacy, a non-profit organization that works to protect our oceans. Cristina also serves as a Sony Artisan and National Geographic contributing photographer. Through her work, she hopes to inspire people to take action for the environment and help protect our planet for future generations.
Instagram Feed: @thomaspeschak
Instagram Followers: 1.2 Million
People Influenced: 1200000
Thomas Peschak is a world-renowned photographer and conservationist specializing in capturing the beauty and fragility of the world's oceans and coasts. He is an assignment photographer for National Geographic Magazine and the Director of Conservation for the Save Our Seas Foundation (SOSF). His work has been featured in various publications, including National Geographic Magazine, TED Talks, HPH Publishing South Africa, and Save Our Seas Magazine.
Peschak documents the beauty of our planet's oceans and coasts. He works to raise awareness about threats to ecosystems.
Instagram Feed: @joelsartore
Instagram Followers: 1.6 Million
People Influenced: 1152000
Joel Sartore is a distinguished American photographer, lecturer, writer, educator, and long-term contributor to National Geographic. He launched the Photo Ark Project in 2006- an ambitious 25-year endeavor dedicated to capturing every species living in human care.
Through his work with the Photo Ark, Sartore has taken portraits of 13,000 species and counting. He also works as a conservationist and advocates for wildlife preservation. His work has been featured in National Geographic magazine and other publications.
Instagram Feed: @alexstrohl
Instagram Followers: 2 Million
People Influenced: 920000
Alex Strohl is a Madrid-born French photographer whose unique style of photography has been informed by his adventures around the world. He is best known for his landscape and outdoor images, which draw inspiration from the wild places he visits.
Alex has a strong social media presence, with 2 million followers on Instagram and about 50 thousand subscribers on YouTube. He also offers an online workshop where he teaches next-level techniques for planning, capturing, and editing adventure photos.
Instagram Feed: @petesouza
Instagram Followers: 3.1 Million
People Influenced: 899000
Pete Souza is a freelance photographer, best-selling author, and speaker based in Madison, Wisconsin. He is best known for his role as Chief Official White House Photographer for President Barack Obama from 2009 to 2017.
During his time as the official White House photographer, Souza captured over 1.9 million photographs of Obama's presidency. He has since become an Instagram sensation with over 3.1 million followers and has published three books: "Obama: An Intimate Portrait," "SHADE," and "The West Wing and Beyond." In 2020 he was inducted into the International Photography Hall of Fame for his contributions to photography.
Instagram Feed: @mariotestino
Instagram Followers: 6 Million
People Influenced: 840000
Mario Testino is a renowned Peruvian fashion and portrait photographer. He is known for his "luxury realism" style, which captures the beauty of his subjects in a naturalistic yet glamorous way. His work has been featured in magazines such as Vogue, Vanity Fair, and GQ. He has photographed some of the most iconic celebrities of our time, including Naomi Campbell, Jude Law, Kate Moss, and Gwyneth Paltrow.
Testino's latest book, 'I Love You', celebrates weddings globally. His niece Marina Testino is also making waves in the fashion industry with her capsule collection Point Of View.
Instagram Feed: @yamashitaphoto
Instagram Followers: 1.7 Million
People Influenced: 833000
Michael Yamashita is an award-winning photographer and 30-year veteran of National Geographic. He has combined his passions for photography and travels for over 25 years, bringing to life stories from around the world.
His iconic photographs have been featured in National Geographic and other publications. With 1.7 million followers on Instagram, Michael Yamashita is one of photography's top influencers. He is also a Sony shooter, author, keynote speaker, and workshop leader.
Instagram Feed: @dguttenfelder
Instagram Followers: 1.1 Million
People Influenced: 594000
David Guttenfelder is an American photojournalist focusing on geopolitical conflict, conservation, and culture. He has been a photographer for National Geographic since 1999 and is currently a photographer with the Associated Press. His work has taken him to many places, including North Korea, Ukraine, and America.
He captures stunning images of everyday life in these countries and moments of conflict and unrest. His photos have been featured in publications such as The New York Times, NPR, Salon, and National Geographic Magazine. Guttenfelder's photography style is unique in that he focuses on capturing the ordinary moments of life amidst extraordinary circumstances. He strives to tell stories often overlooked or ignored by mainstream media outlets.
Instagram Feed: @brahmino
Instagram Followers: 985421
People Influenced: 591252
Simone Bramante is an Italian creative director and photographer. His work captures emotions, style, and colors through his stories, running projects based on his unique narrative for personal and commercial clients. He has exhibited in San Francisco, Los Angeles, Paris, and more. He is also the author of 'Fotografare le emozioni' published by Mondadori.
Many awards, such as Urban Photo Awards, The One Club for Creativity, and more, have recognized Simone's work. He has worked with leading brands to create and produce content in stills & films.
Simone Bramante is a master of his craft who creates dreamlike and surreal worlds through his photography. His passion for photography shines through in all of his work.
Instagram Feed: @amivitale
Instagram Followers: 1.3 Million
People Influenced: 507000
Ami Vitale is a renowned photographer, filmmaker, writer, speaker, and explorer. She is a Nikon Ambassador and National Geographic Magazine contract photographer who has traveled to over 100 countries. Her work focuses on documenting the beauty of our world and the stories of people living in it.
She published a photo book titled Panda Love which captures the beauty of pandas in their natural habitat. Ami also works to inspire us to protect nature by showing us how interconnected we all are.
I've followed Ami's Instagram account for years. Her portfolio has touching photos of elephants & rhinos with the people who care for them. If you love wildlife, follow Ami Vitale.
How Did I Calculate Influence on Each Instagram Account?
I've learned that influence is more than who has the biggest follower count. The truth is that some people are better at creating engagement with their audience than others, affecting their influence.
The most influential photographer on Instagram has 6.1 Million fewer followers than the second most influential photographer. The difference is that she gets her audience to engage with her posts on Instagram.
Emilie Ristevski has an engagement ratio far greater than anyone else on this list, even though many famous photographers have millions more followers.
To calculate influence, I used an Instagram Influencer Earnings calculator to discover the engagement rate. Interestingly the calculator shows larger earning potential based on Instagram influencers with more followers yet lower engagement rates.
I think that's a mistake. If I were paying Instagram photographers to earn sales, I'd want the one with the best audience engagement. That puts a spin on popular Instagram accounts and their potential influence.
To find the number of people influenced, I multiplied the number of Instagram followers by their engagement rate. That's why someone with fewer followers can be more influential.
What Subjects do the Top Instagram Photographers Capture?
Looking at this list of 21 great photography Instagram accounts, they seem to cover the most popular genres, including:
May capture a visual diary to support a cause or help others. There are a few examples of surreal photography here. Surprisingly, I don't see much from a commercial photographer or product photographer.
National Geographic Photographer
We see several famous photographers who also work as a National Geographic photographer. It's unsurprising, given that many photographers here enjoy visiting interesting places with stunning landscapes and interesting wildlife. They take photos that most of us will never get to experience ourselves.
Steve McCurry is one of the famous photographers who takes photos of daily life with eye-catching results.
Fine Art Photographer
Perhaps the most famous photographer involved with portrait photography is Annie Leibovitz. Her fine art over the decades captures celebrities in elaborately staged environments, yet she's also shown us the day-to-day life of interesting people.
As a magazine photographer, Annie is a lifestyle photographer who shows cinematic photos that escape real life.
Landscape Photography
We see beautiful landscapes from travel photographer Murad Osmann, or other popular photographers like Peter McKinnon and Dylan Furst.
Their Instagram feed shows us the world we want to explore.
5 Tips to Improve Your Social Media Engagement
If you want to get more engagement on your social media, click the button below to read our article to discover the tips that can grow your presence.
Conclusion: Top Instagram Photographers Who Influence Their Audience
Instagram photos from popular photographers offer an escape from everyday life. We want to eat it up whether it's street photography, travel, wildlife, or beautiful portraits.
Those photographers who can get their audience to react and engage have the best photography Instagram accounts because they have an Instagram page that can touch your life.