Affiliate Disclosure: We earn a commission if you purchase through one of our links at no additional cost to you.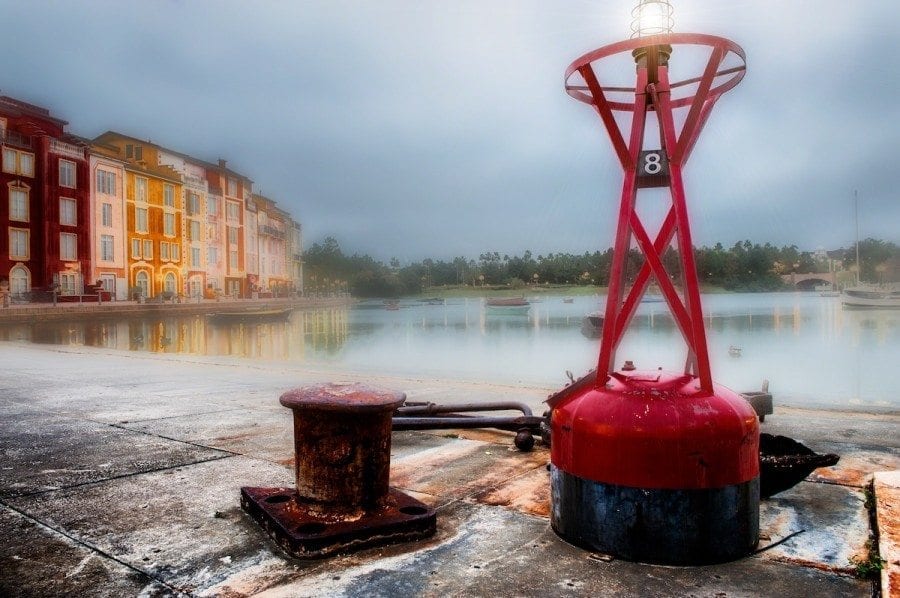 Portofino Fog [pinit]
We're getting close to a turning point in the weather around here. That means it's time to start thinking about my Portofino fog shot again. I never seem to catch it when we're really socked in with fog so thick that you can't see those trees at the end of the Portofino Bay horizon. It's rare, but it can happen. I drive the local weather guy crazy asking questions about his fog forecast. The sad truth is that fog is such a fickle thing. It comes and goes within moments around here.
I live about 45 minutes away from this scene. It's not like I can wake up, see fog out my window and expect the conditions will be the same over there. Even if I call and ask the hotel folks if there's fog, it could change right after they hang up.  I know, because I've made a bunch of trips just trying to get the shot that I want of Portofino fog.
Worse, this is one of the tourist hotels that charges for parking.  It's bad enough to drive almost an hour and get skunked, but then to have to pay $12 to park while you watch your scene go bad is another wrinkle that makes me second-guess whether it's even worth the effort at all.
Still, it's good to want. We should all have our Great White Buffalo. Something we know exists, but can't easily catch. If we could, it wouldn't be the Great White Buffalo. It'd just be another smelly beast, and who wants that?
As summer weather starts to fade, the temps will start dropping in the morning. For that brief moment when the temperature and the dew point match, we'll have some fog. That's all I usually get, though.  I don't want some fog.  I want gobs of fog. Maybe it's time to rent a fog machine.
Want to learn more about Travel Photography? Click below to check out more Travel Photography articles.
Travel Photography Articles