Affiliate Disclosure: We earn a commission if you purchase through one of our links at no additional cost to you.
Part of the Vietnam Veterans War Memorial, The Three Soldiers are just a short walk away from "The Wall" and the Vietnam Women's Memorial.
I blame the news media. Some of you may know that I don't necessarily process my photos as they come out of my camera. This is a shot that I took a year ago on a trip to Washington, D.C. and I'm just now getting around to it now.
Why now? Because we're five days away from Sequestration and enforced defense cuts. Since it's been on the news, it must have sunken into my subconscious mind when it came time to select photos for processing.  Washington. Defense. Military.  Here we are. That's my story, anyway.
Nighttime HDR
I made a mistake when shooting this scene. It's fairly common, yet also fairly easy to avoid. I didn't check my settings before taking the series of brackets for this scene. Instead, I relied upon Aperture Priority as I worked out my composition and clicked away.
What went wrong? My baseline exposure was 30 seconds in a series of a 7-exposure bracket. Those of you with Nikon cameras who've been burned by this before know what I mean. 30 seconds is the longest exposure the camera will make in an auto-exposure bracketing series. Since that was my baseline (o-exposure), it meant that my +1, +2 & +3 exposures were also 30 seconds. In other words, I never got any additional exposure for +1, +2 or +3. They were all the same exposure value.
It's an easy mistake to make. I spent every day of that trip running around from one location to another taking photos and I started trusting my camera. The problem is that my camera still relied upon me to give it something useful to start. I had my aperture set at f/16 from a previous shot where I wanted a starburst and I had much more light. While f/16 worked for that photo, it killed my exposure bracketing on this one.
Pay attention to your settings, kids. When you move from one scene to another, it's time to re-evaluate everything.
The Three Soldiers
There was an eerie looking sky this night brought on by the glow of the city lights and the odd weather.  Well, it was odd for me – and damn cold! Next time I take a trip to Washington, D.C., remind me not to do it in Winter.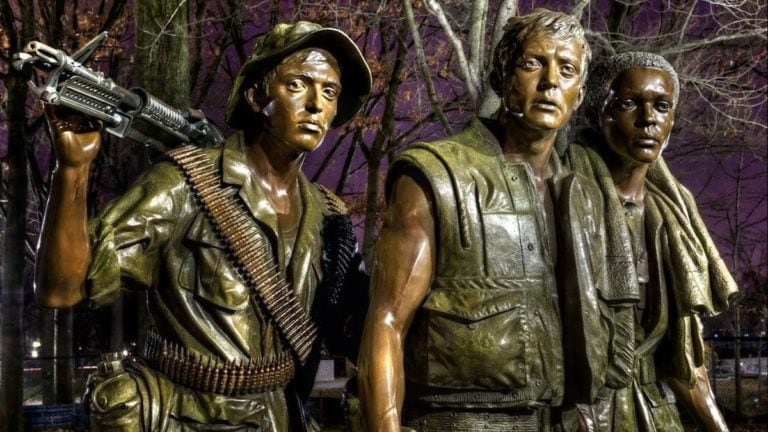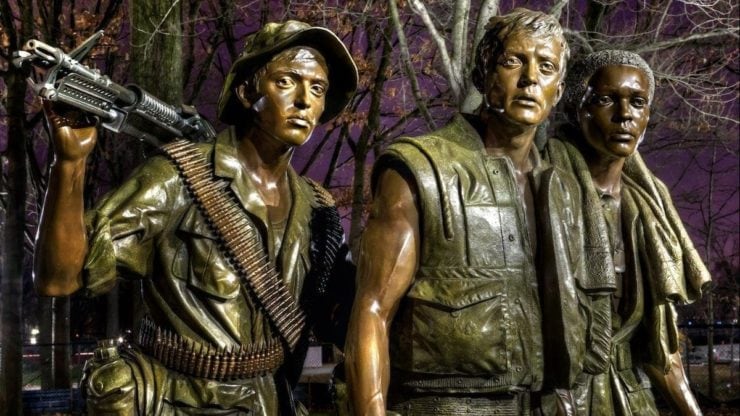 Want to learn more about Travel Photography? Click below to check out more Travel Photography articles.
Travel Photography Articles