Affiliate Disclosure: We earn a commission if you purchase through one of our links at no additional cost to you.
I put a lot of emphasis on geotagging photos when I travel. It's important to me and doesn't take much effort.
I've been working on a post for the Aperture vs Lightroom blog (now defunct) about using embedded GPS in Lightroom. After posting some comments about GPS on Google+, a friend mentioned his opinion of maps in Lightroom was mostly "eye candy." That's not an unfair assessment.
I can see how many people will look at the Map module in Lightroom or Places in Aperture and just never see a reason to use it.
My own view of geotagging photos is a bit different. Other than portrait sessions, I try to use geotagging on every photo that I take.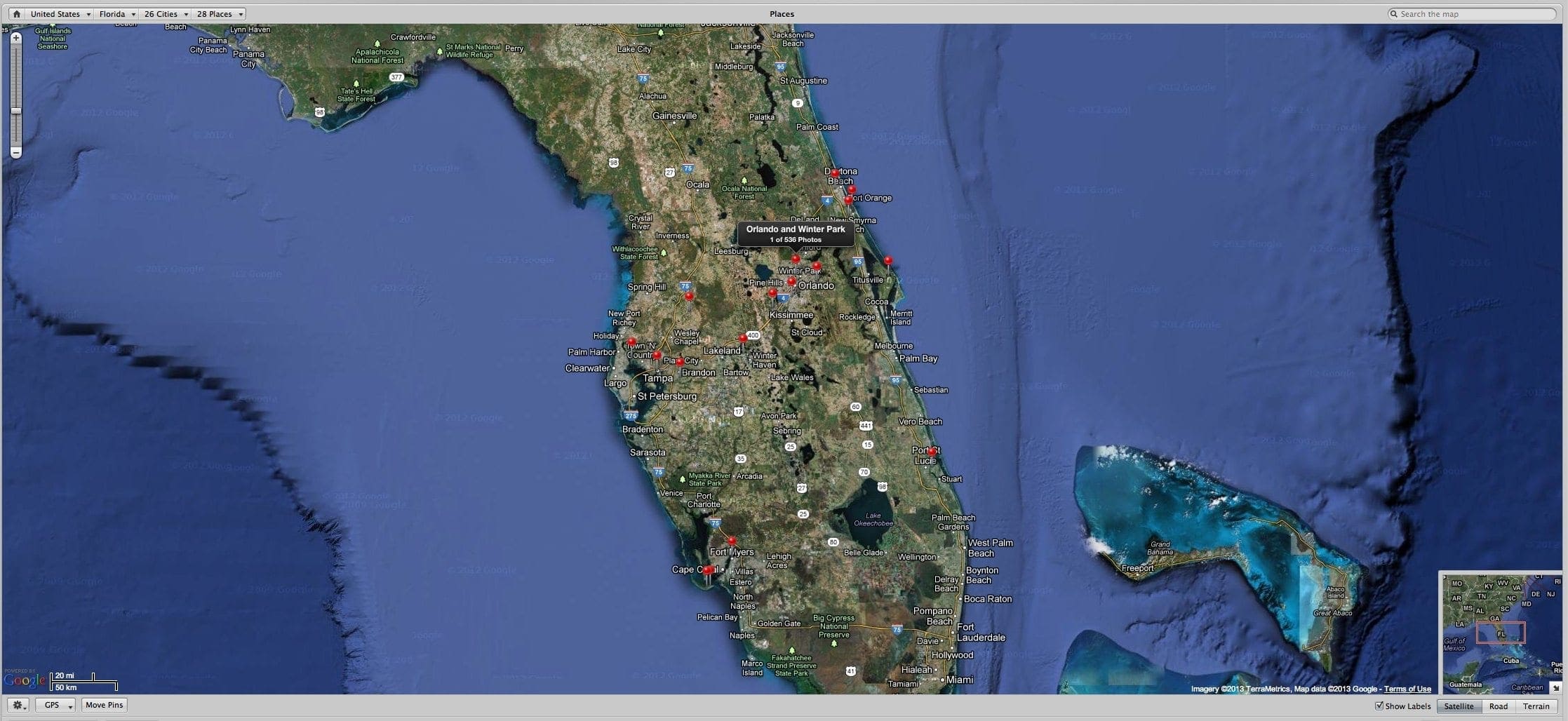 Uses for Geotagging Photos
People occasionally ask me "Don't you know where you took the photo?" Most of the time I do, but that's not my only reason for geotagging photos. Of course, there are some times when I travel and I truly do forget where I was when I took a shot. I'm old. I forget stuff. If it's been a few years since I've visited a place and want to try a shot again, it's nice to have something to remind me just where I was when I found it.
1: Finding Old Spots Again
Seasons change and some landscapes look very different in the summer than when they're covered with snow. I've been in the same exact spot in Zion National Park during different seasons and I would absolutely swear it looked nothing like I remembered, at least initially. That means I could have walked right by the spot I was trying to find, probably cursing along the way because I couldn't remember where it was.
2: Helping Others Find New Spots
Have you ever used the Stuck on Earth App? Trey Ratcliff started this wonderful little gem, but it's based upon community support on Flickr to share geotagged photos in a Flickr group. It's completely free and is a wonderful diversion to take you places.
I use it to research places that I want to visit. You see the usual major attractions of a location, but there are also countless little details or scenes that you could easily miss.
This community wouldn't exist if people didn't spend time geotagging photos and sharing with others. I love the photos I've seen from others and that encouraged me to share my own. It's kind of nice when you get a note from someone who tells you that they were happy to find your photo because it showed them something different or interesting about a location they're planning to visit.
Perhaps that's the biggest reason why I like geotagging photos. I'm here to help.
3: Organizing Your Images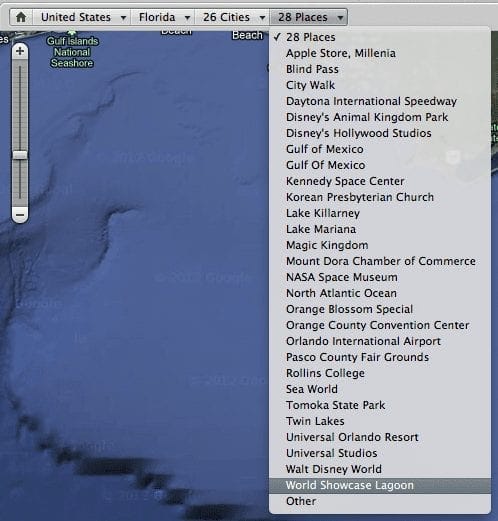 When you get down to it, geotagging photos is just another way of adding metadata to help you organize your photos. I don't spend time endlessly thinking up new naming strategies for folders.
If I want to see the shots I took at Epcot, I can click on my Map and easily navigate by country, state, city or places on a menu, like this one for the World Showcase Lagoon at Epcot.
No folders, no keyword strategies (although I do that, too) or other complicated and time-consuming techniques to find my photos.
As I said a the beginning, people ask me if I know where I took my photos. Hey, I sure do! That means all I have to do is go to a map and select a drop-down to get right to the shots that I want to see.
It's a quick, visual way to get to your location photos and all I have to do is plug in my Nikon GP-1 and stick it in the hot shoe of my camera. It even has a port for a shutter release, so I can use it for my auto-exposure bracketing shots to generate HDR images.
Now when someone asks me where to find Mary Poppins, I can tell them right where to look.