5 Tips to Improve Your Social Media Engagement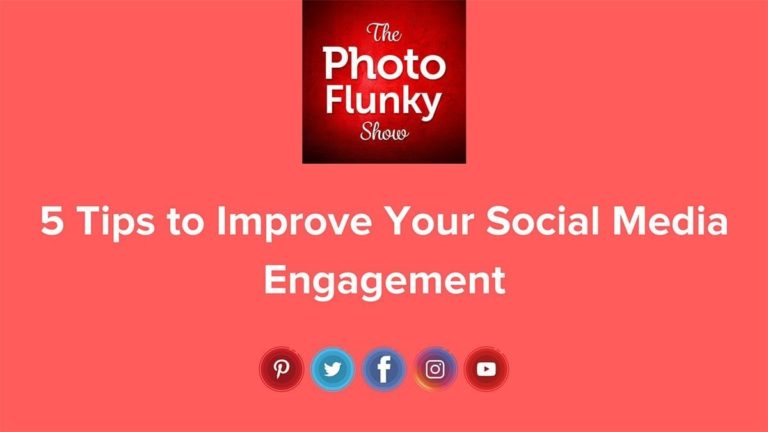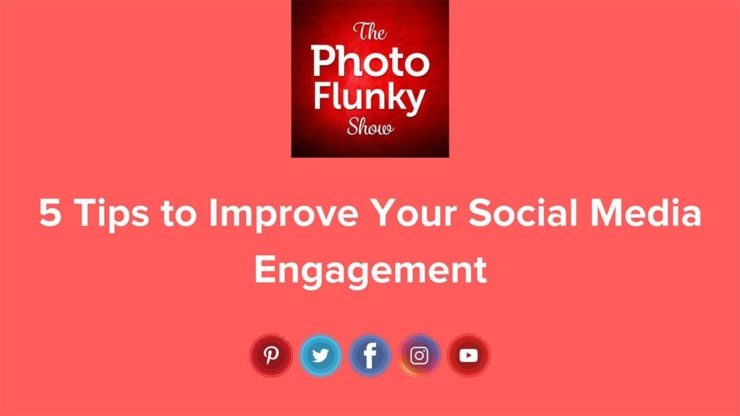 Our 5 Tips to Improve Your Social Media Engagement
Chasing followers on social media is a lame strategy. What you need to do instead is improve your social media engagement. It's better to have a smaller number of followers who are really interested in you than having tons of followers who aren't really paying attention.
So just how do you improve your social media engagement to get those active followers?
1: Give Engagement to Get Engagement
This is something that you can do better than any bot. That's because you're going to do more than say "Nice photo!" or "Good post" when you engage with your audience.
You need to be sincere. Let's presume that you're passionate about your niche. As photographers, that should't be hard. However, you don't have to limit your engagement just to other photographers.
Interact with people who are interested in your genre. That may mean interacting with models, people who own travel businesses, restaurants and caterers if you're into food photography. Your niche doesn't stop with people who press a shutter button.
Be genuine and sincere with your comments. There are thriving communities on every social media platform for your interest. If you're into dog photography, you can find plenty of dog owners who love Instagram. I'm there as @nefariouslabs and I only interact with other dog owners there. Mostly labs, but also some Golden Retrievers.
It's a community I enjoy for love of the dogs, rather than photography. However, a good pet photographer could really stand out there.
2: Acknowledge All Comments and Engagements.
At a bare minimum, give some thanks to anyone who leaves a comment on your profile or post. You'd do well to go a bit deeper, though. I check out the profile of everyone who leaves a comment or a Like on my social media. It's a good way to find new people for networking.
If I find something I like, I'll show it on their profile. Not only do we engage them on our profile, but we actively seek their accounts for some interesting, entertaining or useful posts.
Not everyone interacts with a comment. Some people are content to show their presence with a Like. The best way to interact with these folks is to acknowledge them in your post or comments with a tag. Let them know you're aware that they're paying attention to you and appreciate their support.
3: Pay Attention to the Time of Day When You Post
There are a lot of social media experts who want to tell you the best time to post on a given social media platform. It doesn't hurt to try their suggestions, but we've found that they don't always work for our audience.
For example, Lee is very engaged with the endurance running communities on Instagram and Twitter. The recommendations for those platforms didn't work out for her at all.
If she doesn't post on Instagram by 8:30 AM ET, then she knows it will cut her engagement by as much as 50%. The folks in her community are early risers because that's when they run. Then they create a post-run Instagram message to share every morning.
On Twitter, the runners gather at night for a Twitter Chat. Search for chats in your genre and you can engage in a discussion just about every day/night. Just look for a hashtag with 'chat' in it, like #runchat.
4: Quality Matters More Than Consistency
Most social media experts warn that you have to continuously post in order to keep your audience. Some suggest posting twice each day.
We think that's bunk. If someone unfollows your social media account, it's more likely that they don't like what you're sharing than the frequency of your sharing.
You can't be all things to all people, but you can do your best at whatever you want to do. Strive for excellence over consistency. I've never had anyone tell me they unsubscribed because I didn't share enough. A few left if I shared too much, though.
Remember that some of your followers aren't truly engaged with you. People use bots to follow others, and then leave if they don't get a return follow after a short while. You don't want those followers. They offer nothing of value.
It's social media, not robot media. Interact with real people.
5: Don't Promise Something You Can't Deliver
This tip ties into the one above. Don't promise that you will post an update daily or weekly if you just don't have the time to do it. Keep in mind that life gets in the way. Sometimes you have other priorities.
Don't over-commit to your audience.
If people are following you because they like you or the things you share, they will be happy when you post. If you train them to expect something from you every Tuesday at 4:00, then they're going to be disappointed if you don't deliver.
I plan to deliver an episode of The Photo Flunky Show every Wednesday at 10:00 AM ET, but I don't promise. In fact, I've mentioned that there won't be a show on a given week now and then.
Bonus Tip:  Have Fun With It
Whether you're using social media for personal or business reasons, try to have fun. As we said, it's social media. It's supposed to be personal and fun.
Macphun Coupon Code
I mentioned at the start of the show that you can save 10% (or $10) on Macphun software using my coupon code. This is my affiliate code, which means that I make a small commission if you purchase from me, but it also means that you save money.
For Macphun products like Luminar and Aurora HDR, you save $10.
For other Macphun products, like the Creative Kit, you save 10%.
Just visit:  https://williambeem.com/macphun
When you check out, use my Macphun coupon code: BEEM
Subscribe to The Photo Flunky Show
Thank you for listening to The Photo Flunky Show. Make sure you get every episode by subscribing.
iTunes – https://williambeem.com/itunes
Stitcher – https://williambeem.com/stitcher
Google Play – https://williambeem.com/googleplay
Blubrry – https://williambeem.com/blubrry
Social Media Links
We love seeing your photos and keeping in touch with you on social media. Here's where you can find us.
Transcript
THE PHOTO FLUNKY SHOW:  Episode 78
Links to subscribe to the show:
You can find links to this episode and all of the other ones at photoflunky.com
iTunes: williambeem.com/itunes
Google Play Music: williambeem.com/googleplay
Stitcher Radio: williambeem.com/stitcher
Blubrry: williambeem.com/blubrry
Keep up with us on social media:
Twitter: @photoflunky
Facebook:  William Beem Photography
YouTube: William Beem Photography
You can find links to this episode and all of the other ones at photoflunky.com and of course if you'd like to subscribe, we would love that.  Go to at williambeem.com/itunes or williambeem.com/googleplay or williambeem.com/stitcher or even williambeem.com/blubrry
William:   Thank you for joining the Photo Flunky Show, episode number seventy-eight.
This week on the Photo Flunky Show we have five tips to increase your engagement on social media.
Hi, my name is William Beem.
Lee:         Hi! My name is Lee Beem.
William:   OK, show notes are going to be available at williambeem.com/episode78  and of course you can find a transcript of the show there for free.
Links to subscribe are going to be there on the show notes page or at  photoflunky.com
I also want to mention I've got a discount code for MacPhun. It is a ten per cent discount for most products. For Aurora HDR and for Luminar it's a $10 so if you're buying Creative Kit it's ten per cent; if you're buying those other two products it's $10. It's kind of strange that it works that way, but the coupon code is my last name: BEEM and you can go to williambeem.com/macphun
This has been Mac only software for a long time, but this summer they are going to be delivering their programs for Windows and I know there is going to be a ton of people who have Windows that really want to try this software out. It is great outstanding stuff. I've got a couple of videos on my YouTube page and I'll put a link to that in the show notes, but more is going to be coming out.
If you've got Windows and you haven't had a chance to try MacPhun I think you can get a 30 day trial for free. It's either two weeks or a 30 day trial and I would appreciate it if you would use my code. I will get a little bit of a commission for referring you there, you'll save ten percent or $10 for buying, using my coupon code, so it's kind of a win-win situation for all of us.
What we are going to be talking about today is improving your social media engagement. A lot of photographers really like to share their work online and that could be on Facebook, it could be on Instagram, Flickr, 500px or a number of sites that really work with photographs.
I know, Lee, you've done a lot, particularly on Instagram. And a lot of photographers are really trying to get into Instagram, but we are finding that all this advice that tells us what to do just really isn't working for us.
Lee:         It's not. I had to feel my way around for myself and there are some little surprises in there that defy logic in some ways, where you would think things would work and they don't.  And I think the biggest tip I would give to somebody generally is to say you have to feel your way through it a little bit.
William:   Now one of the things ( advice) that people give – and I think this is good advice – is you don't want to be all things to all people. You want to find your audience.  So despite the fact that you are a photographer, you are not necessarily shooting for other photographers when you post on social media.
Lee:         You're not.
William:   In your case, you're a runner, you've got into a community of runners and you can share photos that engage with runners.
Lee:         Yes, I do.
William:   And that's working for you very well.
Lee:         It is. I found the variety within my little topic and I stick within the framework of that. If you do that generally, once you've built up some kind of rapport with your followers, you can actually get away with breaking the mould a little bit and putting something personal up there. This was my family fun day or this was a birthday lunch or Happy Mother's Day … you know. But generally, if you stay within the parameters you set for yourself, that in itself is consistency.
William:   OK, so let's go with the first tip that you have. In order to get engagement you have to give engagement.
Lee:         Absolutely, you do.
This is within your community. You know, if you want to get people if you're into portrait photography and you are putting your photos up and you want people who are into portrait photography, when they follow you, go and check out their stuff. You are not necessarily going to want to follow everyone who is following you.
Everyone who follows my account, I go and have a look and see what they've got and see if they have got something that I'd like to follow. A lot of the times maybe they are interested in what I'm doing and they are not posting much or it might be a private account; that's fine.
If you find somebody who is a regular commenter or who regularly likes your stuff or interacts and engages with you, make a point of going out and finding what they've got. Engage with them.  Find people who are doing something that you admire. Engage with them.
It's also building a community. It's building relationships.
William:   One of the things that we also wanted to add in here is you need to give sincere engagement. In other words, don't just go out and say, "Nice photo" or "I like that" or something of that nature.
Lee:         That's fine here and there, but yes, I completely agree with that. I think that's why I say find something that you genuinely are interested in following. Don't just do something for the sake of it.
William:   Alright, your second tip is to acknowledge all comments or engagement.
Lee:         Absolutely.
William:   So comments I understand, but when you see other engagement, what are you looking for? Is that if someone gives you a like or a thumbs up?
Lee:         You know, it kind of touches a little bit on what I mentioned previously. There are some people who follow my account who are pretty dedicated followers.  Within an hour of me putting something up, there are certain people who are always there. They don't necessarily always comment; some of them never comment, but I've got some people who are always there to like my stuff.
Once in a while I like to just tag them in a comment and thank them for their support.  I think just letting people know that they are noticed and appreciated is very important.  I don't take any of my followers for granted, I have no desire to go and try get the largest following if they are not engaged; I want people to be there who want to be there.
William:   And that's one of the things we are talking about when we say improve your social media engagement. It's not necessarily about building the biggest number of followers. It's about building followers who really enjoy what you are doing and are going to engage with you. Because you can get a lot of followers that really don't pay attention to you.
Lee:         That's true.  And I'm not the least bit hurt … in fact I think good! If I see that followers have left – and I've never had a mass of people – one or two drop off here and there and then you get some more joining. If what I am posting is not interesting or relevant to them (and maybe it was for a period and it's not anymore) I would prefer that they spend their time where they want to spend their time. There are no hard feelings in this. This is nothing personal. But I want the people who are following me to be interested in what I'm doing and I want them there. I'm not interested in numbers. I'm interested in people.
William:   The third tip that you have is pay attention to the time of day that you post on your account. I know there are a lot of sites out there that will say this is the best time to post on Pinterest, this is the best time to post on Twitter or Instagram, but you haven't found that's really the case.
Lee:         No, and I've tried things recommended by these wonderful social media expert sites and they post some good information and guidance on the whole, but a lot of the stuff they say is absolute nonsense.  The best time of day is one of them.  I found that it may be true for certain sectors of particular markets. It has not been true for me for my personal account or for some of our other sites that we have been doing. We have not really found that that has made any difference.
I have found that there are certain days of the week and times of the day where I post my things that seems to get more traction than posting at other times. I have a window and I know that if I don't get my post after my run in the morning onto Instagram – and this is just Instagram, to give you an example because each social media platform is different – for me, Twitter is better at night.  But if I don't get onto Instagram before 8:30 am I can expect to see half as much engagement on that day. Eventually it will slowly catch up, but people tend to find the post later on. There is definitely that window.
William:   But that makes sense. You are engaging with runners. Runners are getting up early in the morning and going to run and they post their stuff and then they are also going to look and see what their friends are doing and you're getting that engagement just before they go to work during the week.
Lee:         Well that's it. Some people – a lot of people – prefer to run in the evening, some do lunch time runs; it depends where they are. For some reason that seems to be the little window in the morning that is better.
William:   If you don't post in that window it's just pretty much you're not going to get the same engagement.
Lee:         And I wouldn't say it's a waste. There are times where life happens. You cannot always get things out. I am not going to withhold a post because I couldn't get it up in time. I don't mind if I get less interaction on a post. I understand why it happened and also sometimes you put something up and for no explained reason, people go crazy and love it. It can swing the other direction. You can put something great up and for whatever reason again, it doesn't do as well as what you expected.
You have to just roll with it. Don't over think things. Unless you see a pattern – and look for patterns – don't turn this into a very complicated diagnosis thing.
William:   As you said, this varies depending on your audience and depending upon the time of day for the social media platform so your audience is runners and in the morning for Instagram, in the evening for Twitter.
Lee:       Absolutely. Facebook I tend to do in the middle of the day. People drift in and out of Facebook.
William:   But what that means is you need to experiment with each social media platform to find out when you are getting the most engagement.
Lee:         Yes.
William:   You kind of have to know your audience and when they are on a particular platform. And that's going to vary from one audience to the next.
Lee:         Also, something I've been trying to do recently is to use one social media platform to let people know that I'm on another one.
For example, I posted on Facebook today and said "For those of you who do not follow me on Instagram … "because people following Instagram get the early posts. The people on Facebook wait for it and there are some people who have said "I was sitting waiting for this."
So I realize that they are looking forward to seeing something, especially when I baited them that something is coming and I've just let them know by posting on Facebook. Let them know that you are on Twitter and how to find you, or that you are on Instagram and how to find you there.  Some people use multiple social media formats and others just use one. But let them know where you are and how to find you.
William:   And we're going to recommend you don't try to be on all the social media platforms. If you do, you're going to spend your whole day doing nothing but managing posting social media.
Lee:         That's right. And you know when I started I was spending a lot more time putting together my posts than I was interacting with people. Don't get me wrong; I was interacting from the start. Now that my account and my circle of engagement has grown, you can appreciate that it's going to take a little bit more time – actually a lot more time – if I want to interact with people and I'm spending a little less time putting together posts. Partly because I've got into a rhythm of doing it and I'm getting quicker at putting the things together, but also I'm using that extra time to make sure that I'm still engaging with everybody. Because as your audience grows and your engagement grows the level of maintenance that you need to invest is going to increase proportionately as well and you need to keep that in mind.
William:   One of the other things that a lot of the expert articles advise is how many times a day you need to post. You need to post on some of these sites every day or twice a day and you found that that didn't necessarily work for your account.
Lee:         It didn't make any difference whatsoever. Something happened earlier this year, I was away from Instagram and all social media for ten days, two weeks? I think two or three followers dropped off on one of them and in fact I got more followers while I was gone on Twitter for whatever reason. It didn't make any difference at all and when I came back and started posting, yes, I got some new followers and more engagement. But I can honestly say it did not hurt any of my accounts at all.
William:   I think the only time it hurts is when you have bots. They like you or follow you and then they are waiting for a return like and if they don't get that, the bots will just go ahead and drop you. So those aren't really users in the first place and there is no engagement with them.
Lee:         I only want people on mine so I'm not interested in those. Yeah, drop me, please. I don't want you there in the first place if you're not a real person.
William:   I've noticed the same thing. Let's say with email subscriptions. I have never had a user come to me and say, "You haven't put anything out on email in a while. I'm going to unsubscribe from you."
You know, they forget about you if you're not there, but then they are happy if you share something useful or entertaining when it comes along. So I don't think people actually go and unsubscribe because you haven't put something out recently. I think it's more a matter of if you put something out that they don't like, then they are very likely to unsubscribe. So that's why I think you're right. Quality matters more than consistency.
Lee:         Also don't be afraid if you have somebody follow you and you feel that this person following or commenting is not appropriate for your audience, I have not hesitation in blocking them. I know they are not necessarily interested in what I'm doing anyway and I also have a responsibility as far as I'm concerned, to my followers, to make sure that things that appear on my account – including comments – are not inappropriate.
William:   That's particularly true for my account that I'm using for portrait photography. I'm showing mostly young women in bathing suits or something like that and then I'll get some inappropriate followers and I'll just go ahead and block them.
Lee:         I do that.
William:   I'm not trying to put this out there in an adult manner. I'm trying to put this out there in a creative manner and if somebody is taking it the wrong direction, I just cut them right off.
Lee:         And you don't want your models being insulted either.  That's very important.
Stand with your integrity. Do not lower your standards. I am not going to compromise on what is appropriate and what I stand for with my account and as a person for the sake of a few extra numbers to reflect fans. Those will increase on their own if I'm sincere.
William:   Tip number five you put down: Don't promise something you can't deliver.
Lee:         No. I think that is where not posting consistently can perhaps be to your detriment.  For example, some accounts, some blogs – it doesn't matter where you are – have a little statement: I post or put up new content so many times a day or so many times a week.  You have got to be able to deliver if you do that.
If you cannot, put a note up if it's a temporary thing so that people are aware, or send out an email if you've got an email list. Otherwise, take it down. There is no need to put up a promise if you can't do it.
William:   Yeah, if you can't keep the promise …
I've got a couple of YouTube accounts and on those I'll deliver a video once a week, but I think your users will actually understand that they can expect something once a week. But they are not sitting there saying, "I didn't get one this week."
Lee:         They really aren't. Sometimes something is topical and you're following something in particular so you are waiting for the next one, but most people don't have a lifelong commitment to one particular channel.
William:   No if you don't post something in a couple of weeks I think users will notice.
There is a channel that we follow. It's in the tech community and we noticed that he hasn't posted anything in a while. And that's because we want to see more content from this particular user.
Lee:         Yes.
William:   We are not unsubscribing because he hasn't posted because we want more so we are kind of waiting for him to put something else out.
Lee:         But we also did notice that there was a bit of a piece of advice given in the past about being consistent and it makes you think.
William:   Yeah, we have noticed a couple, particularly on YouTube where the experts say you have to do this weekly and they are advising other people. Then I see they haven't posted anything in the past week or two.
Lee:         But then, life happens. And that's why I don't like to make promises like that, because life happens. Your intentions may be good, you might have the posts or material ready to go up. Family comes first. Your pets are more important than some other things. You have your priorities.
William:   Yeah and I do that. At the end of every year the last couple of weeks of the year is family time for me.  I take time off from work, I'm not doing blog posts, I'm not doing podcasts or anything like that unless I've recorded it in advance. I'm not working at all on this stuff. I'm saying: this is my down time, this is when I recharge with my family.
So that's planned in advance. Sometimes emergencies happen or who knows!  I'd say it's not necessarily a bad thing to say this is when I plan to come out with my material. If you over commit to something that you just cannot sustain …. Like for videos, I cannot do a bunch of videos in a week. I have other things going on in life that prevent me from putting out that kind of a schedule.  If we had a team of people to be on this then everybody was working on different projects, I think it would be more likely. But for individuals to make that kind of commitment it's easy to see where it can fall down from time to time.
Lee:         Yes.
I've got one more thing about engagement, just going back to the first with the giving and getting engagement. A very good way, alluding particularly to Twitter, if you want to build engagement and you're starting out, Twitter very often has group chats for all kinds of topics and you might have some photography account or some running account. This happens every night of the week. I've got a choice of chats going on. Get into the community.  Let people get to know you.
You often find within these chats which is usually a question and answer thing and you get to interact on other peoples comments, that you find people with a similar passion or at a similar level, same challenges and you can build relationships like this. I found it a very nice way to expand and get into the community.
William:   And then your bonus trip was to have fun with your account.
Lee:         Yeah, I mean this is your account. Social media is used to promote a business, it might be just to promote your stuff, but it's your account. And it's social! Don't forget. It's supposed to be enjoyable.
William:   Exactly. I've found that I got into a habit for a while, particularly on Twitter, where all I was doing was using it to promote blog posts and articles.  Which was useful for me. It wasn't necessarily giving back to the community and my growth stagnated at a certain point.
Lee:         It does, if you're not engaging.
William:   It's not a matter that you're just using this to pump stuff out. You need to be interactive, you need to engage and you need to have some fun with the peers in your community.
Lee:         And when you do, people will share the stuff that you put out.
Thank very much for listening to the Photo Flunky Show. We really appreciate you. Show notes are going to be available at williambeem.com/episode78   And you get a transcript of the show there for free.  We would really appreciate it if you would subscribe to the show. We will have links on the show notes page for iTunes, Google Play Music, Blubrry and Stitcher Radio.  And of course, you can find more at photofluky.com
Finally, don't forget if you'd like to get a free ebook, Creative Portraits.  Just go to williambeem.com/freebook or text the phrase CPBOOK to 33444.
We hope you enjoyed this show. We'll see you again next week.