Affiliate Disclosure: We earn a commission if you purchase through one of our links at no additional cost to you.
My Pick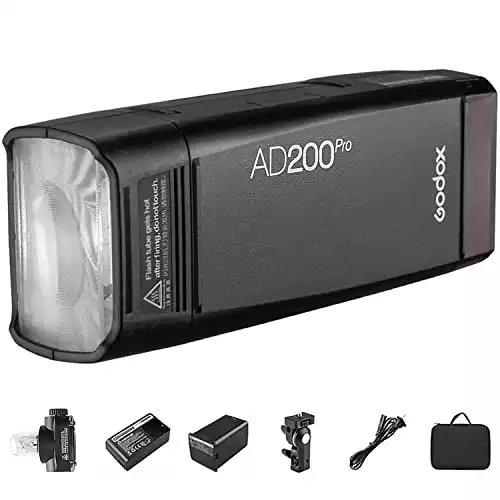 The Godox AD200 Pro Flash has all of the great features of the AD200 but improves color consistency and a more durable casing with a metal flash holder/umbrella mount. You'll also appreciate the ability to change power in 1/10 stop increments and the faster recycling times.
Like the standard AD200, it comes with a fresnel head and a bare bulb. You can also purchase the Godox Round Head attachment for a 3rd option.
Pros:
Color stable mode

Multiple flash heads

Quick recycle time (15% faster than AD200)

Power adjustments in 1/10th stop increments

More powerful than on-camera flash

Great battery life

Easy to use
Cons:
Only works off-camera

Rapid-fire HSS causes overheating
Buy from Amazon
We earn a commission if you make a purchase, at no additional cost to you.

The Godox AD200Pro flash may be the perfect flash for photography. With its powerful 200Ws of power, robust build quality, and versatility, the Godox AD200 Pro offers unparalleled lighting performance in a compact form.
Let me tell you why this is the perfect choice for professional photographers and amateur enthusiasts who want a better portable flash experience.
What Are the Key Features of the Godox AD200 Pro?
The Godox AD200 Pro is a powerful and versatile lighting solution for photographers. Here are some of the benefits of using this device:
1: It's not an On-Camera Flash
There's no way to mount the AD200Pro on your camera. It's only available for use off-camera. That's good, as off-camera lighting often provides the best portable flash experience.
2: 200Ws of power
The AD200 Pro offers up to 200Ws of power, three times more powerful than a typical on-camera flash.
The power adjusts in 1/10th stop increments, giving you fine control over the amount of light per flash.
3: 2.4G Flash
This flash offers a fast 1/8000 High-Speed Sync (HSS) and 500 full-power flashes, allowing you to capture stunning images easily.
4: 0.01-1.8s Recycling
With its fast recycling time, you can take multiple shots quickly without waiting for the flash to recharge.
5: 2900mAh Battery Gives 500 Full Power Flashes
The long-life lithium battery has enough charge for 500 full-power flashes, so you don't have to worry about running out of power mid-shoot.
The AD200 Pro uses a rechargeable lithium battery that lasts longer than rechargeable or alkaline AA batteries.
6: Bare Bulb Flash Head or Speedlite Flash Head
The AD200 Pro comes with both bare bulb flash head and speedlite flash head, giving you more options for lighting your scene or subject matter.
The removable flash tube allows for different flash heads for output.
The bare bulb head produces a soft light for wider area coverage, while the Speedlite produces a more directional light with defined shadows.
The interchangeable flash head offers flexibility and expansion options. Godox created a round head and an LED head available to purchase separately.
7: Built-In Wireless X System
This system allows you to control the flash remotely from your camera or smartphone, giving you more flexibility when setting up your shots.
Since the Godox AD200 Pro cannot mount on the hotshoe of your camera, you need a way to trigger the flash when you click the shutter.
Using an optional wireless transmitter, the built-in wireless system is the most common method to fire the flash. You can wirelessly control TTL functions
8: Consistent Color Throughout the Entire Power Range
With its 5600 – 100 Degree K over the entire power range, your images look consistent and accurate every time you shoot with the AD200 Pro.
The stable color mode is particularly helpful in product photography. If you're taking photos of a bottle of Coca-Cola, then the red logo better be "Coke" red.
9: Compact Design
At only 6.8 x 2.1 x 2.9 inches, this pocket flash kit is small enough to fit into any bag or backpack without taking up too much space or weighing down your gear loadout.
10: Recessed Back Panel
The AD200 Pro was constructed with a more reliable enclosure and a recessed back panel to reduce repair needs resulting from the broken screens or back panels of its predecessor, the AD200.
11: Flash Exposure Compensation
The Godox AD200 Pro supports flash exposure compensation in 1/3 stop increments. If you're using TTL mode, flash exposure compensation allows you to increase or decrease the light output to get the correct flash exposure.
12: Multiple Flash Mode Options
The AD200Pro has three flash modes:
The manual flash mode lets you choose the specific power output. Manual flash provides consistent power to your light from one shot to the next until you make a power adjustment. This mode also allows control of the modeling map, front curtain sync or rear curtain sync
The wireless radio TTL system is an automatic mode that uses Through The Lens (TTL) each time you fire the flash. The results depend upon your camera's metering of the subject, which may create a different result with the metering control triggering power level of the flash.
The Multi flash, or Stroboscopic, mode. Multi flash is a continuous flash function, firing the flash multiple times during one exposure. This generally goes with a slow shutter speed.
13: Additional Flash Heads
The interchangeable flash heads are a unique feature of the AD200 Pro. We mentioned the two types of flash heads included:
The bare bulb head features a single bare tube that spreads light around. It isn't enclosed to control the beam angle or offer any protection from damage.
The fresnel speedlight head concentrates the light beam angle to direct the light forward in a rectangular pattern.
Most speedlight flash heads use a fresnel design.
The round diffusion head is an optional purchase. The round flash head creates a pleasing shape to the light that's quite useful for background or spotlighting.
A separately purchased LED head turns your flash into a continuous light using 60 LEDs.
What's Different About the Godox AD200Pro vs. the Godox AD200?
The main differences between the two models are:
The Godox AD200 is a wonderful light, so I have a pair of them. However, the older model isn't produced by Godox anymore. You may still find some for sale, but the Godox AD200Pro is the current product in the line.
1: USB C Firmware Updates
Most modern computers now ship with USB C as a standard port. Including a USB C port to communicate with the flash is a sensible decision, particularly as the EU intends to ban all other ports and require USB C on products sold within its jurisdiction.
2: Increased Power Range
It supports 1/256 power, whereas the Godox AD200 only goes down to 1/128.
3: More Precise Power Adjustments
The Godox AD200Pro can make 1/10th stop incremental power changes instead of the 1/3rd stop increments on the Godox AD200.
Making the power adjustable to 1/10th stops means you have to take more steps to set a new power for manual outputs.
4: Improved Color Consistency
As with other Godox Products with the Pro moniker, the AD200Pro has a stable color mode. It achieves color consistency within +/- 100K throughout the entire power range.
5: Faster Recycling Time
The Godox AD200Pro recycles 15% faster than the Godox AD200, with a full-power recycle time of 1.8 seconds. Shorter flash durations recycle faster.
6: Recessed Back Panel
One of the common complaints about the Godox AD200 is that the LED panel on the back could get easily damaged when the flash drops. The Godox AD200Pro flash body has a sturdier enclosure and recessed panel, so it's not as easily damaged.
What's Included with the Godox AD200Pro?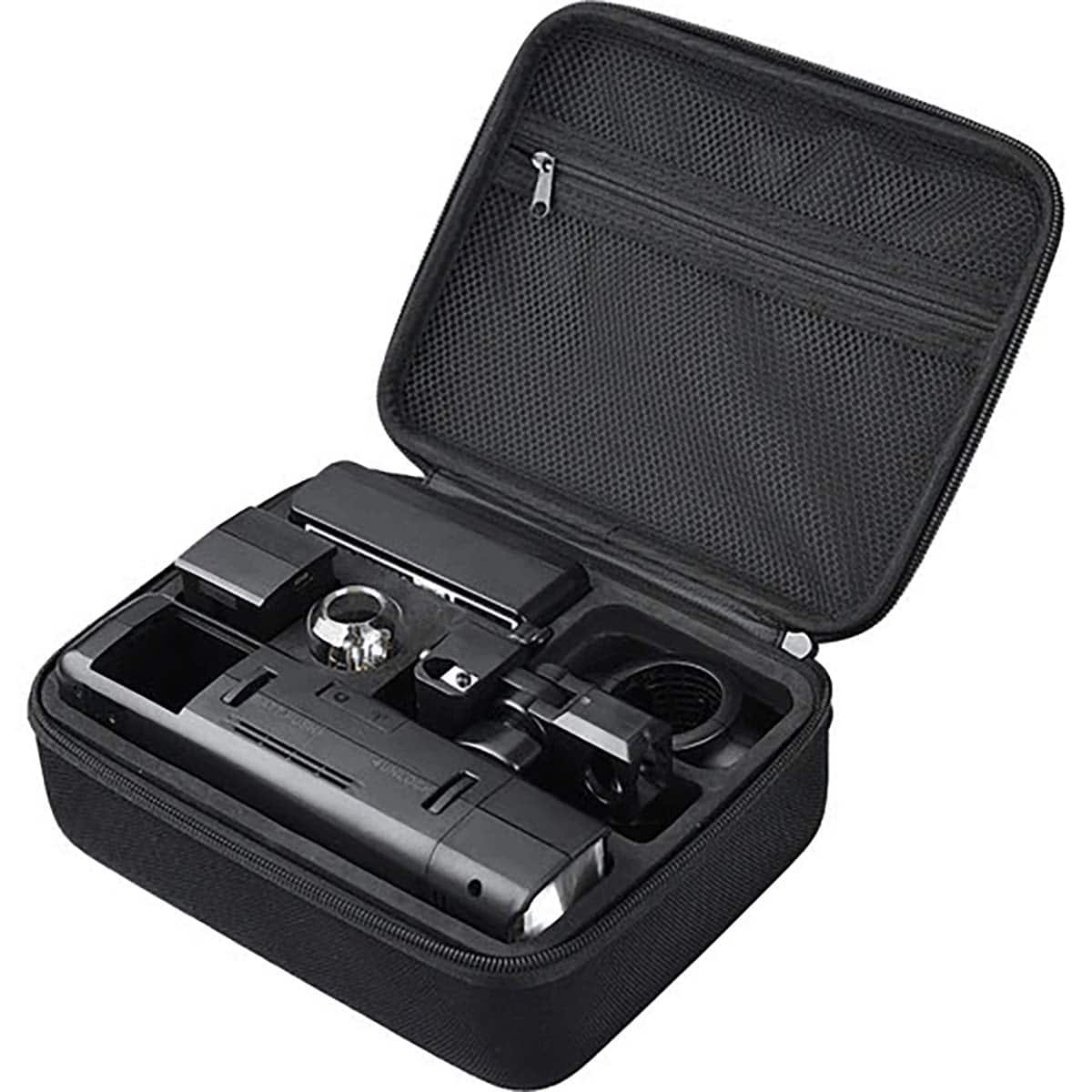 There are various kits available when you purchase the Godox AD200Pro, but the basic flash kit includes the following:
Although the Godox AD200Pro includes a wireless radio receiver, it doesn't come with a transmitter.
That makes sense since you can use a single transmitter for different Godox flashes and strobes. You only need one camera body that can use many lenses and one transmitter for many flashes.
Which flash trigger do you need?
Click the button below to see my article on the best flash triggers.
You can also use the Godox Round Head (H200R) or LED Light Head (AD-L). The latter two are sold separately.
Continuous LED for AD200Pro

The round head provides a gentler light spread compared to the classic Fresnel. For those who prefer fixed lighting from AD200 units, LED heads are an option — albeit with only 60 LEDs putting out 3.6W of power that isn't overly powerful.
The flash kit offers plenty of utility and is easily extendable using other light modifiers and tools.
Using the Godox AD200Pro
I find the Godox AD200Pro very easy to use, and it's my default flash for most situations due to its ample power and versatility.
1: A variety of flash heads
The modeling lamp is sufficient for my product photography, but it's not as strong as the modeling lamp on a strobe.
I don't regularly use high-speed sync, but it can save your day when you need outdoor portraits to overpower the sun.
The reason I regularly choose the AD200Pro is due to the option to change my flash head depending on the situation.
The bare bulb flash head works well inside a softbox or umbrella, as the bare bulb spreads the light around evenly.
The speedlight head outputs directional control of the light. It works well with many light modifiers, particularly when I choose MagMod light modifiers. The MagGrip fits over the fresnel head and helps to create a versatile flash kit.
I use the round speedlight flash heads for a pleasing spot on the background behind a portrait subject.
2: Easy controls
The easily readable digital panel on the back lets me know my settings at a glance.
Photographers have a love/hate relationship with beeping flashes. You can easily turn off the beep with a couple of settings. Press the C/fn button on the top right corner to bring up the function menu.
When you see F1 on display, that's for the beeper. Turn the dial once to turn the mode off, press the center dial button, and now you have quiet mode.
In most cases, you'll use your flash trigger to control your exposure settings, but some impressive core features are available on the rear digital panel.
3: Plenty of power
I find many photographers overestimate how much flash power they need. As I stated, the Godox AD200Pro can fire 500 full-power flashes before exhausting the battery.
You can get plenty of light for portraits using a 48″ softbox and a typical pocket flash at 1/4 power. Since the AD200Pro is three times more powerful than lower power flashes, you use lower power settings.
That provides a shorter flash duration and a faster recycle time than a typical pocket flash.
You can use a pair of AD200Pro in your flash kit to get the same power as an AD400Pro, but with more versatility to use the flash kit separately to light the foreground and background.
AD200Pro Photo Samples
Most of my flash photography is for either products or portraits. Here are a few examples.
These travel bags used a pretty basic lighting setup. I put them on the floor in my home and pointed the flash head at our white ceiling to get a soft, shadowless light on the products.
For studio photography, I used another simple lighting setup. The AD200Pro was in a 53″ softbox to the camera's right. The modeling light was enough to focus on my subject.
Another AD200Pro was on a stand mount behind the subject to provide a clean, white backdrop in the studio.
This portrait photo was taken at a gym. I used a single AD200Pro in a softbox to the camera's right and another in a strip box behind the subject to the camera's left for the rim light.
Why Buy the Godox AD200Pro?
I have a lot of flashes and strobes to use, but most of my work relies upon the Godox AD200Pro. I use it for product photography and portraits.
Event photographers, particularly wedding photographers, rely upon it as a reliable staple in their flash kit. It has a compact form that produces plenty of light for an all-day event.
You can easily attach it to light stands and many light modifiers. The radio system has 5 groups and 32 channels to ensure your communication doesn't interfere with anyone else and they won't interfere with your lights.
It's powerful enough to compete with studio flashes and doesn't require a power cable that may trip you as you move around the studio.
I keep a pair of these in my go-to flash kit and find the AD200Pro has the best combination of size, power, versatility, and a stable color mode to ensure your photos have great light every time.
Frequently Asked Questions
Here are some questions people ask about
Conclusion: The Perfect Pocket Flash
The Godox AD200Pro is the perfect pocket flash for any photographer. This light is a great addition to your flash kit with its high power output, adjustable flash head options, easy-to-read digital panel, and fast recycle time.
It offers all the features you need in one convenient package that can easily fit into your bag or backpack. Whether you're shooting portraits on location or product photography in the studio, the Godox AD200Pro Flash has everything you need to get professional quality results every time.