Affiliate Disclosure: We earn a commission if you purchase through one of our links at no additional cost to you.
Knowing how to fix the Adobe Creative Cloud login error that plagues thousands of people can save you time and money. This is one of the most popular articles on my site. I updated the post and decided to share it again. Don't lose several days of access to your Creative Cloud account, as I did.
Adobe Creative Cloud Lockout
This is one of those fears that many people had about using a software subscription. What happens if you get locked out of your account? We had many assurances that it wouldn't happen that way.
The Creative Cloud only needs to use the Internet about once a month to check your account, but it will continue to work because it's downloaded on your system. No need to panic.
When You Get Locked Out of Adobe Creative Cloud
I was completely unable to use any application in my Creative Cloud account. While working on my post for last Friday, I tried to process some images in Photoshop. Couldn't do it.
Photoshop CC prompted me to login. That was different from my usual experience. When I entered my email address and password, I received a rather plain message from the Adobe Application Manager, looking like this: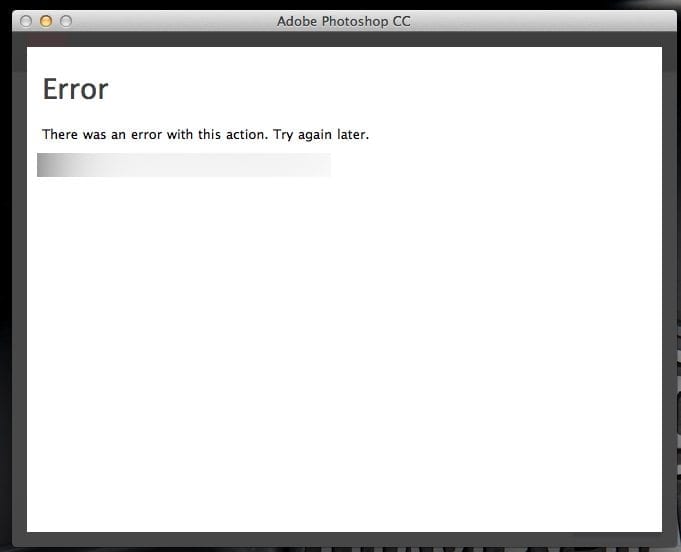 Once this appeared, there was no way to quit the Adobe Application Manager. All I had was a window with a simple Error and a useless message:
Not very helpful.
I tried again later and received the same error message. That was on Thursday night while I was working on a deadline to get my post online. Adobe Creative Cloud was useless and I didn't have time to mess with it. Fortunately, I kept Photoshop CS6 on my system and I continued my work using that version of the program.
Days later over the weekend, I still received the same message. So much for "Try again later."
Imagine yourself in this position. You're working under a time constraint and Photoshop decides to not authenticate your account to use the program. The Creative Cloud application wouldn't even prompt me to log in or logout. When I checked my Adobe Creative Cloud site credentials, they worked fine.
It wasn't my account that Adobe rejected.
Try To Find Adobe Contact Info For Support
I searched on this error message at Adobe's site, but found nothing helpful. I looked for contact information for support. Adobe doesn't make it easy to find contact information.
If you login to the Creative Cloud site, there is no mention of Help or Support. If you go to Adobe.com, there is a small mention of Support and Learning at the footer. You'll see an icon for Creative Cloud right away, but don't click it if you want to find someone to help you. Instead, look below to the Contact Us icon on the next row.
From there, you have to select the type of product that needs you help, then the type of problem you have with that product. You still don't get any contact information. Adobe doesn't want to talk to you at all.
Finally, you can tell the site that none of those options help you, and then it will reveal some contact options. Seriously, you click Contact Us, and you have to jump through a bunch of hoops before Adobe will show you any actual contact information. That's very lame and deceptive. Creative Cloud members are paying customers who deserve support, not a run-around.
Adobe's Chat Support is Slow
Even getting the phone number for support requires an extra click. They want you to use the knowledge base articles. Failing that, use the community forum. Failing that, use chat.
Finally, they show you how to call someone at Adobe. That works Monday through Friday, so I was stuck with Chat support over the weekend when I had time (and patience) to deal with this problem.
I truly hate chat support. It disconnected on me just as the support rep was going to provide an answer. That was my fault, as I hit the wrong button, and my browser returned a page. There was no way to re-establish the session, so I had to start all over.
Another 45 minutes of going through the Chat initiation, waiting for my turn to get an agent. convincing that agent that another group had to provide support, waiting for that group, explaining my problem again, and finally getting a resolution.
Since Chat is slower than speaking on the phone, you can now imagine why that process takes 45 minutes – and I did it twice because I hit the wrong damn key.
How To Fix the Adobe Creative Cloud Login Error
The resolution is simple if there is any good news about this process.
You need to delete a file. It apparently got corrupted and was never going to let me authenticate my Adobe Creative Cloud account on my computer.
Here's how to fix the Adobe Creative Cloud login error.
You should be back in service now with everything working.
I'm writing this to hope that some of you searching Google, as I did, will find it and resolve your Adobe Creative Cloud login error without needing to contact Adobe. They don't want to be bothered with helping their users, or it wouldn't be so damn hard to get in touch with them.
Share Your Experiences
If this fixes your problem, let me know in the comments. If not, leave a comment about that, too. Perhaps your problem is slightly different, so your input may help someone else resolve their issue.
Finally, make sure you hang on to your older copy of Photoshop or other Creative Suite applications. You never know what you may need if the Creative Cloud doesn't want to play when you're on a deadline.
Update: December 22, 2016
I wanted to add this note from Mikko in the comments below. It addresses a similar issue, but with a slightly different approach.
Mikko writes,
"My problem was that Lightroom and Photoshop kept asking me to sign in to begin trial as if they didn't understand that I had subscription. Deleting opm.db wasn't enough in my case. After a brief chat session with Adobe support my problem was resolved: it required that files in /Library/Application Support/Adobe/SLCache and /Library/Application Support/Adobe/SLStore were deleted. After that applications started normally."