Affiliate Disclosure: We earn a commission if you purchase through one of our links at no additional cost to you.
My goal was to get a great sunset shot, but I ended up shooting NYNY at night.
You Can't Always Get What You Want
I was at Photoshop World in Las Vegas earlier this month. Any time I get to Las Vegas, I love to go out and shoot because the place is just so colorful and weird. On this particular evening, I was racing to get from Mandalay Bay to this spot with a view of NYNY.
Racing. That's a bit of an exaggeration. It was more of a brisk walk, mostly in the wrong direction. I was in a a hurry because I saw something I almost never see in Las Vegas – a beautiful sunset with clouds. Lots of clouds, beautiful colors and it was the perfect background for a shot along the Strip.
By the time I got there and setup my tripod, all of the color evaporated and I was left with a dismal, grayish color in the sky. The other problem is that the exterior lights of the casino hadn't come on yet.
In fact, those lights didn't come on until much later in the evening around 8:00pm. Worse, the usual spotlights that I expected on the Statue of Liberty weren't on due to some construction. Since I missed the sky and was too early for the lights, I decided to wait.
That's when it started to rain.
Sometimes You Get What You Need
The vision I had in my head just wasn't meant to be. Even if I arrived in time for the beautiful sunset, the rest of the scene wouldn't have worked out properly without the exterior lights. I reminded myself that the universe gives you what you need, when you need it.
Apparently, I needed a pair of teenage girls to come by at that moment and ask me if I was the tour photographer for One Direction. I have no idea who they are and told them that I wasn't the guy, but they insisted that I was really the guy. I didn't have any One Direction photos to show them, so I showed them some shots of Big Electric Cat. The girls have no idea who they are, so I felt that we evened things out.
I stood there watching NYNY at night and realized something important. I'm never going to stay at this resort. Why? Because there's a roller coaster going around the entire thing, filled with people screaming as they go by your room.  I previous never noticed that this ran at night, but then I thought what it must be like to try and relax with blood curdling screams right outside your hotel window.  Not for me.
Eventually, the lights started filling in the empty space, and the scene became a bit closer to what I had in mind.
NYNY At Night
This particular spot is on the walkway bridge between MGM Grand and Tropicana. In fact, I'm standing right on the first step of the escalator going down to Tropicana. Fortunately for me, it was closed for maintenance. Like I said, the universe gives me what I need when I need it.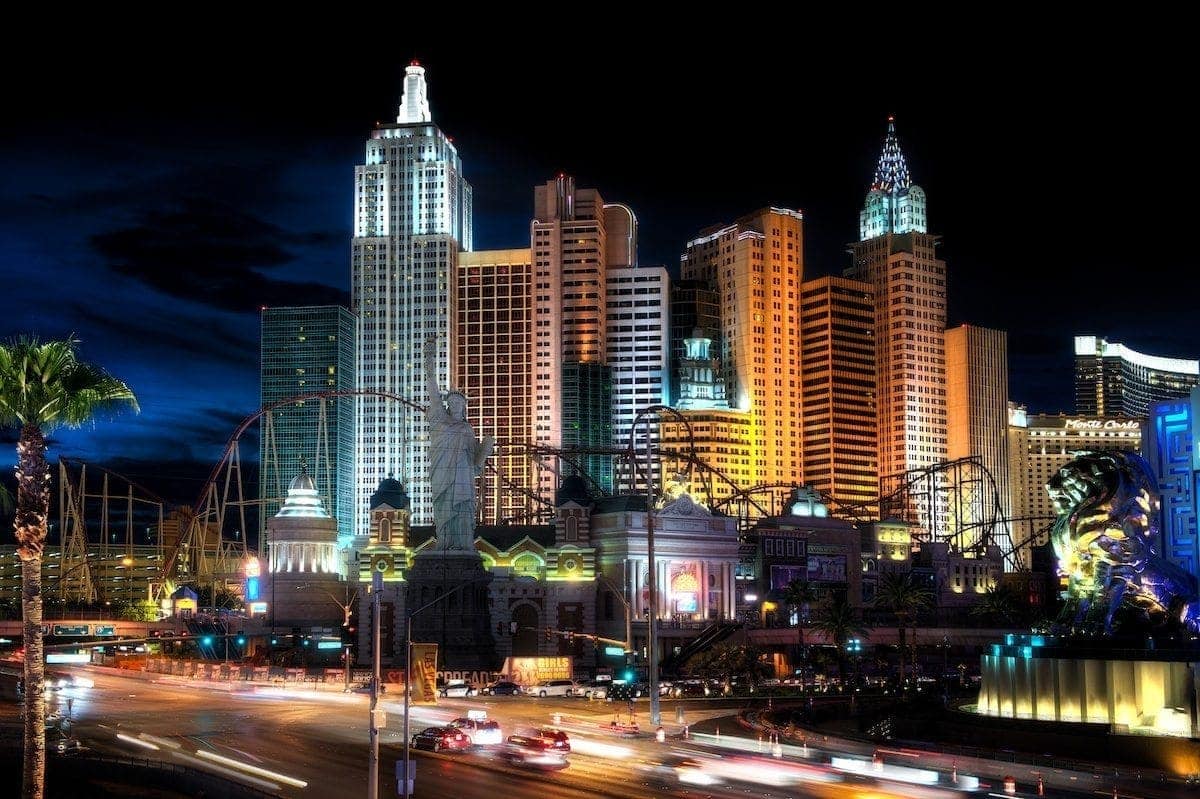 Want to learn more about Travel Photography? Click below to check out more Travel Photography articles.
Travel Photography Articles