Affiliate Disclosure: We earn a commission if you purchase through one of our links at no additional cost to you.
ON1 Photo 10 is available now. As promised, ON1 shipped its new product formerly Perfect Photo Suite 9.5) in October and it has some really cool benefits. You can use ON1 Photo  as an addition to Adobe Lightroom and Photoshop, but it may also give you a viable alternative to paying monthly for Creative Cloud. Also, you can save 15% using my coupon code!
What Can ON1 Photo 10 Do For You?
I've used ON1 software for several versions now and its growth is impressive. It's no longer just a collection of effects you use as a plug-in to Aperture, Lightroom or Photoshop.  While it still works inside those applications, it's grown into a stand-alone photo management and processing tool.
Let's start with the Browser. Not a new feature, but much faster. It provides the services you expect from a Digital Asset Manager to find, manage and edit your photos. With the ON1 Browser, you can
Embed metadata in a photo
Mark with color
Mark with Star ratings
Mark with a Like
Filter on Likes, Stars and Color ratings
Filter on Date ranges (both presets and custom date ranges)
Create Albums and Smart Albums
Launch ON1 Effects, Enhance, Layers or Portrait
Send to Aperture, Lightroom or Photoshop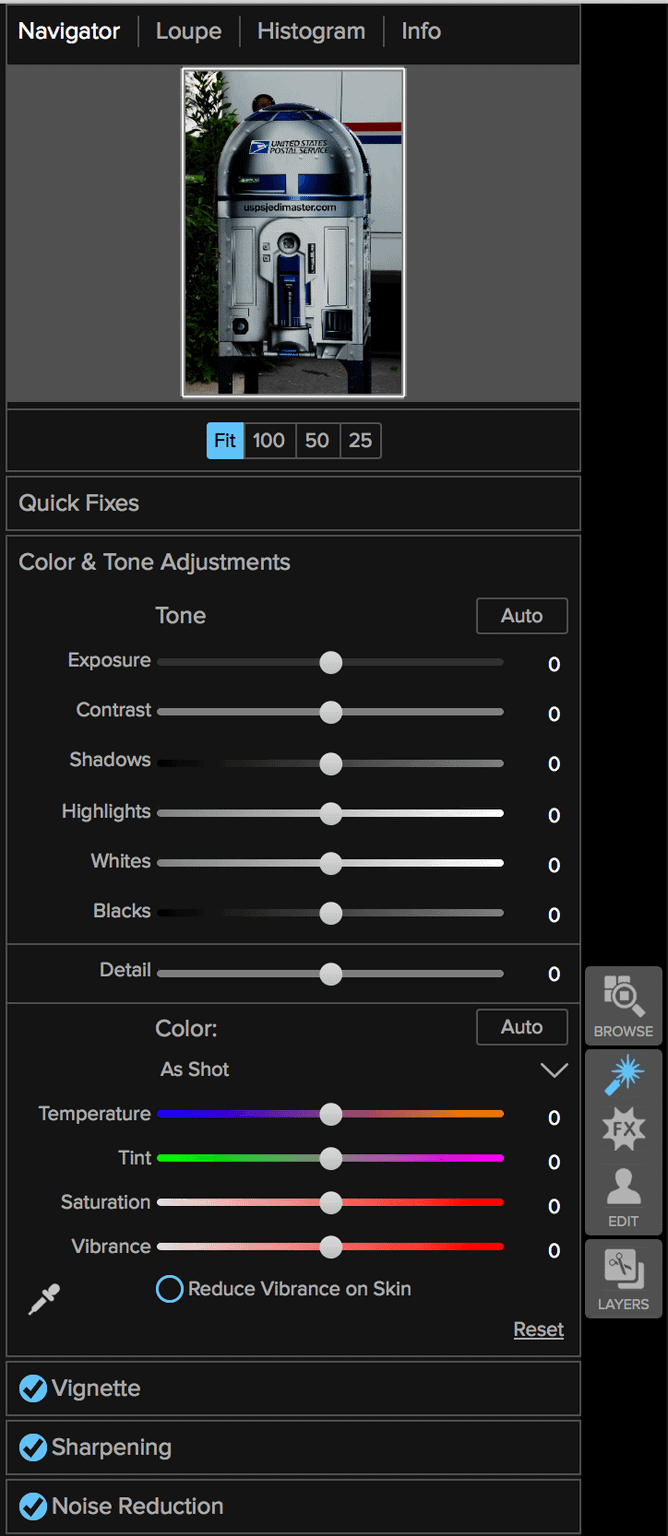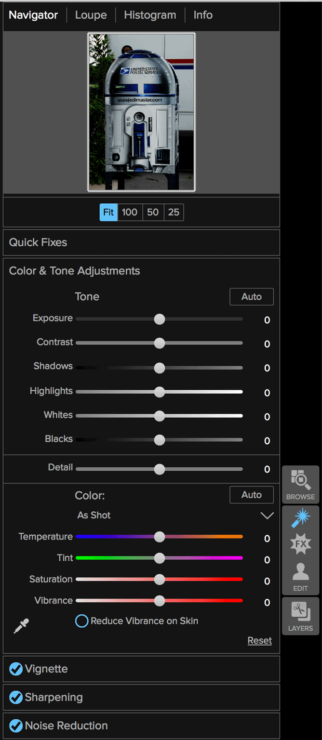 ON1 Photo Enhance is similar to the tools you may have used in Adobe Camera Raw, Lightroom's Develop Module or Aperture. It covers the basics of enhancing your photo before going into effects or portrait tools.
Compared to Lightroom or ACR, there are some immediate differences. Enhance works on a global scale, so there are no adjustment brushes for local changes.
On the other hand, you get some controls that Adobe tools lack when you expand some of the sections on the panel. The Quick Fixes have sections to adjust Tone, Color and Focus. The auto settings for each group in the Quick Fixes works very well to get you started.
If you look to the right of the panel, you'll see a grey strip that allows you to easily move from one tool to another in ON1 Photo 10. You don't have to exit one tool before switching to another to make a different editing change. Now you can work in the order you want from one interface.
The Effects app has a much better system for organizing presets and filters. That allowed ON1 to make a big change by moving Black and White into the Effects app, eliminating the need for a separate program.
It makes perfect sense. You still have access to all the tools in the old Black & White app, but now you can easily combine those effects with others inside the Effects, Enhance or Portrait apps.
Two Way Syncing Between Desktop and Mobile
Tell me if this ever happened to you. You're away from home and you need to show a photo to someone, but it isn't one that you synced to your mobile device.
There are services, like Mylio, that try to address this problem. Now you have an option to sync photos and albums to your Dropbox or Google Drive account and retrieve them through an iOS app. You can also sync changes made on your iOS device back to your desktop, too.
Beautiful Portraits Made Easy
One of the first things I wanted to check out was the ON1 Portrait app. Before I even get into what it can do, let me show you a simple Before and After example.
Before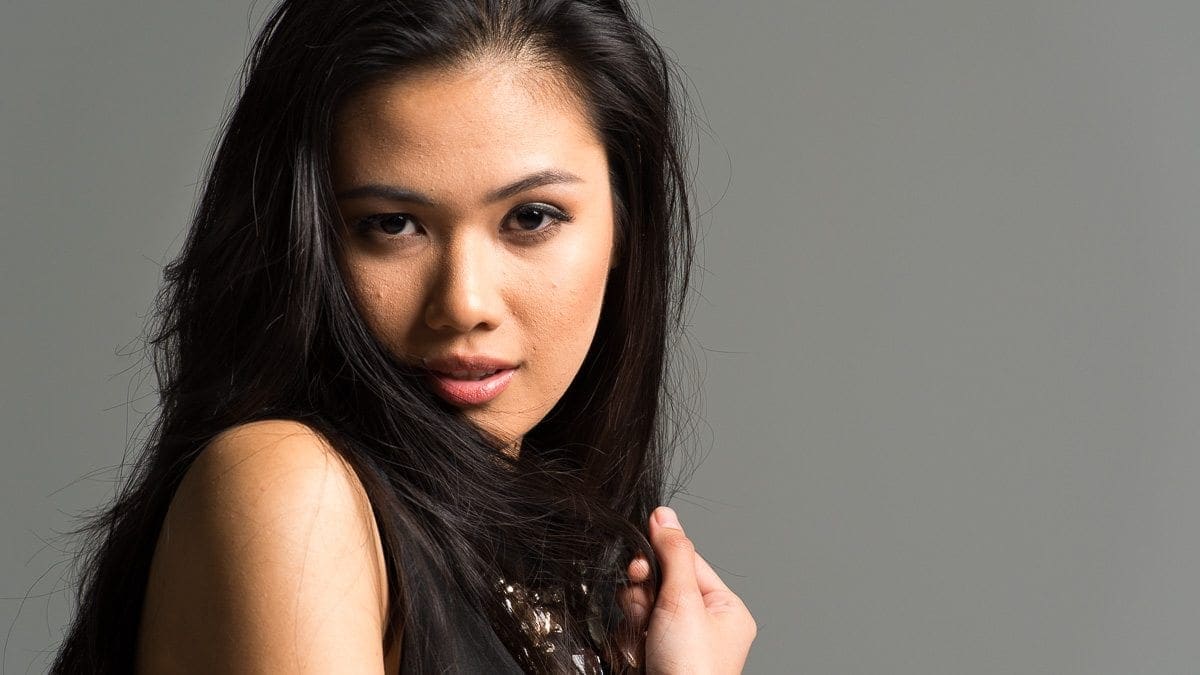 After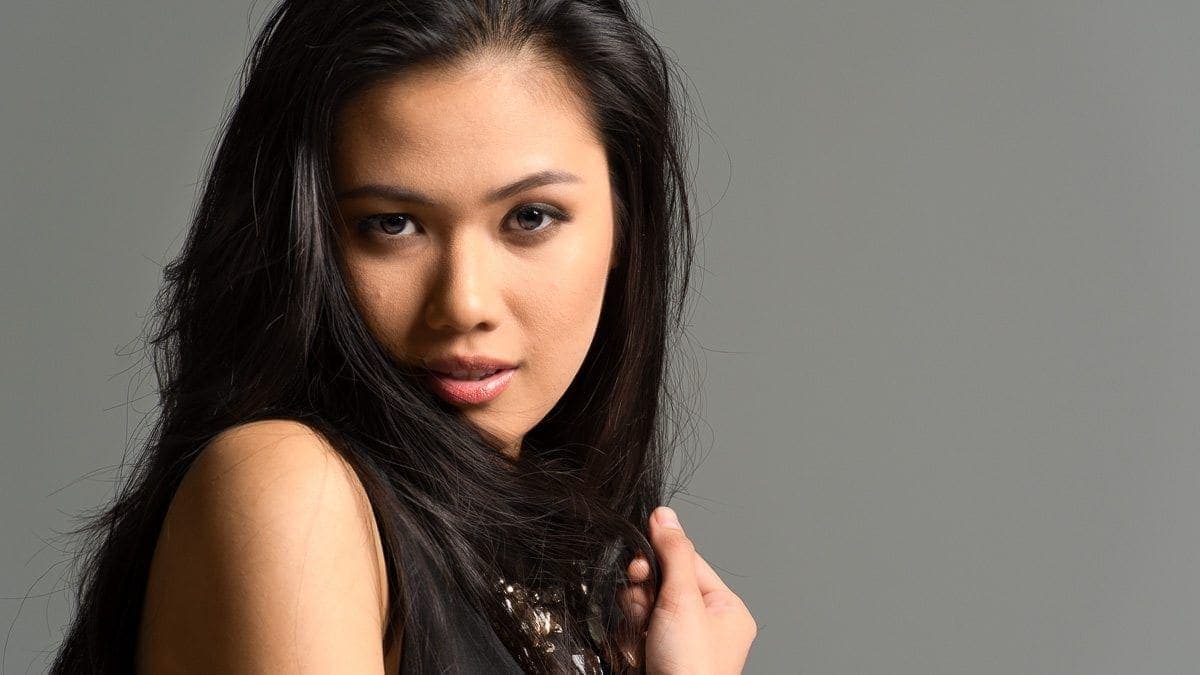 ON1 Portrait immediately located her face and prompted me to add four points. Two points identified the center of her eyes and the other two identified the corners of her mouth.
Once those points were in place, I could easily move the outlines it created to fit the shape of her eyes and mouth. From there, it was a simple matter of moving some sliders to control the processing for any blemishes, skin softening, whitening for eyes and teeth, etc.
The software also has a control for ethnicity to help skin tones and color.
For the most part, it did a great job of detecting skin tones with an automatic mask. There were a couple of areas where I needed to modify the mask, mostly in the shadow area on her face. You can easily change the mask brush to add or subtract from the mask and then paint the changes you need.
That's it. I hit apply and was done in a couple of minutes.
Changes From Perfect Photo Suite 9.5 to ON1 Photo 10
ON1 created a nice video showing some of the changes and additions to ON1 Photo 10. Take a look.
ON1 Photo 10 Works As A Stand-Alone Resource To Manage And Process Photos
For those of you who use Adobe Lightroom and Photoshop, I think you'll be pleased with the integration of ON1 Photo 10. The tools are available in Photoshop under the Filters menu, where these kinds of products belong. You can easily launch a photo from Lightroom into ON1 from a right-click on an image or from the Photos menu. Once you complete your changes with ON1 Photo 10, the default behavior is to add a copy of the image to a Stack in Lightroom.
I like and advocate using Lightroom, but it's not something everyone wants to use. For some people, it's because of a recurring cost to pay Adobe monthly. Some people just don't like Adobe. Whatever the reason, there are folks who appreciate an alternative.
With ON1 Photo 10, you buy the product once and you can use it to do many of the things that you would typically do with Lightroom and Photoshop.
I won't make the argument that you can do everything those two programs do, but let's face it. Those programs do a lot of things many photographers never need to do. You won't create books with ON1 Photo 10, but you can organize, enhance and print your photos. You won't add type or create graphic layouts with ON1 Photo 10 as you would in Photoshop, but there are plenty of people who won't ever do that kind of work.
On top of the cost to pay Adobe, you probably still want to buy add-in products like ON1 Photo 10 to enhance Lightroom and Photoshop.
Whether you want to enhance your Adobe products or replace them, ON1 Photo 10 has you covered.
I'm an affiliate for ON1. It won't cost you anything extra to buy it using the banner below or the links above, but I'll get a small commission to help me pay the bills for running this site and keep providing new posts and resources. I don't recommend anything that I don't like or use. This is a great product from a long-standing provider with great support. Adding to all of that, I'll be here to help with any questions or support you need for any affiliate product you purchase through my site.
Want to learn more about Photography software? Click below to check out articles about Adobe, ON1, Skylum, and more.
Photography Software Articles