You have to promote your website if you want to rank on Google and other search engines. Of course, the goal isn't just to drive any traffic at all. You want targeted traffic that has an interest in your message. I'll show you some of the best practices to develop your audience.
Traffic vs. Targeted Traffic
When you start blogging, it's because you want to reach an audience. If you don't have an audience from another platform, then it takes time for people to discover you and relate to your message.
It's tempting to look at your stats and think that every person who visits is just like every other person who visits. All you want are more visitors.
It doesn't work like that. Some visitors are better than others. You want visitors who relate to more than one post. Visitors who engage with you. Visitors who may eventually become fans or customers. Visitors who help spread the word to their friends and followers.
When you rely upon search engines alone, you tend to get a lot of visitors with short attention spans. They come in, quickly look around, and then leave.
Sure, it's a visit. Did that visit help either you or your visitor? Probably not.
Those visitors with short attention spans on your site are looking for something. They were referred to you by Google or another search engine. It didn't take them long to realize that you didn't have what they wanted, so they left.
That's natural. People don't want to waste time if you can't help them.
Those visitors are actually hurting you, though. They're increasing your bounce rate. A bounce rate is a signal of how well your site retains visitors.
If you have a very high bounce rate, it tells Google that your site is useless to the majority of visitors it sends to you. That isn't good for Google at all. Google wants its visitors to get the information they want. If it sends visitors to your site and they immediately leave, then Google isn't helping them by sending visitors to your site. As a result, you sink in the rankings for a search term.
On the other hand, visitors who engage and read multiple pages on your site help you achieve a low bounce rate. That's a positive result for Google, the visitor and you.
Your bounce rate will change hourly, but you want to keep an overall trend on the lower side.
Over the last 30 days, my bounce rate is around the 10% mark. It's been as low as 3.97% and up to 23% on some given days, but the average trend is a good one. That means that the visitors that Google sends me find information they want, and then find other pages interesting enough to check out.
The more these visitors engage with your site, the lower your bounce rate.
That's why it's important to be useful to your audience. Focus on your niche. Don't try to be all things to all people. It's OK if your site doesn't show up as a recommendation for every search. Just do a good job of providing useful, interesting or entertaining material to a particular audience.
As you build your site with more related content, Google gets more information about where it should recommend your site for certain keywords.
You want to be known for "something."
One of the most beautiful examples of a blog known for a topic is David Hobby's Strobist. It is a wealth of information for people interested in off-camera flash. David didn't just write about taking photos with off-camera flash, though. He wrote one of the best articles on rechargeable batteries that I've ever read. It was still related content because flash requires batteries.
If you want to drive targeted traffic to your site through search engines like Google, your site should have a central theme and every post on the site should related to or support that theme.
That helps interested users engage with your articles, reduce your bounce rate, and indicates to Google that you are an expert on your subject.
Waiting for Google is Not The Best Way to Rank on Google
OK, so you're writing the kind of articles that are useful, interesting or entertaining. You still aren't seeing much traffic. Why?
It's because there are nearly 500 Million English language blogs out there and you're the baby fish in the ocean. If you want to grow, you need to do a few things so people are aware of your website and its content.
On-Page Search Engine Optimization
At a bare minimum, you have to optimize your post for the keywords that people use to search for information. Here's what you need to do.
The free version is fine. It will prompt you to enter the right information for each post to help you optimize your on-page SEO. Yoast SEO for WordPress is a plugin that integrates with your WordPress software to optimize your content in the way that search engines, like Google or Bing, prefer.
Here is how my use of Yoast SEO Premium looks at this stage of writing the article.
Although it isn't the first field you see, you need to start by determining which keyword you're targeting. In this case, I'm using "how to promote your website."
That keyword phrase needs to be in some specific areas of your post.
Use the keyword phrase in the title as close to the beginning as you can get. Words at the beginning of a title or other fields have more importance to search engines than words at the end of the text.
Use the keyword in your slug. That's the part of the URL that comes after your domain name. It doesn't have to be the same as your title.
Use the keyword phrase in your description. Again, get as close to the beginning of the description as possible with your keyword.
Use the keyword phrase and variants of it in the body of your article.
Use the keyword phrase in at least one sub-title with an H1 tag.
Use the keyword phrase in the alt-text of any graphics in the post.
Use the keyword phrase in the title of any graphics in your post.
I've mentioned that you should use the keyword phrase in a lot of places, and they're all important to signal the purpose of your article. However, don't stuff the phrase where it doesn't fit. Also, don't use it in an unnatural way.
If I'm writing an article on promoting your website, then it makes sense that parts of the article will use the words "how to promote your website." Notice that "promoting your website" is a valid variation that was natural to use in this paragraph. Had I tried to force the specific keyword phrase, it would be awkward to read and could look like keyword stuffing to Google.
Don't be afraid to occasionally use synonyms for your keywords if they make sense to your reader. Always write for the person reading the text, not the search engine.
Why? Because people share what they like.
Promote Your Website with Social Media Sharing
Yoast can help you control how your post gets shared. Let me show you a couple more screenshots for this post. Notice the icons on the left side of the image. The bottom one is to configure social media sharing.
This view shows how your post will appear on Facebook.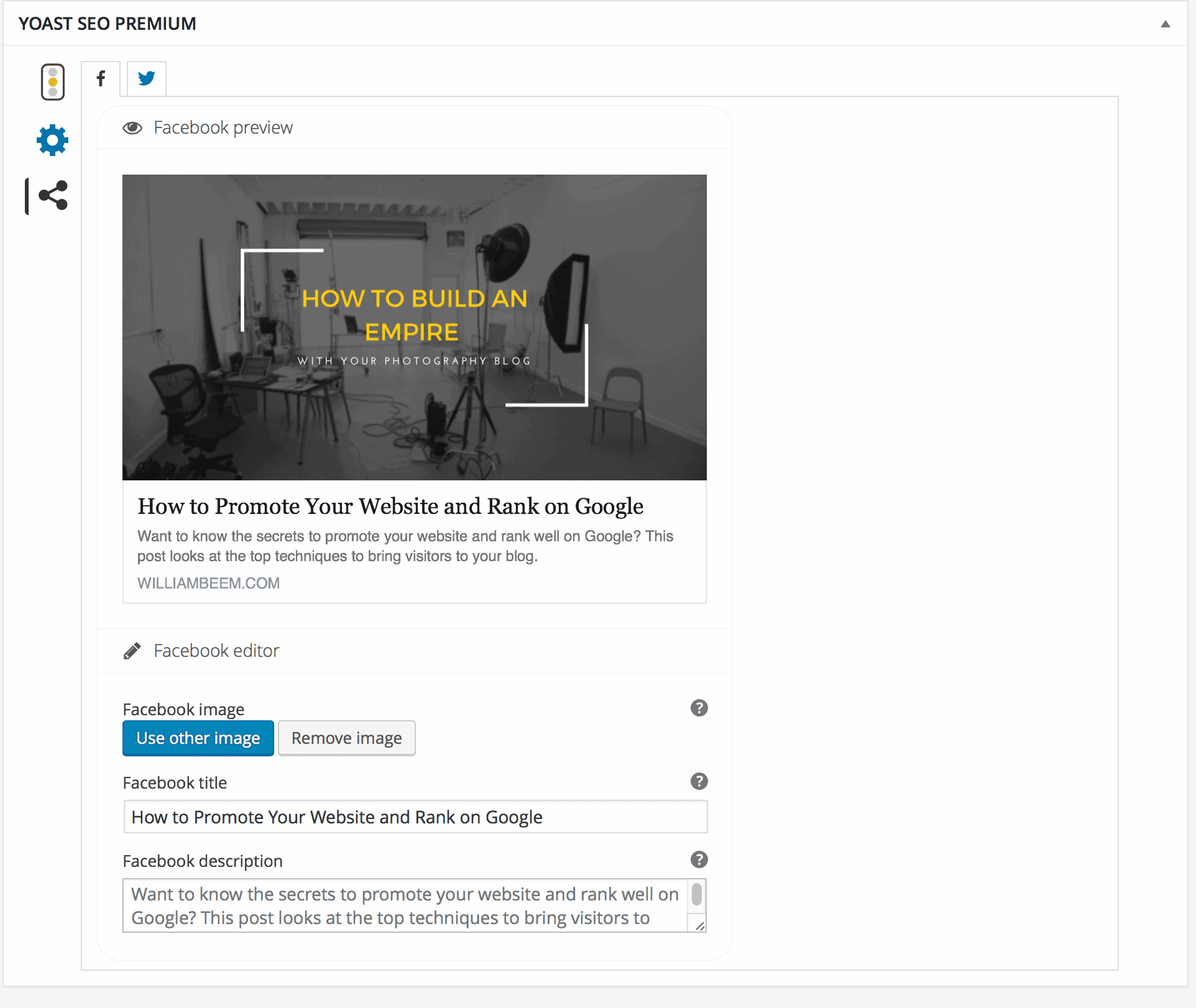 Next, you can control how your post will appear on Twitter.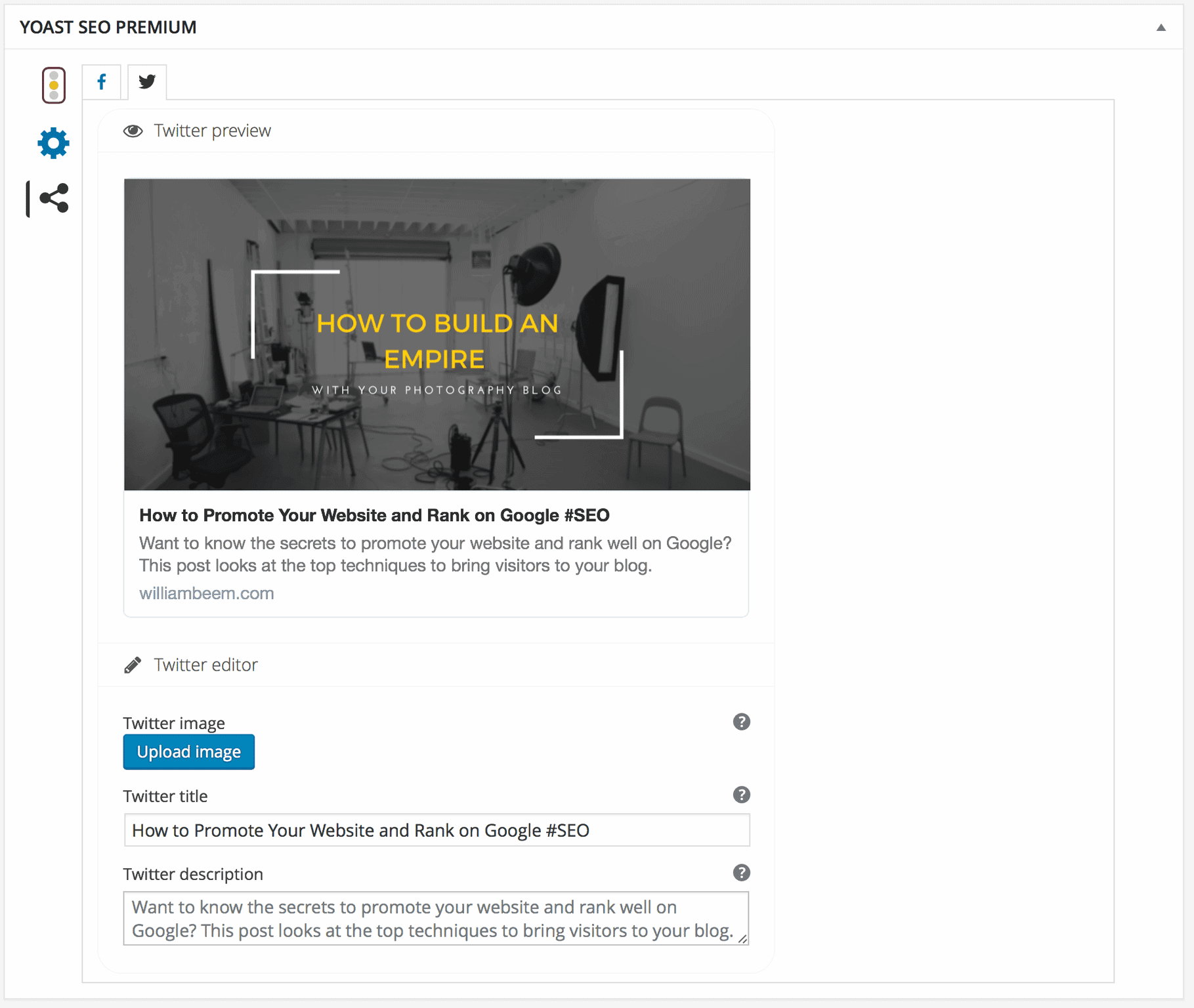 The differences can be whatever you want. In this case, the only thing I changed was to add a hashtag for the Twitter title. The dimensions of the image are slightly different, also. Yoast allows you to use Open Graph and Twitter Cards so your posts have a richer appearance on Facebook, Twitter, LinkedIn, etc.
Promote Your Website with More Social Sharing Features
Let's move on to some heavy-duty tools. Social Warfare (affiliate link) is a premium plugin that gives you options to share your content on other social media platforms, including Pinterest. It gives you multiple options to present social sharing icons on your site, and configure them by page.
On most of my posts, you'll find a social media sharing bar at the top and bottom of each post. Scroll down a bit and you'll see the same bar floating vertically on the left side.
Within the icons, you can choose to show how many times a post was shared on each service, and an overall count of shares.
Here's the Social Warfare template for each post.  I haven't filled it in for this post yet, but you can see the possibilities.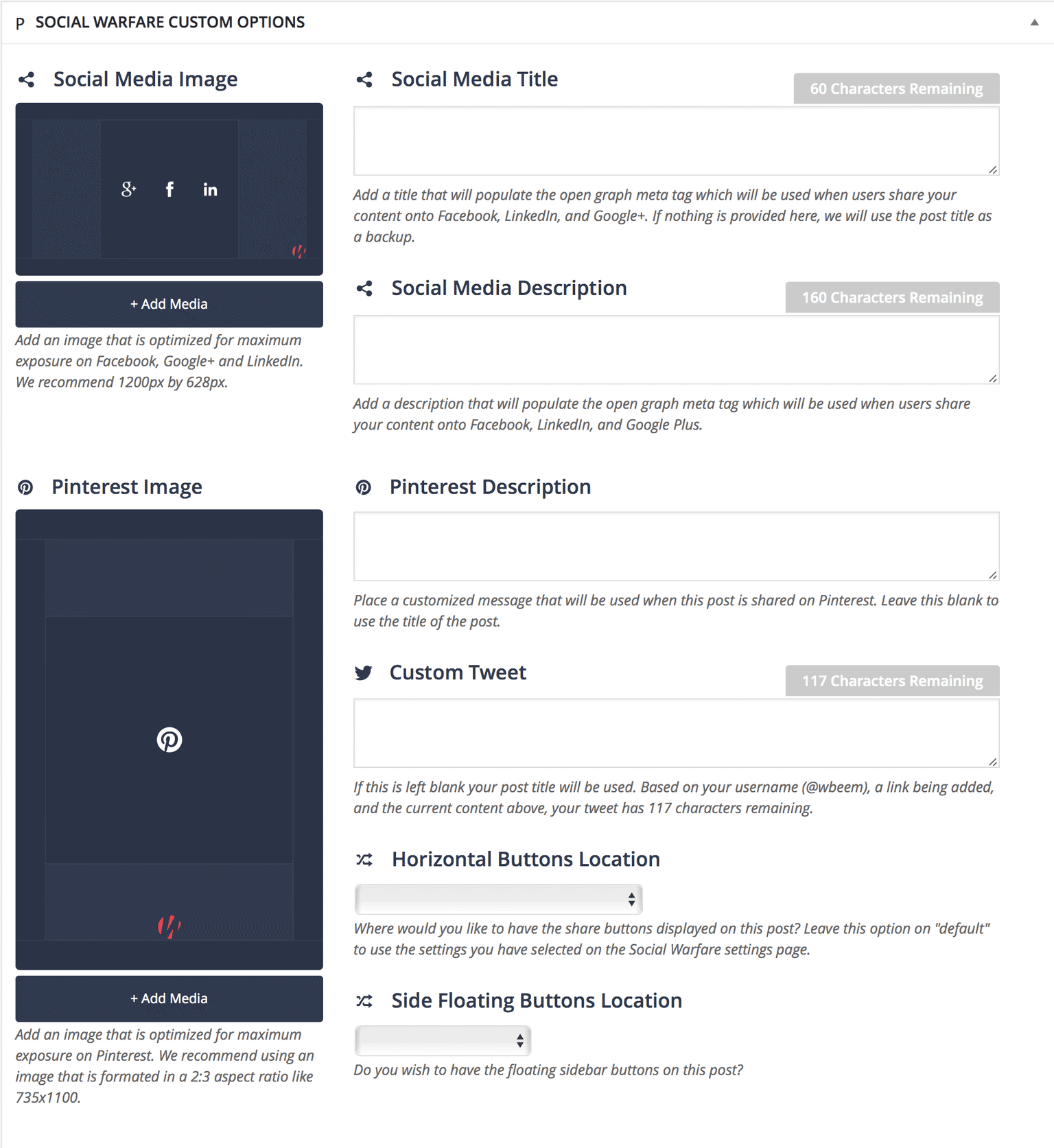 Much like Yoast, you can create settings for each post to have a specific image, title and description. You can choose how the social media sharing bars will appear for each post, in case you want to change the default settings.
You can also promote your website with embedded Click-to-Tweet sections, like this one.
I visited William Beem Photography Blog and all I got was this lousy tweet.
Click To Tweet
Here is the interface you can use to build the Click-to-Tweet message.
Notice that the Tweet being sent can be different than the quote in your article. I don't need hashtags in my article, but I may include them in the tweet that gets sent. Social Warfare has a variety of themes to use, so you can match the colors to your website.
Scheduling Social Media Promotion for Your Website
The social media features I showed you inside of Yoast SEO and Social Warfare help you configure how your visitors will share your message. In other words, if they click a link on your site to share your post, it will look as you defined it.
What if you want to schedule your own social media promotions for your website? I have two other tools to help.
CoSchedule is my editorial calendar. You can read my CoSchedule Review (which I need to update because they resolved the Pinterest issue).
Not only does CoSchedule help me plan my editorial content, but it also integrates social media sharing within WordPress. This is a HUGE convenience and planning tool.
With CoSchedule, I can set all of my social media sharing before I ever publish the post. Here is an example for an upcoming episode of The Photo Flunky Show (my podcast). Apparently, I need to correct the title before I publish.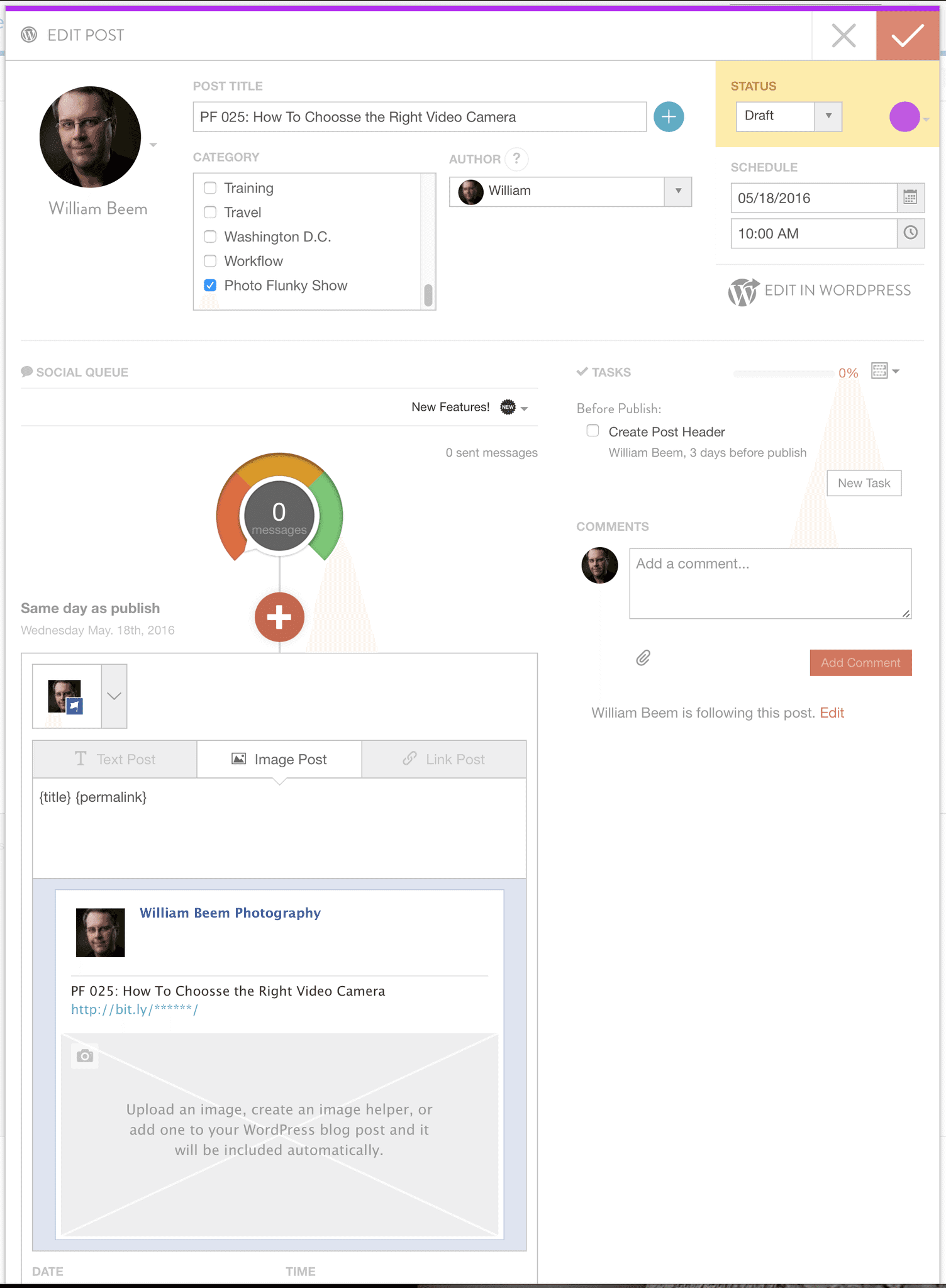 That graph in the middle is where I can schedule my social media promotions for this podcast episode. I can create one post that goes to several different social media platforms (Facebook, Facebook Page, Twitter, Pinterest, LinkedIn or Google+ Page), or I can create a different update for each service.
That isn't a bad idea. Hashtags are fine for Twitter, but you may not want to use them on other services. The image you promote on Pinterest need to be a different dimension than you share on Twitter or Facebook. In fact, each service is slightly different and you may want to associate a separate image for each update.
This screenshot shows a plus sign to add promotions on the "Same day as publish". You get other entries for the Next day, Next Week, Next Month or for any Custom date you choose.
You can see your post and social media promotions on your editorial Calendar. Apparently, I'm slacking off four days a week.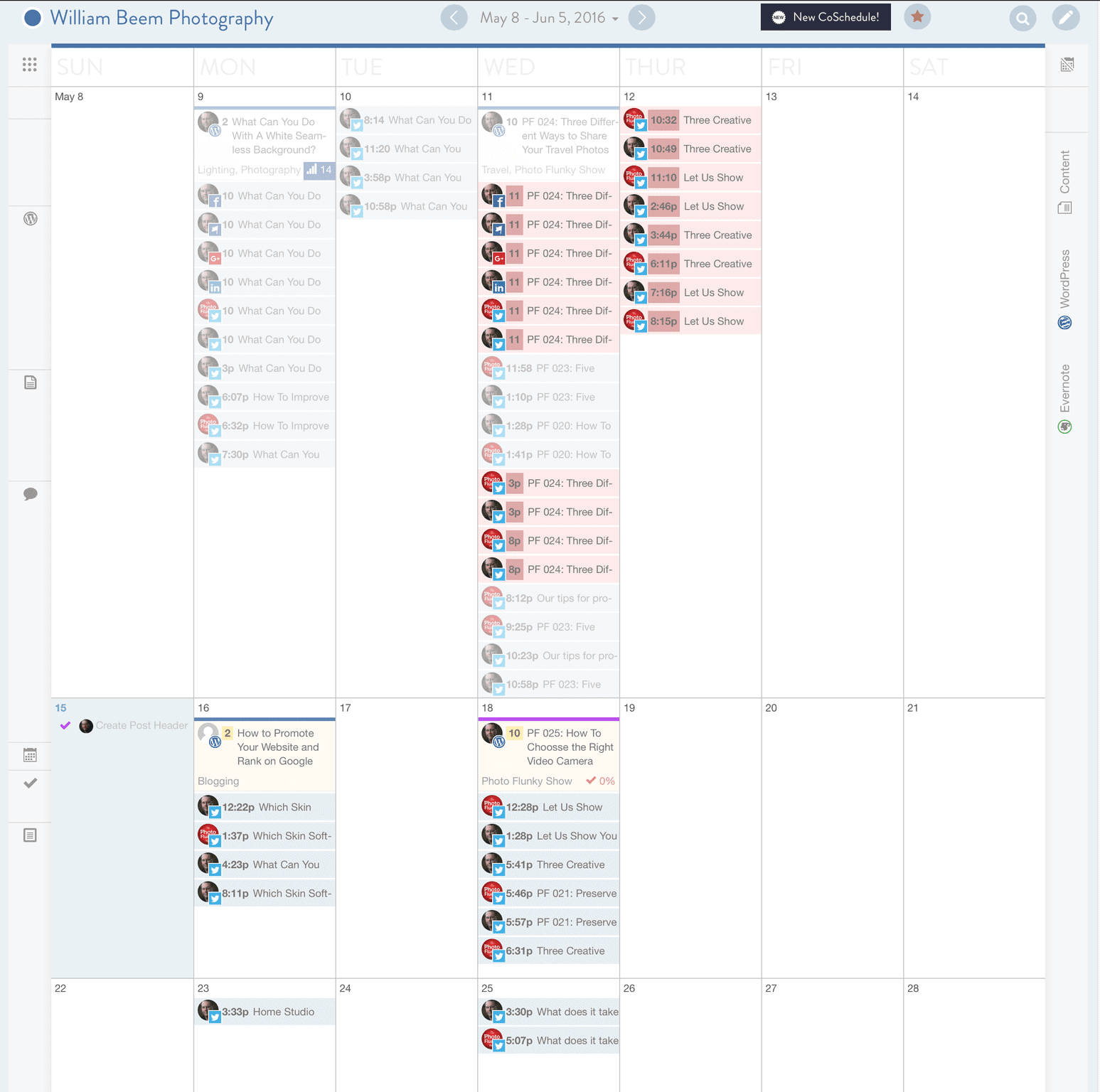 For each of those posts, you can schedule them to appear at different times of the day. CoSchedule has a feature that determines the best time to share based upon your audience and the platform you're using.
How does it know? Because it's tracking your social media metrics. CoSchedule tracks your top posts and makes it easy to share any existing post.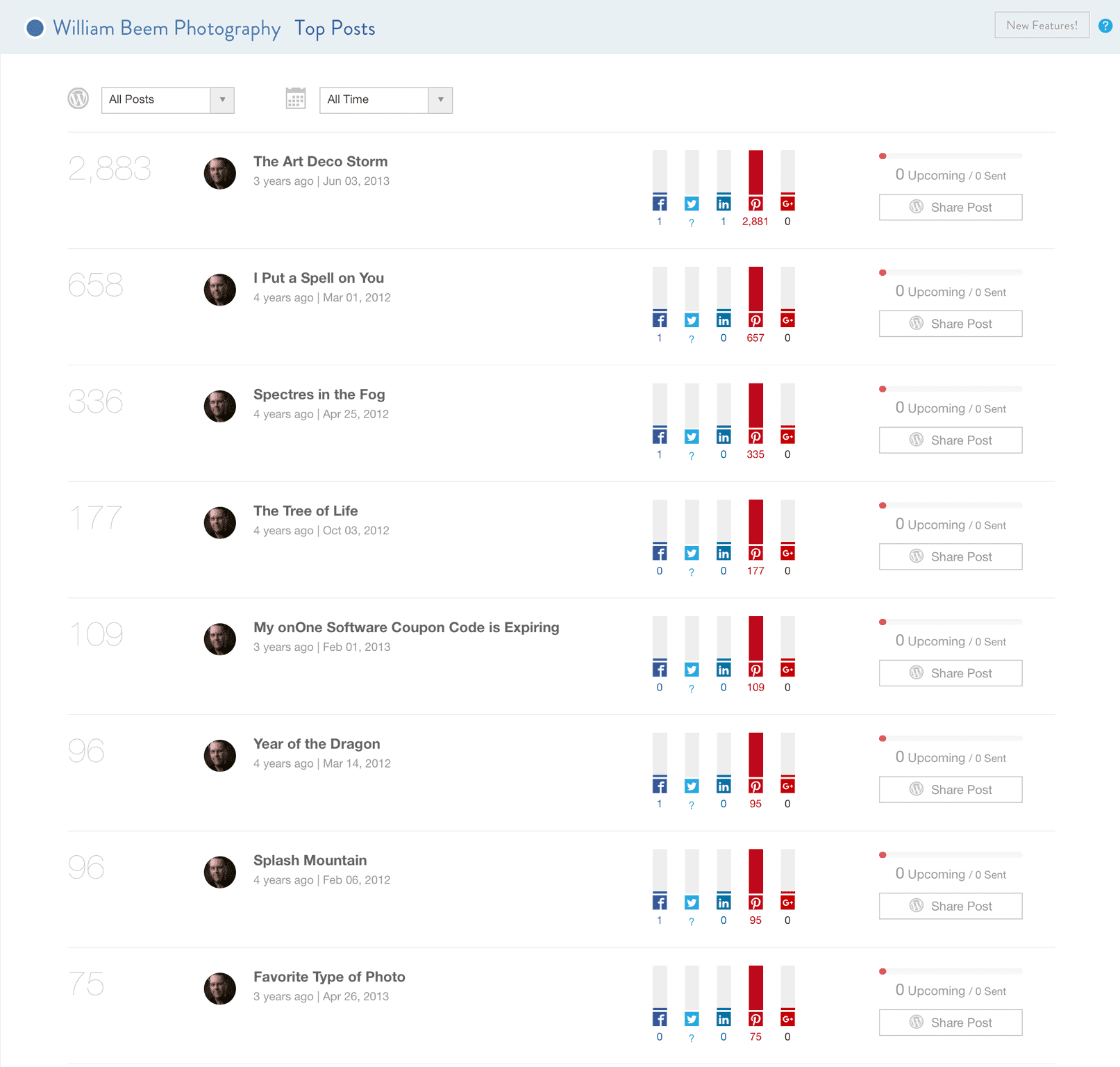 Some of these old posts are doing very well on Pinterest and I had no idea until I installed CoSchedule. That's a service that I've mostly ignored, but now I'm studying how to shape it up and make the most of it.
Who knew?
The other tool I use is HootSuite, a social media dashboard.
HootSuite doesn't integrate with WordPress, but it does allow you to see many of your social media streams simultaneously. Like CoSchedule, you can share the same message on multiple services at once.
You can also schedule those messages. A key difference is that you can't schedule a message for a post that hasn't published yet. That makes it somewhat more reactionary where CoSchedule is proactive.
The advantage of HootSuite over CoSchedule is that it's excellent for re-sharing content from other sources. There are extensions for popular browsers so you can easily share an article with your audience, or share someone else's social media update.
While I don't think HootSuite is as good for directly sharing your posts with your audience, I do think it's a good tool to help you grow your audience with more participation with individuals and sharing useful links from other sources.
Direct Traffic is a Great Signal to Search Engines
I'll be honest, I don't trust Google. They've started and killed many of their services. That's because Google's favorite friend is Google itself. You should not build all of your hopes on visitors from Google search.
Direct visitors are people who go to your website without clicking a link. If you have a site bookmarked in your browser, that's an example of a direct visit. You weren't prompted to visit a site. Instead, you went there because you like it.
A high percentage of direct visits shows Google and other search engines that your site is attractive to repeat visitors. Oddly enough, getting to a site without going through Google helps you rank better in Google.
One of the best things I ever did to increase my percentage of direct visitors was to start a podcast.
Think about it. I mention my website on every episode. People hear it and visit the site by typing it in their browser. Boom.  Direct visit. Great signal to Google and other search engines that people want to visit my site without being referred by a link.
Right now, about a third of my traffic is from direct sources. I'd like that number to be higher and I keep working to promote my site well beyond social media or search engine rankings.
You should, too.
Promote Your Website with Backlinks from Reputable Sites in Your Niche
Look!  It's not only my keyword in an H1 title tag, but it also makes sense.
According to Brian Dean of Backlinko, there are 200 Google Ranking Factors and he shared them for all of us. Now you can see what moves the needle for search engine results, with both large and small results.
It's clear from this and other posts on his site that backlinks from reputable sources carry a lot of weight in ranking your website well on Google.
A backlink is a vote of confidence. You post links to other sites because they're useful to your audience. Google understands the purpose of those links and the relevance of the sites that are sharing links.
If you have a lot of backlinks from disparate sites that don't rank well, it doesn't do much for your score on Google. It's just mindless noise.
Now let's assume that you're a wedding photographer. You have links to your page from other reputable sites in the wedding industry. Not just from other photographers, but from planners, florists, bakers, venues, bridal shops or wedding magazines.
All of those links send a clear message that you're respected by your industry peers and they want their customers to know about you. Now that's great for your ranking.
So how do you get those backlinks?
The simple answer is that you develop relationships with people. Do good work, showcase their products. If you think they have a great service or product for your clients, link to them. Build the relationship.
Developing relationships with relevant partners is the best way to promote your website and rank on Google. When you get down to it, people help people
Social media is a tool for announcing things, but it only works if people have an interest in your message.
Know When to Make a Change
I've been blogging for 14 years or so. It's something I really enjoy and I've learned a lot of things along the way. That's part of the reason I share these articles on this blog. I wrote this article to serve a request from a reader, Tracey Medcalfe.
However, this is a photography blog. My posts about blogging just don't perform as well here. I originally thought they would be useful because many photographers are also bloggers.
The results are clear, though. Most people skip over the blogging articles, so this will be the last one on this site.
Instead, I'm developing another site as one dedicated to blogging and podcasting. Suburbia Press was once my site for selling ebooks and videos. Now I'm turning it into a dedicated site for bloggers, podcasters and those with a message to share online.
It's still a work in progress as I write, but I'll share the news when it's ready to roll.