Affiliate Disclosure: We earn a commission if you purchase through one of our links at no additional cost to you.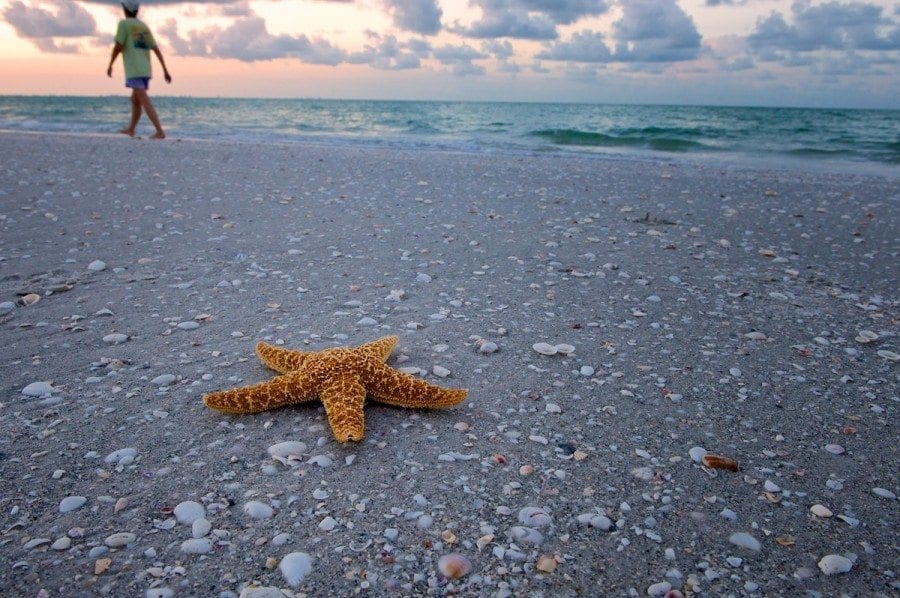 Sanibel Beach
I'm back from a few days spent on Sanibel Beach, so no more re-runs for a while.
This was a nice break for me, since I've been working practically every day since November. There is always something to do, but it eventually catches up with you and leads to burnout. Of course, there's nothing like a few days on a Sanibel beach to cure burnout. That's especially true in the July/August time of year because it's just too damn hot and sweltering to do much of anything.
This beach is a perfect example.  I woke up before sunrise to go down to the beach to take some shots. Even at this early time of day, sweat was rolling off my forehead before I hit the sand. The humidity just draws it out of you. Of course, I suppose that's preferable to baking in the dry heat of a desert. In any case, this kind of weather directs you toward relaxing activities instead of exertion.
Maybe that's why I didn't take many photos on this trip. I just wanted to relax and unwind. Not that I didn't think of plenty of opportunities.  Before I left, I checked out some local models to hire for some lifestyle shots, thought about trying to do some shorebird photos and looked for other scenic locations for travel photos. All of those were possibilities and I eventually ruled all of them out.
When I hit the Sanibel beach and looked at the shorebirds, I realized that these are the same birds that crap on my driveway every day. Not really something exotic for me. The heat & humidity lead me to decide not to call the model. I think we'd both have been miserable. As for scenery, it's a mixed bag. At the southern tip of the Sanibel beach is the world's ugliest lighthouse. It's just a metal monstrosity. As much as I'd love to have some nice lighthouse photos, this one doesn't make the cut.
Other areas, including Captiva, had some nice scenery. Unfortunately, things are cramped and there wasn't a place to park. Many resorts have signs warning that they'll tow cars not belonging to guests. There are some paid parking spots, including one at Redfish Pass where I got some nice sunset shots a couple of years ago. There was also a large barge with some dredging equipment right smack in the middle of the scene, along with a few tender boats. Sunset over a rusty barge? I passed.
There were no problems that couldn't be overcome (except the ugliness of that lighthouse). The simple truth is that I just needed to relax and the elements served as reminders. For the entire trip, I only took about 75 photos. Maybe a few more if you count my iPhone photos of an Oreo Blizzard at Dairy Queen.  I can't visit Sanibel without a stop for one of those.
Now that I'm back from my Sanibel beach trip, there's plenty of work to do and photos to shoot. Every now and then, it's good to put all those things aside and get a fresh perspective.
Want to learn more about Travel Photography? Click below to check out more Travel Photography articles.
Travel Photography Articles