Affiliate Disclosure: We earn a commission if you purchase through one of our links at no additional cost to you.
After wrapping up two weeks of travel, the Saint Lucia Sunset seems to echo how I feel at the moment. It's a glorious end to a big adventure.
Traveling With Too Much Gear
I spent a week in Saint Lucia to attend a workshop with Joe McNally and RC Concepcion. After a quick stop at home for laundry, I was off to Las Vegas the following week for Photoshop World. If there's anything that both trips had in common – besides seeing Joe and RC – it's that I overpack.
Two bodies, three zoom lenses, a couple of prime lenses, a pair of flashes, a couple of light modifiers, a tripod and a plethora of batteries followed me to each destination. Other than the light modifiers and tripod, I stuffed it all into a ThinkTank backpack.
My body would have preferred that I used a rolling bag, but there's a problem with rolling bags. They like to roll on even surfaces. If you want to get out and about with your gear, then a rolling back often complicates matters. They're great for airports and hotels, but not so useful on black sand beaches or jungle bike trails.
Why did I bring so much stuff? Because there was a chance that I could use it. Two bodies because one may break, or because they have different capabilities. I only used my D800 in Saint Lucia, but the D700 was my preferred weapon for the Concert Photography workshop at Photoshop World (which I lost again – more on that in a future post).
Some people are much better at compromise than I am. That's why we have 18-200 or 28-300m lenses. They aren't the best at anything other than eliminating the need to carry a bunch of other lenses. If focal length were all that mattered, I'd own one of them, too. I like my fast glass, though. Not only do they open up the aperture more, but they have less distortion and better bokeh. The price for those capabilities is a sack full of heavy glass on my back.
Learning Experiences
The difference between Joe's workshop and Photoshop World was pretty stark, but I learned from both events. We only had four participants at the workshop, which gave us plenty of opportunity to elicit information from Joe, his first assistant Michael Cali, and RC.  Each of them was a valuable resource during the entire week, each willing to share everything we wanted to know.
On the other hand, Photoshop World has thousands of participants. You're often in conference rooms filled with hundreds of other folks. Questions are limited, but that's not necessarily a bad thing. I want to hear what the instructor has to share more than I want to hear the answer to another participant's question. Now that I've jumped into the Adobe Creative Cloud and have more features at my disposal, I started attending classes that built on those new features.
Corey Barker does an amazing job with Photoshop, but I've never paid too much attention to his work because I didn't own the Extended version with many of the features he seemed to use. Perhaps I've missed out on other lessons in the past, but now I have access to everything and I jumped into one of his classes on motion graphics in Photoshop. Not only was it amazing to see what he can do, it explained it in a manner that I could understand at 8:15 AM after the big party on the previous night with copious amounts of adult beverages.
There's simply too much to fit into a single post that can do justice to any of the things that I learned, so I'll spread it out over a series of posts in the coming days and weeks. For now, I'm still getting organized with my images and tending to a plethora of household chores that have gone without attention over the past couple of weeks. It's not as glamorous as travel, but it's nice to be at home in comfortable surroundings.
The Saint Lucia Sunset
Our little corner offered some spectacular views of the Saint Lucia sunset. Brilliant colors, swirling clouds and a comfortable breeze could momentarily take your mind off the sweltering midday weather. Things were always great in the morning and evening, but it's a tad on the muggy side during the middle of the day. That's why the Saint Lucia sunset sticks in my mind. It's the point where things turn into the pleasant memory that you want to keep long after the visit ends, and it makes you want to go back to Saint Lucia all over again.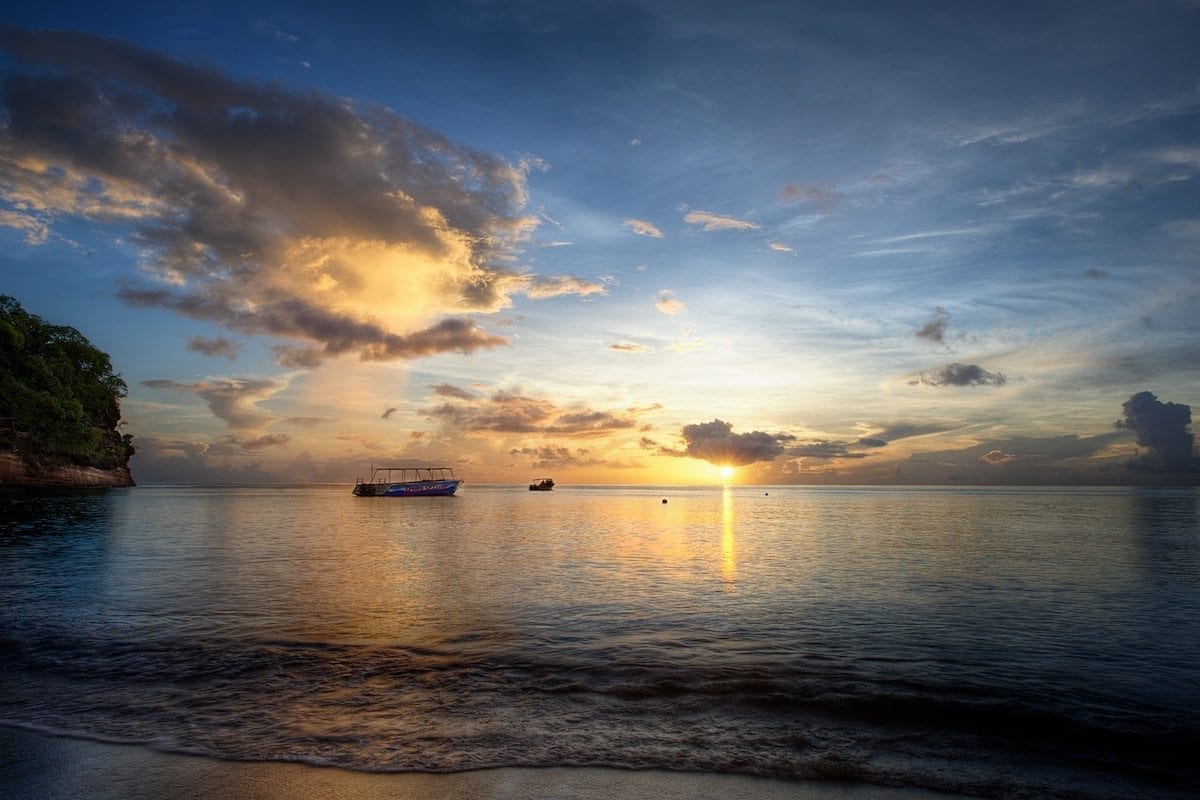 Want to learn more about Travel Photography? Click below to check out more Travel Photography articles.
Travel Photography Articles