Affiliate Disclosure: We earn a commission if you purchase through one of our links at no additional cost to you.
The Think Tank SpeedTop Backpack offers comfort and flexibility for travel or everyday carry. The magnetic closure on the top compartment provides quick and easy access to your frequently used items, and there's plenty of space in the main compartment.
There's even an option to convert it to a camera bag with a Stash Master camera cube (not included). It makes the SpeedTop Backpack sufficient for a small kit, but you can still fit a 70-200mm lens with a camera cube.
Think Tank Photo sent this bag to me for review. There was no cash exchange, nor did they see this review before publication.
FREE Shipping from Think Tank Photo on All U.S. Orders
You can get free shipping from Think Tank Photo using the links below if delivered within the United States.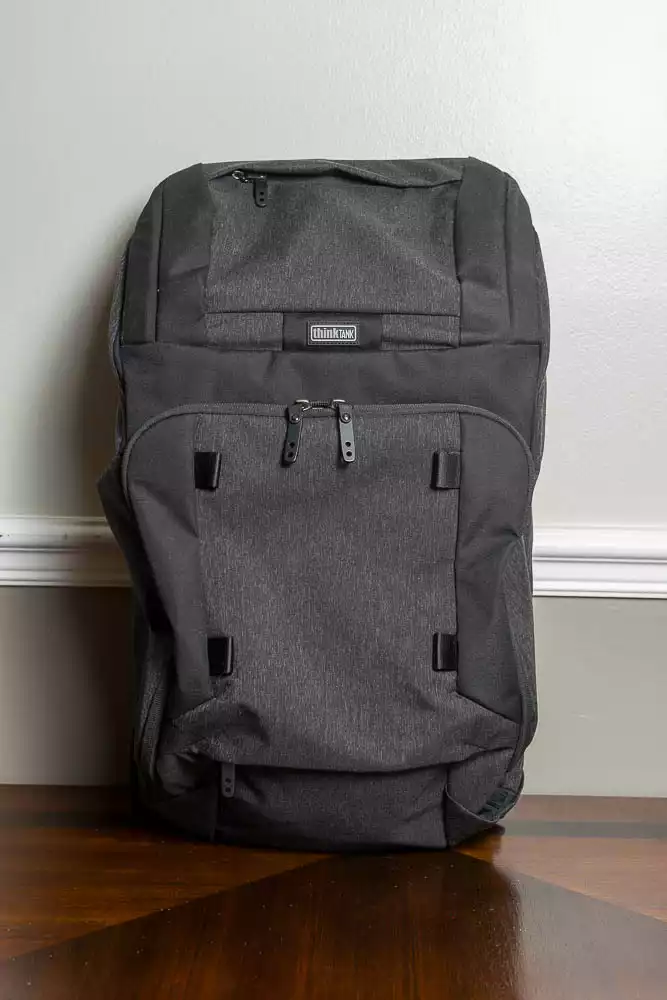 SpeedTop Backpack Series
If you need to quickly and easily access items in your backpack without opening zippers, the magnetic top works very well and seals tightly when closed.
The Speedtop Backpack comes in 20L and 30L size options. The default has a divider between the top compartment and bottom, but you can remove it for a continuous large space.
Like all Think Tank bags, it's well-made with high-quality materials. It has a stylish appearance without being flashy. The backpack straps are comfortable and offer a chest and waste strap to distribute the load.
Pros:
Excellent construction and materials

Comfortable to wear

Magnetic top offers quick access compartment

Padded laptop compartment holds 16" device

Tablet sleeve

Spacious bottom compartment with front and side access

Removable divider to create one large space

20 & 30 liter sizes
Cons:
No flat bottom, so it falls over when you set it down
Buy Now from Think Tank
We earn a commission if you make a purchase, at no additional cost to you.

Choose the Right Think Tank SpeedTop Backpack
Two sizes are available for the Think Tank SpeedTop Backpack: 20 liter and 30 liter. Deciding which one you choose depends upon your body size and also how much you need to carry. I'm 6'3″, and the 30L fits well on my frame. My wife, Lee, is 5'3″, and the 30L is ridiculously large for someone her size. It just didn't fit well, so I wouldn't recommend the larger version to someone her size.
Here are the specifications for each size.
Think Tank Speedtop Backpack Specifications
The Think Tank Speedtop Backpack comes in two sizes: 20L and 30L.
| Specifications | Speedtop Backpack 20L | Speedtop Backpack 30L |
| --- | --- | --- |
| Exterior Dimensions | 20" H x 11.5" W x 6.25" D (50.8 x 29 x 15.9 cm) | 21.5" H x 11.5" W x 7" D (54.6 x 29 x 17.8 cm) |
| Volume | 20 liters | 30 liters |
| Weight | 2.8 lbs. (1.27kg) including dividers and rain cover | 3.1 lbs. (1.4kg) including dividers and rain cover |
| Price | $199.75 | $219.75 |
The exterior material has a durable water-repellent coating, so you don't have to worry about getting caught in the rain. If it's really pouring, Think Tank includes a rain cover for the backpack.
Think Tank Speedtop Backpack Materials
Think Tank uses high-quality materials in the construction of the Speedtop Backpack. If you have an implanted pacemaker or a cardioverter defibrillator, please know that the Speedtop Backpacks use Neodymium magnets.
| Exterior | Interior |
| --- | --- |
| Neodymium magnets | Closed-cell foam dividers |
| Durable water-repellent (DWR) coating | 200D polyester |
| Polyurethane backed fabric for superior water-resistance | Dual density foam back |
| 500D 2-tone Cordura | Polyurethane-backed nylex liner |
| 550D Polyester | 3-ply bonded nylon thread |
| Heavy-duty nylon Tarpaulin | |
| Ultra Spandex | |
| 3-ply bonded nylon thread | |
| 2x polyurethane coated nylon 210T seam-sealed taffeta rain cover | |
Convert to a Camera Bag with Optional Stash Master Cubes
Think Tank offers several sizes of its Stash Master Camera Cubes for use in the SpeedTop Backpack or any other travel bag you want to use.
Transform your beloved tote, backpack, or duffel bag into an exceptional camera bag with these innovative protective camera cubes. Designed to enhance your existing bags, they also offer compatibility with various Think Tank camera bags as optional add-ons.
The SpeedTop 20 Backpack is specifically engineered to seamlessly integrate with the Stash Master S photo cube, while the SpeedTop 30 Backpack is purpose-built to complement the Stash Master M photo cube.
The SpeedTop backpack securely fastens the camera cubes with hook-and-loop fasteners and a y-shaped strap featuring a magnetic latch. The same strap is a compression strap when using the bag's bottom section for storing clothes. With a camera cube in place, you can conveniently access your camera from the ground or by slinging the bag around to your front, thanks to the long, snaking zipper on the bag's front.
Features of the SpeedTop Backpack
Let's examine some of the specific features of the SpeedTop Backpack. As usual, Think Tank provides a lot of value and organization to its products.
1: Magnetic Top Access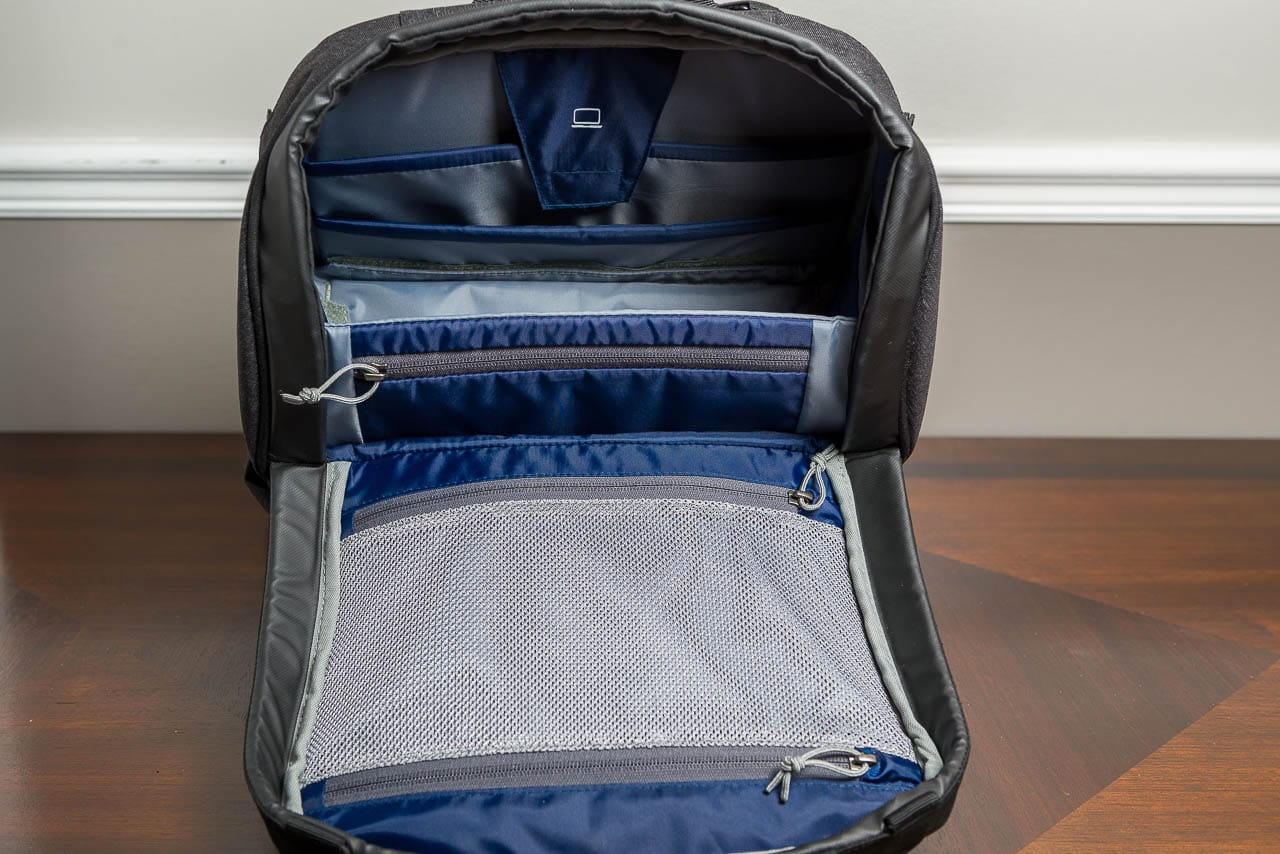 The top cover uses magnets to keep it secure and allow quick access to the top compartment. The magnets are strong enough to keep the cover closed, even if you turn it upside down. There are some metal hooks you can use to secure the cover. They help keep unwanted hands from opening your cover to grab anything inside. You have the option of convenient access or adding a little extra security.
2: Laptop and Tablet Sections
I put my 16″ MacBook Pro in the laptop sleeve without any problem. It slides down and doesn't extend over the sleeve, so it's well protected. A convenient strap prevents your laptop from sliding around if the backpack turns upside-down.
Next to the laptop sleeve is another pocket that's great for a tablet or some documents. My 12.9″ iPad Pro fits easily by itself. The fit is definitely snug if you have the 12.9″ iPad Pro in the Magic Keyboard case, but it does fit.
3: Interior Mesh Pocket
You can see a mesh pocket inside the cover. It's great for items that you need to see at a glance. Not only are the zippers rugged, but you'll notice they all have zipper pulls to help you get a grip and easily slide them open and closed.
This pocket has dual zippers, so you can open it from the top or bottom. It's great for accessing the bag from different directions, so you don't have to move it around to get at something quickly.
4: Interior Accessory Pocket
You'll find another zippered pocket on the top compartment. It's rather shallow, but it works well for pens, passports, or similar items that don't take up space.
5: Removable Compartment Divider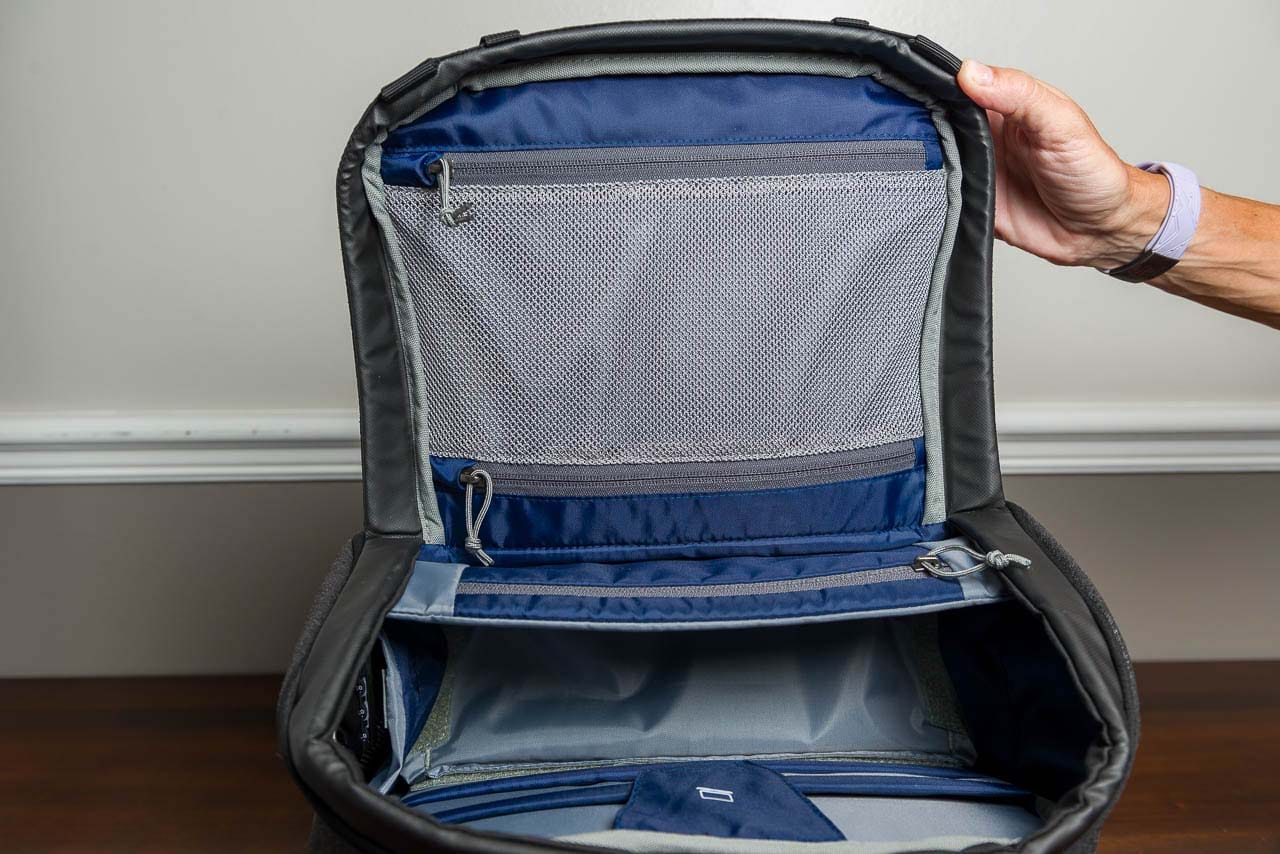 A bit of space in the top compartment can hold a book, sunglasses, etc. However, you aren't locked into using two different sections. If you want to have access to one continuous space in the SpeedTop Backpack, you can remove this divider to change the configuration.
6: Exterior Top Pocket
There's another zippered pocket on top of the cover. The pocket has a soft lining inside. You could stuff some maps in here, earbuds, or your sunglasses.
7: Exterior Side Pocket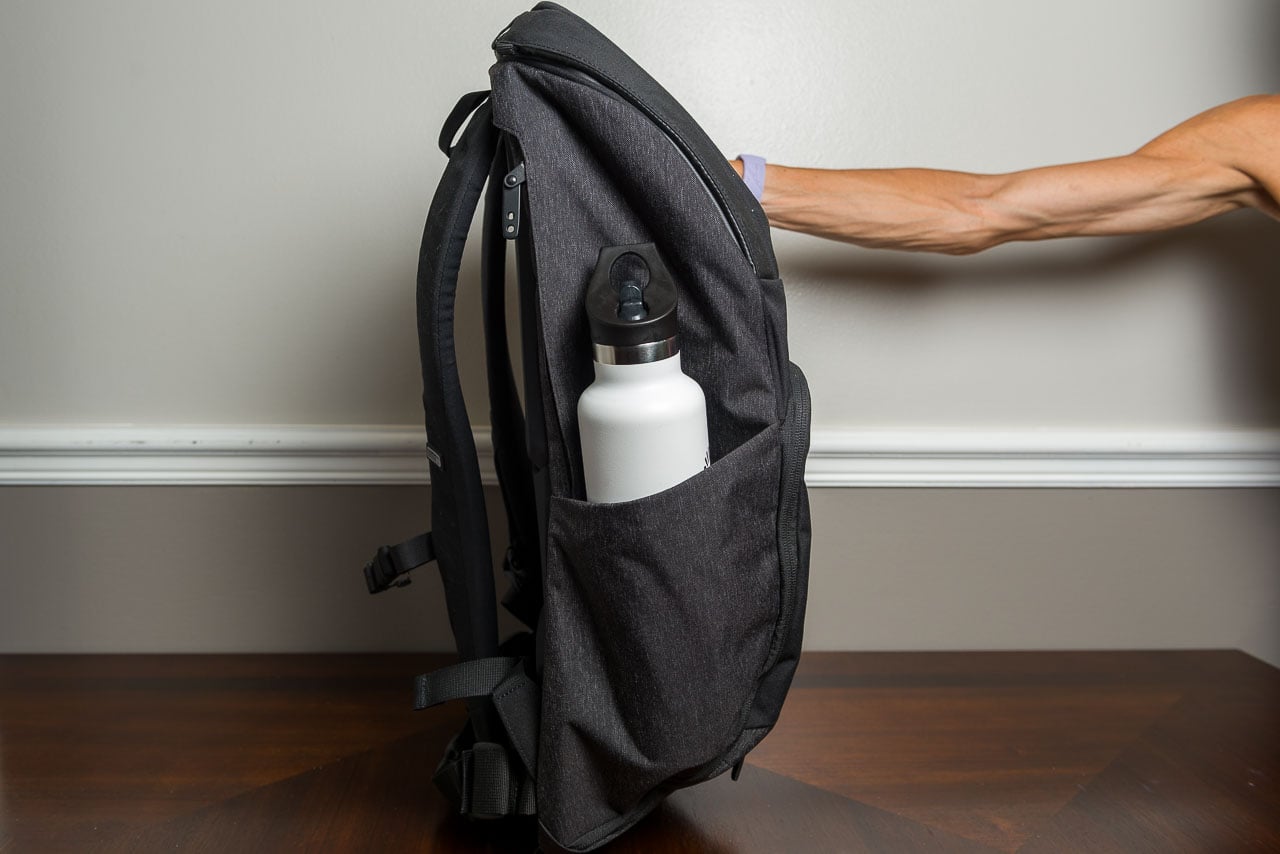 There's a pocket on the side that seems good for a water bottle. If you want to use this for a tripod, it better be a small tripod. My Really Right Stuff TQC-14 can fit a couple of legs in this pocket, but not all three of them.
On the opposite side, another zippered pocket with water-resistant material inside is also a good option for a water bottle.
8: Battery Charger Pocket and Pass-Thru for Cable
This pocket has another trick up its sleeve. If you look closely, you'll see a label with a charging icon on it. There's an opening to pass through a USB charging cable up to the top compartment. Another rather hidden opening with the same charging icon allows you to snake a cable to charge your devices with this configuration.
Honestly, it wasn't immediately obvious to me, and it's a pain to get the cable through the passage. I'd probably just put my charger in the top compartment with my phone or other device that needed power. It's there to use if you want it, though.
9: Security Cable & Lock
Another unexpected feature is a small pocket on the side of the top compartment that includes a security cable and a 3-digit combination lock. Sometimes you want to secure your backpack to something so it doesn't walk away. The security cable keeps honest people honest.
10: Shoulder Straps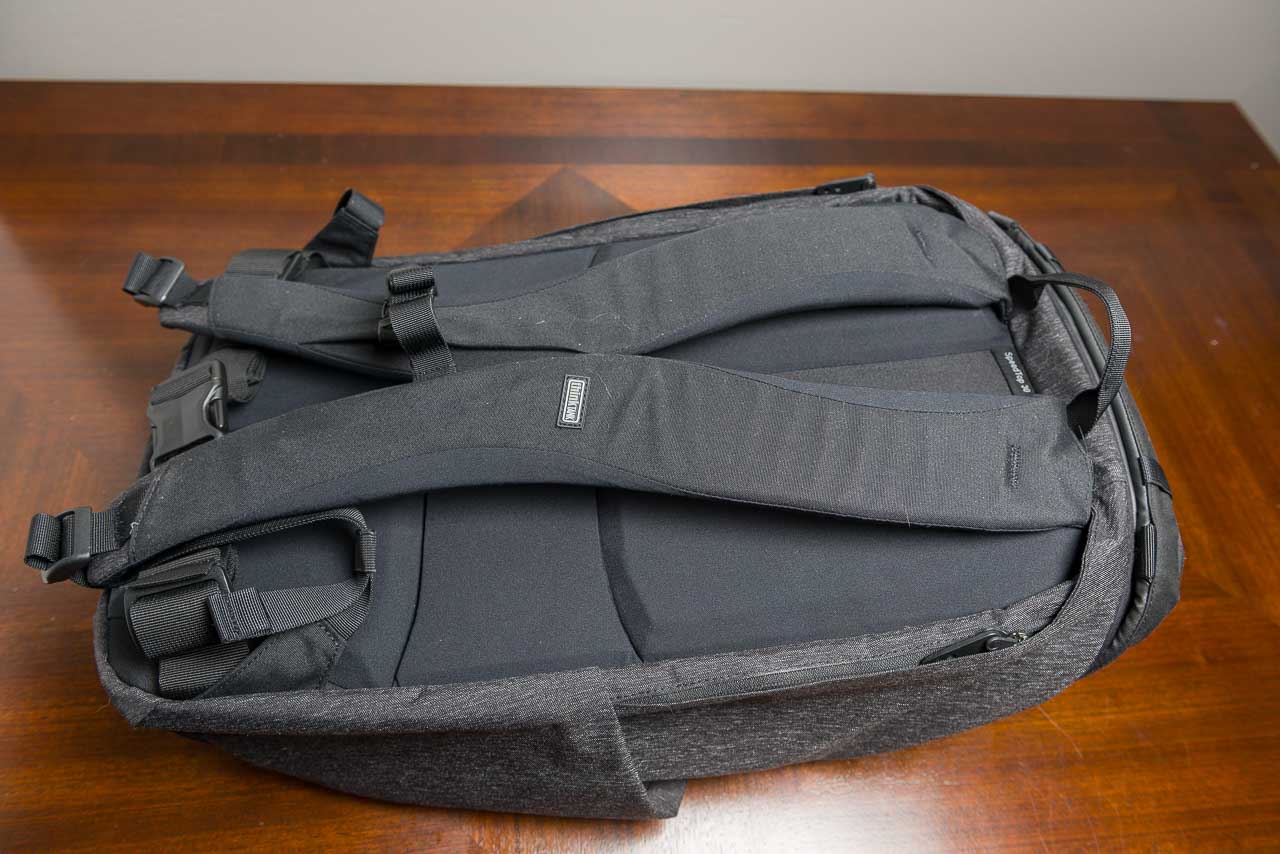 The back side of the backpack has a nice, rigid foam padding with gaps to allow air to vent, so it works very well. The shoulder straps are sturdy and there's a chest clip to keep them together, which helps to distribute the weight.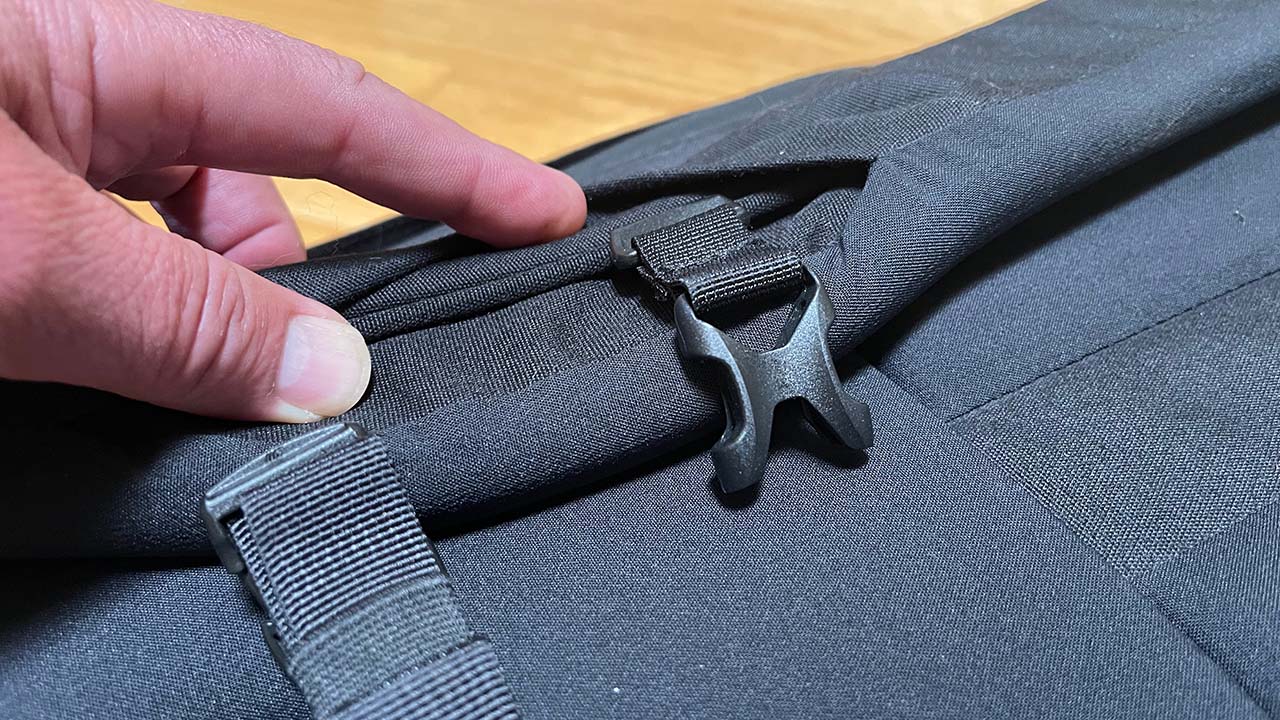 I initially thought the sternum strap wasn't adjustable, but that's not true. As you can see in the image above, you can adjust the sternum strap, but the rails are hidden inside of the shoulder strap. Look carefully, and you'll see how it adjusts.
11: Luggage Handle Pass-Thru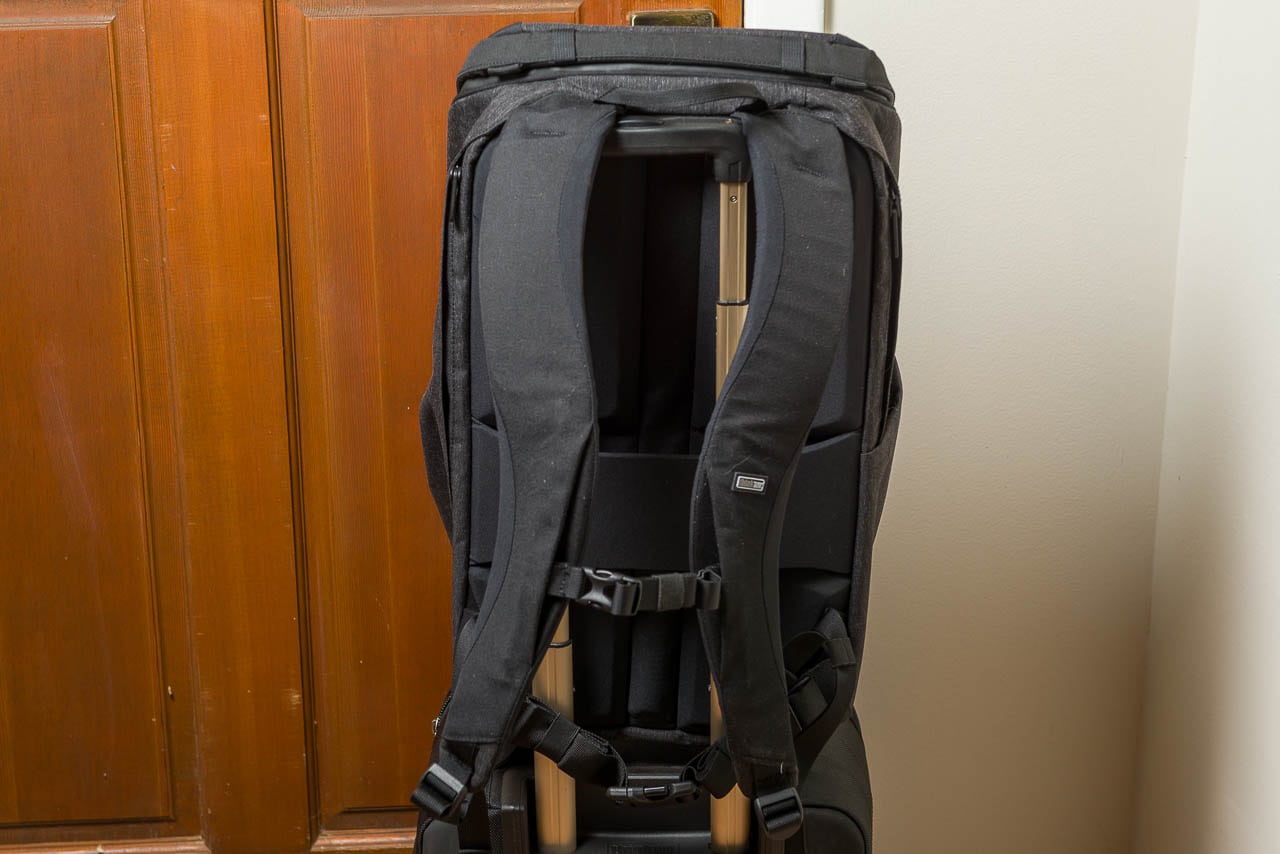 I never want another backpack that doesn't have a luggage pass-through. It fits easily over the handle of this roll-aboard suitcase so you can glide through the airport and hotel lobbies without lugging everything on your back for the entire trip.
12: Rain Cover Included
Although the SpeedTop Backpack has a durable water resistant coating on the fabric, there are times when you need a bit more protection from the elements. That's why Think Tank includes a rain cover.
You'll find it in a zippered pocket near the bottom of the bag on the front cover.
13: Removable Waist Strap
There's also a removable waist strap. That's a handy feature to help distribute the weight from your shoulders to your hips. It helps with stability and balance, as it keeps your backpack from shifting our bouncing around. You'll want this if you put a heavy load in the SpeedTop Backpack.
How Does it Compare to the Peak Design Everyday Backpack?
I tend to use the Peak Design Everyday Backpack as my camera backpack, and I have both the 20 liter and 30 liter versions. Of course, that's a bit misleading. When you completely close the lid on the Everyday Backpack, as they show on their marketing, you aren't getting the full volume that they show on their marketing.
The Everyday Backpack 20L ($279.95) is actually a 12 liter bag when closed and the Everyday Backpack 30L ($299.95) is really a 24 liter bag. In order to get the full volume, you have to open the lid to the max setting. That leaves wide gaps on the cover, so rain can get in or things can fall out. Also, there's no rain cover for the Peak Design backpacks.
The Think Tank SpeedTop Backpack gives you the fully advertised volume, so you can use your space without compromise. However, it's not really a camera bag with adjustable dividers unless you buy the optional Stash Master camera cube.
Comparatively, the Think Tank SpeedTop Backpack 20L ($199.75x ) with the Stash Master S ($58.75) costs $258.50. The Think Tank SpeedTop BackPack 30L ($219.75) and the Stash Master M ($69.75) costs $289.50.
Also, factor this into your equation. Think Tank ships for free in the USA. Overall, you get more space at a lower cost with a comparable SpeedTop Backpack.
My one gripe about the SpeedTop Backpack is that it doesn't stand up on the bottom. Then again, neither does the Peak Design Everyday Backpack, so that complaint is a wash between the two.
Think Tank SpeedTop Backpack Review Summary
The Think Tank SpeedTop Backpack is another quality product that's perfect for travel or everyday carry needs. With an optional camera cube, you can convert it into a photography backpack.
The strength of the SpeedTop Backpack is its versatility. It can be whatever kind of backpack you need it to be, either by removing the divider between the top and main compartment or by adding packing or camera cubes into the main space.
If it has a flaw, it's because there isn't a flat bottom to keep it from falling over when you put it down.
The high-quality construction and attention to detail are typical of Think Tank. There are tons of pockets and spaces to organize the little things and so you know exactly where to find your keys and accessories.