Affiliate Disclosure: We earn a commission if you purchase through one of our links at no additional cost to you.
The Think Tank Venturing Observer Roll Aboard is the latest entry in the travel bag line from Think Tank. Like all of their products, its exceptional build quality and attention to detail are apparent. It feels good, has plenty of useful pockets, and has some nice security features.
So what happens when a manufacturer known for quality camera bags creates a roll aboard suitcase for travelers? That's what we're going to discover.
Think Tank Photo sent this bag to me for review. There was no cash exchange, nor did they see this review before publication.
FREE Shipping from Think Tank Photo on All U.S. Orders
You can get free shipping from Think Tank Photo using the links below if delivered within the United States.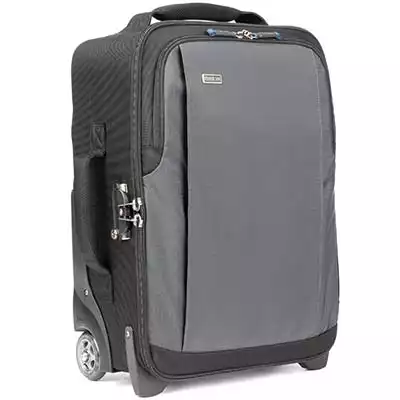 Think Tank Venturing Observer 2M Roll Aboard
The Think Tank Venturing Observer 2M is a roll-abord suitcase that's compatible with international carriers. That means it's slightly smaller than its big brother, the 2L. It has a 37-liter capacity in the main compartment. The outer pocket easily holds a 16" laptop and a 12.9" iPad Pro. There are plenty of organizational pockets, compression straps, and a hidden stash pocket that fits under the interior lining.
The grab handles are thick and comfortable. It's a 2-wheel roll-aboard that rolls smoothly.
The Venturing Observer line includes Travel Sentry ID, which makes it easy for someone to contact you if your suitcase gets lost. The durable YKK zippers have a TSA-compatible lock to keep prying fingers out of your stuff.
Pros:
Travel Sentry ID

Free shipping in US

Includes 3 packing cubes

Security features

User replaceable parts

Sized for International Flight Compatibility
Cons:
More expensive than some competitors

No color options
Buy Now from Think Tank
We earn a commission if you make a purchase, at no additional cost to you.

Which Think Tank Venturing Observer Roll Aboard Size Should You Choose?
The Think Tank Venturing Observer roll aboard comes in two sizes. If you typically travel domestically in the United States, you may want the extra capacity of the Venturing Observer 2L with its 48-liter volume capacity. Check with your carrier to be sure they accept this size. I'll post the dimensions of both bags below.
The Venturing Observer 2M is smaller and should work well on all carry-on requirements, including international travel. It has a 37-liter capacity. This is the model I chose, and it works well for me.
Think Tank Venturing Observer Dimensions
| 2L Dimensions | 2M Dimensions |
| --- | --- |
| External: 14" W x 22" H x 9" D (35.6 x 55.9 x 22.9 cm) | External: 14" W x 21" H x 8" D (35.5 x 53.3 x 20.3 cm) |
| Size of two inner mesh zippered pockets: 10" W x 14" H x .78" D (25.4 x 35.56 x 2 cm) | Size of two inner mesh zippered pockets: 8.85" W x 12.5" H x .78" D (22.5 x 32 x 2 cm) |
| Size of hidden pocket (bellowed): 10" x 5.5" (25.4 x 14 cm) | Size of hidden pocket (bellowed): 6.7" x 3.9" (17 x 10 cm) |
| Weight: 9.5 lbs. (4.45 kg) | Weight: 8.8 lbs. (4 kg) |
| Volume: 48 Liters | Volume: 37 Liters |
If you're familiar with the Away Travel roll aboard suitcases, these are comparable in size. The Away Carry-On has a 39.8-liter capacity, and The Bigger Carry-on has a 47.9-liter capacity.
It's a Soft-Sided Suitcase, and That's a Good Thing
I own the Aluminum version of Away's The Bigger Carry-On, and it's a good roll aboard. Except when it isn't. Hard-sided cases can look great, but they also come with compromises. One of the first compromises is the absence of exterior pockets and compartments. If you want easy access to your laptop or iPad, then the Venturing Observer line trumps the Away carry-on bags.
My Away bag does not have dedicated sleeves for a laptop or iPad. There are no external pockets to place a water bottle or anything else. It does have a USB battery port, but you could easily replicate that using the external pockets on the Think Tank Venturing Observer bags.
Hard-sided cases use a clamshell design, which some people find problematic to divide their clothing and accessories evenly so the two sections will close. The Think Tank Venturing Observer bags load from one side, so you can easily see how much room you have while you're packing.
Hard-sided cases have one advantage over soft-sided bags. You can put stickers on them.
It's Not a Camera Bag, Unless…
Traveling photographers know how well Think Tank Rolling Camera Bags protect their gear (check this article for the Best Think Tank Camera Bags). Now we have the same quality rolling bag but designed for your clothes instead of your camera gear.
So what do you do with your photography gear? There are two options.
1: Use a dedicated camera backpack
If you want to travel without checking your bags, this gives you the best option for a lightweight trip. Think Tank has some great camera backpacks, shoulder bags, and slings that work as your personal carry-on item.
2: Use a camera cube
The Venturing Observer is compatible with the Think Tank Stashmaster series of camera cubes. Those cubes include a shoulder strap, so you wouldn't even need to bring an extra bag for a day trip of travel photography.
What Are the Features of the Venturing Observer Roll Aboard?
I think the Think Tank Venturing Observer roll aboard bags have a stylish appearance with their two-tone exterior. It uses the Retrospective tartan for the interior lining. WIth its sturdy construction, useful pockets, compression, and security features, this is a rolling suitcase to consider.
1: Great materials and construction
Whenever I write about a Think Tank bag, I gush about the high-quality construction and materials. That's because Think Tank uses nothing but the best, and they do a great job crafting those materials together.
Here's the material list:
Think Tank Venturing Observer Materials
Materials
1640D Ballistics Nylon
420D Ripstop Nylon
Retrospective grey-black plaid liner
YKK® RC Fuse (abrasion-resistant) zippers
3-ply bonded nylon thread
Durable water-repellant (DWR) coating
2: Travel Sentry ID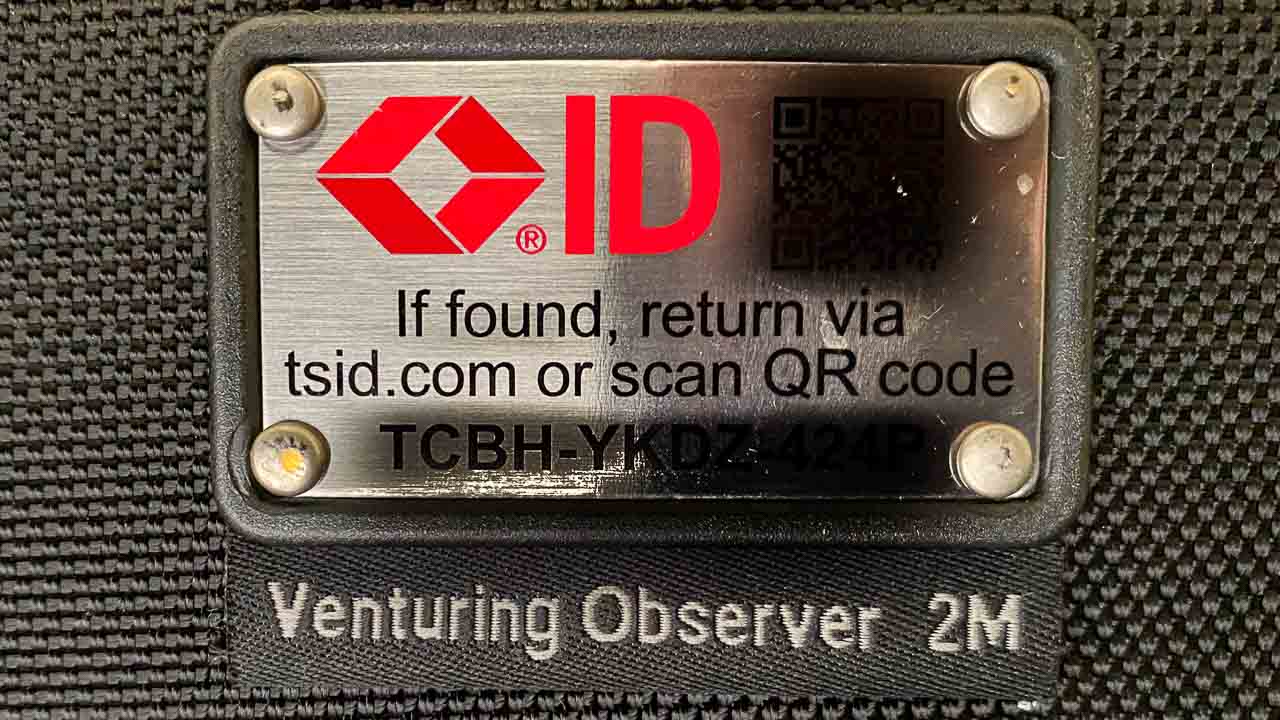 I've blotted out the details on my suitcase, but you get the idea. This metal plaque is on the back of the Think Tank Venturing Observer bags. You register your ID with Travel Sentry website.
If your bag gets lost or misplaced, anyone who finds it can enter your unique ID code on the TSID website. All they have to do is scan a QR code (blacked out here) to notify Travel Sentry. Then you receive a text (SMS) and/or email with your item's location and how to get it back.
Using this system, you don't have to put your personal contact information on your bag, so people can't glance at your name, phone number, or address. My wife likes this idea to protect her privacy.
While this is permanently attached to the rolling bag, Think Tank also sells the Retrospective Luggage Tag with Travel Sentry you can use with your other bags.
3: Security Precautions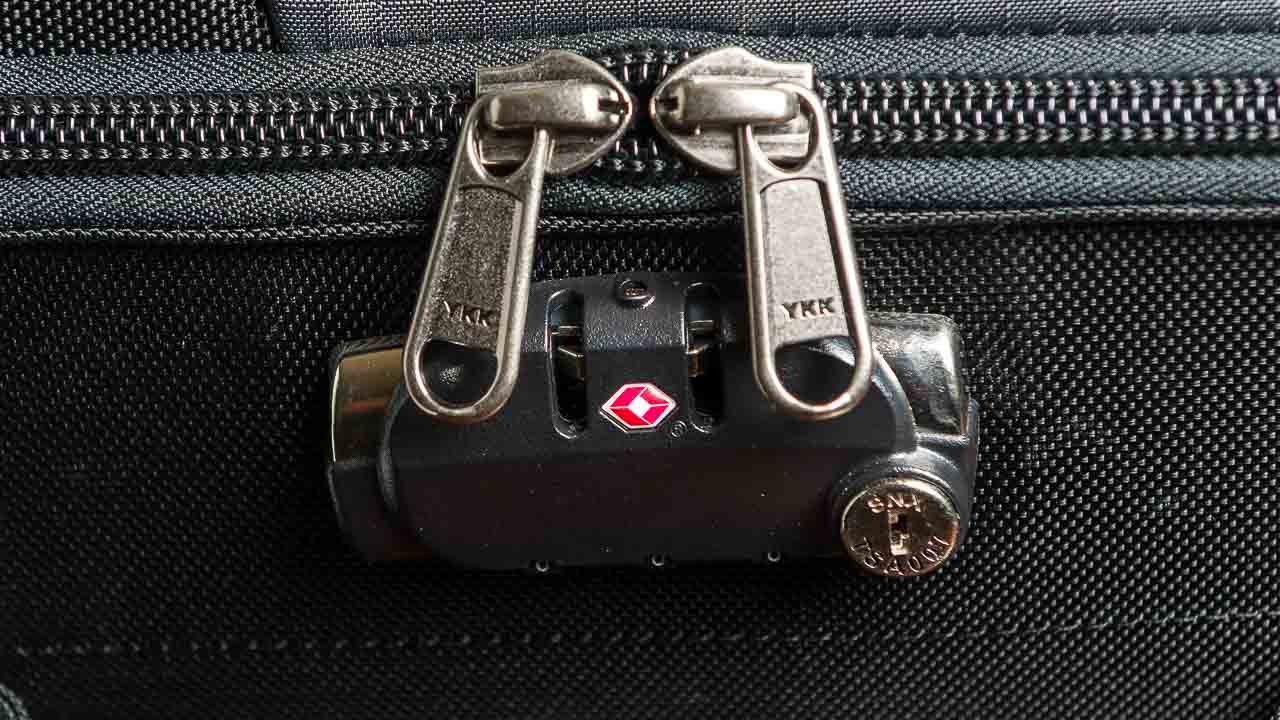 Zippers are pretty simple to overcome in most cases. People get a small lock and close the zipper pulls together. That's cute,
The problem is that any fool with a pen can pierce the zipper and then slide the pulls away to open the bag. Once they have what they want, they just pull the zippers back and everything closes. The owner may not realize the bag was compromised until they get to their destination.
This zipper lock offers a bit more protection because a thief can't move the zipper pulls. Even if someone sticks a pen in the zipper, the lid won't open all the way and they cannot cover their track by closing the zipper. TSA still has access, though.
Thieves typically want easy targets, and this one adds complications. It's a good approach that makes access harder, slower, and unable to conceal. A decent thief will pass on a lock like this one.
4: Smooth Wheels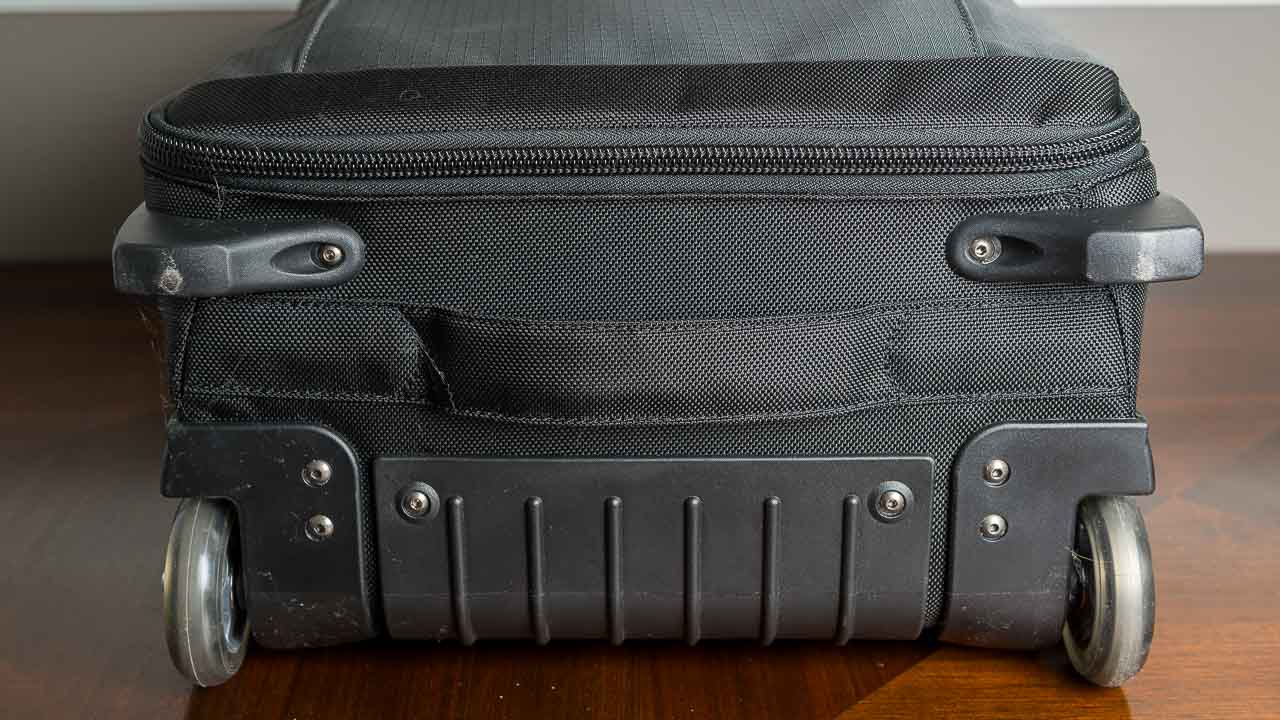 Should your roll aboard have two wheels or four? That depends upon where you need to roll it.
Four wheels work rather well if you're only visiting an airport or a Las Vegas resort with those glassy smooth floors. They become a problem when you need to go over a sidewalk, cobblestone, or sometimes even a carpet. That's when you want the large, roller-blade style wheels found on the Think Tank Venturing Observer.
These wheels are larger and better made than the tiny, plastic stuff you find on four-wheel spinner bags. They're also user replaceable, which is great. Have you ever tried to find those little plastic wheels on the four-wheel bags and install them? Let's hope you never have to deal with that, or you'll end up carrying your bag like they did in the stone age.
That won't happen with something sturdy like these wheels.
5: Great Grab Handles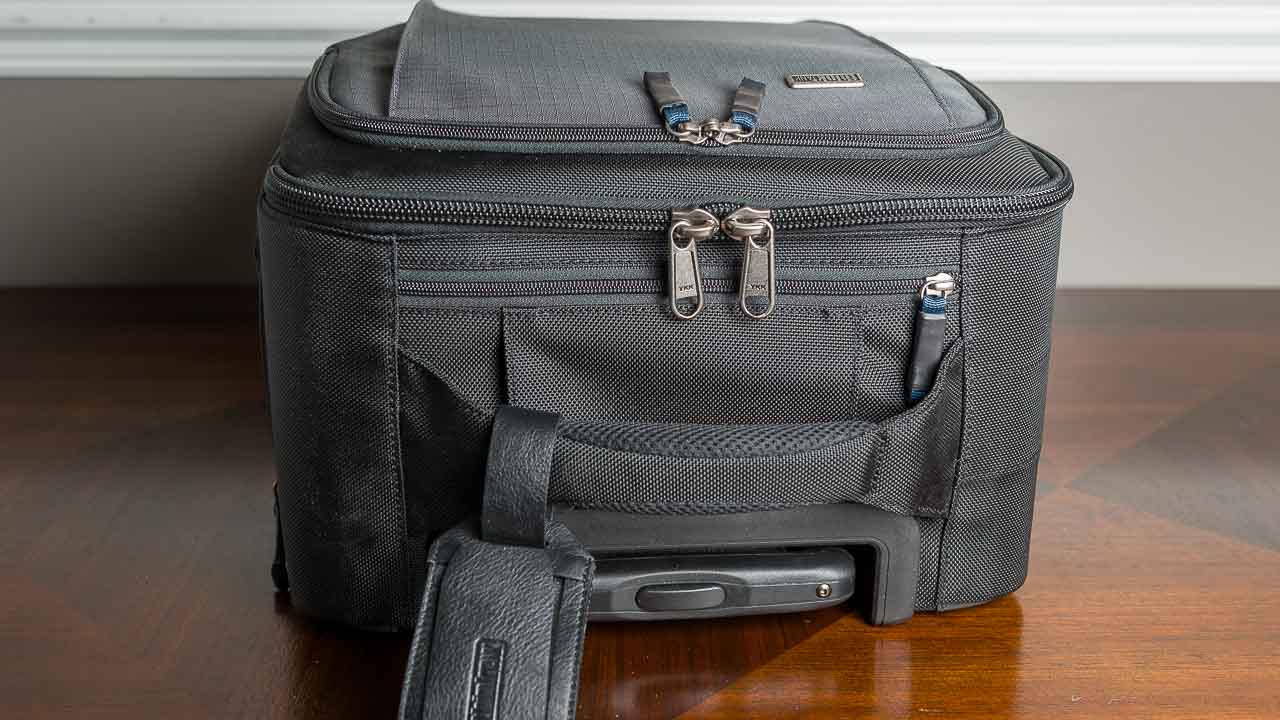 Look at that grab handle! It's large, sturdy, and soft. This sucker is a joy to grab, which is unlike the hard plastic handle on my Away bag. You'll find another one just like it on the side. The bottom grab handle is a sturdy strap. It has to be smaller because there's not much gap between the surface and the bottom of the bag.
When you're on the go, this suitcase is easy to grab no matter which side faces you.
6: Exterior Pockets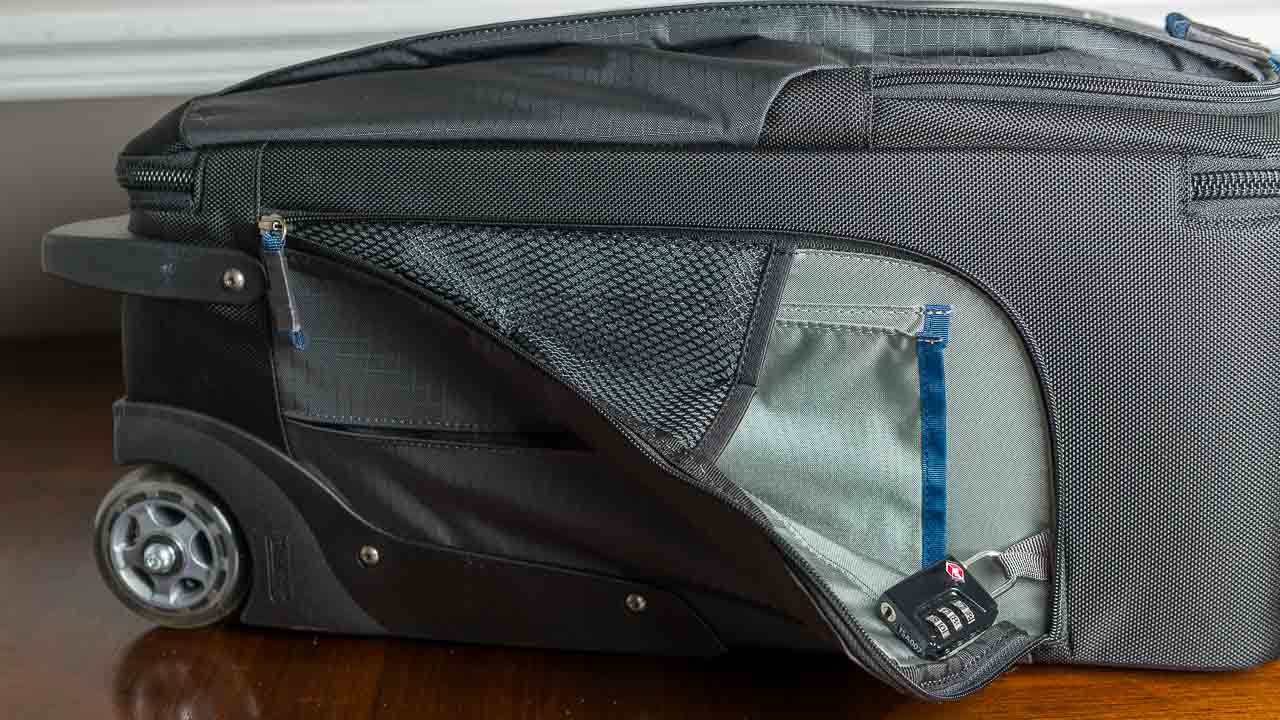 You'll find some interesting exterior pockets on the Think Tank Venturing Observer roll aboard bags. On the side, you'll see this bellowed pocket that's great for a water bottle or perhaps a USB charger. Notice there's a small pocket inside if you want to stuff some airline tickets or something flat for easy access.
This pocket also includes a small TSA-compatible combination lock, as seen in the photo above. That's so you can use the included coiled security cable to lock your bag to something sturdy if you need to leave it unattended.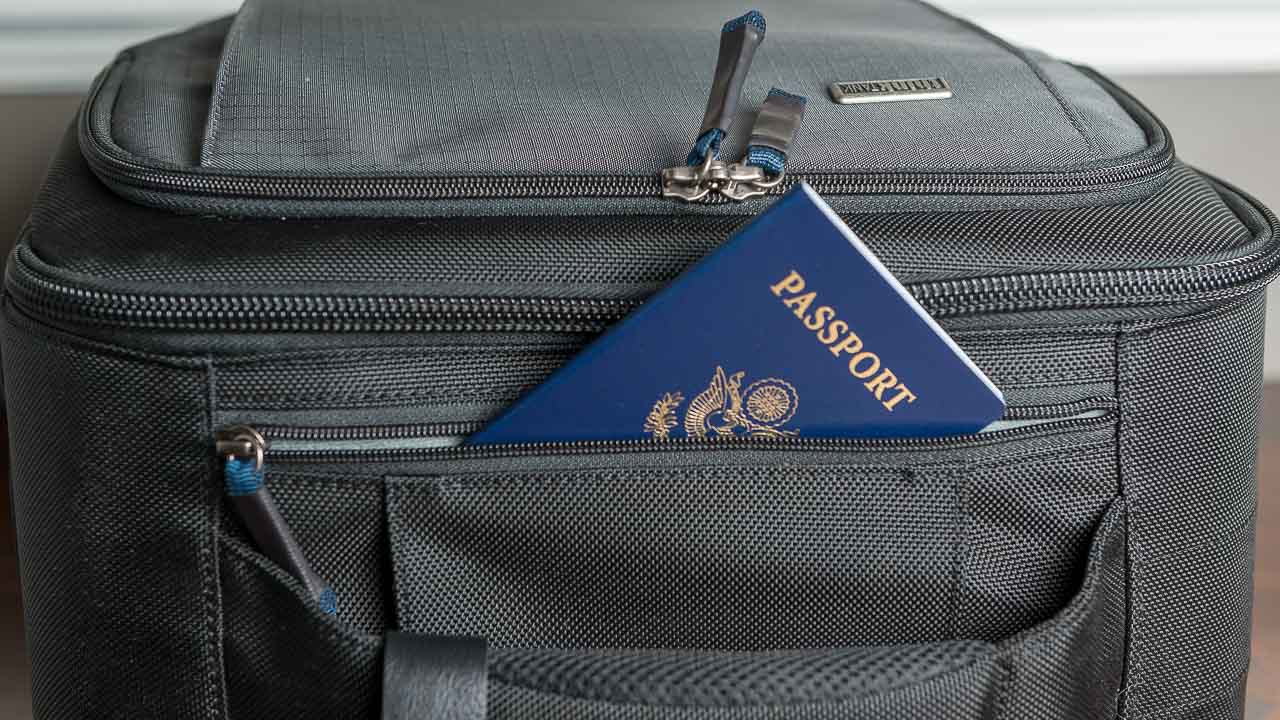 There's a small zipper pocket on the top near the grab handle. You can see that I've placed my passport here to give you an idea of its size.
7: Laptop and iPad Pocket
There's room to store your laptop, iPad, and more inside the front zippered pocket. I can easily slide my 16″ MacBook Pro into the laptop sleeve. The iPad sleeve holds my 12.9″ M1 iPad Pro. It's a bit of a tight fit with Apple's Magic Keyboard, but you could also put that in the pocket in front of your iPad.
There's also another zippered mesh pocket under the flap for cables, power blocks, or small accessories.
8: Hidden Interior Stash Pocket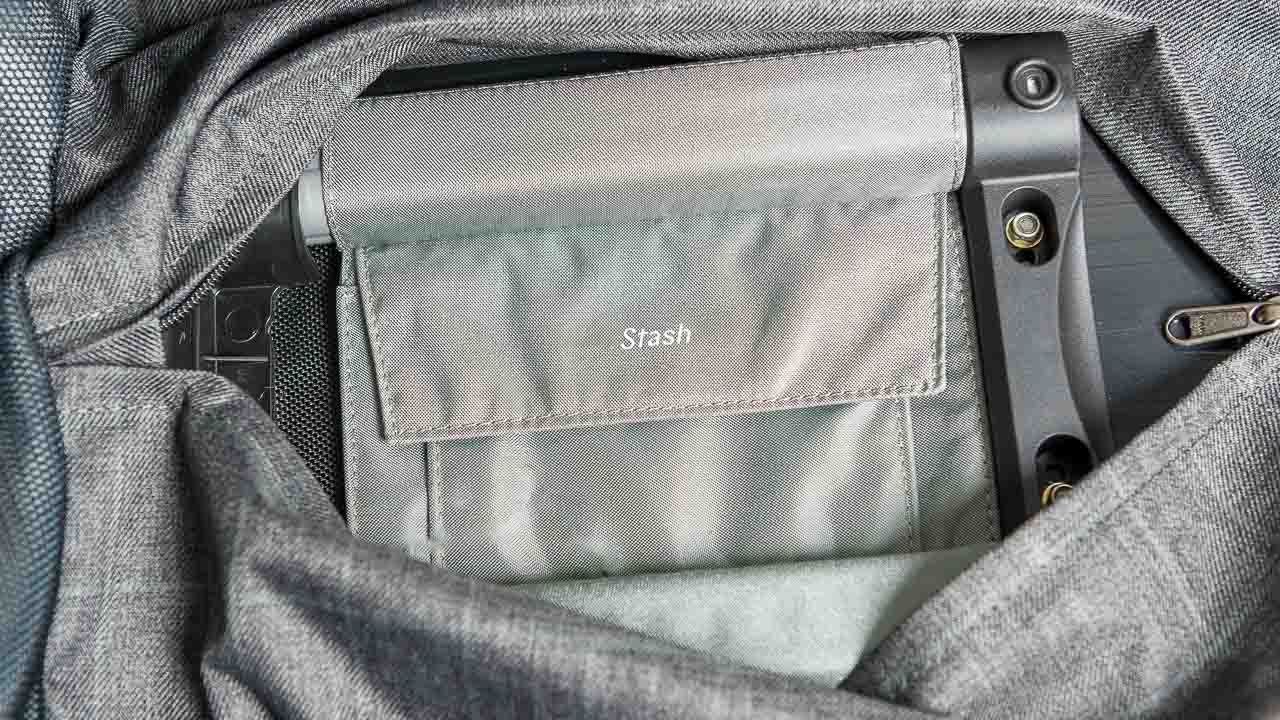 You'll be forgiven if you don't find this one at first glance. That's because the interior Respective tartan liner doesn't look like there's a zipper in it, because it closes so wonderfully to conceal this pocket beneath it.
Mind you, I have no idea what secret items I'd stash here, and I wouldn't recommend trying to fool the airport scanners. I think it's just something cool to put small items that the average thief wouldn't discover if they ever got inside your bag.
9: Packing Cubes Included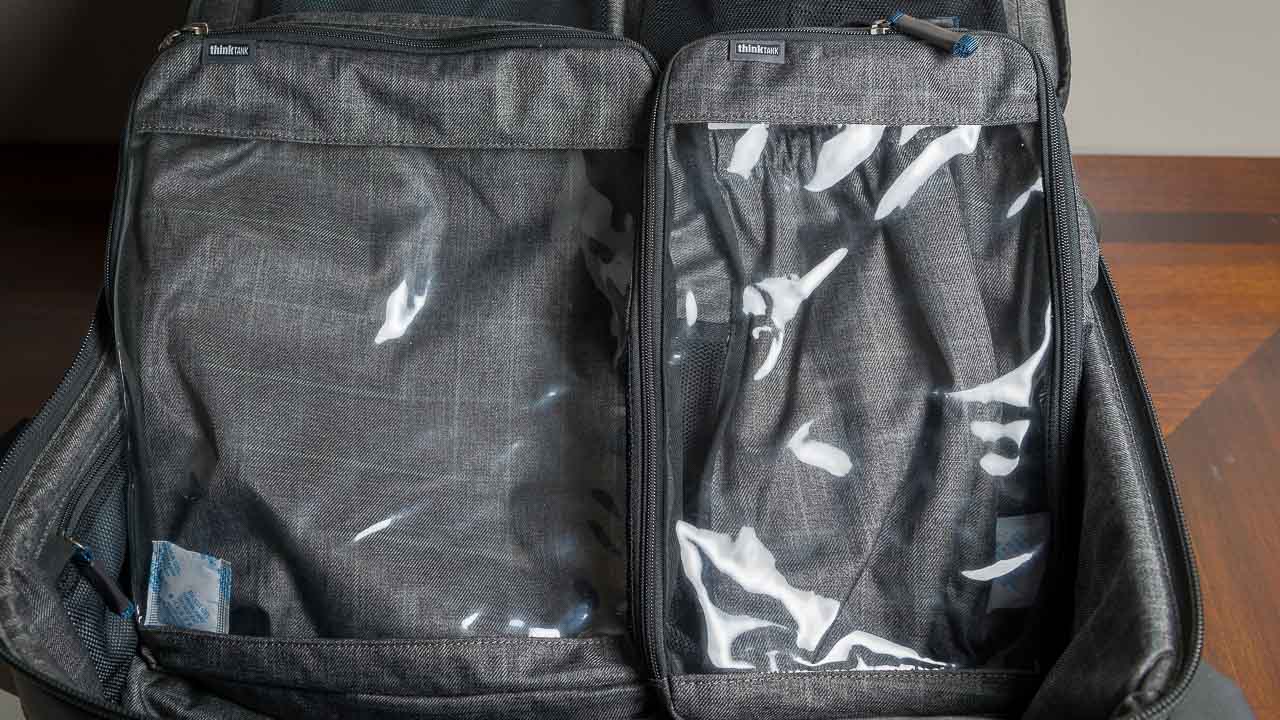 The Think Tank Venturing Observer roll aboard comes with three packing cubes, which are also available to purchase separately. Two of them have a clear lid so you can see what's inside. The other is for shoes to prevent dirt or debris from getting on items inside your suitcase. The two pictured here are Medium and Large.
You can find the entire Think Tank Venturing Observer series by clicking this button.
10: Rain Cover and Water Repellent Coating
I live in Florida, so I'm going to get wet. That doesn't mean my stuff has to get wet, though. Not only do most Think Tank bags come with a Durable Water Repellent coating, but they also include a rain cover for those times when you need a bit more protection.
The Think Tank Venturing Observer bags are no exception.
11: Interior Pockets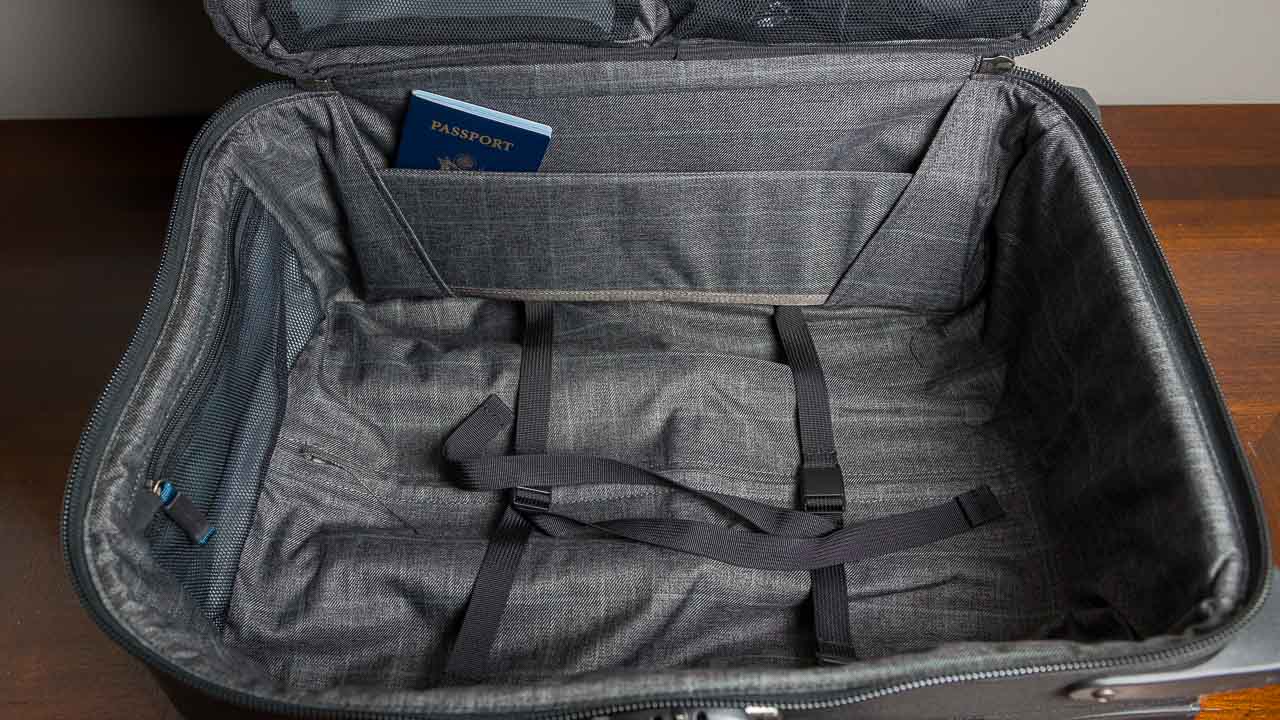 The interior has a large compartment with compression straps. You'll see another mesh zippered pocket on the top side of the bag. I already revealed the secret Stash pocket under the liner.
I placed my passport in a divider on the side of the bag to show there's yet another place to put things that you need to keep apart from the main compartment.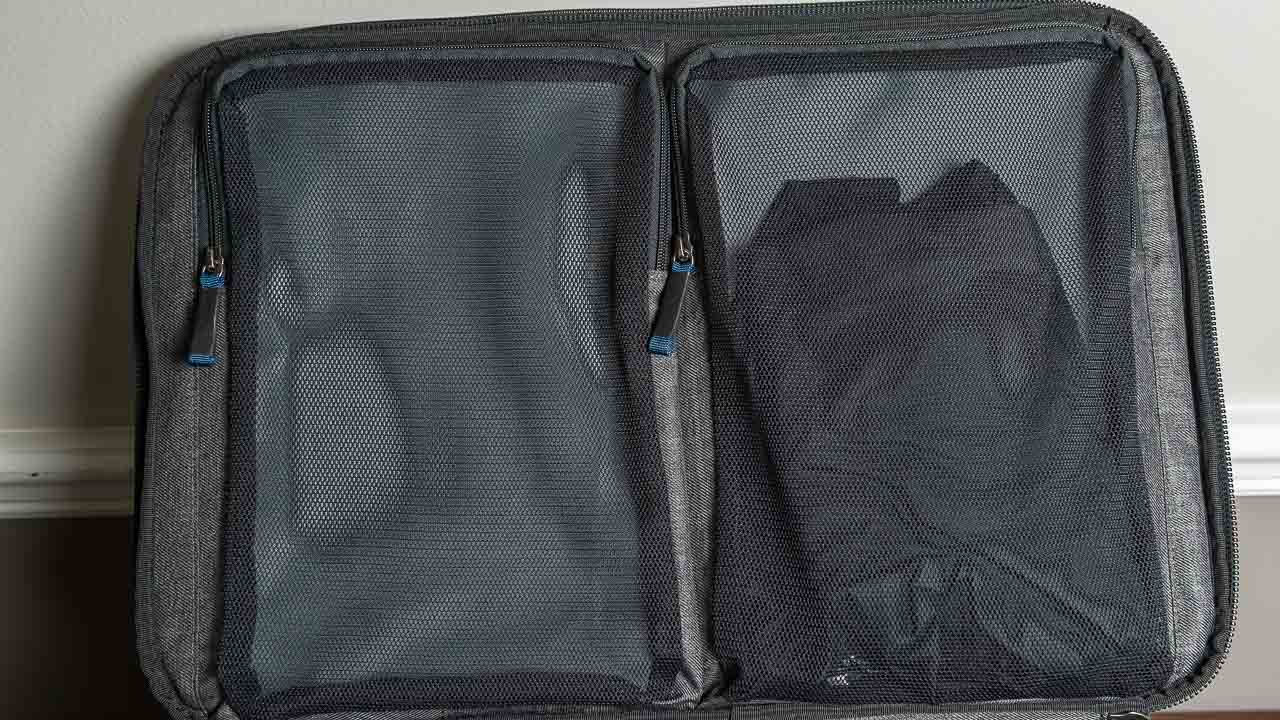 There are two mesh zippered pockets under the lid. That black item on the right is the rain cover that I mentioned a moment ago. These pockets are great for things that are relatively flat, and you want to see what's in there. It's also handy to give them some breathing room if you have something damp (like a used rain cover).
What Could Think Tank Improve?
Overall, I'm very pleased with this roll aboard bag. It's stylish, rugged, and has a lot of useful features. That doesn't mean there aren't some other considerations.
Right now, there are no color options. When I'm buying luggage, I look for ways to make mine stand out. There are many black bags at the airport and other places where bags congregate. It would be useful to have some color options to have a better chance of spotting your suitcase in the pile.
Some people just prefer four wheels instead of two. I get it, as I have some of each type. In fact, one of my Think Tank Airport Series camera bags is a four-wheel spinner. If you only plan on visiting airports and resorts, they're great. Other times, the two-wheel bags are better. It would be nice to have an option to choose which style I prefer.
Does it Cost Too Much?
The Think Tank Venturing Observer 2M is $329.75, and the larger 2L is $349.75. If we compare that to the Away Carry-On ($275 & up) and The Bigger Carry-On ($295 & up), the prices start to lean away from Think Tank.
However, Think Tank includes three packing cubes, which Away sells separately. You also have a place to carry your laptop and iPad in the Think Tank Venturing Observer roll aboard. You'd have to purchase and carry a separate laptop back, messenger, or laptop with the Away bag.
When you start looking at the total cost of carrying the things you need on your trip, the Think Tank Venturing Observer roll aboard bags make much more sense financially and freeing you up to have another personal item.
Conclusion: The Think Tank Venturing Observer Roll Aboard Suitcase is Another Great Travel Bag
With its style, durability, usability, and organizational features, I believe Think Tank knocked it out of the park for this entry into its growing line of travel bags. Its well-thought-through design shows as you use the bag, and I expect this bag to last a long time.
My wife tells a story of sitting on an airplane waiting for the luggage to be loaded. She laughed because one of the suitcases opened up, and some woman's underwear and bras sprung forth. The crew tried to gather everything and get it back together, but the cheap suitcase just broke.
She stopped laughing when she realized those were her knickers on the tarmac and that cheap Walmart bag was no value at all. What a way to start a three-week vacation!
You can find cheap bags at Walmart, Target, or a flea market. However, they aren't going to last very long and you don't know where you're going to be when they fall apart. That's not going to happen with a quality bag like the Think Tank Venturing Observer roll aboard.
Want to learn more about Travel Photography? Click below to check out more Travel Photography articles.
Travel Photography Articles