Affiliate Disclosure: We earn a commission if you purchase through one of our links at no additional cost to you.
Fantasyland [pinit]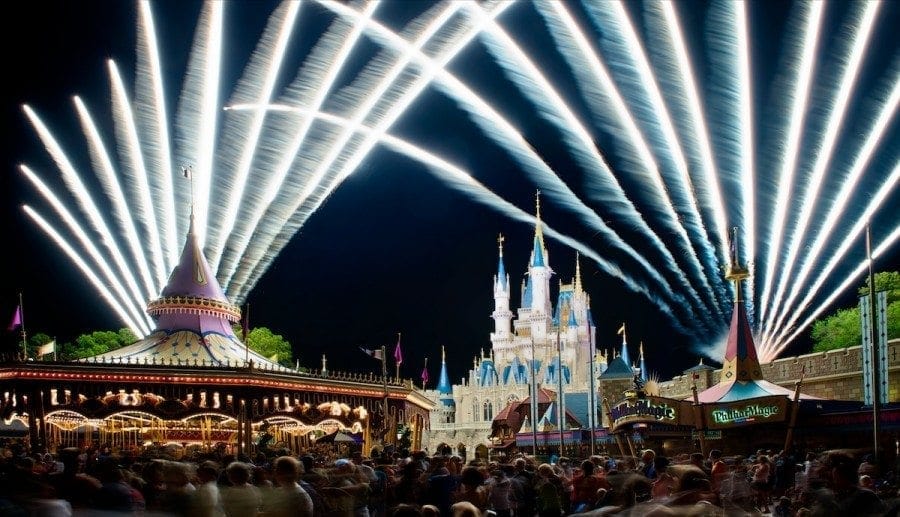 Walt Disney World is getting closer to finishing its expansion of Fantasyland, so it may be time to head back out to see what new photo opportunities await me. I know it's still going to be a while before it's done, but it never hurts to run a scouting mission and start thinking about a few shots.
This shot is from the last time I was in the Magic Kingdom so far this year. Although I have an Annual Pass, I tend to skip the summer months. It's just too hot and crowded to be enjoyable for me. Look at all of those people. Now you know I'm not kidding when I talk about the number of people who walk in front of my shots.  Don't they know I'm an artist? Perhaps not. There were actually a few of us on this evening, lining up side by side with our tripods, waiting to shoot the fireworks.
What we didn't know, or at least I didn't know, is that a number of the fireworks were exploding behind us.  I guess you never think about that sort of thing when you're watching the show from the front of the castle. Get behind it and you suddenly find out that you're in the shitty seats. Except, of course, there's no place to sit.
Now that it's September, the crowds are starting to thin out before the holiday rush. It's one of my favorite times to wander around the park. I may not take my camera on the scouting runs, so you'll just have to imagine what kind of photos I would have taken had I brought my camera.
Who am I kidding. Everyone knows I'll lug my camera out there. The only thing we don't know is who will stand in front of my camera right as I click the shutter button. It's nice to know there are constants in the universe.
Want to learn more about Travel Photography? Click below to check out more Travel Photography articles.
Travel Photography Articles