Affiliate Disclosure: We earn a commission if you purchase through one of our links at no additional cost to you.
I had the opportunity to update my Nikon Zoom Lens reviews for the Holy Trinity Nikon Lenses.  It seemed time to add new insights to the reviews, including how some of the features translate into benefits.
Here's what you'll find in the updated reviews.
To get to the reviews, click the buttons listed below.  I've also provided links to these reviews from my Gear page.
Bear in mind that these are reviews of lenses that I own. This doesn't include any prime lenses or Z lenses. The glass below is for the Nikon F-mount system.
The Nikon Holy Trinity
I'm not sure who decided to call this collection the Holy Trinity, but it's a name that fits. I've used these lenses for years and never regretted my decision to go with Nikon lenses.
After trying a Sigma 24-70 lens that a friend owned, I was annoyed that the autofocus sounded like a coffee grinder. The Nikon Silent Wave motors in these lenses are quiet and quick.
1: Nikon 70-200mm – The Portrait and Event Workhorse Lens
Best Quality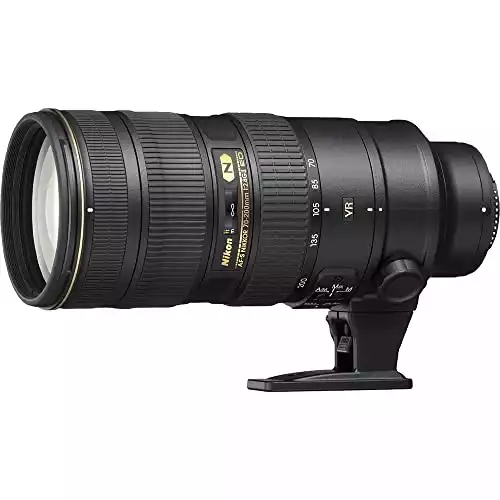 Nikon 70-200mm f/2.8G ED VR II (Renewed)
The Nikon 70-200mm f/2.8G ED VR II is great for portraits, fashion, travel, or wildlife photography. The fast aperture, f/2.8 zoom features VR II image stabilization, ED glass, and Nano Crystal Coat.
That means you can hand-hold this lens and still get sharp photos without flare or other optical defects. I love this beast.
Pros:
Excellent optics

Very sharp

Great autofocus

Wonderful bokeh
Check Current Price
Our Review
We earn a commission if you make a purchase, at no additional cost to you.

The Nikon 70-200mm lens is a telephoto zoom lens that is a professional workhorse. It's a standard for event and portrait photographers due to its huge focal length range. It's built tough to withstand working conditions yet creates a range of stunning images from soft bokeh to sharp detail.
Vibration Reduction lets you get sharp images even at low shutter speeds, which is pretty common for events, weddings, and entertainment shots.
Don't underestimate the silent and reliable auto-focus system in Nikon lenses. Great image quality only matters if you can lock onto your subject, particularly in difficult conditions where things change every second.
2: Nikon 24-70 – My Most Used Lens
My Favorite Walk-about Lens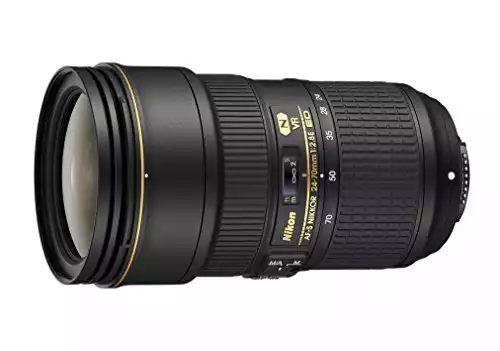 Nikon AF-S FX NIKKOR 24-70mm f/2.8E
No matter what your photography style, the Nikon AF-S FX NIKKOR 24-70mm f/2.8E is a versatile and powerful lens that will help you capture stunning images. With a 24-70mm zoom range, this lens is perfect for anything from landscapes to studio work, and with a fast f/2.8 aperture, you'll be able to freeze fast action or create a beautiful bokeh blur. Plus, the Nikon fluorine coat on both the front and rear glass protects your images from any unwanted glare or reflections.
Pros:
Weather-sealed

Constant aperture

Fast auto-focus

77mm thread for filters
Check Current Price
Our Review
We earn a commission if you make a purchase, at no additional cost to you.

Most of my photos were taken with the Nikon 24-70mm lens. It's a perfect walk-around lens, covering the range from wide-angle to mid-telephoto. When I don't want to burden myself with a bag full of lenses, I choose this single lens.
Like the Nikon 70-200mm lens, it's a professional-grade lens with solid construction, reliable autofocus, and excellent image quality.
The focal length offers great versatility to capture everything from a travel scene to an environmental portrait.
It's perfect for environmental portraits when you want to push in close to your subject yet still have a wide angle to include the location.
3: Nikon 14-24 – An Ultra-Wide Angle Lens for Special Occasions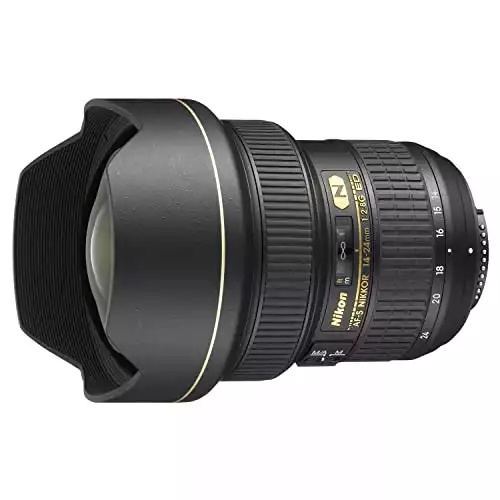 Nikon AF-S NIKKOR 14-24mm f/2.8G ED
The AF-S NIKKOR 14 24mm f/2.8G ED features an ultra-wide angle of view. It is well suited for landscape and interior photography due to its broad focal length with a constant maximum aperture that affords consistent performance throughout the zoom range.
It has three aspherical elements plus two extra-low dispersion glass to reduce distortion or aberrations in photographs taken under harsh lighting conditions where ghosting may occur because these factors contribute significantly towards sharpness & clarity along with accurate color rendering when compared to backlit scenes
Pros:
Outstanding clarity and sharpness

Fast & quiet focusing Build quality is excellent

Fast f/2.8 constant through focal range

No vignetting
Cons:
Front element makes it difficult to use filters

Heavy at about 2 pounds
Check Current Price
My Review
We earn a commission if you make a purchase, at no additional cost to you.

I think of this lens like the Special Teams in football. You don't need it for every play, but it can win the game if you have it. The Nikon 14-24mm lens is one of those wonderful pieces of glass you pull out to capture the grandeur of a location.
Like the other zoom lenses mentioned here, it keeps its f/2.8 aperture throughout its range.
It's also the perfect low-light walk-around lens. When I had a private tour of the US Capitol, I couldn't take a tripod or a backpack full of glass. I reached for this lens to capture the expansive scenes and rely upon it for clean shots.
That's partly due to the f/2.8 aperture – fast glass – and also because it's much easier to handhold shorter focal lengths without blur caused by your hand shake. The Nikon 14-24mm lens worked perfectly.
The Nikon Zoom Lens Reviews – The Holy Trinity
Nikon makes a lot of zoom lenses to fit different needs and budgets. I find these to work best for my needs, so I spent the money to get the Nikon Trinity of Zoom Lenses.
You can find cheaper lenses with a longer focal range, lighter weight, and lower cost. If those are the most important factors, you should get those lenses.
My desire was for quality over all other considerations. That means I wanted lenses with a fast, silent, and accurate autofocus mechanism. I wanted a constant f/2.8 aperture available through the entire zoom range.
It also meant that I wanted 9 round-edge aperture blades instead of six, perhaps with sharp edges on the end of the blades. I like my bokeh fuzzy with round highlights, and these lenses deliver.
These factors are a matter of personal preference. Most things in photography have some compromise. When someone invents a lens that covers the entire focal range, has perfect bokeh, weighs three ounces with stunning build quality, and costs under $100, I'll be in line to buy it.
Any lens can take a nice photo on a sunny day. When you start shooting in difficult situations, your lens may be the difference between getting or forgetting a shot. That's why I love and recommend these Nikon Zoom Lenses.
I hope you enjoyed my Nikon Lens review. If you have any questions, ask me in the comments and I'll answer.