Affiliate Disclosure: We earn a commission if you purchase through one of our links at no additional cost to you.
You need an action camera flashlight if you struggle to get clear shots in low light with your GoPro or DJI Osmo.
Poor low-light image quality is a common issue with even the most excellent action cameras due to their small sensors and lenses.
If you're searching for a steady light source, an 'on-camera' light is your answer. Unlike most DSLRs, action cameras don't come with flash capabilities—but that doesn't mean there aren't other ways to get the perfect shot.
I recommend attaching a specially designed LED flashlight to your camera to get crisp video footage indoors or when the sun starts to set.
In some cases, you can even use them underwater – an environment where it's especially tricky to get clear shots out of a GoPro.
Top Picks for Action Camera Flashlight

What Is the Best Action Camera Flashlight?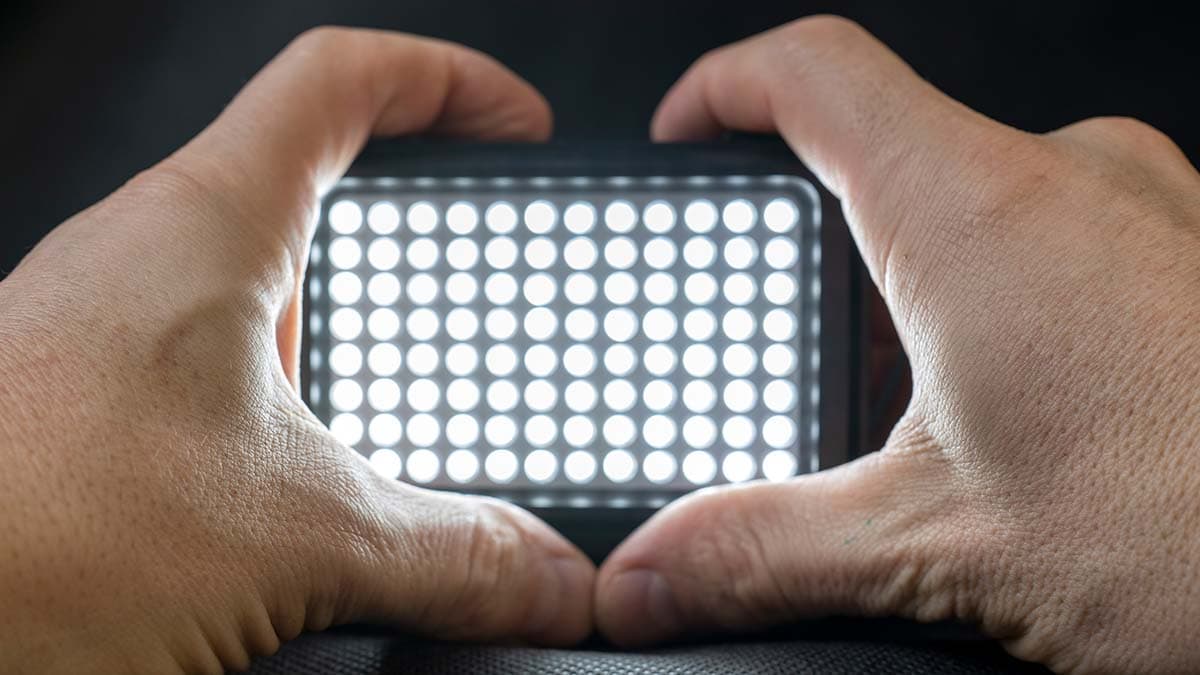 After using a lot of lighting equipment and gear, here are my picks for the best action camera flashlight. You can find a high-power and durable flashlight body on this list that's also an affordable light.

What is an Action Camera Flashlight?
An action camera flashlight is a powerful LED light that can be easily attached to an action camera or used as a standalone device. It's perfect for capturing photos and videos in low-light environments and enhances image quality while allowing you to take stunning shots without any external lighting setup.
Action cameras are distinct from DSLRs and compacts; although they may be tiny and lack low-light performance, you can still capture stunning images or videos at night. All it takes is a bit of extra light to provide superior clarity even in darker conditions – enabling you to take beautiful shots no matter the time.
With an action camera flashlight, you can easily and effectively capture low-light scenes that your camera could never take. Mounting the flashlight to your action camera will also help when trying to get distant shots or recording underwater without a problem.
Make sure you read this article to protect your action camera from damage.
9 Best Action Camera Protectors
What Are Some Important Features of Action Camera Flashlights?
With their small lenses, the true effectiveness of action cameras in low light and nighttime filming is unclear until you try it out. Unfortunately, what becomes apparent soon enough is that these devices cannot collect much light – leading to grainy footage – making this a point for consideration before investing in one.
Most cameras have a built-in flash, allowing you to take crisp and vibrant photos in limited lighting or after dark.
Action cameras require consistent illumination sources to record clear videos; the most convenient solutions are LED flashlights designed exclusively for this purpose.
There are a few key features to consider when shopping for an action camera flashlight:
1: Battery Life
Your LED video light is only as useful as its battery life. So do you need a long battery life? Your battery life depends upon your dive time if you're doing underwater photography. If you're working on an event, your definition of long battery life may differ.
Look for a large-capacity lithium battery to extend its life. The best action camera flashlights have a rechargeable battery. Some have a built-in battery. Some can work on external power. Others have a replaceable battery, so you can charge one battery while using another and then swap them out.
2: LED Video Light & Lumens
In most cases, you're looking for a LED video light for your action camera to provide continuous light on your subject. A strobe light is fine for still photos but impractical for a video light.
How much light you use gets measured in lumens. More lumens equals a brighter light. However, a lot of light output can also drain your battery life.
You want to know how much power you use at maximum brightness output and how it affects your battery life. Remember that you don't always need extremely bright light, so look for adjustable power settings, which also help provide longer battery life.
3: Camera Compatibility
Most action camera flashlights use cold shoe mounts. That means they can connect to your camera or a protective case without an electrical connection. A cold shoe mount increases compatibility with different cameras because it's just a place to hold the light.
A hot shoe uses an electrical connection to communicate with the camera and light. That may be important for DSLR cameras to talk to a flash, but you won't need to worry about that with your action camera flashlights.
4: Color Temperature
Color temperature is measured in Kelvin and determines how warm or cool the light source appears. It's important to understand this because action cameras are sensitive to white balance shifts when you change between light sources (such as going from daylight to indoor lighting).
Look for action camera flashlights that specify a range of color temperatures. This way, you can match the action camera light source to other lighting sources in the environment.
Some action camera flashlights come with color filters to modify or correct the color temperature of the light. Other action camera flashlights have controls that change the color temperature without a filter.
5: Size & Weight
Action camera flashlights are usually lightweight and compact. You want the action camera flashlight to fit in your gear, but you still want enough power output. Choose an action camera flashlight that offers a reasonable balance of size and power.
If you want soft light, you need a larger source of light. A compact size is easy to carry but may not provide harsh light. Finding the perfect light for your subject may require some compromise on size.
6: Weatherproof or Waterproof Case
Although action cameras are often waterproof, your action camera flashlight shouldn't be submerged in water. Look for a light that's rated to IP67 (water-resistant) or higher if you plan on taking photos underwater.
Heat resistance is also important. When shooting video, the camera and light generate a lot of heat. Look for action camera flashlights with aluminum housing to dissipate heat while you shoot.
7: Price
Your budget is important when considering action camera flashlights, especially if you're not sure how often you'll use it. Consider the most important features and find the best action camera flashlight that fits your budget.
When you buy action camera flashlights, look for products with warranty protection, too. That way, if the light malfunctions or is damaged, you can get a replacement without paying full price again.
Conclusion: Find the Best Flashlight for Your Needs
Producing quality video doesn't have to be expensive. One simple and inexpensive way to enhance your results is by using an action camera flashlight. These lights are designed specifically for use with action cameras, and they can add so much value to your final product.
When you have the right action camera flashlight, you'll be able to capture professional-quality action shots with ease.
If you're serious about getting the best possible video results, then an action camera flashlight should be at the top of your list. With so many affordable options, there's no excuse not to buy an action camera flashlight now.