Affiliate Disclosure: We earn a commission if you purchase through one of our links at no additional cost to you.
Off-camera flash buying decisions may seem complicated, but it doesn't have to be like that. I'll walk you through my current lighting gear, tell you why I decided it was time to make a change, and give you why you may want to consider updating your gear.
Update
Since its initial publication, I've updated this article because my lighting kit changed slightly. I'm using Godox flashes now. Click the button below to learn more about the different Godox flashes available.
Why Change my Off Camera Flash System?
A lot of photography gear and brands are part of a system. I use Nikon cameras, which also have Nikon lenses, flashes, and other accessories as part of the system.
Sometimes you end up buying another brand to fill a function for a few reasons:
Each of those points is tough. I'm a fan of systems, but I also like best-of-breed choices. In many cases, the Nikon system choices are the best of breed for me. However, Nikon doesn't do everything.
I ended up buying gear that was great for its intended purpose, but was incompatible with other systems that I purchased.
Now I have a goal to create a body of work that I can display in a gallery show. When I considered my objectives and the gear I have, it became clear that it's time to make a change.
I'll easily achieve my goal with a coherent lighting strategy.
What Gear Did I Have?
When I needed off-camera flash, I bought a slew of Nikon Speedlights with easy-to-understand names, such as:
There are 3rd party flashes available now and back when I bought these devices, but I chose Nikon flashes because of the system. At the time, the Nikon Creative Lighting System (CLS) was an optical communication system between your camera and the flashes.
It works. It works better than I expected. It just doesn't work around corners.
When I wanted to move into something more powerful, Nikon didn't have any options for me. After considering my options, I went with Elinchrom BXRi studio lights and mostly the Elinchrom Rotalux brand of light modifiers.
Seriously, who comes up with the names for these products?
1: My Attempt to Consolidate Systems
Within the Nikon CLS system, I can raise and lower the power of my flashes from my camera. It's easy to great groups of flashes that operate on the same settings or instructions from the camera.
I mentioned that the CLS is an optical system that doesn't go around corners, so I bought some PocketWizard transceivers that allow the Nikon CLS transmissions to work over radio signals. Now I can hide a flash around a corner and rest assured that it will get the signal to fire, despite not being in sight of my camera.
So that cost extra money as if the Nikon flashes weren't already costly enough.
Elinchrom has something similar. I can create groups of studio lights and configure them from the Skyport controller on top of my camera. Fortunately, it's a radio-controlled system so that I can hide the lights behind V-flats or walls, and they will still fire.
The two systems don't talk to each other. Not at all.
My next solution was to buy Elinchrom Skyport receivers for my Nikon speed lights. Although these receives wouldn't adjust the power settings of my Nikon flashes, they would fire when the Elinchrom lights fired.
That gave me more opportunities to create specific lighting arrangements, even manually adjusting the Nikon flashes.
So again, I bought something to compensate for the systems' gaps.
2: Different Systems Have Different Capabilities
The Nikon speed lights have a lot of flexibility. They operate through the lens (TTL), which means the Nikon system will meter my subject and automatically set the lights for proper exposure. It's a place to start.
If you don't like what Nikon provided, you can use Exposure Compensation to raise or lower the TTL signal by 1/3rd stops of lights.
In most cases, your camera shutter speed needs to be 1/250th or lower to sync correctly with the flash. Otherwise, the display of light fires at the wrong time, and you end up with a dark band on your photo.
Nikon speed lights have High-Speed Sync. While this lowers the flash's power output, it also enables you to use the flash at higher shutter speeds.
Why would you want to do that?
Sometimes you want to use a shallow depth of field to isolate your subject and still have flash. When you stop down your aperture to f/2.8 or lower during bright ambient light, you let a lot of light onto your sensor. The shutter speed gets faster to reduce that light.
With High-Speed Sync, you can use that wide open aperture in bright light and still use flash to give your subject a boost.
Finally, Nikon Speed lights are battery-operated. They're small, light, and mobile.
Unfortunately, my Elinchrom lights don't have any of those features. They lack TTL and HSS, and they do not operate on batteries.
I found a vendor who created a battery system for the Elinchrom BXRi lights. It's the size and weight of a large truck battery, and you get about 200 full pops before it dies.
Still not mobile, but it's luggable.
3: How Do I Make My Off-Camera Flash Truly Operate Together?
As you can see, all of these disparate systems and attempts to cobble together some interoperability have cost a lot of money and don't truly fit all of my needs.
Instead of a cohesive system, I have two systems and some extra junk.
My Nikon speed lights and the modifiers I bought for them are my current mobile system. Unfortunately, they lack the power to do what I want without combining several of them. That is an expensive proposition.
My Elinchrom studio lights are phenomenal in the studio. They have the power I want but aren't mobile or as flexible as the Nikon flashes.
I decided to sit down and list what I truly wanted for my lighting gear.
How can I get all of this at a price I can afford?
4: My Off-Camera Flash Buying Decisions Using My Criteria
Keep in mind that I have a lot of Elinchrom Rotalux light modifiers, and I love them. I want to keep using them. That's not impossible since you can buy speed rings for different mounting types or adapters.
The first system I knew that would do what I wanted was the Profot B1 light. Unfortunately, it's not what I would call reasonably priced or affordable for my budget.
Profoto is ubiquitous among commercial photographers. It's a good system, and you can rent Profoto gear almost anywhere in the world. Lest we not forget, I am not a commercial photographer. Instead, I'm a guy who likes taking photos and occasionally gets to sell them to interested corporate buyers.
It's a nice side hustle.
It turns out that the answer to my solution comes from China.
Over the past year, I've read and heard a lot of discussions about Godox lights. I never took a serious look, as I didn't have a serious project in mind. Now that I realize my conundrum, I took a closer look.
It turns out that the Godox line has just about everything I want. There are different lights at different levels, from speed lights up to studio strobes.
They all work on batteries, use TTL & HSS, and have a common radio communication system.
Even better, they're almost half the price or less than all the other stuff I bought!
There are two places where the Godox lights are less than optimal.
When taking photos, they have a color temperature shift of +/- 200K. Not ideal at all, but I decided I could compromise and deal with the circumstances to get everything else.
My other concern was the flash duration. At full power, the AD600 studio light flash duration is only 1/220th of a second. That's not going to stop motion.
On the other hand, two factors mitigate this issue:
Hey, this could work!
Update: The new Godox PRO models correct the color temperature and flash duration issues!
5: My Off-Camera Flash Plan
I first noticed that the Godox lights sell under a few different names.
They're all identical products under different brand names.
The second thing I noticed is that US buyers are getting absolutely NO support from Godox in China. Fortunately, that's not a problem. I bought my Flashpoint lights from the US distributor Adorama, which does provide support.
Other vendors provide support, including warranties for up to two years.
I started with a pair of Godox AD200 flashes. I also purchased the S-bracket, which lets me use both lights in the same light modifier – like a 400-watt-second, portable studio light with TTL and HSS!
The bracket uses Bowens mounts. Quite popular for light modifiers but incompatible with my Elinchrom Rotalux modifiers. Fortunately, I found some Elinchrom Speedrings with Bowens mounts for a small price. Now my Rotalux light modifiers work fine with the Godox gear.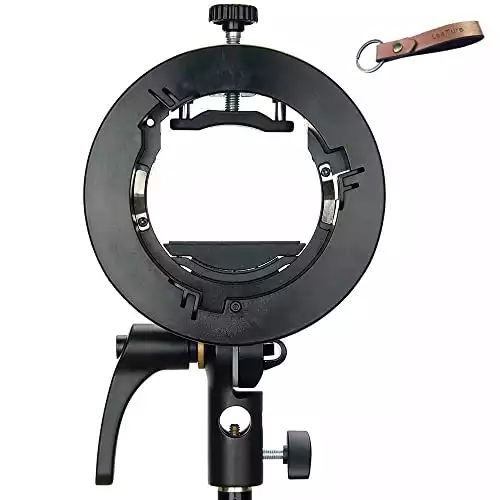 Godox S2 S-Type Bracket Bowens Mount
The Godox S2 S-Type Bracket Bowens Mount is a great way to add lighting accessories to your existing Godox lights. The bracket is easy to install and features a non-slip surface that will keep your light firmly in place. The mount is also compatible with all Bowen-mount accessories, so you can easily add things like beauty dishes and softboxes to create different lighting effects.
Check Current Price
We earn a commission if you make a purchase, at no additional cost to you.

As it turns out, this system even includes a radio adapter to use with my Nikon speed lights. Pop those radio transmitters on your Nikon (or Canon) speed lights, and they transmit the native signal to your flash. So the Godox transmitter sends its signal, and the Nikon gets a CLS signal.
I cannot only trigger my existing Nikon lights but also control them on the same radio transmission system!
Finally, I need at least one studio light for this setup. The Godox AD600 Pro seemed like the option, despite its color inconsistencies.
Wouldn't you know that the Godox AD600 Pro just came out and FIXED the color consistency options and made some other improvements. It costs more than the older model, but I think it's worth it.
I plan to use the Godox AD200 lights for background, fill lights, and that sort of thing. The Godox AD600 Pro will be my key light, and I see myself getting another one or two of those.
However, I may not need that much power for other situations in portrait photography. So why spend the money? That's why I'm starting with only one.
My Current Godox Flash Kit
Since updating this article, I thought I'd share all of the Godox Flash and Strobe lights I've purchased.

There's an update with the Godox AD200 Pro, which now offers better color consistency.
My Pick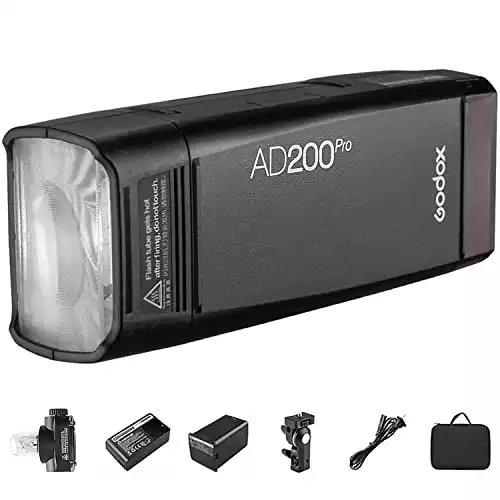 Godox AD200Pro Flash
The Godox AD200 Pro Flash has all of the great features of the AD200 but improves color consistency and a more durable casing with a metal flash holder/umbrella mount. You'll also appreciate the ability to change power in 1/10 stop increments and the faster recycling times.
Like the standard AD200, it comes with a fresnel head and a bare bulb. You can also purchase the Godox Round Head attachment for a 3rd option.
Pros:
Color stable mode

Multiple flash heads

Quick recycle time (15% faster than AD200)

Power adjustments in 1/10th stop increments

More powerful than on-camera flash

Great battery life

Easy to use
Cons:
Only works off-camera

Rapid-fire HSS causes overheating
Buy from Amazon
My Review
We earn a commission if you make a purchase, at no additional cost to you.

I'm Late to the Godox Party
Photographers knew about Godox for a long time, and I'm late to the party. However, the introduction of the Godox AD200 in the past year, along with the improvements in the Pro radio trigger and upgrade for the AD600 Pro, turned my head.
The Godox AD200 units each have about 2.5 to 3X the power of my Nikon speed lights. The AD600 Pro is stronger than my Elinchrom BXRi lights. They all talk together, have TTL and HSS capabilities, and are pretty mobile.
It's an exciting time to be a portrait photographer on a budget. This same kind of kit with the Profoto B1 and other lights would cost me triple the amount of money or more.
While I'm not planning on selling off my old lighting gear, it could happen. I'll share more about my Godox journey as I go on my portrait project.
Your off-camera buying decisions may take you down a different path than mine, but at least we're looking at the same criteria and making our value judgments to get what's right for each of us.
Save 10% on a KelbyOne Annual Membership.
I mentioned on the show that I can save you 10% on an Annual Membership at KelbyOne. I've been a member longer than I can remember, and it's my go-to source for photography education. They have great training in Lightroom, Photoshop, Photography, Lighting, and much more.
Click the button below to take advantage of my discount offer and save 10%.
Once you get on the KelbyOne page, click the Start Today link in the upper right corner to see your discount applied for an Annual Membership.
Save 10% with My Coupon Codes
KelbyOne Pro
KelbyOne is the perfect resource for anyone looking to improve their photography skills.
Whether you're a beginner or a seasoned pro, there's something for everyone at KelbyOne. They offer courses on all aspects of photography, emphasizing Photoshop and Lightroom for post-processing.
Professional photographers, led by Scott Kelby, offer a new course every week, so you can always keep your skills fresh. And best of all, membership gives you access to everything they offer so that you can learn at your own pace and improve your photography game.
KelbyOne offers Monthly and Annual pricing plans, so the plan that works best for you.
Get 10% Off the Pro Annual Subscription with Code WBEEM10, Only at KelbyOne!
Coupon Code: WBEEM10
Get 10% Off the Pro Monthly Subscription with Code WBEEM10M, Only at KelbyOne!
Coupon Code: WBEEM10M
Pros:
Excellent training for photography and photo editing

Wide range of topics covered

Multiple instructors

Discounts and Perks for KelbyOne Pro members

Free plan available

You can purchase a course without a membership
Cons:
A few instructors are better at doing than teaching

With years of developing courses, some are out of date.
Try KelbyOne
Read My Review
We earn a commission if you make a purchase, at no additional cost to you.