Affiliate Disclosure: We earn a commission if you purchase through one of our links at no additional cost to you.
When it comes to choosing a 3 point slinger for camera, there are a lot of different factors you need to consider. Do you want something portable and easy to use? Or do you need a high-quality 3 point slinger that will last for years?
This article discusses the different types of 3 point slingers and helps you decide which one is right for you. We will also provide a list of the 13 best 3 point slingers on the market today.
What is the Best 3-Point Slinger for Camera?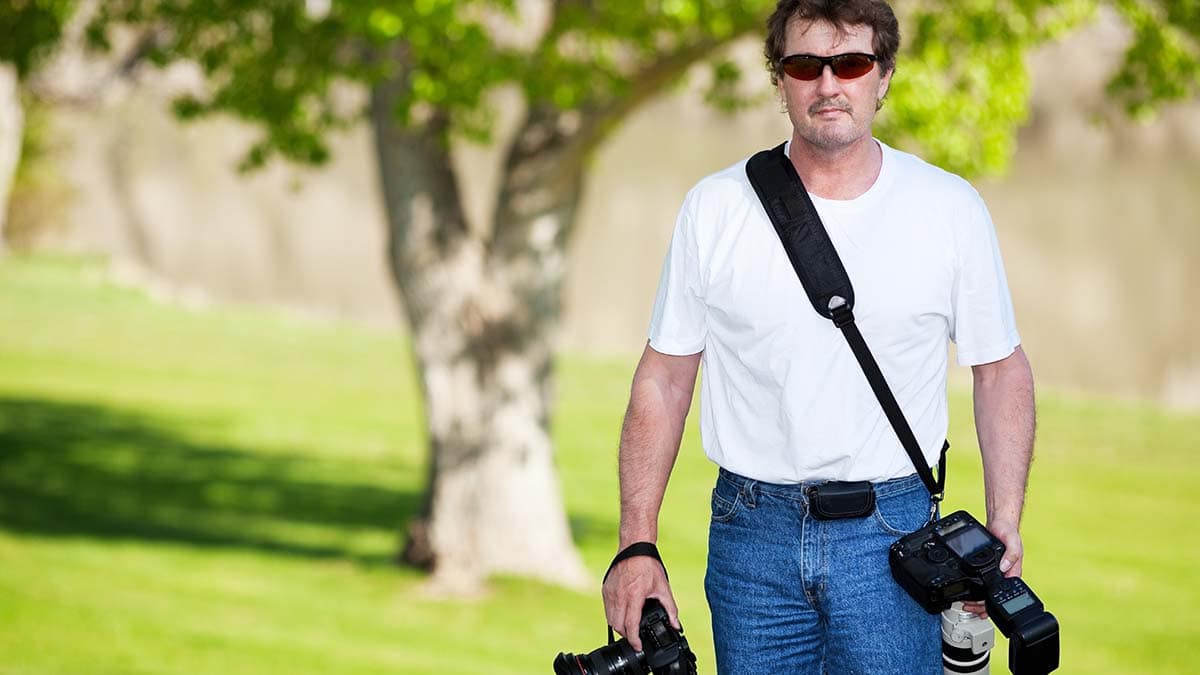 Using a neck strap can put a strain on your body. A 3 point sling strap fits comfortably as a cross-body strap and should fit your shoulder comfortably.
We found the best camera slings on the market and rated them here.

What is a 3 Point Slinger for Camera?
The 3 point slinger for camera is a sturdy strap that you can wear over your shoulder and across your body to carry your camera, giving you the freedom to move around without holding it. This type of sling is easy to adjust and very versatile. It's also great for keeping your camera close by so you can grab it quickly when you need it.
The attachment of a 3 point slinger for camera is usually to the strap lugs on a camera and an eyelet at the base or side of the camera body.
3 point slingers provide more stability than a single-point camera strap, as the 3 contact points help distribute the camera's weight more evenly and make it easier to carry your gear.
They are also more secure – if one connection fails, you still have two others keeping your camera safe. 3 point slingers can be used with any camera, from DSLRs to mirrorless cameras.
Benefits of 3 Point Slingers for Camera
There are several benefits associated with 3 point slingers for camera:
How to Choose a Sling Strap
Choosing a 3 point slinger for camera requires a bit more evaluation than a traditional strap. You want something with all the basic features listed below.
Though it may be counterintuitive, most 3-point slings only attach to the camera at one point. They make up for this by attaching to your body differently.
Here are the major issues to consider.
1: Look for a Padded Shoulder Strap or Shoulder Pad
Unlike a neck strap, a camera sling gets worn as a cross-shoulder strap, fitting across your body. To make this comfortable, look for a strap with a shoulder pad. This helps to distribute the weight and minimize fatigue evenly.
In addition to very comfortable neoprene shoulder padding, you should also look for sling straps with an anti-slip surface to keep your camera from accidentally falling.
2: Check How the Camera Straps Connect to Your Camera
Connecting your camera sling to a DSLR or mirrorless camera is two points.
The first is to use the camera eyelets to give two points of contact to the camera. Some vendors use a quick-release attachment here so you can easily connect to your camera sling.
Another method is to use the 1/4″ tripod mount as a connection point. While this method is popular, it's not without some risk.
Scott Diussa used to work for Nikon Professional Services (now he's with Canon) and shared some insight about how a tripod-mounted strap could end in tragedy. I mentioned this in my UPstrap review (which is going out of business).
They had plenty of cameras come for repair because the weight of the camera hanging upside-down caused the tripod socket to crack, causing the camera falling to its demise.
Tripod mounts aren't designed to hold a heavy camera body upside-down. If you choose a strap that uses the tripod socket, look for a safety tether to add protection in the event of the socket breaking.
3: Consider Your Camera's Weight
Different camera slings support different-sized cameras. For example, the Peak Design Slide and Slide Lite have capabilities that mirror the size of the camera intended for each strap.
4: Consider an Underarm Strap
Some camera sling options include an underarm strap, like the USA Gear TrueSHOT. These straps under the arm keep the shoulder pad stable and prevent a slip while moving about.
5: Consider a Pocket for Camera Accessories
It's nice to have convenience. Your camera sling may have an elastic pocket or velcro closure to keep memory cards, a lens cloth, or other small accessories within reach.
6: Right Handed or Left Handed Fit
Do you want to wear your camera sling on your right or left shoulder? Check before you buy. Some can alternate from one shoulder to another. Others require you to buy a specific orientation that only works on one shoulder.
7: Camera Safety Features
Look for a Secure Buckle or Safety Strap.
It's important that your 3 point slinger has an extra secure fastening mechanism, such as a buckle or safety strap, to ensure that your camera stays safe.
Basic features should include a stainless steel mount screw for a tripod connection, not a plastic screw. A tether to another part of your camera adds more safety if the tripod mount cracks.
Conclusion
3 point slingers for camera are a great way to keep your gear secure and comfortable while you're out shooting. With 3 points of contact, they provide increased stability and security than single-point straps, plus they make it easy to access your camera quickly when you need to take a shot.
When choosing a 3 point slinger, look for a padded shoulder strap, check how the straps connect to your camera, consider your camera's weight and the presence of an underarm stabilizing strap, and ensure it comes with safety features like a lockable carabiner or security leash.
The whole idea of a 3 point slinger for camera to be safe and comfortable. The best camera strap is the one you can wear for a long time without worrying about any damage to your camera gear.