Affiliate Disclosure: We earn a commission if you purchase through one of our links at no additional cost to you.
Despite the best plans, sometimes the subject you want to photograph just isn't going to happen when you're there. Dealing with disappointment is just a part of the process.
You Can't Always Get What You Want
This is my own Great White Buffalo. If you do a web search for "Sorceror's Hat Disney Hollywood Studios", you're going to find a lot of shots of the exterior with six searchlights fanned out behind it. That's the shot I want. The Hat is the iconic centerpiece of the park and the searchlights give it a bit of extra appeal.
Not only did those searchlights add something for the Sorceror's Hat, but they also lined up perfectly behind Mt. Everest in Walt Disney World's Animal Kingdom. It was brilliant.
I've come to accept that it's never going to happen.
Here's the problem. Disney stopped lighting up those searchlights. Even worse, there seems to be a perpetual stage in front of the Sorceror's Hat. The iconic view that some Imagineer designed is utterly obfuscated and hidden behind the framework of the stage. Imagine if they did something like that in any of the other parks. Block the view of Cinderella Castle, Spaceship Earth of the Tree of Life. It's asinine.
Dealing with Disappointment
Of course, this isn't the only time something hasn't worked out as expected. When I got to the Supreme Court, it was covered with a fake front and a tented entryway to hide work being done behind the cover. Even now, the Washington Monument is behind a framework of scaffolding – though they did manage to make the most of it with some clever lighting in the evening hours.
So, that's it. You can't get what you want. It's frustrating. Nothing to do but let yourself get frustrated a bit, and then you start dealing with disappointment. If you can't get what you want, then you learn to get what you can.
That's where my previous post offers some help. Instead of putting a new spin on an old subject, you can use the same ideas to re-think how you're going to capture the subject that just isn't cooperating.
Inside The Magic
Stepping inside the Sorceror's Hat honestly isn't very impressive at eye level. It's just another kiosk shop. However, there's still a bit of value if you look up. Swirling lines and complementary colors make their own scene. Some folks like to start at the base of these golden bands and try to capture the entire thing, but I wanted to forego that approach and get a bit closer to bring in some of the detail.
Nothing wrong with either method, but it just shows that you have to find a way to make the scene your own. Even if it's not the one you initially wanted to shoot. Just don't go home empty-handed and without a shot.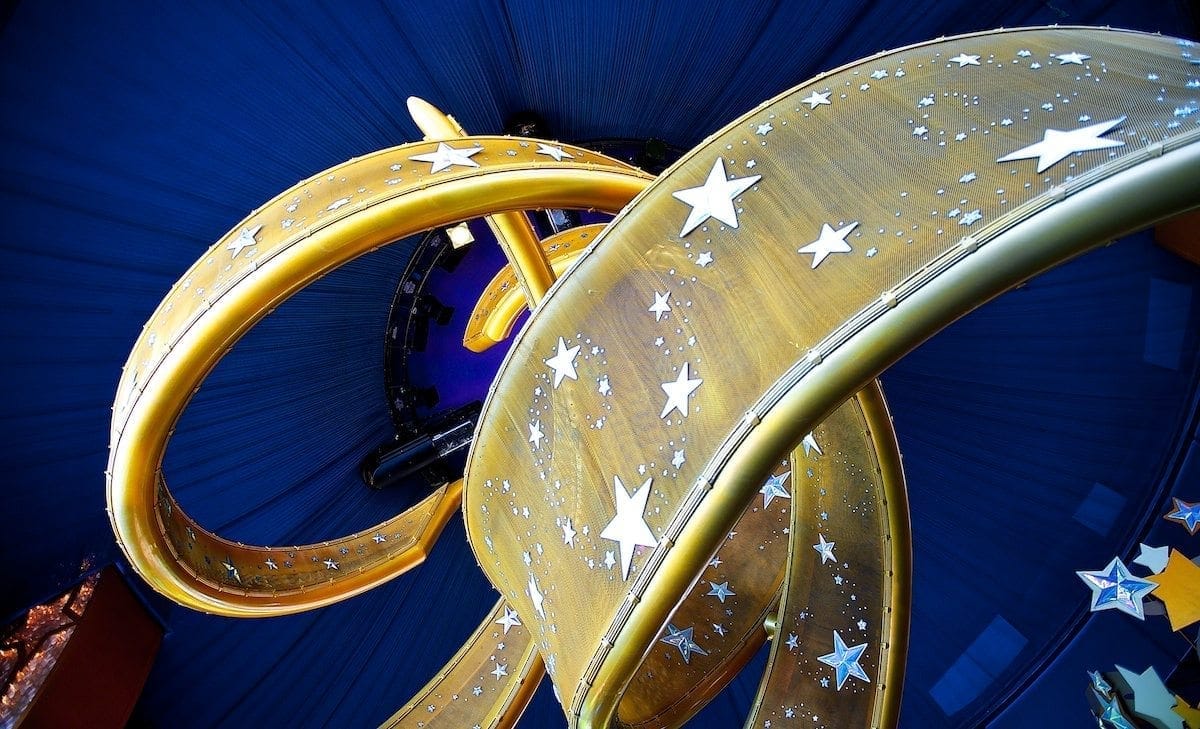 Want to learn more about Travel Photography? Click below to check out more Travel Photography articles.
Travel Photography Articles