Affiliate Disclosure: We earn a commission if you purchase through one of our links at no additional cost to you.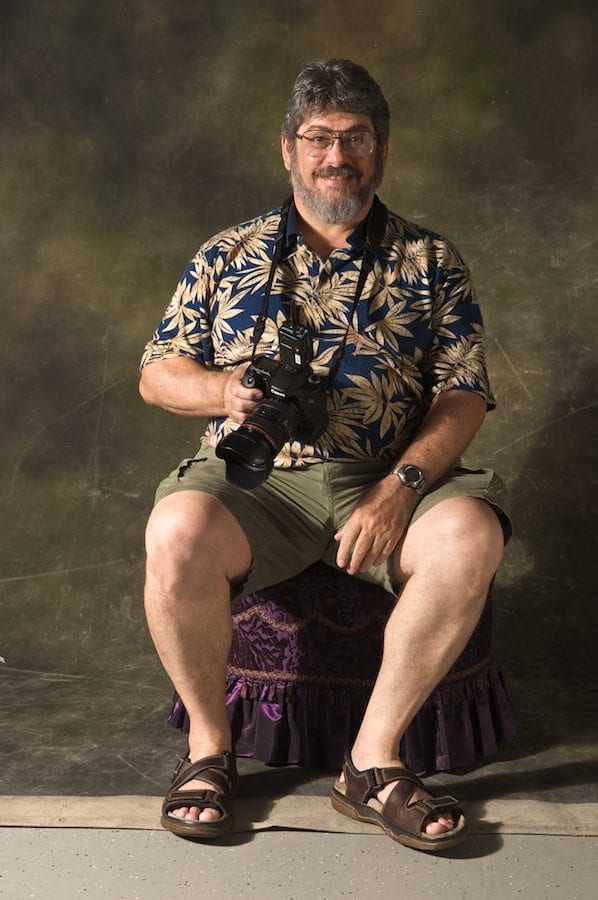 Notice: That's a professional photographer, not a professional model.
Yesterday, I espoused the reasons why I don't consider myself a professional photographer, and quite likely, don't see it happening anytime soon. I do this for the love of photography and don't want to turn it into the drudgery of work. It's nice to shoot what I want to shoot.
Does that mean you can't be a professional photographer without loving it or shooting what you want? Of course not. There are plenty of photographers who are passionate about what they do and shoot what they like. It's just that they've found ways to make it work…for them.
For example, I would hate being a wedding photographer. It's just not my thing. My friend John, however, said that he loves the challenge. He shoots weddings as part of his business and seems to enjoy it.
Just Do It
Moose Peterson shared some of his insight to the business aspects of photography on his blog this week (Part 1, Part 2). Some of it was common sense (don't spend a lot of money going to Africa if you aren't sure you want to be a wildlife photographer). The part that caught my attention was that you can't wait for everything to be perfect. It's never going to be perfect.
This is the same message I learned from Rick Hughes at one of his workshops. He's been sharing the same message on his blog. Don't wait until you have all the gear, all the lights, and other things you think you need. Just go do it. You want to be a professional photographer?
Only you can do it. Go out and get yourself a client, submit your work for a stock agency, become a freelance journalist and submit your work for publication. You cannot sit around waiting for the right opportunity or collection of stuff. Moose said it well, "we don't wait for the phone to ring, we ring it!"
It's ultimately up to each person to decide if this is a line of work you can do and want to do. Once you've achieved those two elements, it's time to go do it. Eliminate excuses. If you don't have the lens you need, rent it.
Another quote I learned from Rick, "Don't tell me why you can't, tell me how you're going to do it." It's your job to figure out how you're going to get the picture, because that's what you're being paid to accomplish.  
The photographers that I admire are the ones who workout these problems, usually in creative ways. I've heard several of them say that they've walked onto a scene and said, "How the hell am I going to do this shot?" Then they figure it out. 
One of the reasons I enjoy watching Joe McNally's videos on KelbyOne is because I see how he approaches a problem and works it out.  He analyzes, he tries things, and some of them fail.  Then he tries again.  
The common lesson I've learned from watching Joe is that he will get the picture.  He will not say "I can't do that" or give up.  It's that tenacity and commitment, I believe, that makes him successful.
Save 10% with My Coupon Codes
KelbyOne Pro
KelbyOne is the perfect resource for anyone looking to improve their photography skills.
Whether you're a beginner or a seasoned pro, there's something for everyone at KelbyOne. They offer courses on all aspects of photography, emphasizing Photoshop and Lightroom for post-processing.
Professional photographers, led by Scott Kelby, offer a new course every week, so you can always keep your skills fresh. And best of all, membership gives you access to everything they offer so that you can learn at your own pace and improve your photography game.
KelbyOne offers Monthly and Annual pricing plans, so the plan that works best for you.
Get 10% Off the Pro Annual Subscription with Code WBEEM10, Only at KelbyOne!
Coupon Code: WBEEM10
Get 10% Off the Pro Monthly Subscription with Code WBEEM10M, Only at KelbyOne!
Coupon Code: WBEEM10M
Pros:
Excellent training for photography and photo editing

Wide range of topics covered

Multiple instructors

Discounts and Perks for KelbyOne Pro members

Free plan available

You can purchase a course without a membership
Cons:
A few instructors are better at doing than teaching

With years of developing courses, some are out of date.
Try KelbyOne
Read My Review
We earn a commission if you make a purchase, at no additional cost to you.

What's Your Plan?
I spent several years as a freelance writer. You are only worth the value of your next assignment. There's no income if you aren't writing something for someone who wants to pay you for it. In most cases, that means writing on assignment.
I kept my business going by networking in the industry, doing my job well and on time, and diversifying my sources of income.  I tanked my business by concentrating on the highest paying source of income and didn't have a fallback when that source dried up.
Can you write what you want and submit it for publication? Yes, many novelists do that and so do some short-story writers. It's a tough road with less likelihood that someone will accept your work for their needs. Much of photography is the same way.
During one of the workshops I took with Rick Hughes, he laid out a perfectly viable business model of how to shoot assignments for fashion/glamour photography. It could involve catalog shoots, advertising shoots, and things of that nature. It didn't suit me, though.
In those and many more scenarios, you are shooting for an image someone else wants. You may not want to shoot it, but that's your job.  Some photographers shoot what they want and never take an assignment.  
While one is very successful, most are still aspiring and working other jobs to pay their bills.  It can happen, but the odds are against it.  That said, some of the happiest photographers I know balance what they want to shoot (and find viable for sales or licensing) and accept clients.  That lets them keep their sanity and multiple revenue streams.
Equally important to your experience as a photographer is your attitude and business sense. The photographers who get jobs are the ones who are thinking about ways to make it work. If you allow yourself to be defeated by a challenge, you may not be ready to be a professional photographer.
Think of yourself as the CEO of your own business.  What is a CEO's job?  The CEO is responsible for finding a sustainable, repeatable business model.  In other words, don't think about how to sell one photograph.  Think about how you're going to sell photographs over and over again.  That may mean researching what a buyer wants and how you can fulfill his or her need.
Make It Happen
As a freelance writer, I was always searching for my next assignment.  Some people, quite honestly, aren't cut out for this life.  Others can't imagine living any other way.  
You have to know yourself to determine if you can handle it.  It's not a question of whether you can take a good picture.  You can learn how to take a salable photograph.  Some of you can learn to adapt to hunting for your food every day, and some of you, quite honestly, won't be comfortable without the perceived safety net of a steady income.  
Having lost income from tanking a business and being laid-off when someone above me tanked a business, I can tell you that the only security you have is that which you make for yourself.  
I was listening to some live concert I have of John Mayer where he breaks into a conversation to his audience and says, "I made a lot of things happen for myself.  That's a cool thing to say when you're in your 20's.  I MADE A LOT OF THINGS HAPPEN FOR MYSELF."
It's OK to ask people how they made it, but their path is not yours.  No one else can define it for you or hand you a professional career. If you want to succeed as a professional photographer, you must make many things happen for yourself.