Affiliate Disclosure: We earn a commission if you purchase through one of our links at no additional cost to you.
I just received the 2013 MacBook Pro on Monday. Is it everything you dream about, or just a mild spec bump?
Custom Order Process For A 2013 MacBook Pro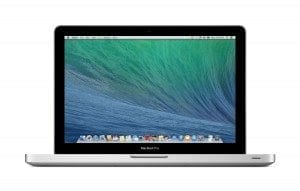 Rather than heading to my nearest Apple Store, I decided to place a custom order for a 15″ MacBook Pro. There aren't many options to consider, but you can't upgrade these computers now as you could with previous models. Better to get the MacBook Pro I wanted and wait a while instead of rushing out to get something that wasn't quite right.
You have essentially three options for the MacBook Pro itself, plus a plethora of accessories that we'll ignore.
RAM – 8 GB or 16GB
CPU – 2.3 GHz or 2.6 GHz (on the 15″ model, lower on the 13″ model)
SSD – 500 GB or 1 TB
I bumped up the RAM to 16 GB and also bumped up the CPU. Of those two, I think the RAM has more impact on performance. Since Apple dropped the price of the MBP by $200, I didn't mind putting that toward the CPU. Moving up to a 1 TB SSD costs another $500, so I passed. Better to get some external Thunderbolt drives to expand storage for less money.
What really impressed me was the time to build and deliver. I ordered on the Tuesday of Apple's announcement and received it on Monday afternoon. Manufactured and shipped from Shanghai to Orlando in just under a week. That's not a bad wait to get the unit that I wanted.
Initial Setup
When I buy a new Mac, I'm used to being presented with the option to set it up as a new computer or import from an old one. In the past, I had reasons for importing an old setup, though sometimes that meant bringing along some problems. It's one of those things where you hold your nose and tell yourself the benefits are better than the problems.
With the 2013 MacBook Pro, I didn't get that choice. Turns out that wasn't a bad thing at all, as I got the best of both worlds. That's mostly due to improvements in Mac OS X and iCloud syncing. I turned on my computer and associated it with my iCloud account. When I started Mail, all of my settings were there with the accounts I expected. When I opened Safari, my bookmarks were there. If I visited a membership web site, it new my identity and password from the old computer.
I had all the benefits of transferring the data I wanted and none of the stink of bringing old Prefs and corrupt keychain files from the old computer. This was the best upgrade experience I've had yet with Apple.
One of the things I like about the App Store is that it's a great provisioning system. I don't have to dig for CDs to re-install my old apps. Instead, you just visit the App Store page for your Purchases and press the Install button for the apps you want to load on your new MacBook Pro. Bloody convenient and much faster.
Performance and Features
I have two other MacBook Pros to use as a basis of comparison. My photography MBP is a Mid-2009 model. No Thunderbolt or AirPlay. USB 2.0 and FireWire instead of USB 3.0 and Thunderbolt 2. Old hard drive instead of a new SSD. Old screen instead of a Retina display. It gets hot in my lap after running a while, too.
Basically, the 2013 MacBook Pro is a breath of fresh air, yet still works like an old friend. It's fast. It looks beautiful. It doesn't overheat on my lap. A four year jump forward in technology is a wonderful thing.
My other MacBook Pro is last year's 13″ model that I use for work. It runs Windows 7, not Mac OS X. The Retina screen is quite nice, but a few of the pixels are already dead and I'll be watching this computer for similar problems. The SSD is much speedier than a hard drive, so boot-up is fast. On the other hand, it's only a 128GB SSD, so I lug a 1 TB Thunderbolt drive with me all the time. This model has plenty of space at 500GB so I don't have to carry an extra brick everywhere I go. The 2012 MacBook Pro doesn't get as hot as my 2009 model, but the fan can get quite loud. The 2013 MacBook Pro fan doesn't seem to overwhelm the ambient noise while still doing a good job of cooling the system.
The thing that amazed me was my WiFi network performance. The new MBP has a faster WiFi spec built-in, but I don't have a corresponding WiFi access point to broadcast at the faster speed. That's why I was surprised to see the performance increase. It was particularly noticeable with streaming vide.
I have a subscription to KelbyTraininng.com and generally expect a 4-5 second gap between course segments. That happens on my old MBP and iPad. No so with the new MBP. As soon as one video stopped playing, the next one started within a second and the buffer loaded the whole video segment in 2-3 seconds. There was basically no delay between course segments over WiFi.
Part of that may also be due to the PCI architecture inside, since even my iMac with a direct cable can't load the videos that fast. All I know is that it's a pleasure to watch streaming video on this machine.
An even bigger pleasure is having AirPlay on my MBP now instead of relying upon my iPad. Whatever I have on my screen broadcasts to my Apple TV. It allows me a few circumstances that didn't quite work as well using an iPad, and it works better.
Overall Feel
Apple manages to trim weight with almost every revision. It's an enormous difference compared to my 2009 MacBook Pro, so there's less to lug around. The keyboard is virtually identical. The only change is that the power button now takes the upper-right spot that used to be the Eject button for the SuperDrive that isn't included.
The speakers sound better. The screen looks better. When I opened the box, it even had that new computer smell. Yes, I enjoy peeling off the plastic of new computers. Don't judge me.
While my old MBP was still operational, it was getting a bit dated. Living without USB 3.0 or Thunderbolt in today's world is getting harder to bear. Why bother slogging along at last decade's speed when there are peripherals that will zip through your data? Considering that I'm now shooting with a Nikon D800 that has 36 megapixel RAW files, that improved performance is welcome.
No more uploading over a FireWire 800 reader. I bought a USB 3.0 reader from HoodMan. Once I load the images on the new MacBook Pro, I can export them to my iMac over my Gigabit network or even as a Thunderbolt bridge. Adding an extra 8 GB of RAM means less time worrying about how many apps and files are open while I'm processing images. Basically, it's a modern computer to go with the rest of my gear.
Others are reporting fantastic battery life with the 2013 MacBook Pro, but I haven't really had a chance to push it that far yet. It's another welcome feature, though.
Should you upgrade? If you have last year's model, there isn't enough to really force your hand. If you are still holding onto an older unit, I'd say come on in, the water is fine.