Affiliate Disclosure: We earn a commission if you purchase through one of our links at no additional cost to you.
Prepare for a portrait session before you ever pick up your camera. You need to understand the purpose of the portrait session, communicate with your subject and crew, and make sure your gear works as you expect. It's important to prepare for your portrait session by making sure everyone knows what to expect and why they're part of the process.
Every Portrait Session has a Purpose
There is absolutely nothing wrong with an impromptu portrait session. I don't want you to think that you can't let the spirit move you and capture some wonderful moments when the opportunity arrives. It's fun, it's creative and collaborative.
However, some portrait sessions are a bit more formal than others.
Formal, meaning that they're planned and prepared before we step onto our set or location. We want to have a good idea of the purpose of our portraits, which informs everything about our plans to capture the right photo.
People want portraits for many reasons:
Think about all the decisions you have to make just based upon the purpose of the photos.
When you start thinking about your purpose for the photo, then a lot of your other decisions start to fall in line. You consider issues that you would've ignored if you just start snapping photos.
Make Sure the Photographer and the Subject are on the Same Page
Don't underestimate the power of assumption. Nothing can screw up a collaboration for a portrait session faster than two people who assumed a different result from the day's work.
I mentioned the importance of photography goals in a previous episode of The Photo Flunky Show. One of my goals is to create a portfolio that I can show in a gallery. I chose athletic portraits for my topic with this portfolio. It's a slow process and I knew it would take time.
Last weekend, I had a portrait session with another athlete. She's a fitness coach, a bodybuilder, a bikini competitor, and a kickboxing coach. She's in the process of cutting out fat before another swimsuit competition, so this was a great time for both of us to collaborate on a shoot.
Before we spoke, we each had different expectations of what this shoot was about. Had we not gone through a conversation to get on the same page, our wonderful portrait session probably would've been a disaster.
I went into this thinking about the kind of portraits I wanted for my gallery. She went into this thinking about the type of photos she needs for her business.
Where I had some minimalist portraits in mind, she needed photos of her in a gym environment. There was a bit of a fashion element to it, but she was the subject, not the clothing.
Here's a behind-the-scenes shot from one setup, courtesy of Lee and her incredible ability to catch my flash in an iPhone shot.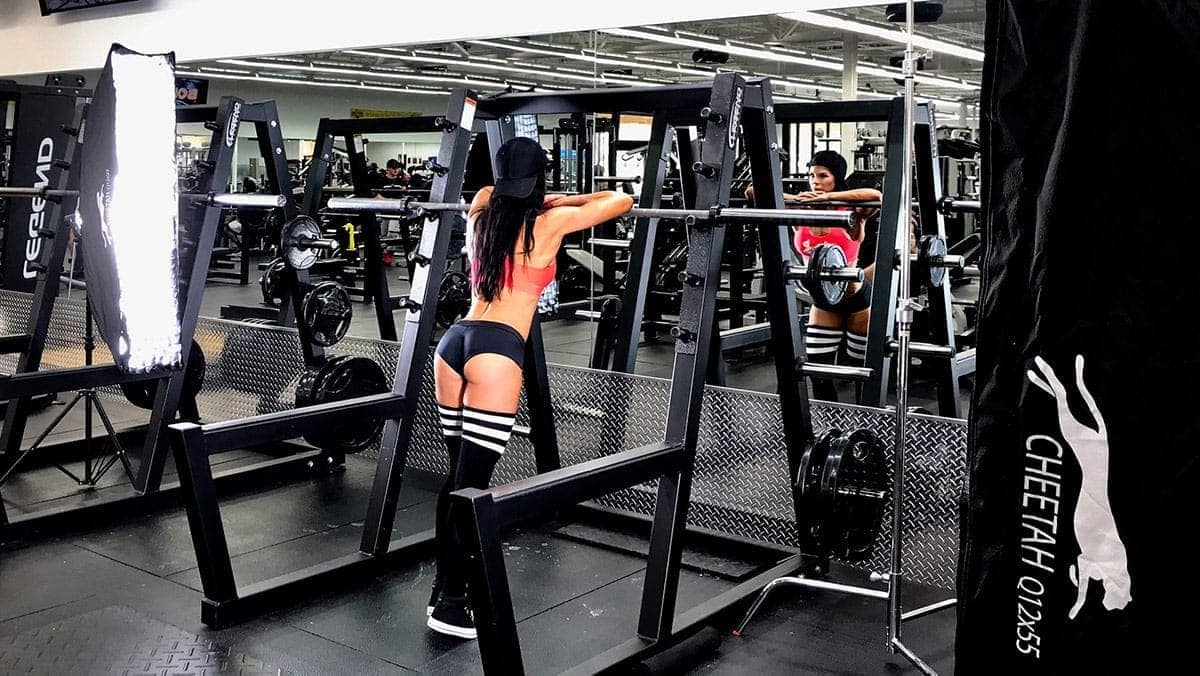 This environment is not what I initially expected.
How Your Assumptions Become Expectations
We know Kat because she's a coach at the same kickboxing gym where Lee teaches classes. I initially thought we were shooting in that gym, which is very different than what you see here.
The kickboxing gym doesn't have mirrors or any weight equipment, other than some dumbbells, medicine balls, etc. It has a large room filled with punching bags and another room that's pretty much empty.
When I learned we were shooting here, I started worrying about backgrounds. That compounded when I discovered that the gym was open for business and other people would wander in our background.
However, that's exactly what our subject wanted and needed. People in the background weren't a problem for most of the shots because you expect other people to be in a gym when you're working out.
There wasn't a clean background in this building.
Fortunately, I asked Kat to provide me with some photos of the location before we arrived. I knew what to expect before I arrived, and that helped me achieve the task at hand without being burdened by my own assumptions.
The main goal here was to serve my client, not get my portfolio shot.
By doing that, she had a good time, likes the results I delivered and wants to do more portrait sessions. She's also well connected in the local fitness industry and can likely refer me to more athletic people to photograph.
Location, Wardrobe and Makeup
Some of the key parts of a portrait session like this may be in your control or in your subject's control. I don't have connections to photograph in a gym. Fortunately, the past couple of subjects who worked with me had access to plenty of gyms. They know the owners and secured our access to take portraits for a few hours.
At other times, it may be up to you to secure access to a location. That may mean renting a studio or sweet-talking someone into letting you use their space. It never hurts to have liability insurance and workman's comp to protect everyone involved in case of an accident.
In my experience, the wardrobe often becomes the responsibility of the person with the overall concept. Not always, but that's how it works most of the time for me.
Since Kat knew her purpose, she also knew the look she wanted to convey. It's just as well, as she has more experience in the fitness industry and knows how she wants to promote herself.
She told me that one of these photos may become a magazine cover, so there's a certain look that sells.
On the other hand, there were some things I knew that she didn't.
For example, I let her know that her makeup should not contain any SPF in it. Most makeup artists know that SPF can cause the skin to shine under flash, so they use a different, non-consumer type of makeup in their work.
Each of us had something to share with the other to make our portrait session a success. That's why it was so important for us to communicate with each other a few times before the portrait session.
Kat shared some photos of other fitness models to let me see the kind of images she wanted. I do this quite often with other subjects. In most cases, I like to create a shared Pinterest board so we can post ideas and comment on them. Everyone can check the board on their own schedule, and then we can discuss it in more detail when we meet.
Selecting the Right Gear for the Portrait Session
This part becomes much easier after all the communication. I know what lighting to bring, which camera and lenses to bring, and just how much stuff I can leave at home because I won't use it.
After looking at the photos of the location, I realized that it would be very difficult to use my Elinchrom BRXI strobes because they require electrical power. That meant cables. Cables in a gym like this one, where there is barely a path to walk between the weight stations, would be a big safety hazard.
I opted to go with battery-operated flashes. In this case, I used my Flashpoint XPLOR 600 Pro with a 26″ beauty dish and two eVOLV 200 flashes with some Cheetahstand gridded strip boxes (you can see those in the BTS shot above).
This setup worked perfectly. The system was lightweight and portable. I kept the XPLOR 600 Pro on a Matthews C-Stand. The only difficulty was banging the legs on the weights as we tried to move from one spot to another. With over 400 shots during the portrait session, I never had any issues with power or recycle time. The Flashpoint (Godox) lights worked perfectly.
My go-to lens for portraits is a Nikon 70-200mm lens, but this environment was too cramped for it. I took 5 headshots with it and everything else required the Nikon 24-70mm lens. I'm glad I had both, but the truth is that I only needed the shorter length here.
Because of the location being so cramped, I decided to leave behind my tripod and tether table. It was the right call. While I generally want to tether during a portrait session, doing so in this gym would've been a big hassle. We kept it light and mobile, using the LCD to examine our shots.
Why I Prepare for a Portrait Session
First off, preparation is in my nature. After all, I was an Eagle Scout. Our motto is "Be Prepared."
More important than that, I'm paranoid about forgetting something or screwing up. I'm not just the photographer on a portrait session. I'm the director and producer. People are looking to me to make sure that everything gets done and is ready on the day of the portrait session. I have to live up to that responsibility.
That doesn't mean that I have to do everything myself, but it means that I cover all the bases, manage the crew and the subject, so we all get a good result.
The good news from my shoot is that my client is thrilled. She loves the comp photos that I sent her and is genuinely excited about the results I delivered for her.
That helps my credibility and the likelihood she will refer me to other subjects. It also means she wants to do more portraits with me. By taking the time to prepare for a portrait session, I help to ensure quality results for my subject and the potential for new collaborations in the future.
That's why I prepare for a portrait session.