Affiliate Disclosure: We earn a commission if you purchase through one of our links at no additional cost to you.
Refine Edge can save you money. If you take photos in a studio environment, all you need to do is shoot on a plain background, and you can use refine edge in Photoshop to quickly cut out your subject and place them on digital background. Here's how it's done.
Refine Edge Tutorial Video
When to Use Refine Edge vs. Other Selection Methods
When you see a tutorial about using Refine Edge in Photoshop, all photos have something in common.
While Refine Edge may seem magical, it isn't perfect. Using it to cut out a subject from a complicated background will lead to frustration and messy results. Even with a plain background, sometimes you still have to manually fix your mask before exporting out of the Select and Mask dialog to a new layer or selection.
I've tried using it on subjects shot with different backgrounds ranging from white to grey to black. I had my best success using light to a middle grey background. It works well for light or dark hair.
My choice is Savage Fashion Grey Seamless Background Paper. You can get it in various sizes. I like the 107″ wide roll. It's much more versatile than getting black or white seamless paper since you can make it either black or white.
If you want a white background, light it. If you want a black background, move your subject forward and choose a smaller aperture to get shallow light fall off.
You can get Savage Fashion Gray seamless paper in different sizes, so choose the best width.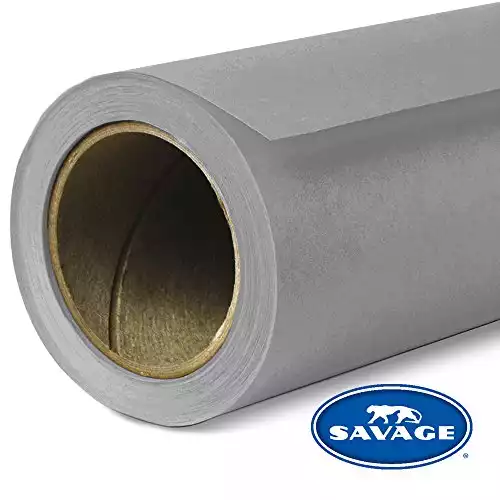 Savage Seamless Background Paper - #56 Fashion Gray (107 in x 36 ft)
Savage Seamless Background Paper in Fashion Gray is a top-quality background paper that features a non-reflecting surface with an exquisite, fine-tooth feel that's ideal for creating smooth and even backgrounds. It's perfect for fashion photography, portrait photography, YouTube videos, interviews, and so much more.
It's easy to use – just unroll what you need. If the end of the paper gets torn or dirty after a photo shoot, the used portion can be cut off and recycled. The 107" wide x 36ft roll gives you plenty of paper to work with, so you can create stunning backgrounds for all your projects.
Buy Now
We earn a commission if you make a purchase, at no additional cost to you.
10/02/2023 05:08 am GMT

Want to learn more about Photography software? Click below to check out articles about Adobe, ON1, Skylum, and more.
Photography Software Articles